102 AUNT MOLLS RIDGE Brewster, MA
BOOK NOW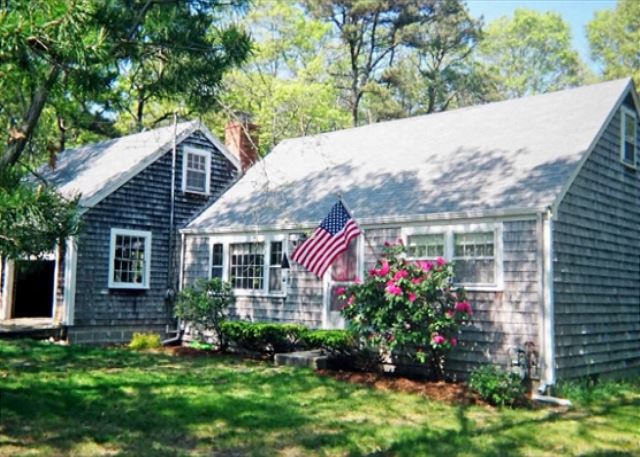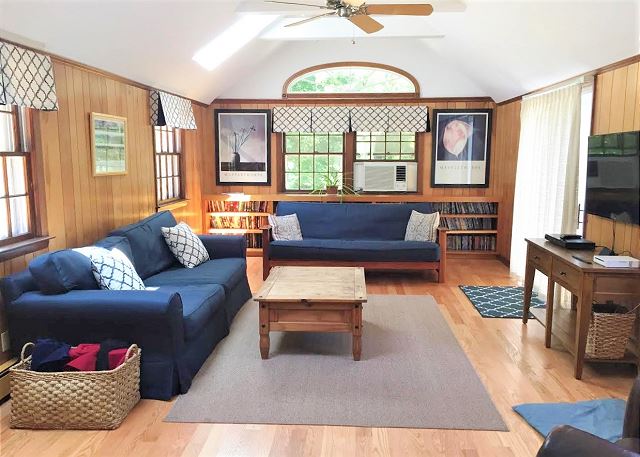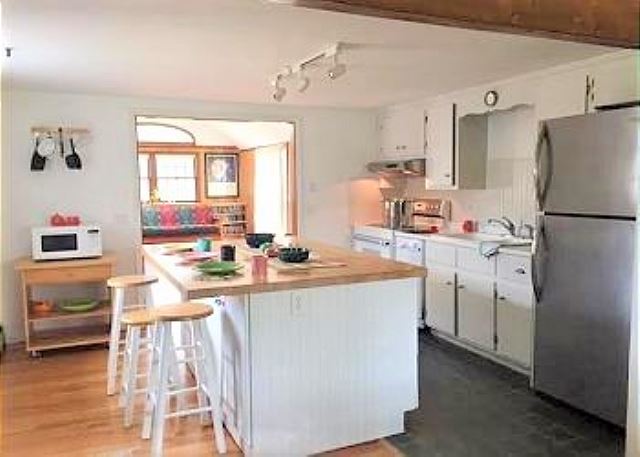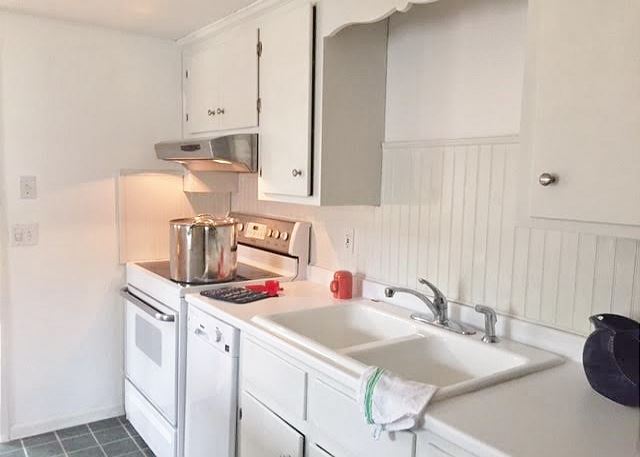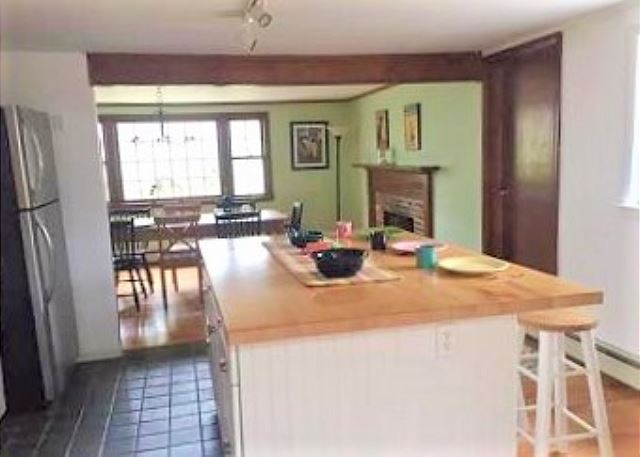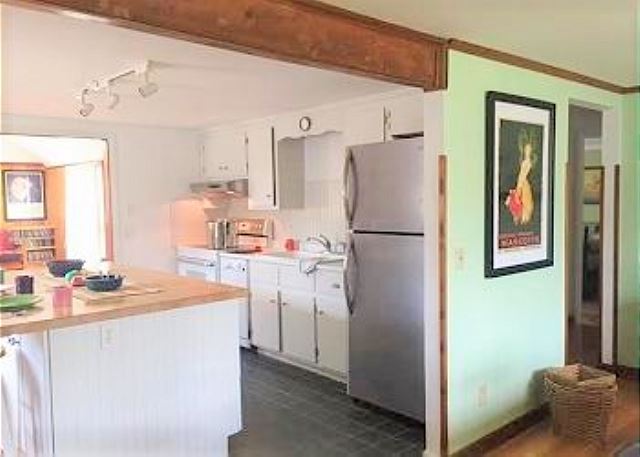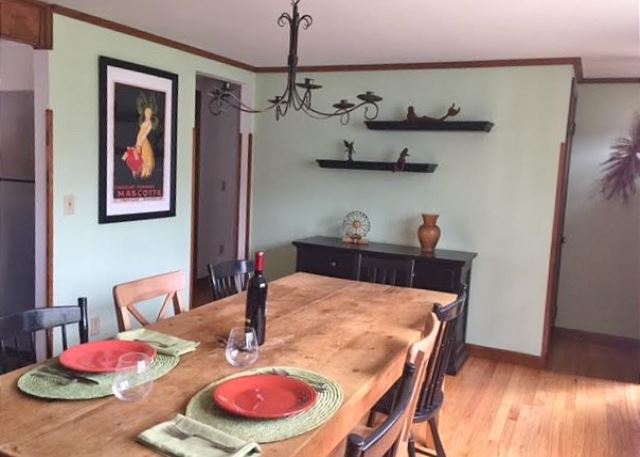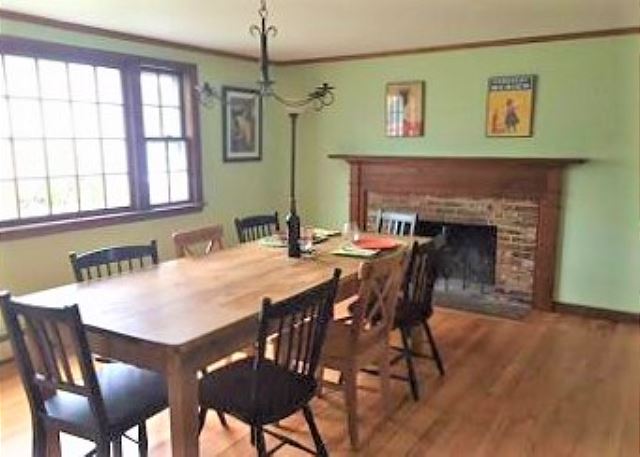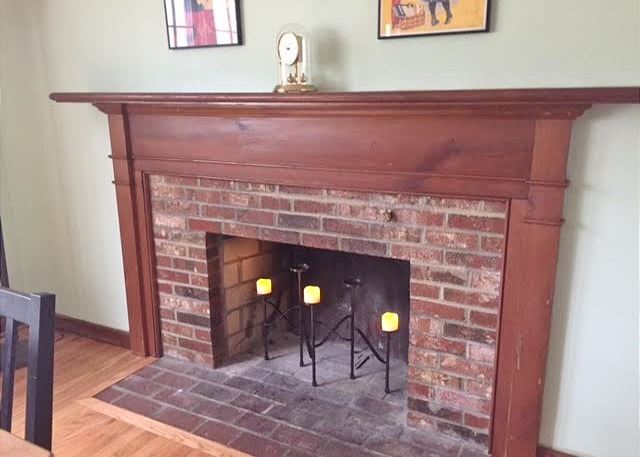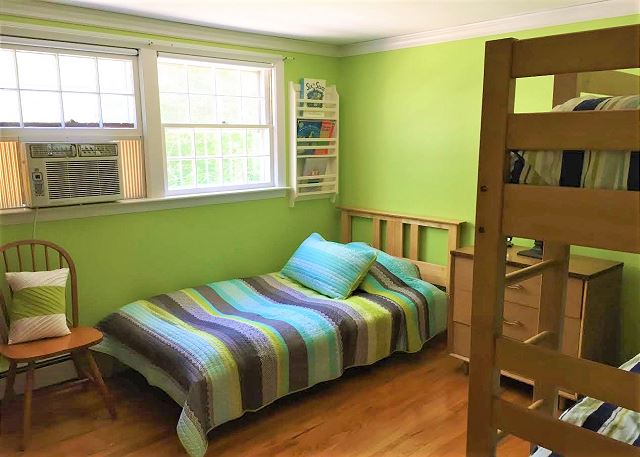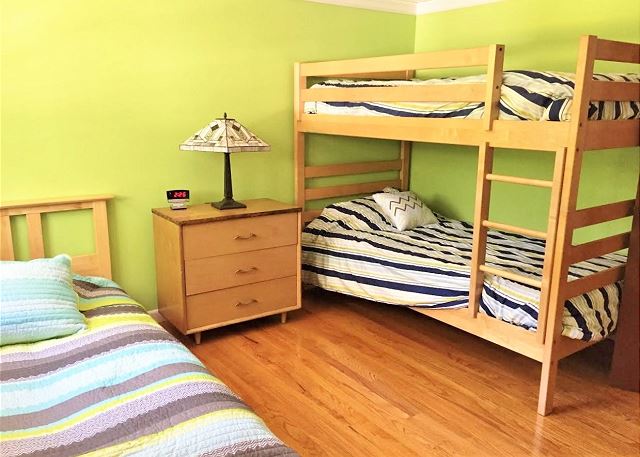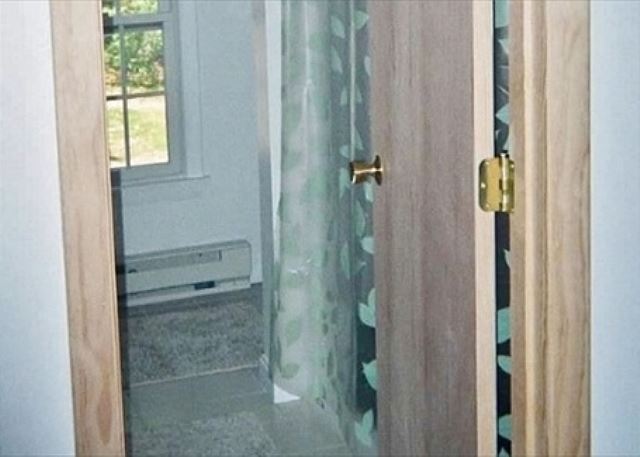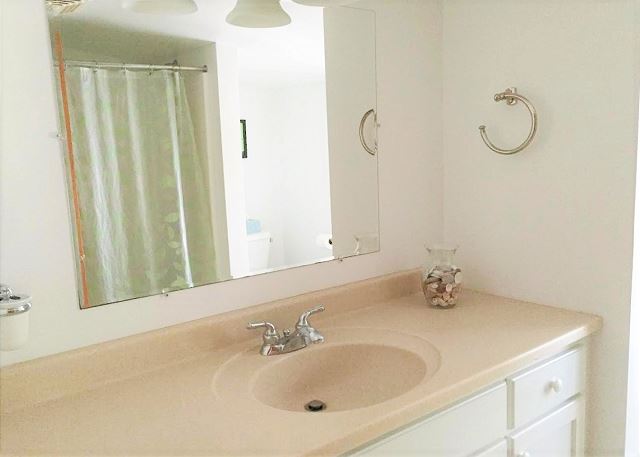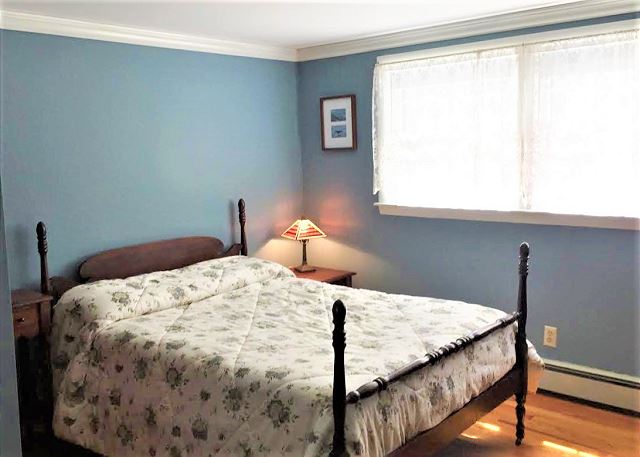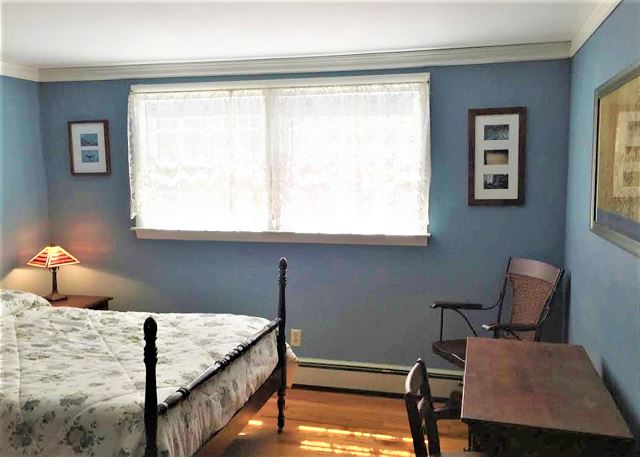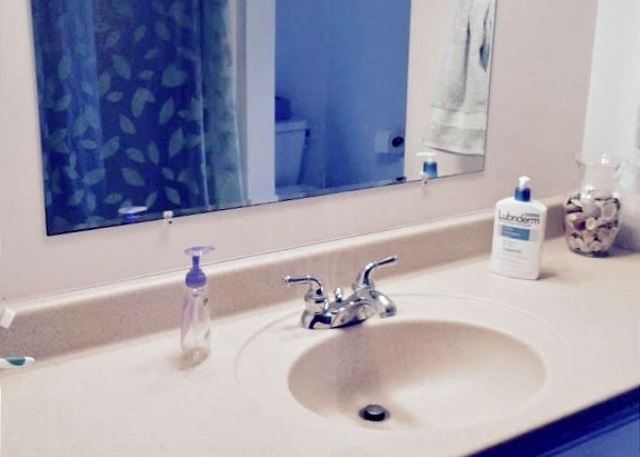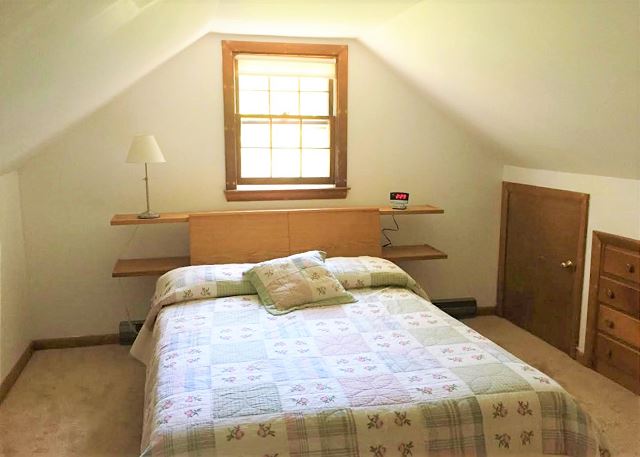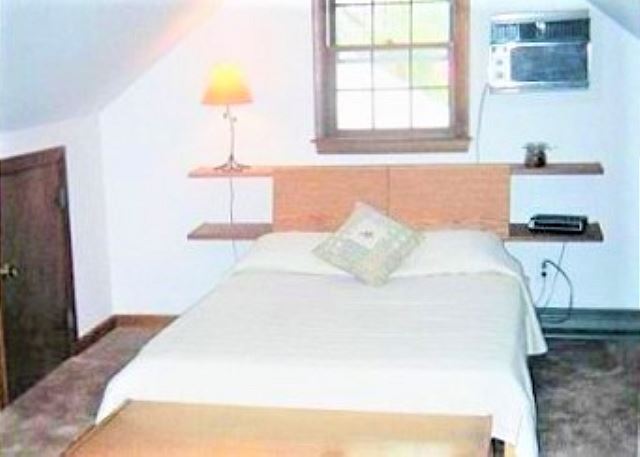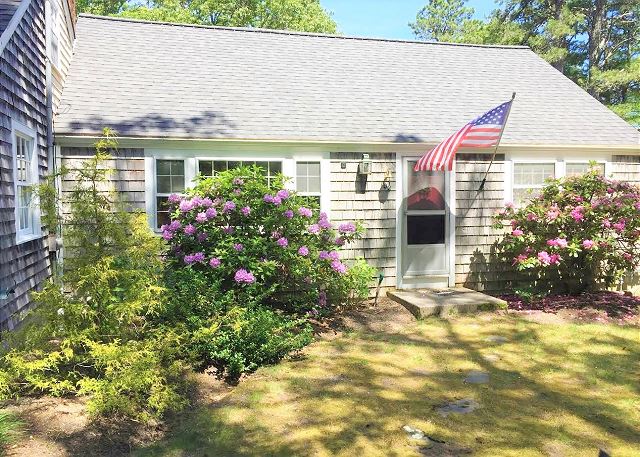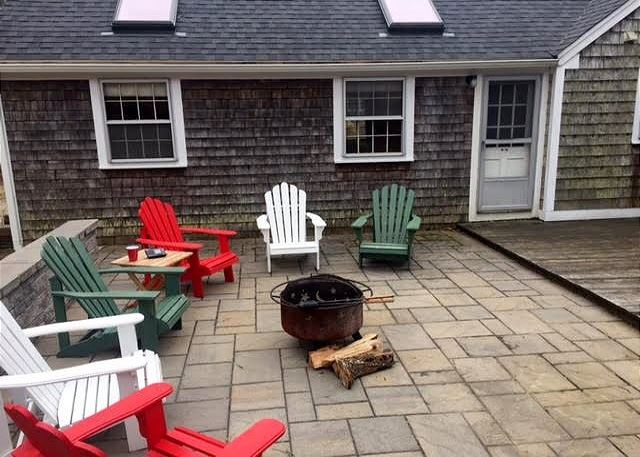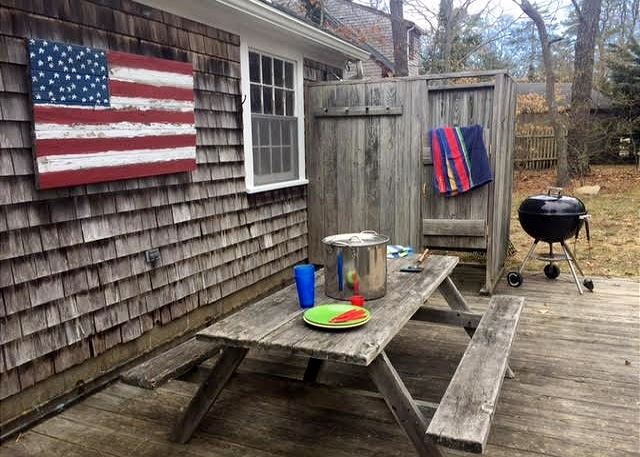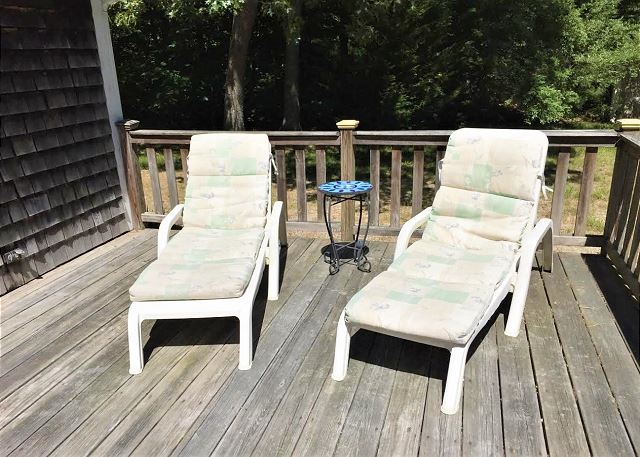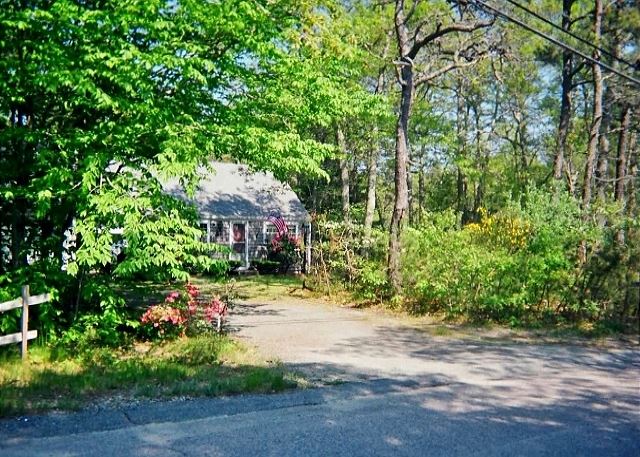 ---
Bedroom(s): 4
Bathroom(s): 2
Sleeps: 8
Type: House
Area:
Town: Brewster
Price Range $2065-$2515*

*without pet $100 less

Rates include all charges; no hidden fees!

NEW LISTING! Tucked into a wooded nook in a quiet neighborhood adjacent to Nickerson Park and near Long Pond and Sheep's Pond, this lovely 4 bedroom, 2 full bath Cape features bright upgrades like refinished wood floors and freshly painted walls.

To the left of the front door is a elegant dining room with a table to seat 8 to 10 guests. This room does double duty as a work space or a digital playroom.

From here, you walk through the kitchen stationed between the dining and great rooms. This allows the chef of your party to be an integral part of the conversation. The kitchen also features a large butcher block center island with 4 stools, stainless steel refrigerator, tiled floor, and whimsical Cape Cod touches. It is fully stocked with everything you will need to prepare meals, from blender to flatware to cookware, including the Lobster Pot staple!

Perhaps most impressive of is the large great room which seems to stretch forever because of the clever arrangement of furniture and the flood of light washing through the oversized back window. It has lots of seating with a 48 inch.flat screen TV, DVD player, and Wii Gaming system. The TV is WiFi, so you can watch Netflix, Amazon Prime and YouTube! There is a window a/c and ceiling fan. Sliding glass doors lead directly to a deck, picnic table, enclosed outdoor shower, and a stone terrace, all fully outfitted with outdoor furniture, charcoal grill, even a fire pit for those cool nights in the summer.

The rest of the first floor includes two bedrooms and a full bath with tub/shower combination. Bedroom #1 has a full size bed and window a/c, and bedroom #2 has bunk beds and a twin to sleep 3.

The front door faces the stairs leading to the second floor. This level includes the second bathroom with tub/shower combination and two more bedrooms. Bedroom #3 has a queen-sized bed and window a/c. Bedroom #4 is across the hall and has a full-sized bed set off under angled dormers. There is no door to this bedroom..

Whether you are vacationing with family, a group of friends or coworkers, or some combination of the two, this home is an ideal venue for guests who love everything the Cape has to offer: swimming, biking, sailing, walking the nearby shorelines, or just watching the sun reflect magnificent colors as it rises and then dips back into the sea.

Also included in this rental: High speed internet, washer and dryer, parking spot in garage, three cars in driveway, and enclosed outdoor shower. *Owner provides coolers and beach chairs.* *Owners provide these items as favors to guests only and not as an integral part of the rental. If these items become lost or damaged during the course of the rental season, owners are not responsible for replacement.*

Sorry no smoking allowed.

8 guests maximum allowed at any time. No parties exceeding the occupancy limit allowed.

LINENS (SHEETS/TOWELS) ARE NOT INCLUDED IN THIS RENTAL.

Travel Insurance is highly recommended and affordable coverage to protect your vacation investment.

Please view our policy and procedure page on our web site for detailed information about renting with us.
- pets considered
- DVD Player
- Game System (Xbox, Wii, Playstn)
- Netflix
- Ceiling Fan
- Sleep Sofa
- A/C Unit
- Patio
- Deck
- WiFi
- A/C
- On Demand Free Movie
- Amazon Prime
- Microwave
- Drip Coffee Maker
- Cookware
- Dishes / Glassware / Utensils
- Blender
- Iron
- Toaster or Toaster Oven
- Island or Counter Seating
- Dishwasher
- Lobster Pot
- ironing board
- Toaster
- Dining Table
- fireplace
- am/fm stereo
- bed
- basic cable
- Window A/C
- window ac in 2 bedrooms
- window a/c in living room
- Hair Dryer
- Tub/Shower Combo
- washer
- dryer
- washer and dryer basement
- Deck
- Patio
- Charcoal Grill
- Dining Table w/o Umbrella
- Enclosed Outdoor Shower
- Firepit or Chiminea
- Garage Access
- Beach Chairs
- Outdoor Lighting
- Outdoor Seating
- Beach Cooler
- Near Cape Cod Bay Beaches
- Near Nantucket Sound Beaches
- near park
- Yes
- DOG
- Pet Considered
Guest Reviews of
102 aunt molls ridge Brewster , MA
Not as Advertised
Review by
Lois F.
We were initially very pleased.The home is spacious and the great room is very nice. The outside deck is newly rebuilt and the fire-pit is a nice touch. However,there are only three actual bedrooms and only one with a window A/C. For adults this is a problem; either you sacrifice your privacy and/or you sleep in sweltering, oven-like bedrooms.The single A/C unit downstairs is also inadequate for the entire floor. I had invited adult guests to join us and I was embarrassed. I did have the rental agent move one A/C unit so that two guests did not have to sleep in children's beds, but the other adults were stuck with sweltering rooms almost every night. The house also reeks of the mold and mildew smell coming from the basement. I purchased many Damp-Rid containers for the house which provided some relief. A dehumidifier in the cellar would have easily fixed this problem. I asked for a partial refund, but was ignored. I will not stay here again.
1 out of 5 stars
September 2017

| S | M | T | W | T | F | S |
| --- | --- | --- | --- | --- | --- | --- |
| | | | | | 01 | 02 |
| 03 | 04 | 05 | 06 | 07 | 08 | 09 |
| 10 | 11 | 12 | 13 | 14 | 15 | 16 |
| 17 | 18 | 19 | 20 | 21 | 22 | 23 |
| 24 | 25 | 26 | 27 | 28 | 29 | 30 |
October 2017

| S | M | T | W | T | F | S |
| --- | --- | --- | --- | --- | --- | --- |
| 01 | 02 | 03 | 04 | 05 | 06 | 07 |
| 08 | 09 | 10 | 11 | 12 | 13 | 14 |
| 15 | 16 | 17 | 18 | 19 | 20 | 21 |
| 22 | 23 | 24 | 25 | 26 | 27 | 28 |
| 29 | 30 | 31 | | | | |
November 2017

| S | M | T | W | T | F | S |
| --- | --- | --- | --- | --- | --- | --- |
| | | | 01 | 02 | 03 | 04 |
| 05 | 06 | 07 | 08 | 09 | 10 | 11 |
| 12 | 13 | 14 | 15 | 16 | 17 | 18 |
| 19 | 20 | 21 | 22 | 23 | 24 | 25 |
| 26 | 27 | 28 | 29 | 30 | | |
December 2017

| S | M | T | W | T | F | S |
| --- | --- | --- | --- | --- | --- | --- |
| | | | | | 01 | 02 |
| 03 | 04 | 05 | 06 | 07 | 08 | 09 |
| 10 | 11 | 12 | 13 | 14 | 15 | 16 |
| 17 | 18 | 19 | 20 | 21 | 22 | 23 |
| 24 | 25 | 26 | 27 | 28 | 29 | 30 |
| 31 | | | | | | |
January 2018

| S | M | T | W | T | F | S |
| --- | --- | --- | --- | --- | --- | --- |
| | 01 | 02 | 03 | 04 | 05 | 06 |
| 07 | 08 | 09 | 10 | 11 | 12 | 13 |
| 14 | 15 | 16 | 17 | 18 | 19 | 20 |
| 21 | 22 | 23 | 24 | 25 | 26 | 27 |
| 28 | 29 | 30 | 31 | | | |
February 2018

| S | M | T | W | T | F | S |
| --- | --- | --- | --- | --- | --- | --- |
| | | | | 01 | 02 | 03 |
| 04 | 05 | 06 | 07 | 08 | 09 | 10 |
| 11 | 12 | 13 | 14 | 15 | 16 | 17 |
| 18 | 19 | 20 | 21 | 22 | 23 | 24 |
| 25 | 26 | 27 | 28 | | | |
March 2018

| S | M | T | W | T | F | S |
| --- | --- | --- | --- | --- | --- | --- |
| | | | | 01 | 02 | 03 |
| 04 | 05 | 06 | 07 | 08 | 09 | 10 |
| 11 | 12 | 13 | 14 | 15 | 16 | 17 |
| 18 | 19 | 20 | 21 | 22 | 23 | 24 |
| 25 | 26 | 27 | 28 | 29 | 30 | 31 |
April 2018

| S | M | T | W | T | F | S |
| --- | --- | --- | --- | --- | --- | --- |
| 01 | 02 | 03 | 04 | 05 | 06 | 07 |
| 08 | 09 | 10 | 11 | 12 | 13 | 14 |
| 15 | 16 | 17 | 18 | 19 | 20 | 21 |
| 22 | 23 | 24 | 25 | 26 | 27 | 28 |
| 29 | 30 | | | | | |
May 2018

| S | M | T | W | T | F | S |
| --- | --- | --- | --- | --- | --- | --- |
| | | 01 | 02 | 03 | 04 | 05 |
| 06 | 07 | 08 | 09 | 10 | 11 | 12 |
| 13 | 14 | 15 | 16 | 17 | 18 | 19 |
| 20 | 21 | 22 | 23 | 24 | 25 | 26 |
| 27 | 28 | 29 | 30 | 31 | | |
June 2018

| S | M | T | W | T | F | S |
| --- | --- | --- | --- | --- | --- | --- |
| | | | | | 01 | 02 |
| 03 | 04 | 05 | 06 | 07 | 08 | 09 |
| 10 | 11 | 12 | 13 | 14 | 15 | 16 |
| 17 | 18 | 19 | 20 | 21 | 22 | 23 |
| 24 | 25 | 26 | 27 | 28 | 29 | 30 |
July 2018

| S | M | T | W | T | F | S |
| --- | --- | --- | --- | --- | --- | --- |
| 01 | 02 | 03 | 04 | 05 | 06 | 07 |
| 08 | 09 | 10 | 11 | 12 | 13 | 14 |
| 15 | 16 | 17 | 18 | 19 | 20 | 21 |
| 22 | 23 | 24 | 25 | 26 | 27 | 28 |
| 29 | 30 | 31 | | | | |
August 2018

| S | M | T | W | T | F | S |
| --- | --- | --- | --- | --- | --- | --- |
| | | | 01 | 02 | 03 | 04 |
| 05 | 06 | 07 | 08 | 09 | 10 | 11 |
| 12 | 13 | 14 | 15 | 16 | 17 | 18 |
| 19 | 20 | 21 | 22 | 23 | 24 | 25 |
| 26 | 27 | 28 | 29 | 30 | 31 | |
September 2018

| S | M | T | W | T | F | S |
| --- | --- | --- | --- | --- | --- | --- |
| | | | | | | 01 |
| 02 | 03 | 04 | 05 | 06 | 07 | 08 |
| 09 | 10 | 11 | 12 | 13 | 14 | 15 |
| 16 | 17 | 18 | 19 | 20 | 21 | 22 |
| 23 | 24 | 25 | 26 | 27 | 28 | 29 |
| 30 | | | | | | |
Available
Unavailable
Sat to Sat booking