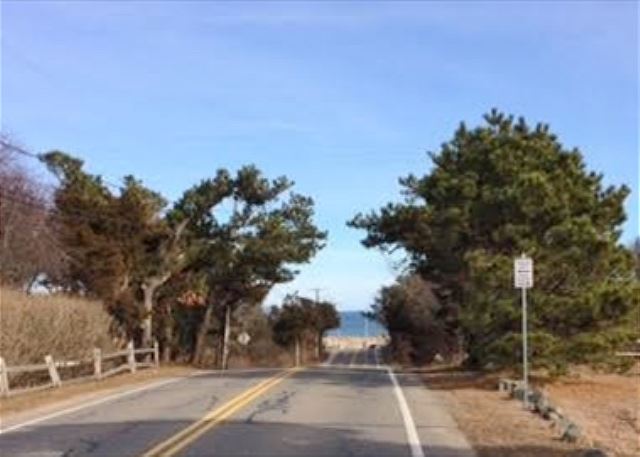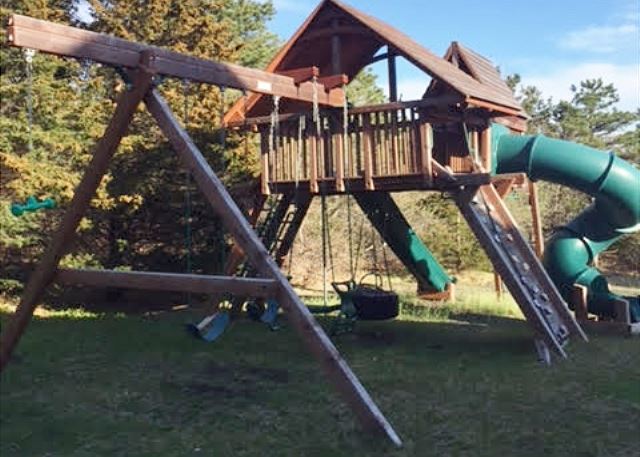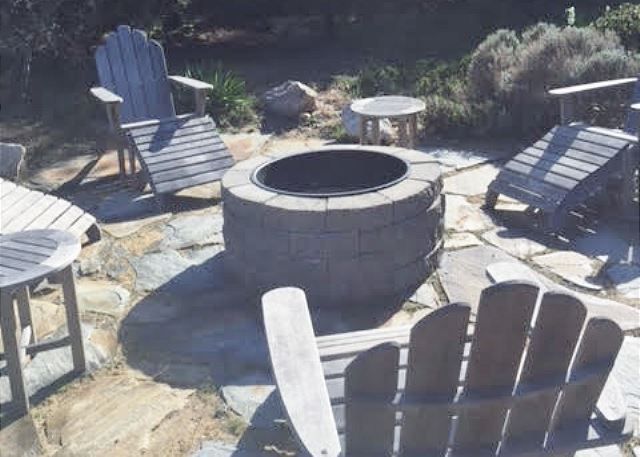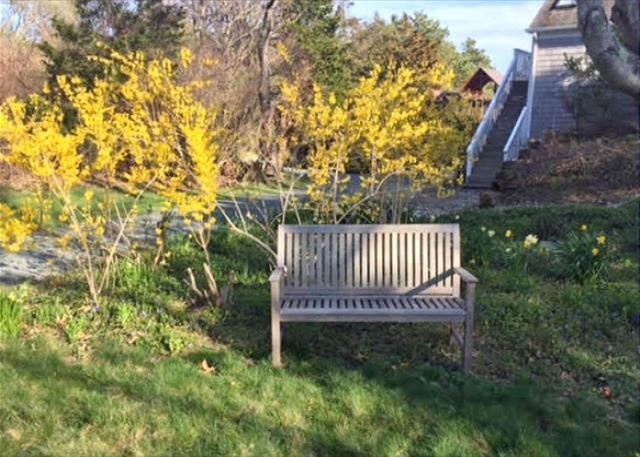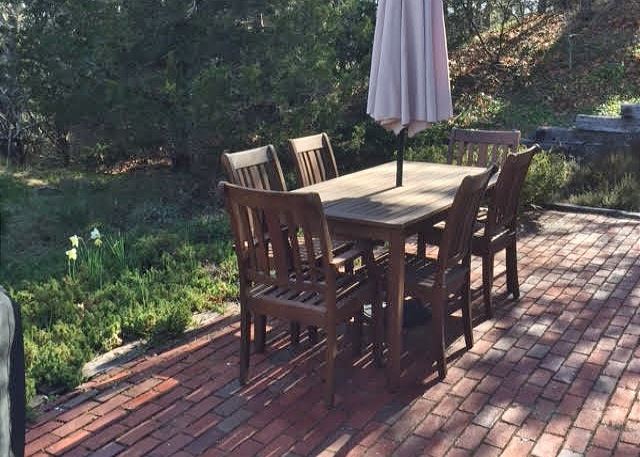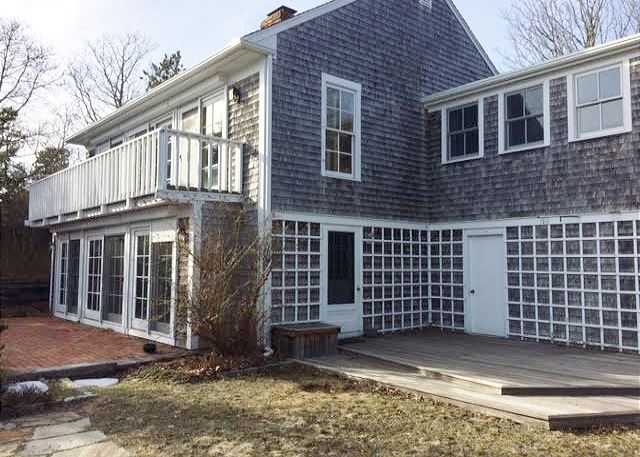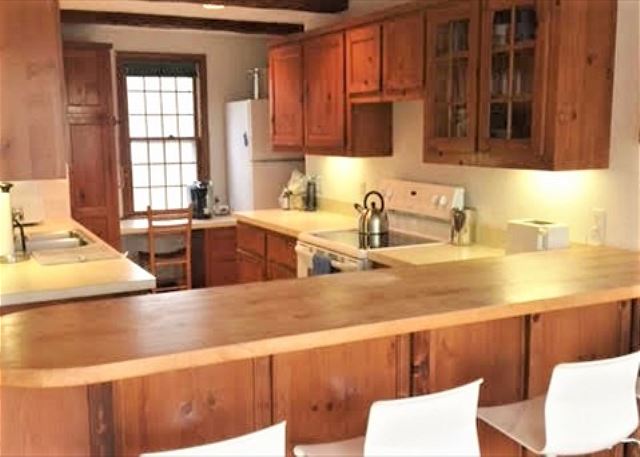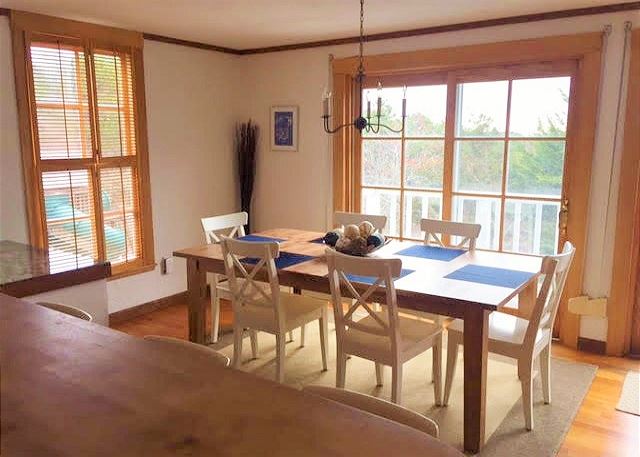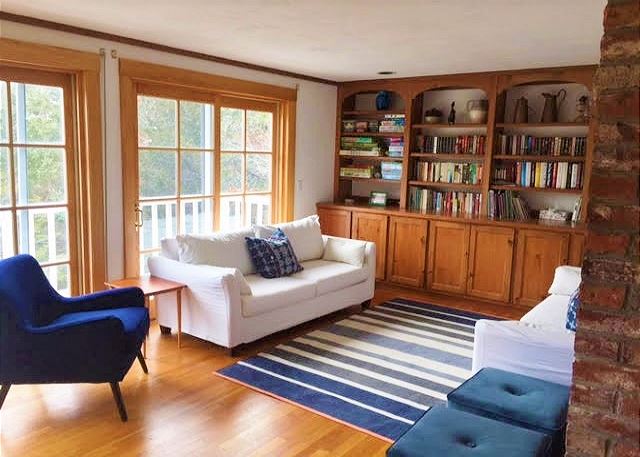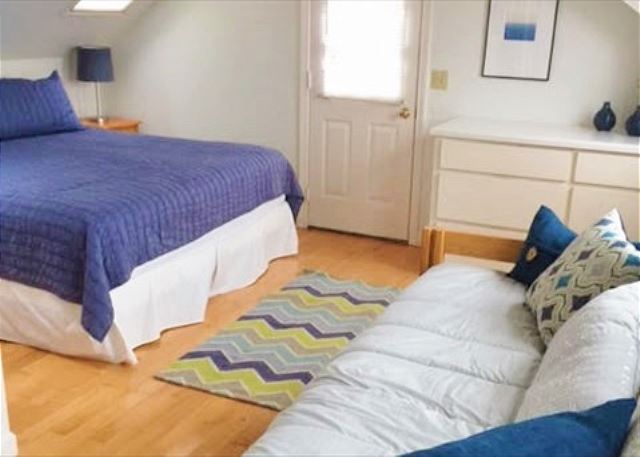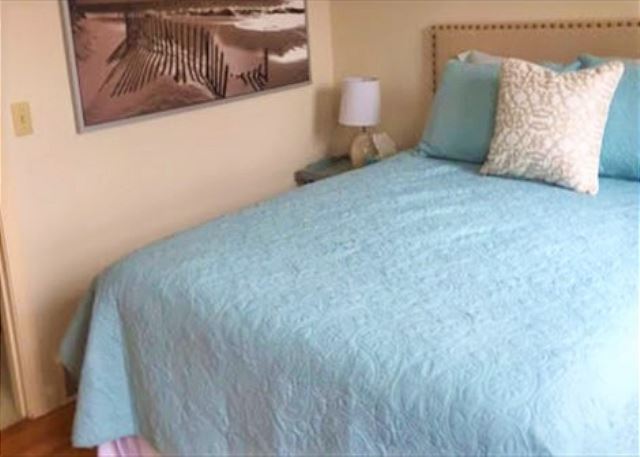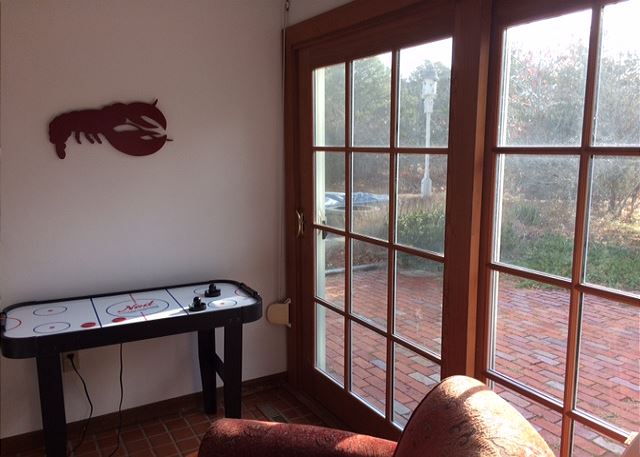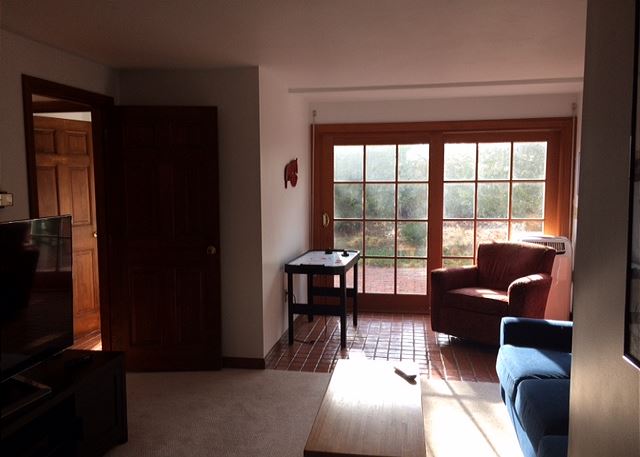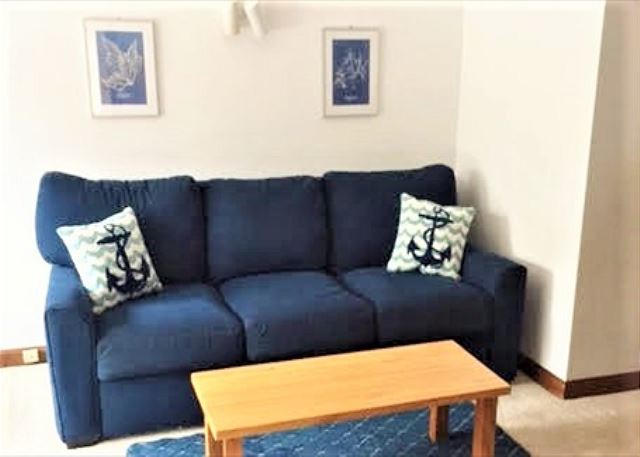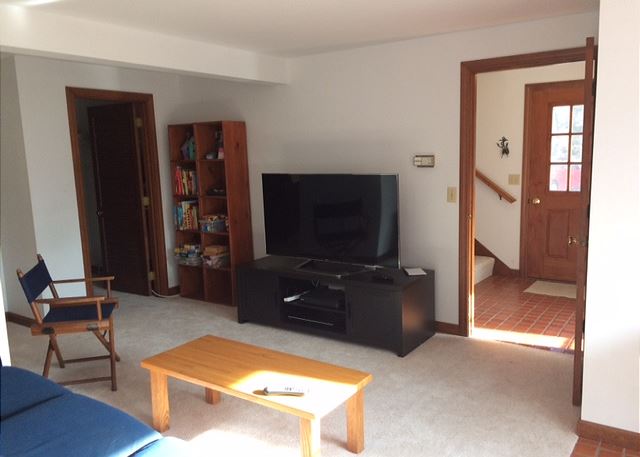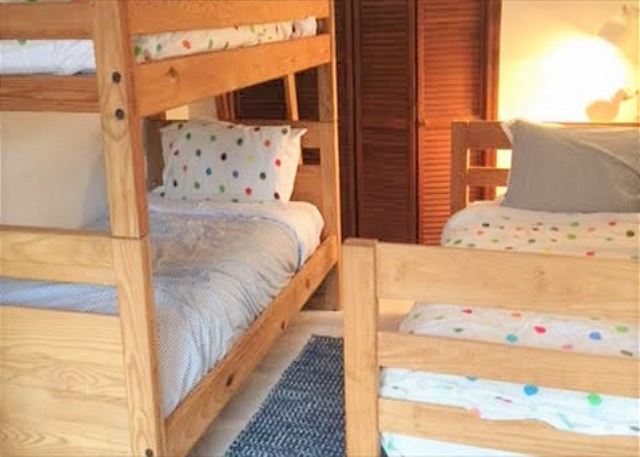 ---
Bedroom(s): 3
Bathroom(s): 3
Sleeps: 10
Type: House
Area:
Town: Orleans
Price Range $2415-$3915*

*$100 less without pet

Rates include all charges; no hidden fees!

NEW LISTING! PROPERTY UNDERGOING COSMETIC UPGRADES! NEW PICTURES COMING SOON!

The moment you arrive at this 3 bedroom, 3 bath classic cape with central a/c, you will immediately downshift into vacation gear. Sited on a knoll in East Orleans, the secluded front yard is ideal for a game of pick up softball or soccer, or just unwinding in the hammock. The back of the property abuts 1.5 acres of conservation land. You can spot the blue expanse of the Atlantic and glorious sunrises from the balcony accessed through sliding screen and glass doors that run alongside the main gathering rooms.

A stepped path leads to the front door where you enter the main level with hardwood floors throughout. To the left of the hall is the compact and fully stocked kitchen with lots of counter space and brand new range and microwave. Guests sit at the breakfast bar on low backed molded stools. You can also have meals or drinks in the dining and living space with a 32 inch flat screen TV with basic cable, loads of board games, puzzles, and books, and plenty of comfortable seating drawn in a palette of blue and white that reflects the nautical heritage of this grand home.

Also on this floor: The large main bedroom with a king and a twin day bed, a window a/c, and in-suite bath with shower. This bedroom has a second entrance or exit that leads to a landing and stairs outside of the house so you can take a midnight walk at low tide without hardly disturbing a soul. Bedroom 2 boasts a queen bed with in-suite full bath with tub/shower combination.

The lower level features a relaxed den with a 42 inch flat screen TV and DVD player, and a high quality American Leather Comfort Queen sleeper. Behind the den is bedroom 3 with twin bunk beds and an additional twin to sleep 3. The lower level also includes a washer and dryer and a full bathroom with separate tub, shower, and dressing area.

There are floor to ceiling glass sliders and a side door that open to an angled wooden deck and a brick terrace, both with outdoor furniture to enjoy barbecues, sharing adventures of the day, or soaking up the sun.

There is even a flagstone patio anchored by a fire pit in the center. Here, anyone or everyone can stare at the stars from deck chairs and listen to the rumble of waves just over the dunes, slipping into that state of relaxation that is at the core of a perfect holiday.

Also included in this rental: WiFi, enclosed outdoor shower, 3 room fans, large play set for kids or kids at heart, gas and charcoal grills, room for 4+ cars in driveway. *4 beach chairs, children's toys, outdoor games like croquet, and two bikes; one adult with infant seat in back and one intermediate are provided by the owner.* * Owners provide these items as favors to guests only and not as an integral part of the rental. If these items become lost or damaged during the course of the rental season, owners are not responsible for replacement.*

Sorry no smoking allowed.

10 guests maximum allowed at any time. No parties exceeding the occupancy limit allowed.

LINENS (SHEETS/TOWELS) ARE NOT INCLUDED IN THIS RENTAL.

Travel Insurance is highly recommended and affordable coverage to protect your vacation investment.

Please view our policy and procedure page on our web site for detailed information about renting with us.
- pets considered
- Flat Screen HDTV
- Basic Cable
- A/C Unit
- Deck
- WiFi
- Central Air Conditioning
- A/C
- Flat Screen TV
- Board games
- Puzzles
- Books
- Microwave
- Teapot or Tea Kettle
- Drip Coffee Maker
- Cleaning Supplies
- Cookware
- Dishes / Glassware / Utensils
- Kitchen Table
- Blender
- Iron
- Keurig Coffee Maker
- Toaster or Toaster Oven
- Island or Counter Seating
- Dishwasher
- Lobster Pot
- Door to Deck
- Pet Friendly
- Keurig Coffee Maker
- microwave
- ironing board
- Toaster
- Toaster Oven
- Iron
- Balcony
- Dining Table
- DVD Player
- Flat Screen TV
- Sleep sofa
- Private bath
- A/C
- On Suite Main Bedroom Bath
- Main Bedroom AC
- Tub Only
- Shower Only
- Tub/Shower Combo
- Dressing Area
- TV
- washer
- dryer
- HDTV
- Washer & Dryer
- Deck
- Patio
- Charcoal Grill
- Gas Grill (Natural Gas)
- Dining Table w/ Umbrella
- Enclosed Outdoor Shower
- Firepit or Chiminea
- Garage Access
- Beach Chairs
- Outdoor Lighting
- Hammock
- Outdoor Seating
- Bicycles
- Croquet
- Walk to Beach
- Near Ocean Beach
- Yes
- DOG
- Pet Considered
July 2017

| S | M | T | W | T | F | S |
| --- | --- | --- | --- | --- | --- | --- |
| | | | | | | 01 |
| 02 | 03 | 04 | 05 | 06 | 07 | 08 |
| 09 | 10 | 11 | 12 | 13 | 14 | 15 |
| 16 | 17 | 18 | 19 | 20 | 21 | 22 |
| 23 | 24 | 25 | 26 | 27 | 28 | 29 |
| 30 | 31 | | | | | |
August 2017

| S | M | T | W | T | F | S |
| --- | --- | --- | --- | --- | --- | --- |
| | | 01 | 02 | 03 | 04 | 05 |
| 06 | 07 | 08 | 09 | 10 | 11 | 12 |
| 13 | 14 | 15 | 16 | 17 | 18 | 19 |
| 20 | 21 | 22 | 23 | 24 | 25 | 26 |
| 27 | 28 | 29 | 30 | 31 | | |
September 2017

| S | M | T | W | T | F | S |
| --- | --- | --- | --- | --- | --- | --- |
| | | | | | 01 | 02 |
| 03 | 04 | 05 | 06 | 07 | 08 | 09 |
| 10 | 11 | 12 | 13 | 14 | 15 | 16 |
| 17 | 18 | 19 | 20 | 21 | 22 | 23 |
| 24 | 25 | 26 | 27 | 28 | 29 | 30 |
October 2017

| S | M | T | W | T | F | S |
| --- | --- | --- | --- | --- | --- | --- |
| 01 | 02 | 03 | 04 | 05 | 06 | 07 |
| 08 | 09 | 10 | 11 | 12 | 13 | 14 |
| 15 | 16 | 17 | 18 | 19 | 20 | 21 |
| 22 | 23 | 24 | 25 | 26 | 27 | 28 |
| 29 | 30 | 31 | | | | |
November 2017

| S | M | T | W | T | F | S |
| --- | --- | --- | --- | --- | --- | --- |
| | | | 01 | 02 | 03 | 04 |
| 05 | 06 | 07 | 08 | 09 | 10 | 11 |
| 12 | 13 | 14 | 15 | 16 | 17 | 18 |
| 19 | 20 | 21 | 22 | 23 | 24 | 25 |
| 26 | 27 | 28 | 29 | 30 | | |
December 2017

| S | M | T | W | T | F | S |
| --- | --- | --- | --- | --- | --- | --- |
| | | | | | 01 | 02 |
| 03 | 04 | 05 | 06 | 07 | 08 | 09 |
| 10 | 11 | 12 | 13 | 14 | 15 | 16 |
| 17 | 18 | 19 | 20 | 21 | 22 | 23 |
| 24 | 25 | 26 | 27 | 28 | 29 | 30 |
| 31 | | | | | | |
January 2018

| S | M | T | W | T | F | S |
| --- | --- | --- | --- | --- | --- | --- |
| | 01 | 02 | 03 | 04 | 05 | 06 |
| 07 | 08 | 09 | 10 | 11 | 12 | 13 |
| 14 | 15 | 16 | 17 | 18 | 19 | 20 |
| 21 | 22 | 23 | 24 | 25 | 26 | 27 |
| 28 | 29 | 30 | 31 | | | |
February 2018

| S | M | T | W | T | F | S |
| --- | --- | --- | --- | --- | --- | --- |
| | | | | 01 | 02 | 03 |
| 04 | 05 | 06 | 07 | 08 | 09 | 10 |
| 11 | 12 | 13 | 14 | 15 | 16 | 17 |
| 18 | 19 | 20 | 21 | 22 | 23 | 24 |
| 25 | 26 | 27 | 28 | | | |
March 2018

| S | M | T | W | T | F | S |
| --- | --- | --- | --- | --- | --- | --- |
| | | | | 01 | 02 | 03 |
| 04 | 05 | 06 | 07 | 08 | 09 | 10 |
| 11 | 12 | 13 | 14 | 15 | 16 | 17 |
| 18 | 19 | 20 | 21 | 22 | 23 | 24 |
| 25 | 26 | 27 | 28 | 29 | 30 | 31 |
April 2018

| S | M | T | W | T | F | S |
| --- | --- | --- | --- | --- | --- | --- |
| 01 | 02 | 03 | 04 | 05 | 06 | 07 |
| 08 | 09 | 10 | 11 | 12 | 13 | 14 |
| 15 | 16 | 17 | 18 | 19 | 20 | 21 |
| 22 | 23 | 24 | 25 | 26 | 27 | 28 |
| 29 | 30 | | | | | |
May 2018

| S | M | T | W | T | F | S |
| --- | --- | --- | --- | --- | --- | --- |
| | | 01 | 02 | 03 | 04 | 05 |
| 06 | 07 | 08 | 09 | 10 | 11 | 12 |
| 13 | 14 | 15 | 16 | 17 | 18 | 19 |
| 20 | 21 | 22 | 23 | 24 | 25 | 26 |
| 27 | 28 | 29 | 30 | 31 | | |
June 2018

| S | M | T | W | T | F | S |
| --- | --- | --- | --- | --- | --- | --- |
| | | | | | 01 | 02 |
| 03 | 04 | 05 | 06 | 07 | 08 | 09 |
| 10 | 11 | 12 | 13 | 14 | 15 | 16 |
| 17 | 18 | 19 | 20 | 21 | 22 | 23 |
| 24 | 25 | 26 | 27 | 28 | 29 | 30 |
July 2018

| S | M | T | W | T | F | S |
| --- | --- | --- | --- | --- | --- | --- |
| 01 | 02 | 03 | 04 | 05 | 06 | 07 |
| 08 | 09 | 10 | 11 | 12 | 13 | 14 |
| 15 | 16 | 17 | 18 | 19 | 20 | 21 |
| 22 | 23 | 24 | 25 | 26 | 27 | 28 |
| 29 | 30 | 31 | | | | |
Available
Unavailable
Sat to Sat booking