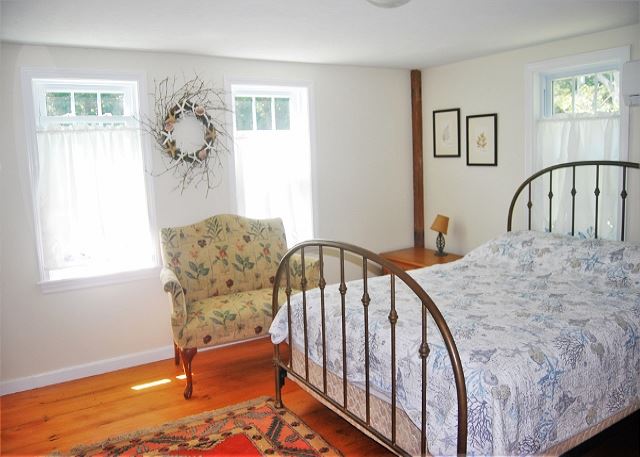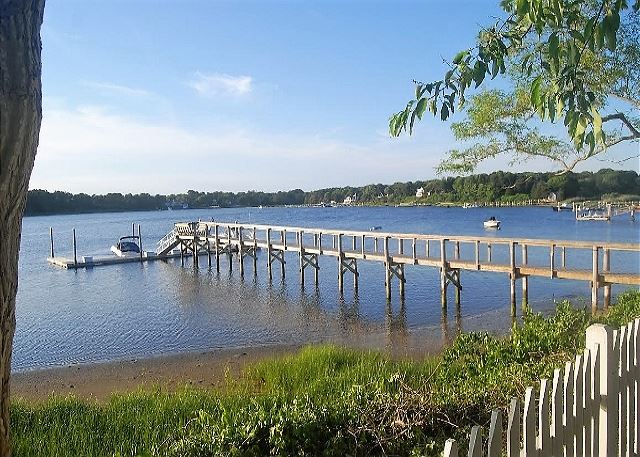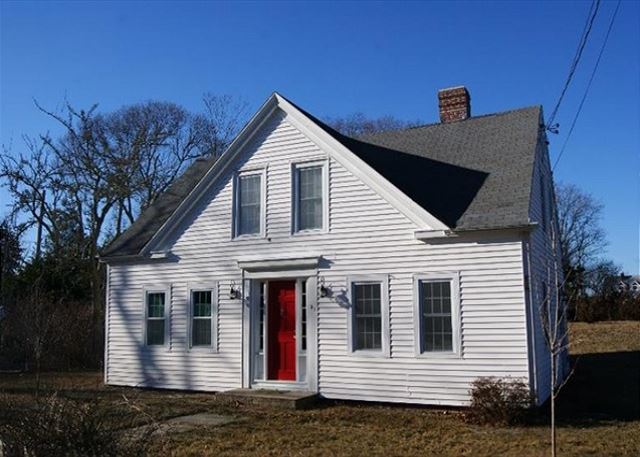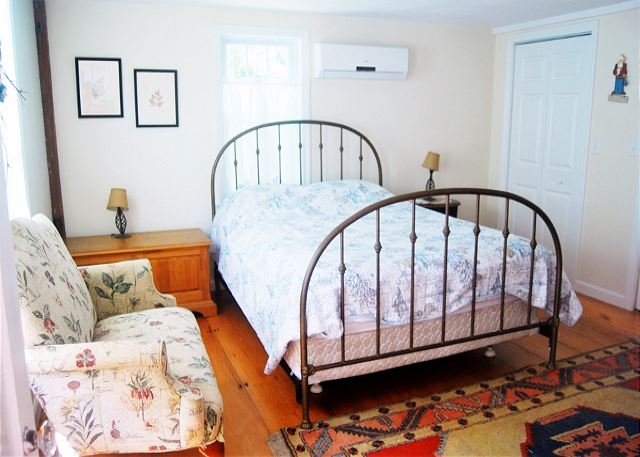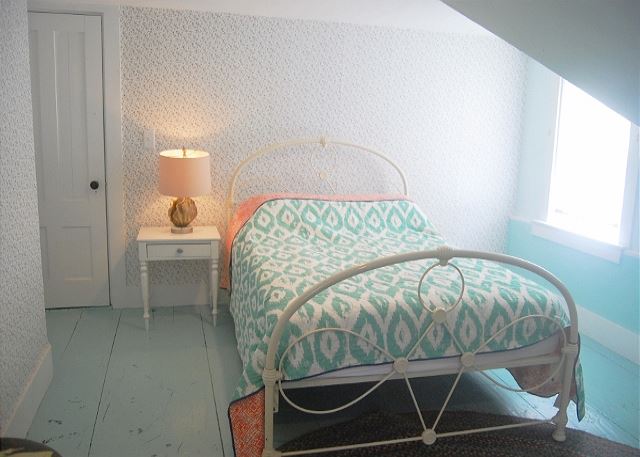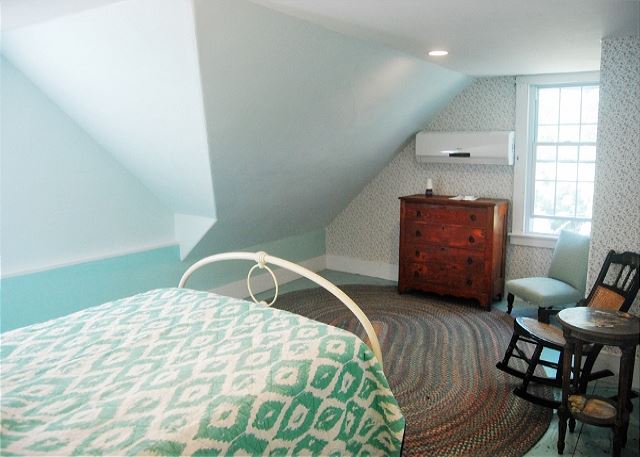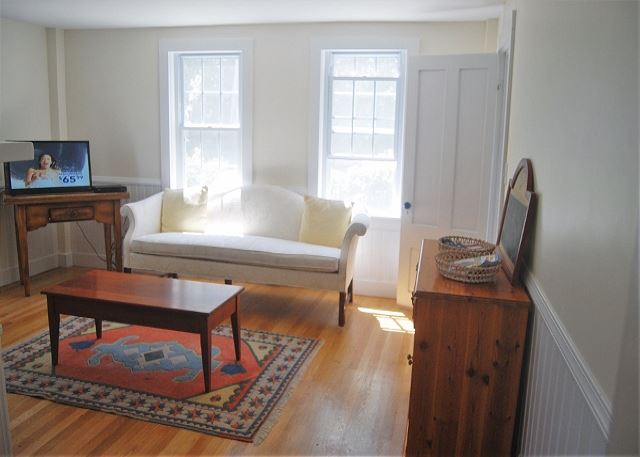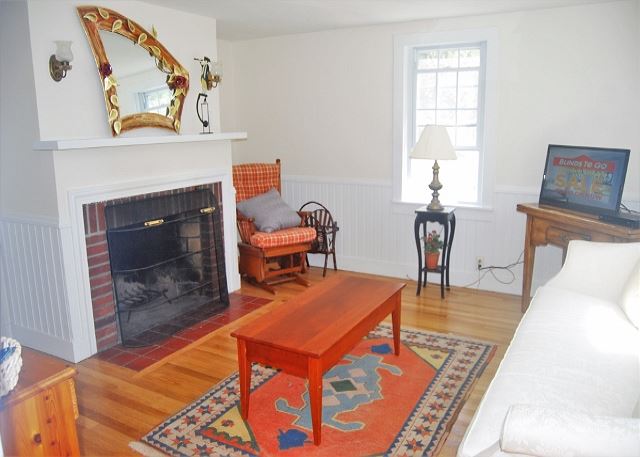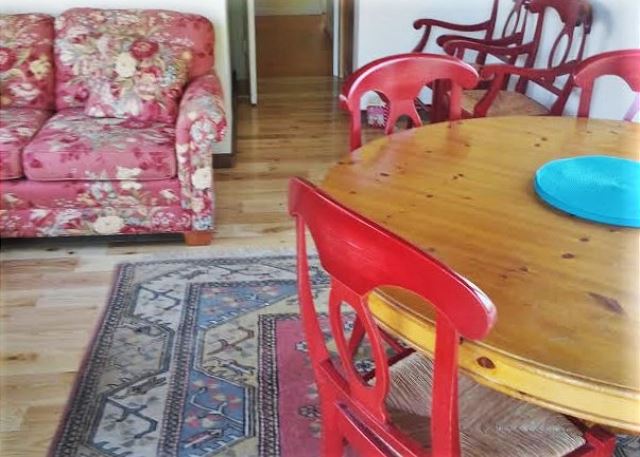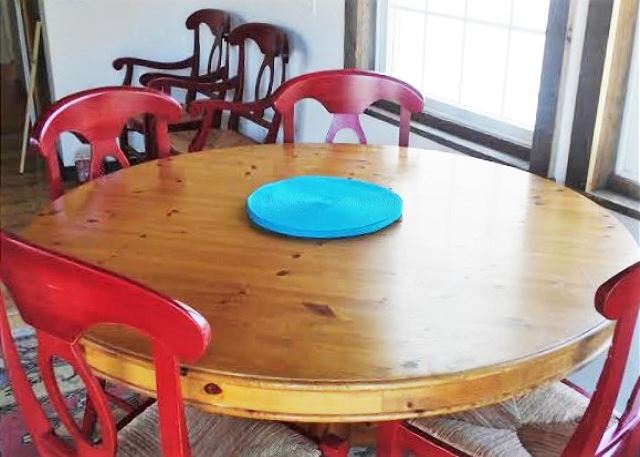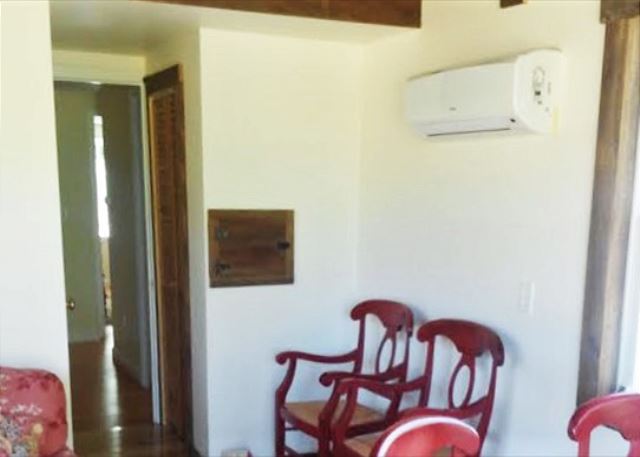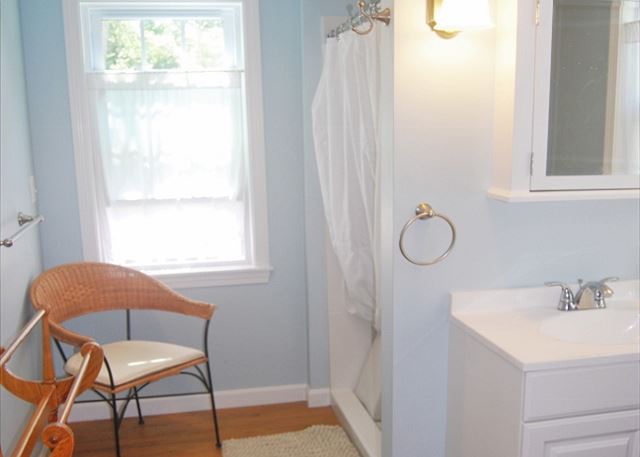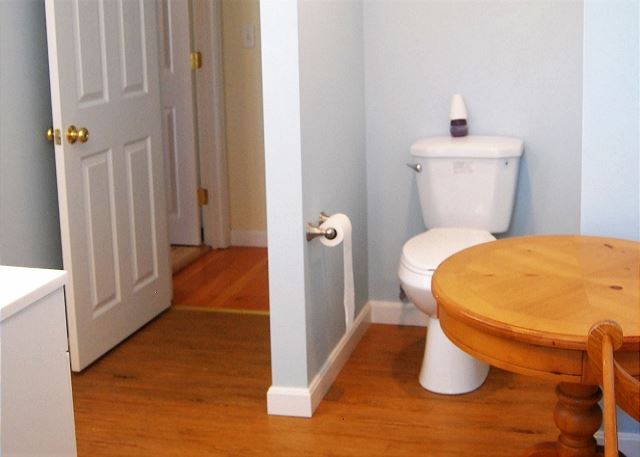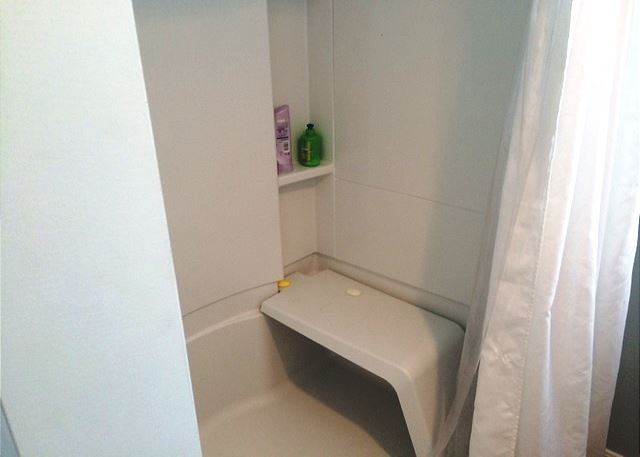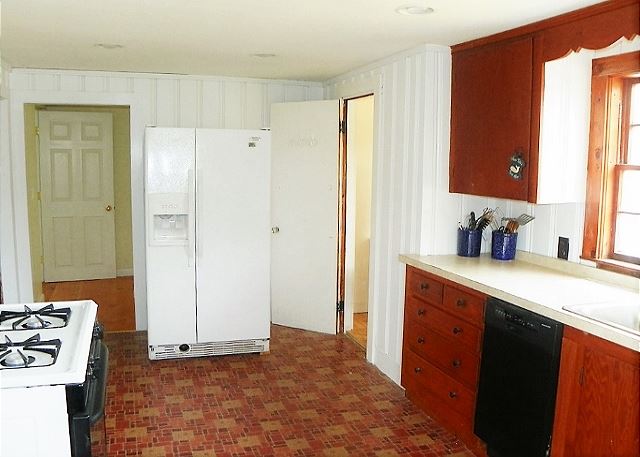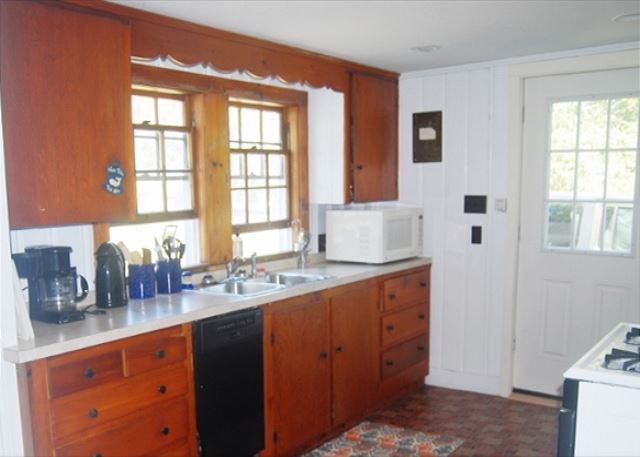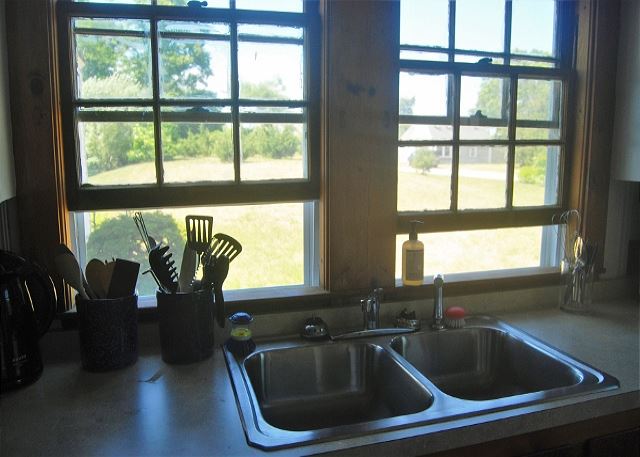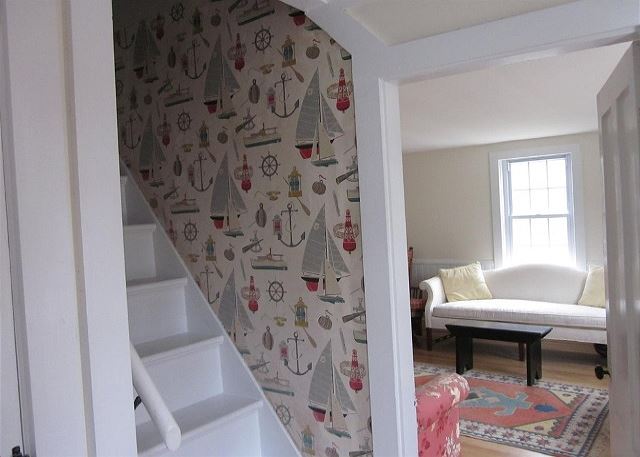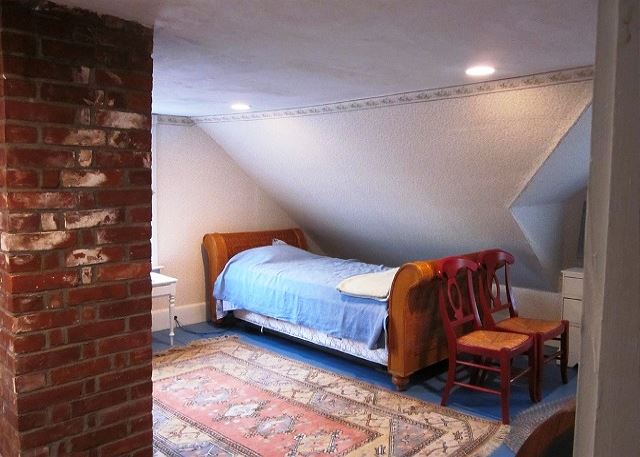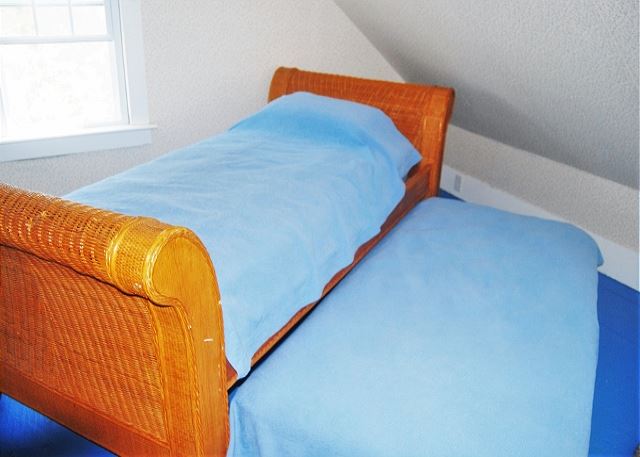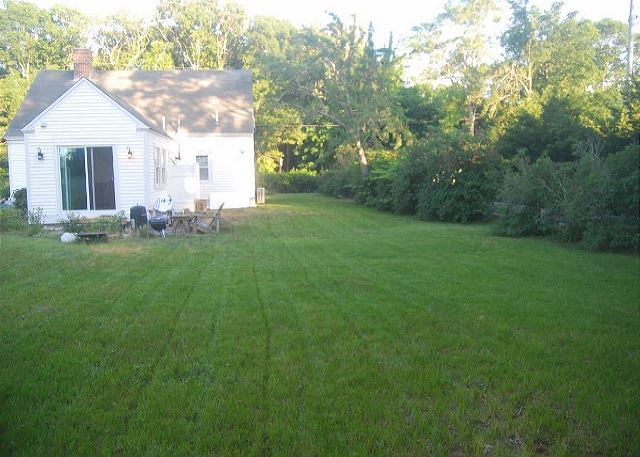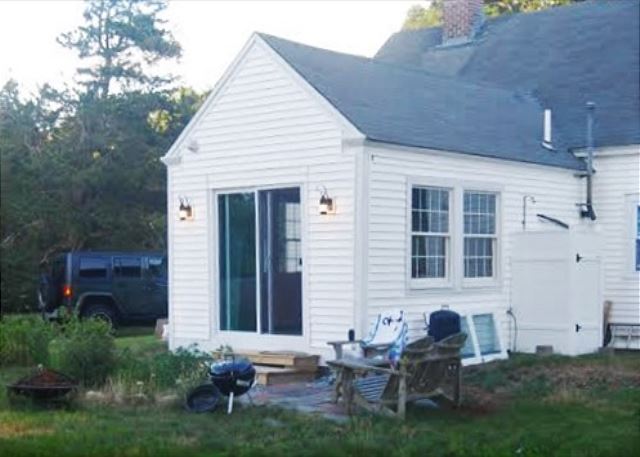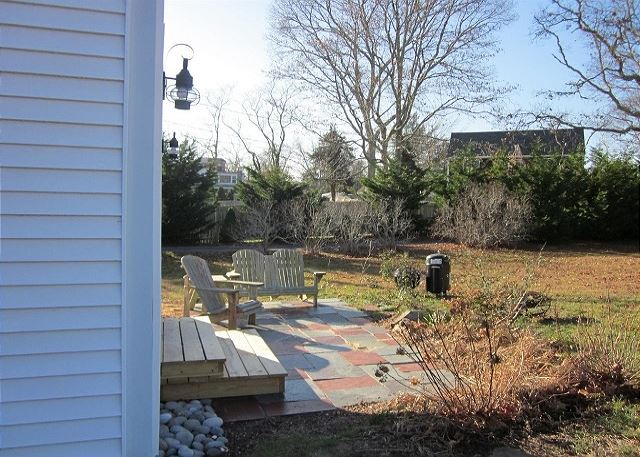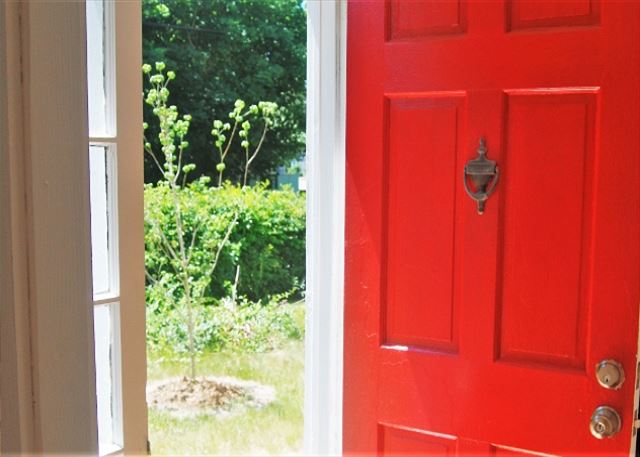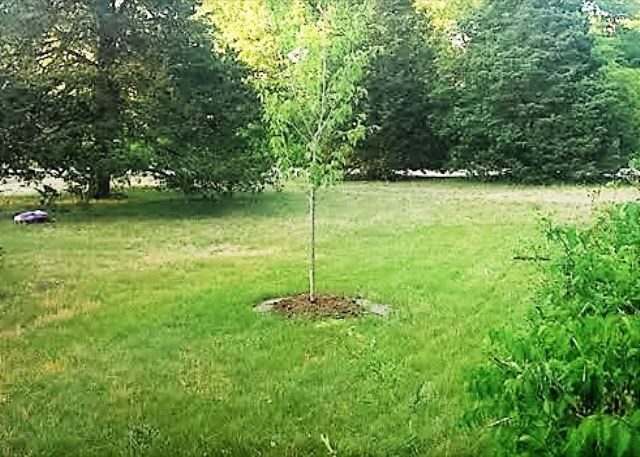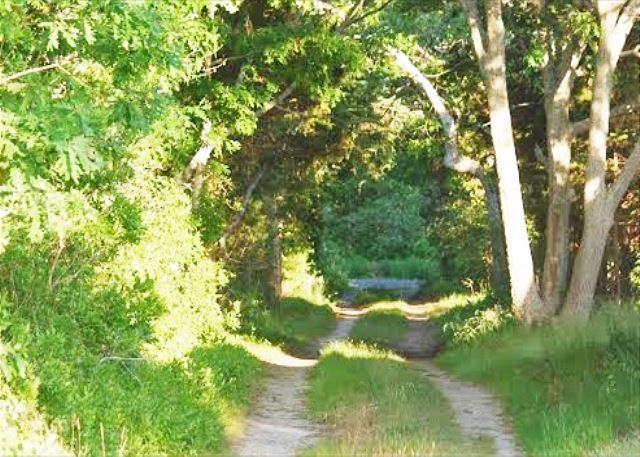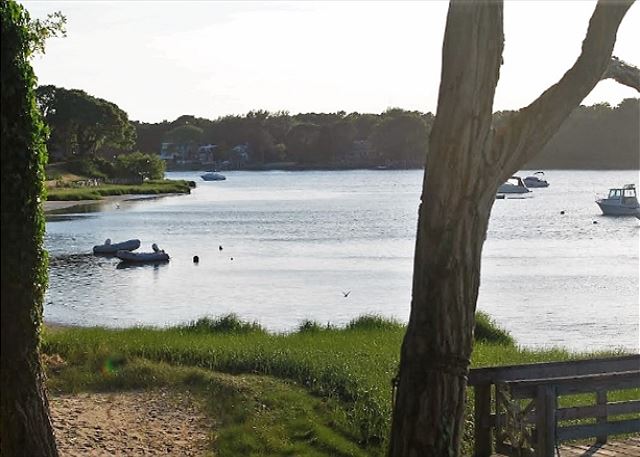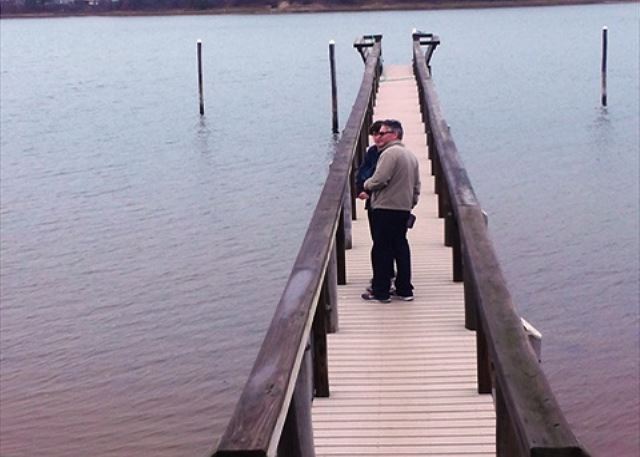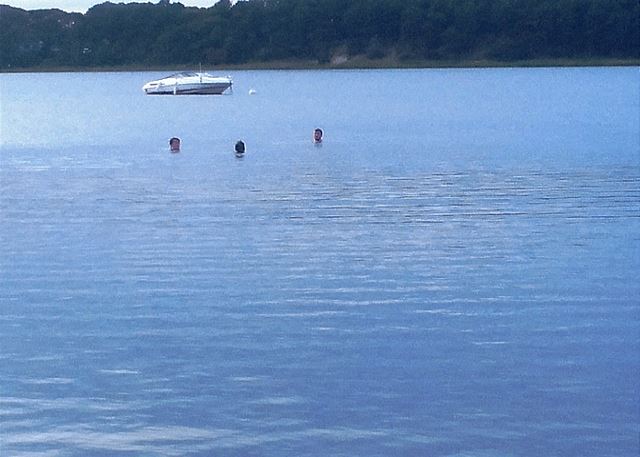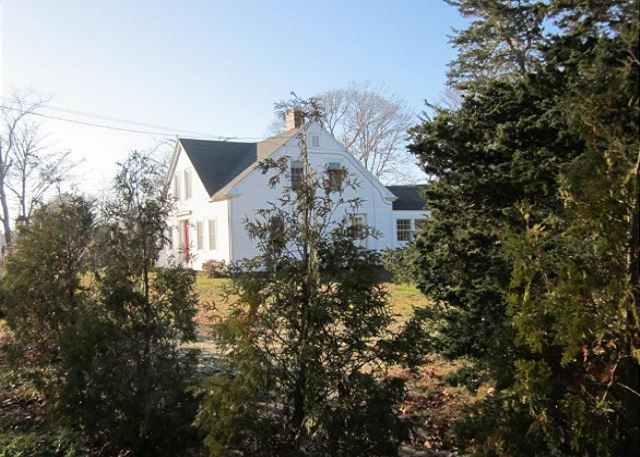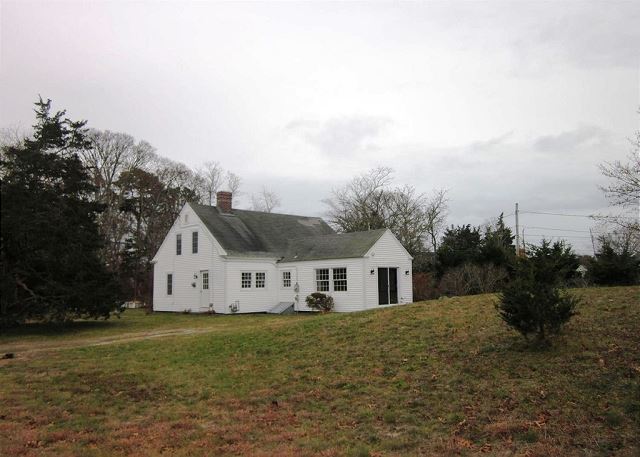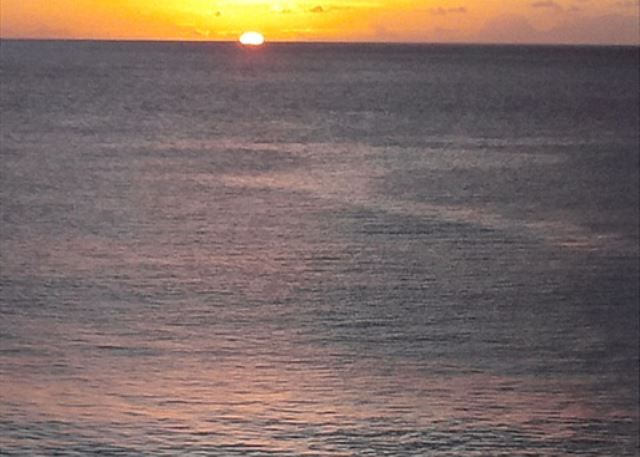 ---
Bedroom(s): 4
Bathroom(s): 1.5
Sleeps: 8
Type: House
Area:
Town: West Dennis
Price Range $1665-$2365*

*without pet $100 less

Rates include all charges; no hidden fees!

This Charming 4 bedroom, one and one half bath 1800s farmhouse in West Dennis is a BOATERS PARADISE! It is just steps to Grand Cove, the entrance to Bass River and Nantucket Sound, with beach nearby.

The lawn stretches to almost an acre at the rear of the property and appears much the same as it was over 200 years ago, but with all the modern conveniences.

The first floor comprises a kitchen with a full complement of dishes and cookware, plus toaster, toaster oven, coffee maker, lobster pot, dishwasher, and microwave. The dining table is in the adjacent sun room, a bright expansive space with beamed ceilings, gleaming floors, and sliders out to the back patio outfitted with a charcoal grill. The large sun room also serves as an interior gathering spot with plush furnishings and a queen-sized sleeper sofa. The living room is behind the kitchen and it is the perfect room to relax, read, or watch TV with Comcast cable stations.

Also located on the first floor are the full and half baths and a beautifully proportioned main bedroom with queen-sized bed and period furnishings that reinforce the sense of stepping back in time.

The upstairs features wide pine floors and generously sized bedrooms: Bedroom 2 has a twin-sized bed, bedroom 3 includes a twin and a trundle, and bedroom 4 includes a full.

The soul of this one-of-a-kind rental resides in its walking proximity to Grand Cove, a picturesque entrance to Bass River and Nantucket Sound where avid boaters can spend every day kayaking or paddle boarding in these grand waterways. No beach pass is needed as guests have semi private access to a cozy beach area where they can swim, sun, canoe - the choices seem endless.

There is no other vacation rental like this one, and it will book quickly, especially since generous discounts are available for multiple week stays!

Also included: washer/dryer, enclosed outdoor shower, WiFi Internet, new new ductless air conditioning that cools the whole cottage, and space for 4 plus cars.

Sorry no smoking allowed.

8 Guests allowed at any time. No parties exceeding the occupancy limit allowed.

LINENS (SHEETS/TOWELS) ARE NOT INCLUDED IN THIS RENTAL.

Travel Insurance is highly recommended and affordable coverage to protect your vacation investment.

Please view our policy and procedure page on our web site for detailed information about renting with us.
- pets considered
- Standard TV
- Basic Cable
- Fireplace
- Microwave
- Drip Coffee Maker
- Cookware
- Dishes / Glassware / Utensils
- Blender
- Toaster or Toaster Oven
- Dishwasher
- Lobster Pot
- A/C unit
- microwave
- Toaster
- Toaster Oven
- Dining Table
- Ceiling Fan
- A/C unit
- A/C
- Washer
- Dryer
- washer and dryer in half bath
- Patio
- Charcoal Grill
- Enclosed Outdoor Shower
- Outdoor Lighting
- Private Dock
- Outdoor Seating
- Boat Mooring
- Private Beach
- Waterview
- Near Cove
- Yes
- DOG
- Pet Considered
July 2017

| S | M | T | W | T | F | S |
| --- | --- | --- | --- | --- | --- | --- |
| | | | | | | 01 |
| 02 | 03 | 04 | 05 | 06 | 07 | 08 |
| 09 | 10 | 11 | 12 | 13 | 14 | 15 |
| 16 | 17 | 18 | 19 | 20 | 21 | 22 |
| 23 | 24 | 25 | 26 | 27 | 28 | 29 |
| 30 | 31 | | | | | |
August 2017

| S | M | T | W | T | F | S |
| --- | --- | --- | --- | --- | --- | --- |
| | | 01 | 02 | 03 | 04 | 05 |
| 06 | 07 | 08 | 09 | 10 | 11 | 12 |
| 13 | 14 | 15 | 16 | 17 | 18 | 19 |
| 20 | 21 | 22 | 23 | 24 | 25 | 26 |
| 27 | 28 | 29 | 30 | 31 | | |
September 2017

| S | M | T | W | T | F | S |
| --- | --- | --- | --- | --- | --- | --- |
| | | | | | 01 | 02 |
| 03 | 04 | 05 | 06 | 07 | 08 | 09 |
| 10 | 11 | 12 | 13 | 14 | 15 | 16 |
| 17 | 18 | 19 | 20 | 21 | 22 | 23 |
| 24 | 25 | 26 | 27 | 28 | 29 | 30 |
October 2017

| S | M | T | W | T | F | S |
| --- | --- | --- | --- | --- | --- | --- |
| 01 | 02 | 03 | 04 | 05 | 06 | 07 |
| 08 | 09 | 10 | 11 | 12 | 13 | 14 |
| 15 | 16 | 17 | 18 | 19 | 20 | 21 |
| 22 | 23 | 24 | 25 | 26 | 27 | 28 |
| 29 | 30 | 31 | | | | |
November 2017

| S | M | T | W | T | F | S |
| --- | --- | --- | --- | --- | --- | --- |
| | | | 01 | 02 | 03 | 04 |
| 05 | 06 | 07 | 08 | 09 | 10 | 11 |
| 12 | 13 | 14 | 15 | 16 | 17 | 18 |
| 19 | 20 | 21 | 22 | 23 | 24 | 25 |
| 26 | 27 | 28 | 29 | 30 | | |
December 2017

| S | M | T | W | T | F | S |
| --- | --- | --- | --- | --- | --- | --- |
| | | | | | 01 | 02 |
| 03 | 04 | 05 | 06 | 07 | 08 | 09 |
| 10 | 11 | 12 | 13 | 14 | 15 | 16 |
| 17 | 18 | 19 | 20 | 21 | 22 | 23 |
| 24 | 25 | 26 | 27 | 28 | 29 | 30 |
| 31 | | | | | | |
January 2018

| S | M | T | W | T | F | S |
| --- | --- | --- | --- | --- | --- | --- |
| | 01 | 02 | 03 | 04 | 05 | 06 |
| 07 | 08 | 09 | 10 | 11 | 12 | 13 |
| 14 | 15 | 16 | 17 | 18 | 19 | 20 |
| 21 | 22 | 23 | 24 | 25 | 26 | 27 |
| 28 | 29 | 30 | 31 | | | |
February 2018

| S | M | T | W | T | F | S |
| --- | --- | --- | --- | --- | --- | --- |
| | | | | 01 | 02 | 03 |
| 04 | 05 | 06 | 07 | 08 | 09 | 10 |
| 11 | 12 | 13 | 14 | 15 | 16 | 17 |
| 18 | 19 | 20 | 21 | 22 | 23 | 24 |
| 25 | 26 | 27 | 28 | | | |
March 2018

| S | M | T | W | T | F | S |
| --- | --- | --- | --- | --- | --- | --- |
| | | | | 01 | 02 | 03 |
| 04 | 05 | 06 | 07 | 08 | 09 | 10 |
| 11 | 12 | 13 | 14 | 15 | 16 | 17 |
| 18 | 19 | 20 | 21 | 22 | 23 | 24 |
| 25 | 26 | 27 | 28 | 29 | 30 | 31 |
April 2018

| S | M | T | W | T | F | S |
| --- | --- | --- | --- | --- | --- | --- |
| 01 | 02 | 03 | 04 | 05 | 06 | 07 |
| 08 | 09 | 10 | 11 | 12 | 13 | 14 |
| 15 | 16 | 17 | 18 | 19 | 20 | 21 |
| 22 | 23 | 24 | 25 | 26 | 27 | 28 |
| 29 | 30 | | | | | |
May 2018

| S | M | T | W | T | F | S |
| --- | --- | --- | --- | --- | --- | --- |
| | | 01 | 02 | 03 | 04 | 05 |
| 06 | 07 | 08 | 09 | 10 | 11 | 12 |
| 13 | 14 | 15 | 16 | 17 | 18 | 19 |
| 20 | 21 | 22 | 23 | 24 | 25 | 26 |
| 27 | 28 | 29 | 30 | 31 | | |
June 2018

| S | M | T | W | T | F | S |
| --- | --- | --- | --- | --- | --- | --- |
| | | | | | 01 | 02 |
| 03 | 04 | 05 | 06 | 07 | 08 | 09 |
| 10 | 11 | 12 | 13 | 14 | 15 | 16 |
| 17 | 18 | 19 | 20 | 21 | 22 | 23 |
| 24 | 25 | 26 | 27 | 28 | 29 | 30 |
July 2018

| S | M | T | W | T | F | S |
| --- | --- | --- | --- | --- | --- | --- |
| 01 | 02 | 03 | 04 | 05 | 06 | 07 |
| 08 | 09 | 10 | 11 | 12 | 13 | 14 |
| 15 | 16 | 17 | 18 | 19 | 20 | 21 |
| 22 | 23 | 24 | 25 | 26 | 27 | 28 |
| 29 | 30 | 31 | | | | |
Available
Unavailable
Sat to Sat booking