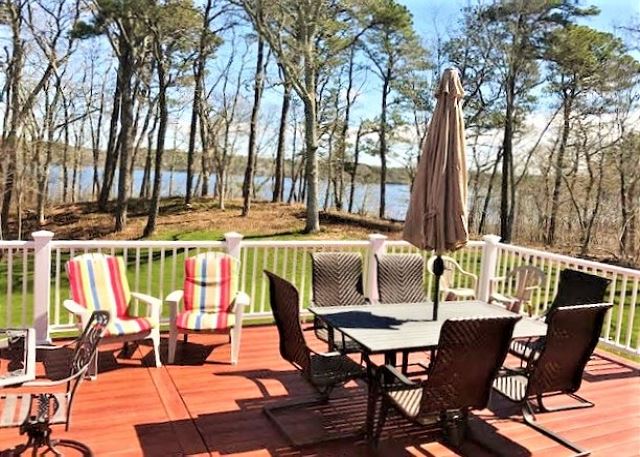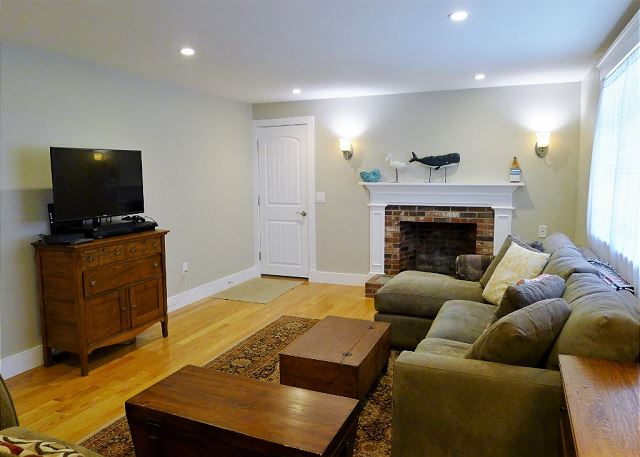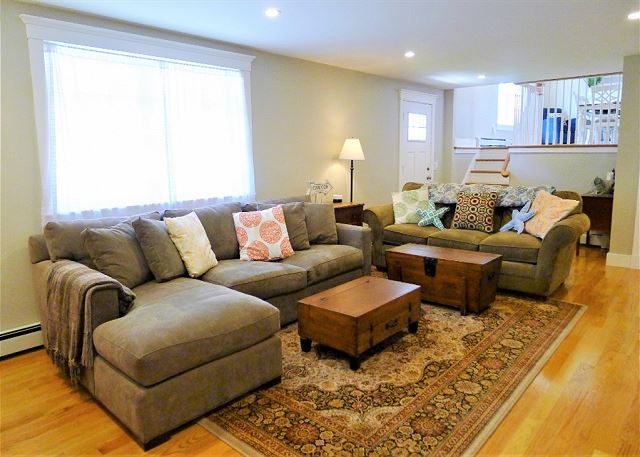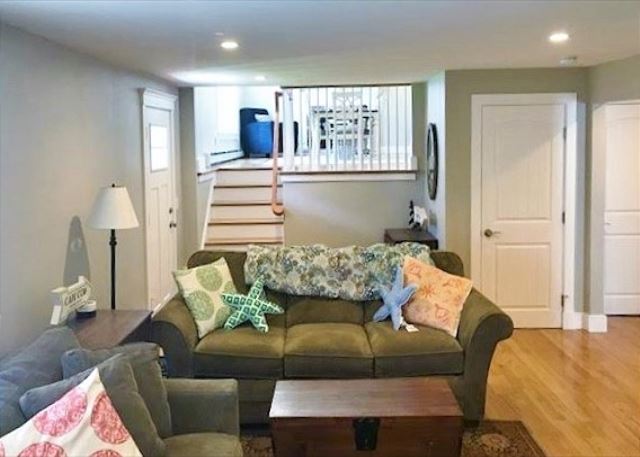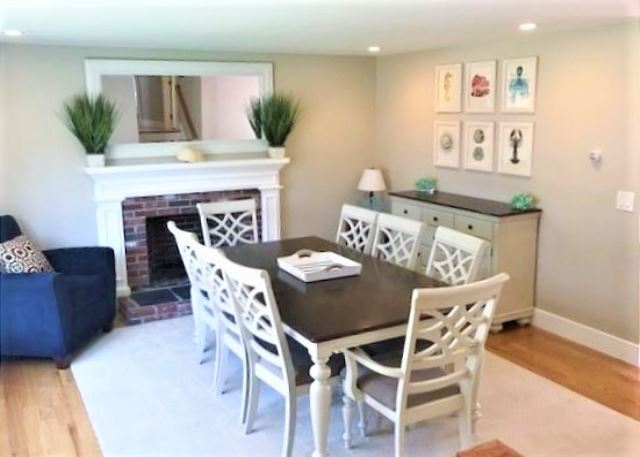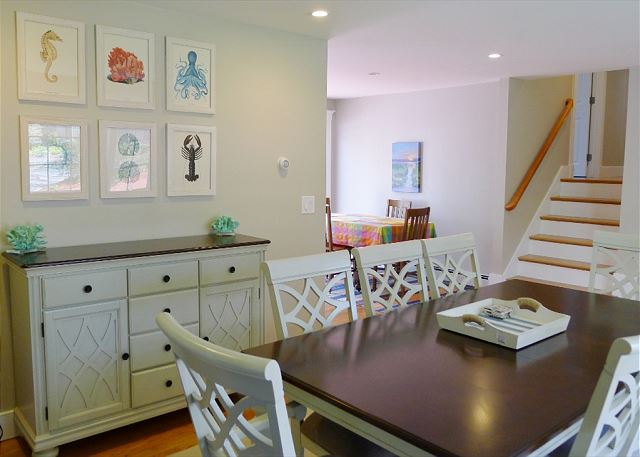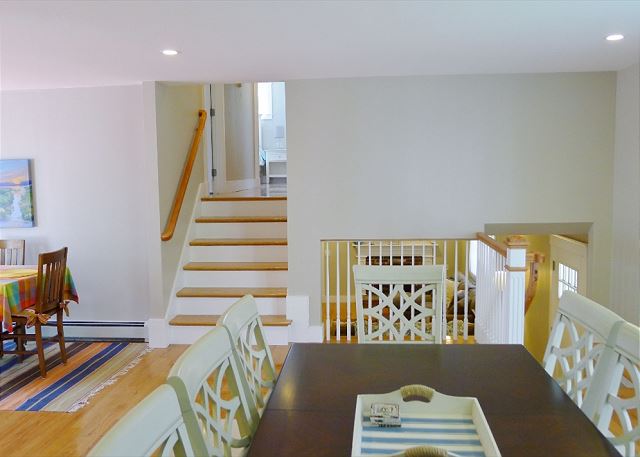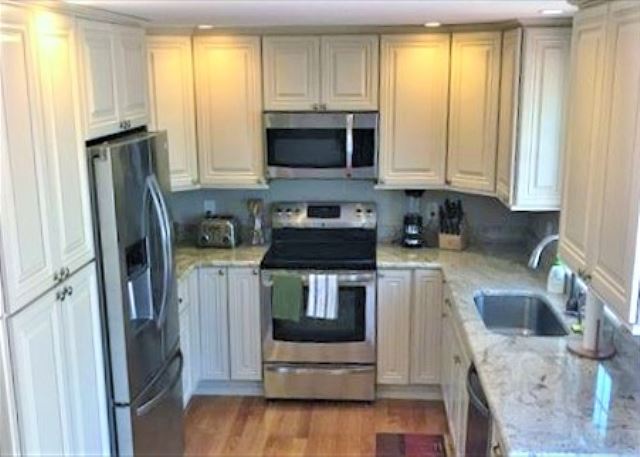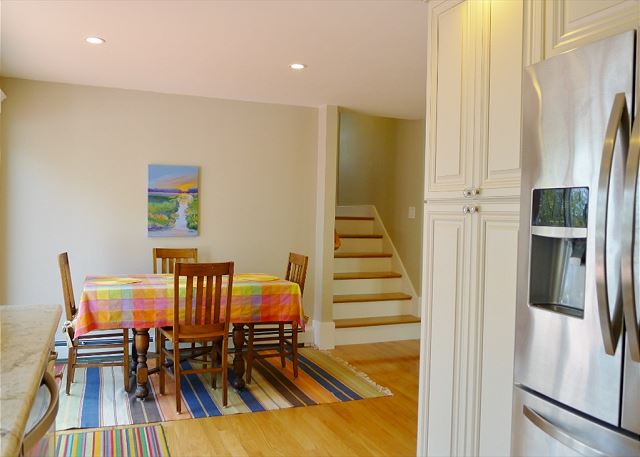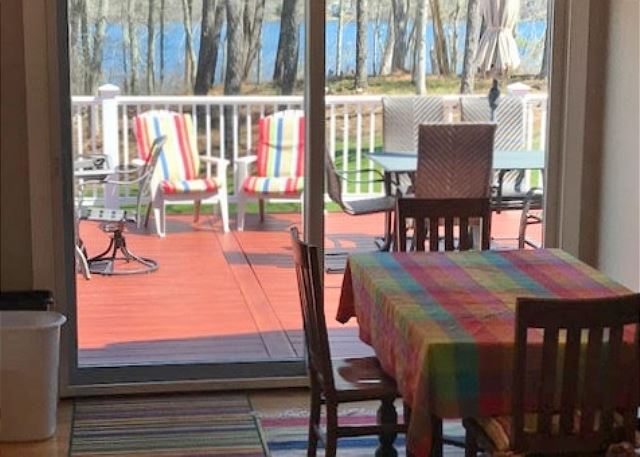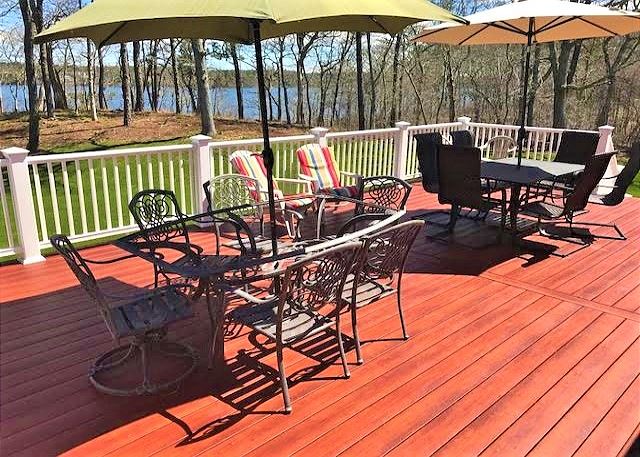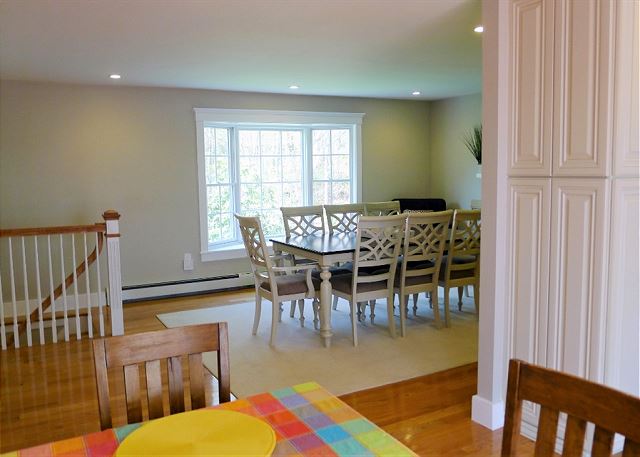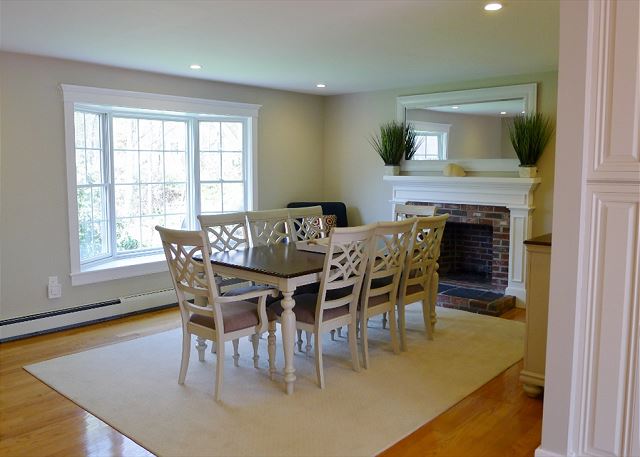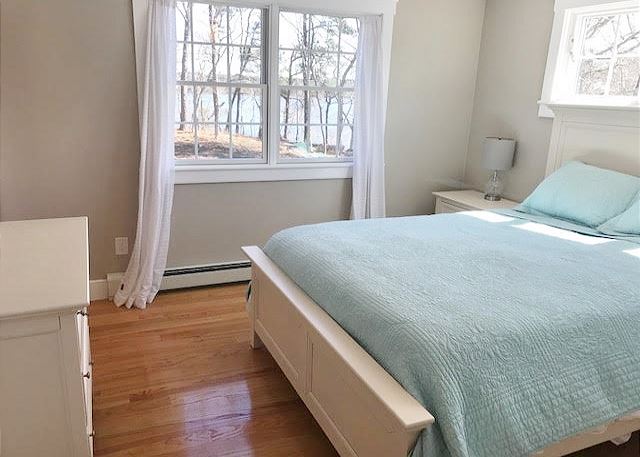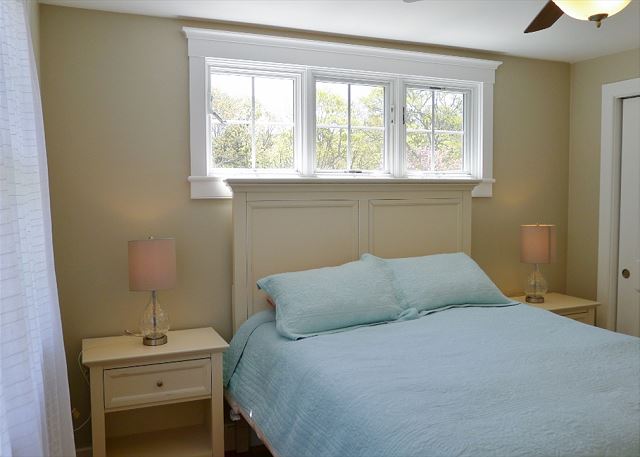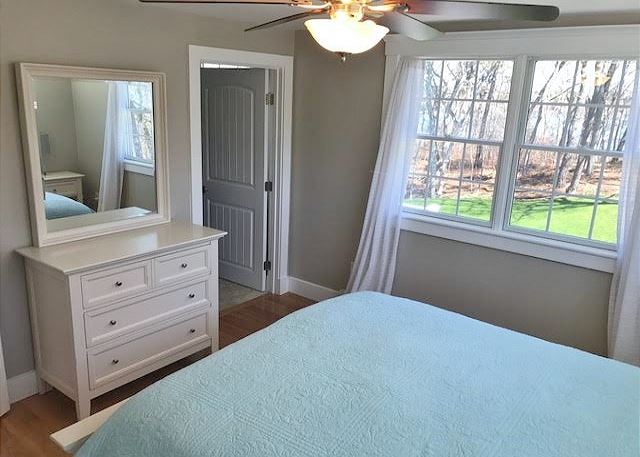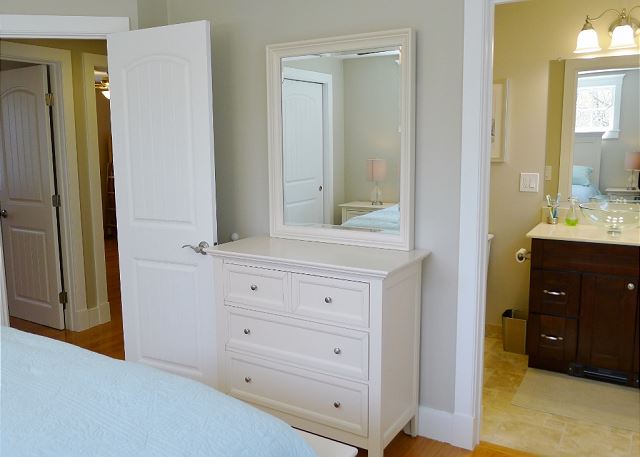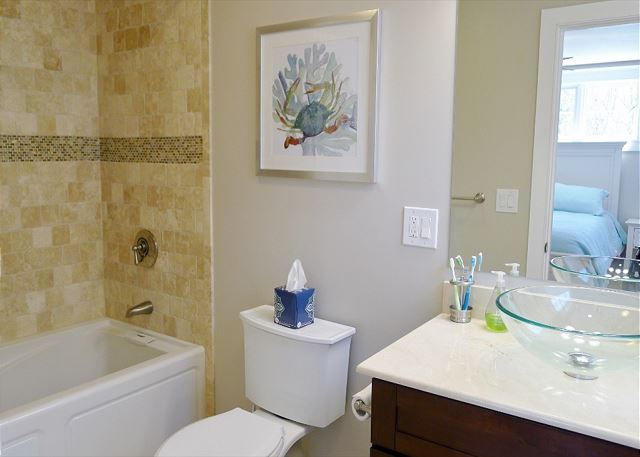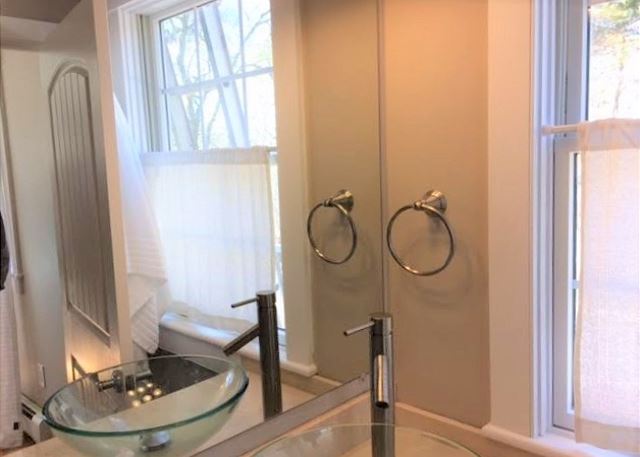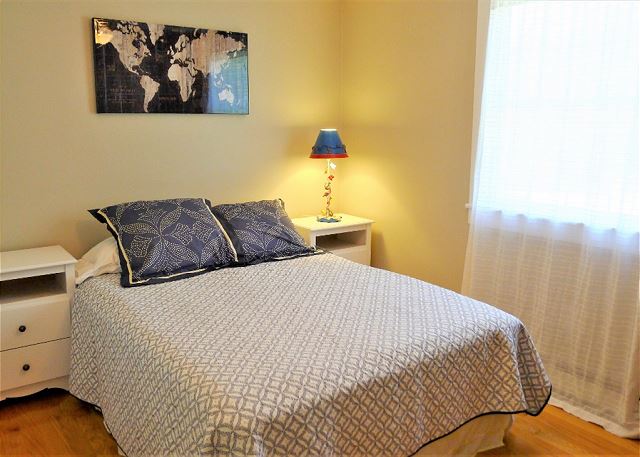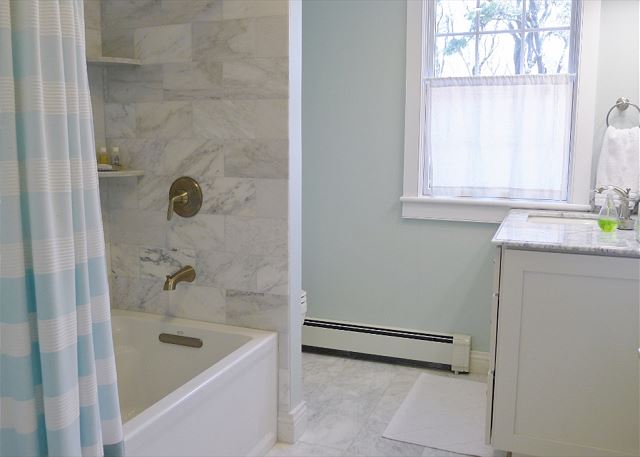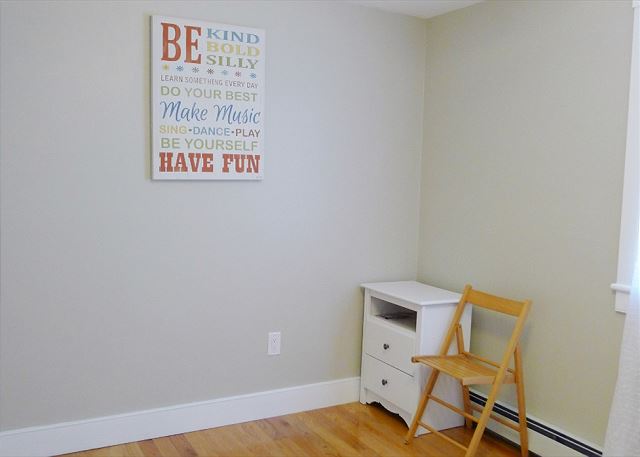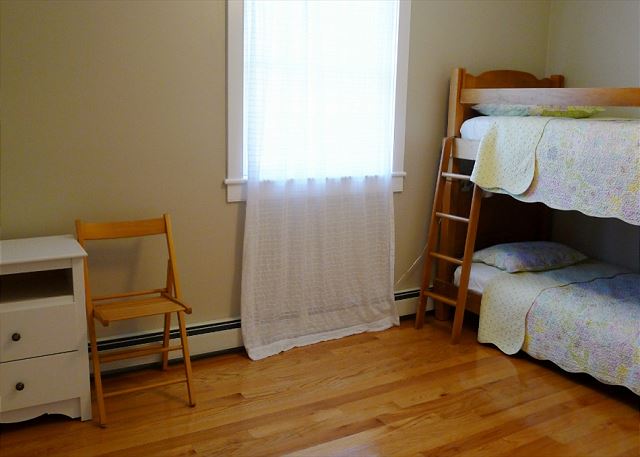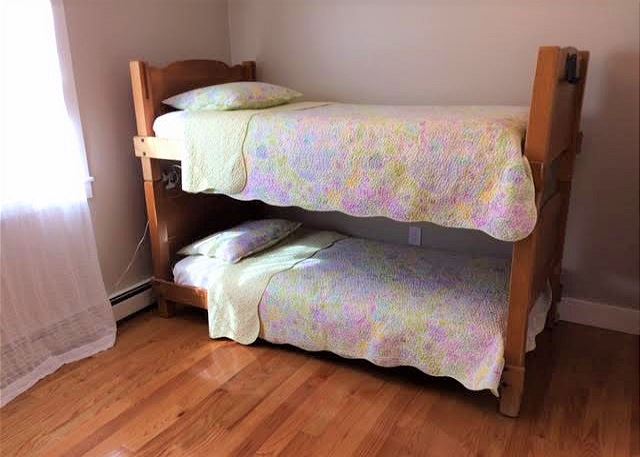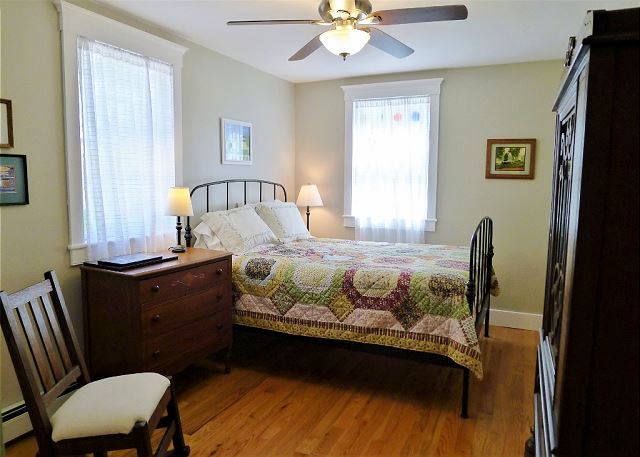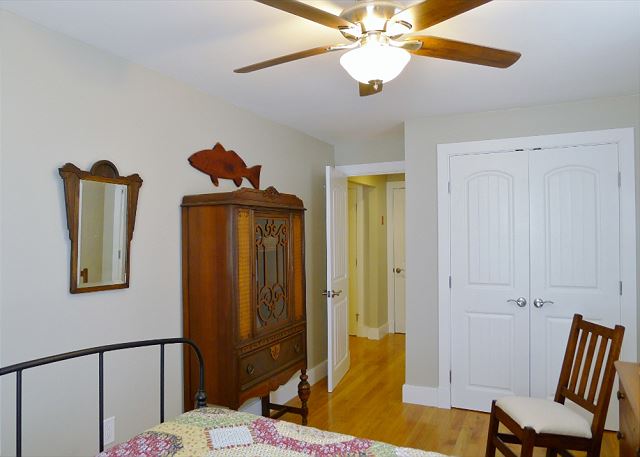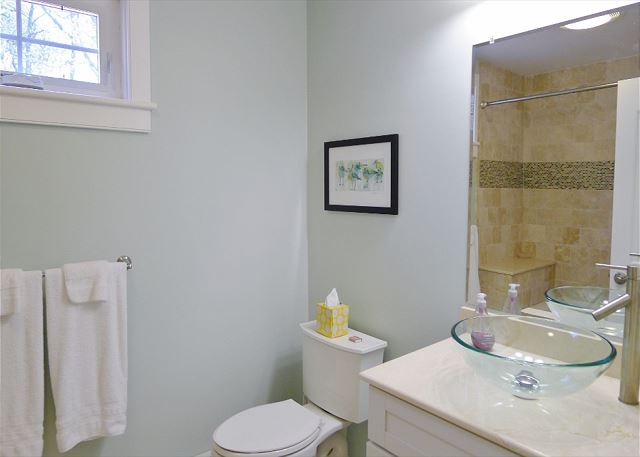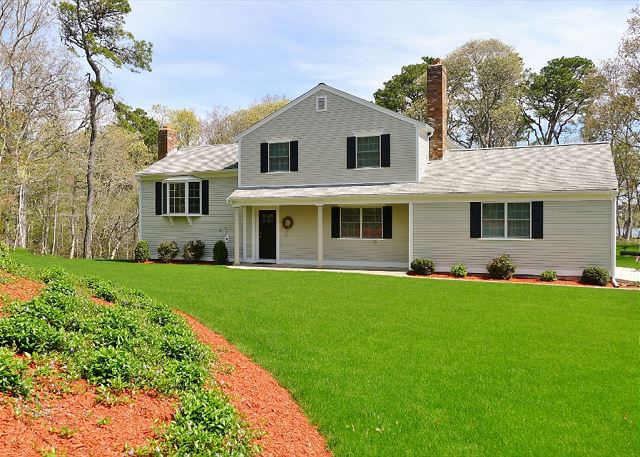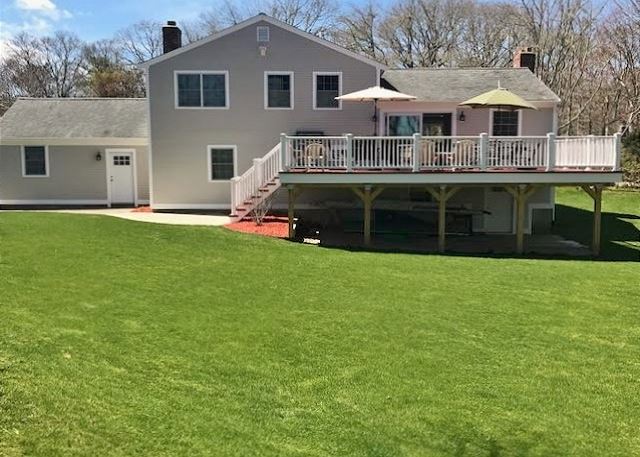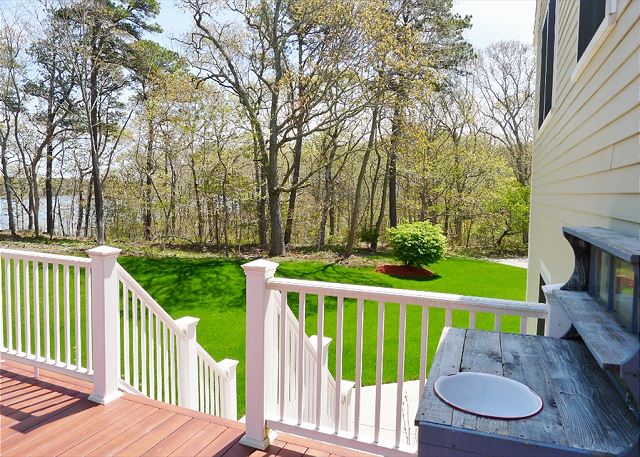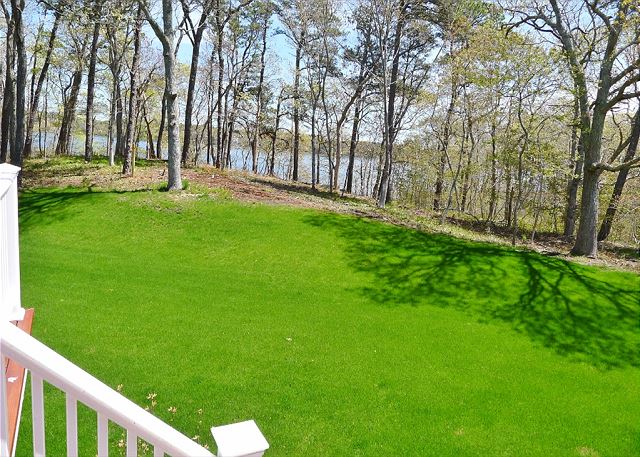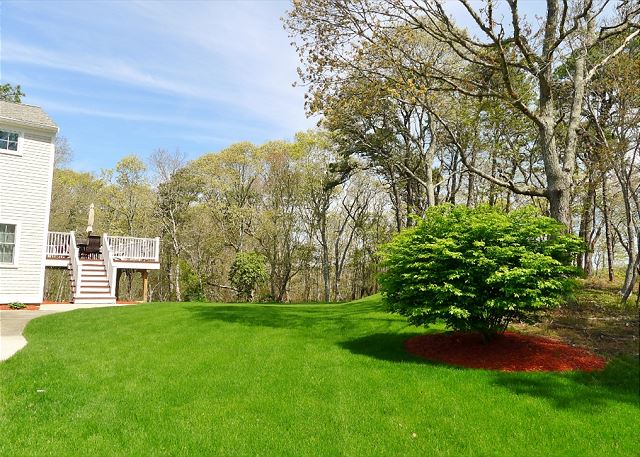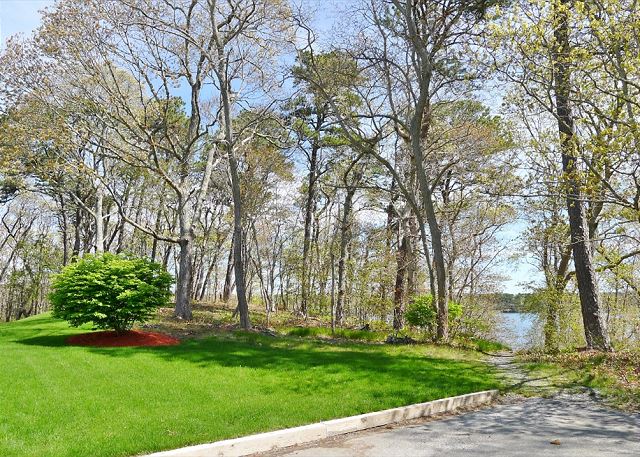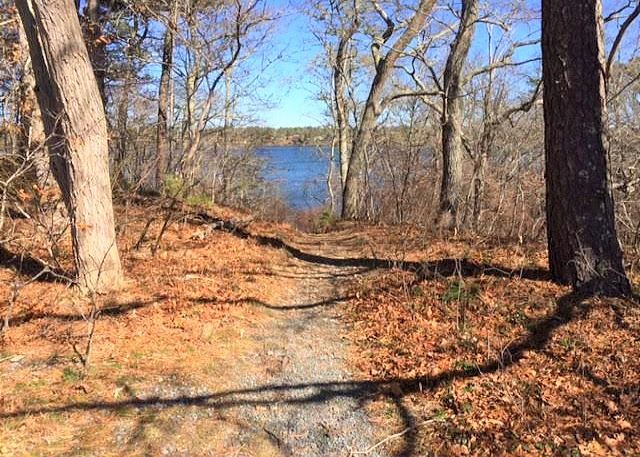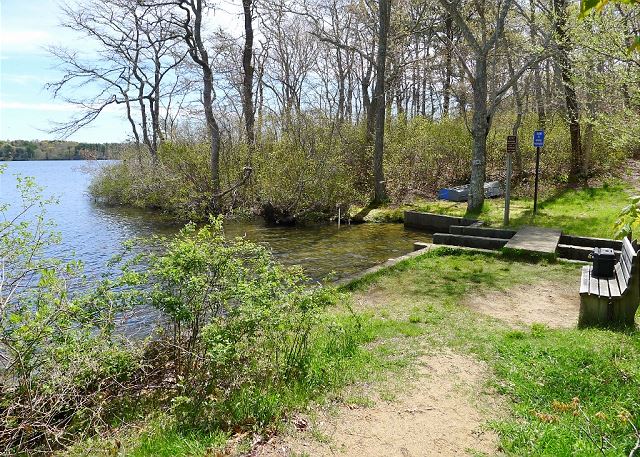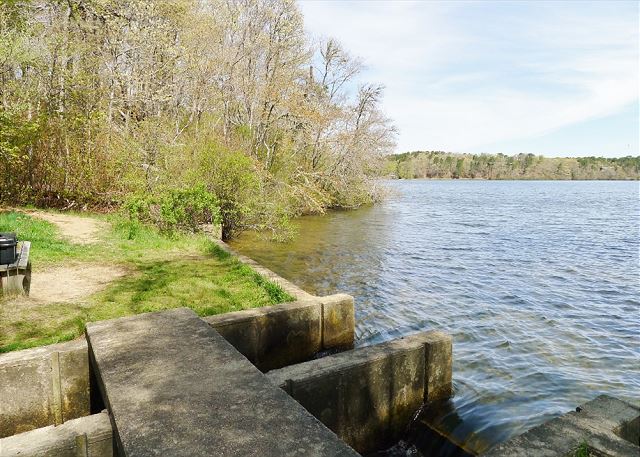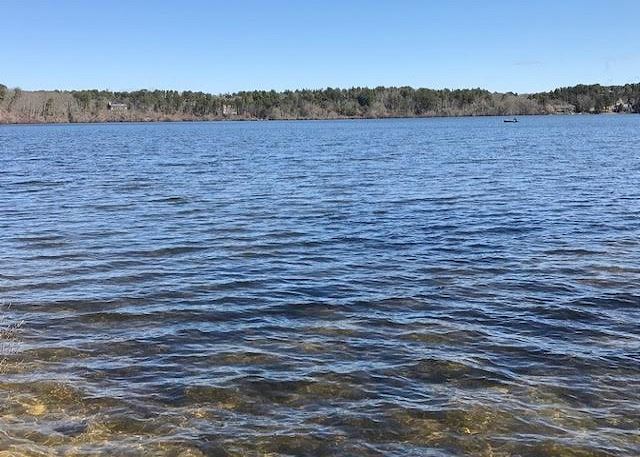 ---
Bedroom(s): 4
Bathroom(s): 3
Sleeps: 8
Type: House
Area:
Town: Harwich
$2900-$3350 Rates include all charges. No hidden fees!

Located just steps away from beautiful Hinckleys Pond via a private path and minutes to warm bay and sound beaches, this 4 bedroom/3 bath gem has been completely remodeled and almost everything is brand new – from furniture to bedding to appliances.

The airy interior features 3 levels, each connected to the other by a short stairway. This allows the lower and main level to feel like one broad and bright space. The lower level includes the living room with two super comfortable couches framed into an L and facing a 40" flat screen TV with extended Comcast cable service, a DVD player, and Playstation 3. There is also a full bath as well as a bedroom on this floor with a queen sized bed, window a/c, and ceiling fan.

On the main level, the open dining/kitchen area has a window a/c, an exquisite dining table for 8 and a smaller table for 4 that commands an ideal vantage point to gaze at the water. It reflects the sun in such a way as to cast a shimmer of light inside and outside of the home. Tucked behind the dining space is a chef's kitchen with stainless steel appliances including microwave, dishwasher, ice-maker, and every dish, glass, and pan that you will need during your holiday.

The third floor is designed for privacy with 3 more bedrooms, each of which has a ceiling fan and window a/c. The main bedroom has an insuite marbled bath with tub/shower combination and queen sized bed. Bedroom #3 has a queen sized bed, and bedroom #4 features bunk beds that can be dismantled into two twins.

There are polished wood floors throughout the home and all bathrooms boast elegant touches like a glass vessel sink.

But the true centerpiece of this home is its 20x30 foot deck accessed from the house through a large glass slider. This outdoor room includes two dining tables with combined seating capacity for 12, a gas grill, and a magnificent view of Hinckleys Pond, one of Harwichs most pristine kettle holes for swimming and boating. The guests have use of a fire pit, canoe, paddles, and life jackets to maximize their time on the water and create an experience that is relaxing but also rich with recreational possibilities.

Also included: Wifi, room fans, washer/dryer, two car garage for storage, and room for 6 cars in the driveway.

This home is exactly 1 mile down the road to the Cape Cod Rail Trail bike path.

Sorry no pets and no smoking allowed.

8 guests maximum allowed at any time. No parties exceeding the occupancy limit allowed.

LINENS (SHEETS/TOWELS) ARE NOT INCLUDED IN THIS RENTAL.

Travel Insurance is highly recommended and affordable coverage to protect your vacation investment.

Please view our policy and procedure page on our web site for detailed information about renting with us.
- Lakefront
- pets not allowed
- DVD Player
- Extended Cable
- Game System (Xbox, Wii, Playstn)
- Fireplace
- A/C Unit
- WiFi
- Iron/Ironing Board
- Land line telephone
- Flat Screen TV
- Microwave
- Teapot or Tea Kettle
- Drip Coffee Maker
- Cleaning Supplies
- Cookware
- Dishes / Glassware / Utensils
- Kitchen Table
- Blender
- Iron
- Toaster or Toaster Oven
- Ice Maker
- Dishwasher
- Lobster Pot
- Door to Deck
- ironing board
- Toaster
- Dining Table
- A/C unit
- fireplace
- On Suite Main Bedroom Bath
- window a/cs in all bedrooms
- washer
- dryer
- Dining Table w/ Umbrella
- Dining Table w/o Umbrella
- Firepit or Chiminea
- Garage Access
- Outdoor Lighting
- Kayak
- Outdoor Seating
- Private Beach
- Lake or Pond Front
- Lake or Pond Access
November 2017

| S | M | T | W | T | F | S |
| --- | --- | --- | --- | --- | --- | --- |
| | | | 01 | 02 | 03 | 04 |
| 05 | 06 | 07 | 08 | 09 | 10 | 11 |
| 12 | 13 | 14 | 15 | 16 | 17 | 18 |
| 19 | 20 | 21 | 22 | 23 | 24 | 25 |
| 26 | 27 | 28 | 29 | 30 | | |
December 2017

| S | M | T | W | T | F | S |
| --- | --- | --- | --- | --- | --- | --- |
| | | | | | 01 | 02 |
| 03 | 04 | 05 | 06 | 07 | 08 | 09 |
| 10 | 11 | 12 | 13 | 14 | 15 | 16 |
| 17 | 18 | 19 | 20 | 21 | 22 | 23 |
| 24 | 25 | 26 | 27 | 28 | 29 | 30 |
| 31 | | | | | | |
January 2018

| S | M | T | W | T | F | S |
| --- | --- | --- | --- | --- | --- | --- |
| | 01 | 02 | 03 | 04 | 05 | 06 |
| 07 | 08 | 09 | 10 | 11 | 12 | 13 |
| 14 | 15 | 16 | 17 | 18 | 19 | 20 |
| 21 | 22 | 23 | 24 | 25 | 26 | 27 |
| 28 | 29 | 30 | 31 | | | |
February 2018

| S | M | T | W | T | F | S |
| --- | --- | --- | --- | --- | --- | --- |
| | | | | 01 | 02 | 03 |
| 04 | 05 | 06 | 07 | 08 | 09 | 10 |
| 11 | 12 | 13 | 14 | 15 | 16 | 17 |
| 18 | 19 | 20 | 21 | 22 | 23 | 24 |
| 25 | 26 | 27 | 28 | | | |
March 2018

| S | M | T | W | T | F | S |
| --- | --- | --- | --- | --- | --- | --- |
| | | | | 01 | 02 | 03 |
| 04 | 05 | 06 | 07 | 08 | 09 | 10 |
| 11 | 12 | 13 | 14 | 15 | 16 | 17 |
| 18 | 19 | 20 | 21 | 22 | 23 | 24 |
| 25 | 26 | 27 | 28 | 29 | 30 | 31 |
April 2018

| S | M | T | W | T | F | S |
| --- | --- | --- | --- | --- | --- | --- |
| 01 | 02 | 03 | 04 | 05 | 06 | 07 |
| 08 | 09 | 10 | 11 | 12 | 13 | 14 |
| 15 | 16 | 17 | 18 | 19 | 20 | 21 |
| 22 | 23 | 24 | 25 | 26 | 27 | 28 |
| 29 | 30 | | | | | |
May 2018

| S | M | T | W | T | F | S |
| --- | --- | --- | --- | --- | --- | --- |
| | | 01 | 02 | 03 | 04 | 05 |
| 06 | 07 | 08 | 09 | 10 | 11 | 12 |
| 13 | 14 | 15 | 16 | 17 | 18 | 19 |
| 20 | 21 | 22 | 23 | 24 | 25 | 26 |
| 27 | 28 | 29 | 30 | 31 | | |
June 2018

| S | M | T | W | T | F | S |
| --- | --- | --- | --- | --- | --- | --- |
| | | | | | 01 | 02 |
| 03 | 04 | 05 | 06 | 07 | 08 | 09 |
| 10 | 11 | 12 | 13 | 14 | 15 | 16 |
| 17 | 18 | 19 | 20 | 21 | 22 | 23 |
| 24 | 25 | 26 | 27 | 28 | 29 | 30 |
July 2018

| S | M | T | W | T | F | S |
| --- | --- | --- | --- | --- | --- | --- |
| 01 | 02 | 03 | 04 | 05 | 06 | 07 |
| 08 | 09 | 10 | 11 | 12 | 13 | 14 |
| 15 | 16 | 17 | 18 | 19 | 20 | 21 |
| 22 | 23 | 24 | 25 | 26 | 27 | 28 |
| 29 | 30 | 31 | | | | |
August 2018

| S | M | T | W | T | F | S |
| --- | --- | --- | --- | --- | --- | --- |
| | | | 01 | 02 | 03 | 04 |
| 05 | 06 | 07 | 08 | 09 | 10 | 11 |
| 12 | 13 | 14 | 15 | 16 | 17 | 18 |
| 19 | 20 | 21 | 22 | 23 | 24 | 25 |
| 26 | 27 | 28 | 29 | 30 | 31 | |
September 2018

| S | M | T | W | T | F | S |
| --- | --- | --- | --- | --- | --- | --- |
| | | | | | | 01 |
| 02 | 03 | 04 | 05 | 06 | 07 | 08 |
| 09 | 10 | 11 | 12 | 13 | 14 | 15 |
| 16 | 17 | 18 | 19 | 20 | 21 | 22 |
| 23 | 24 | 25 | 26 | 27 | 28 | 29 |
| 30 | | | | | | |
October 2018

| S | M | T | W | T | F | S |
| --- | --- | --- | --- | --- | --- | --- |
| | 01 | 02 | 03 | 04 | 05 | 06 |
| 07 | 08 | 09 | 10 | 11 | 12 | 13 |
| 14 | 15 | 16 | 17 | 18 | 19 | 20 |
| 21 | 22 | 23 | 24 | 25 | 26 | 27 |
| 28 | 29 | 30 | 31 | | | |
November 2018

| S | M | T | W | T | F | S |
| --- | --- | --- | --- | --- | --- | --- |
| | | | | 01 | 02 | 03 |
| 04 | 05 | 06 | 07 | 08 | 09 | 10 |
| 11 | 12 | 13 | 14 | 15 | 16 | 17 |
| 18 | 19 | 20 | 21 | 22 | 23 | 24 |
| 25 | 26 | 27 | 28 | 29 | 30 | |
Available
Unavailable
Sat to Sat booking