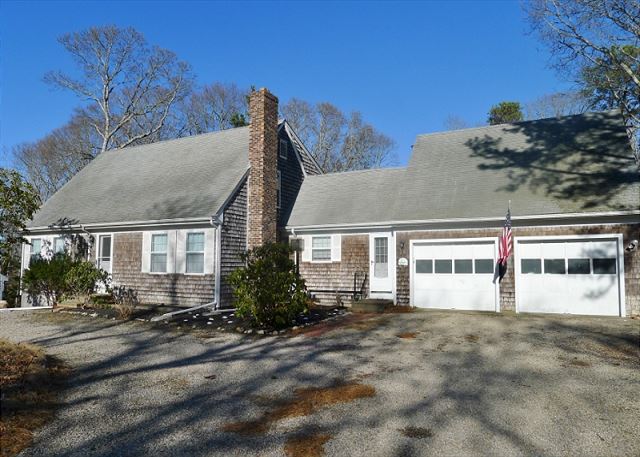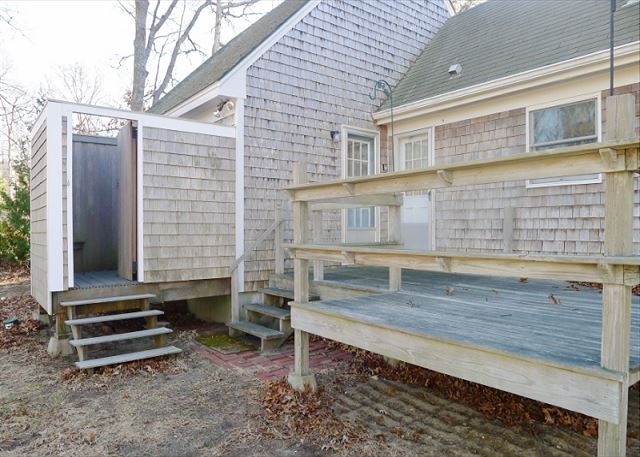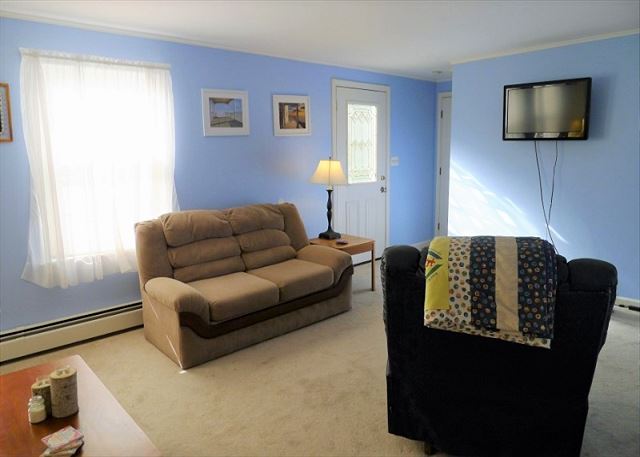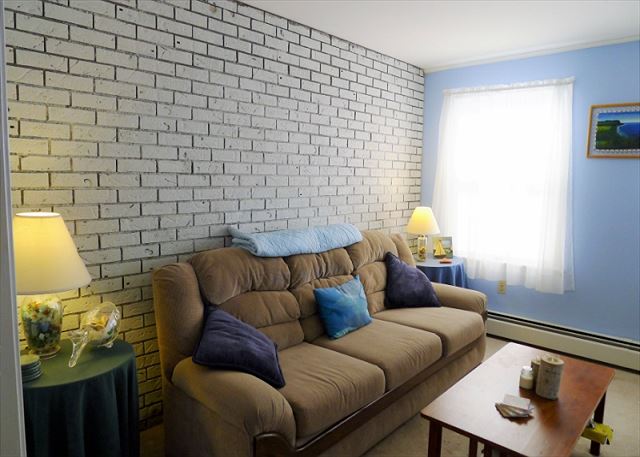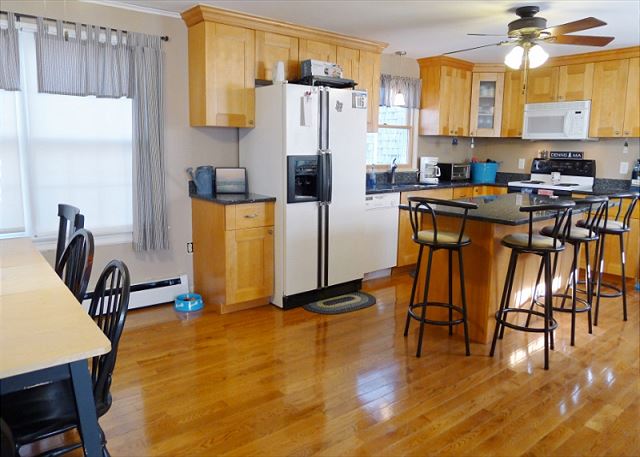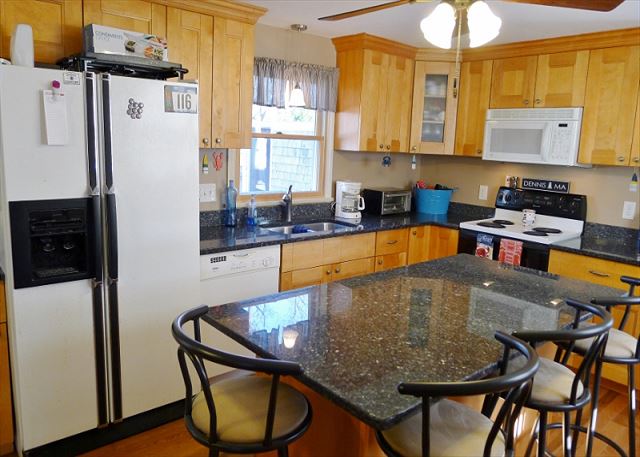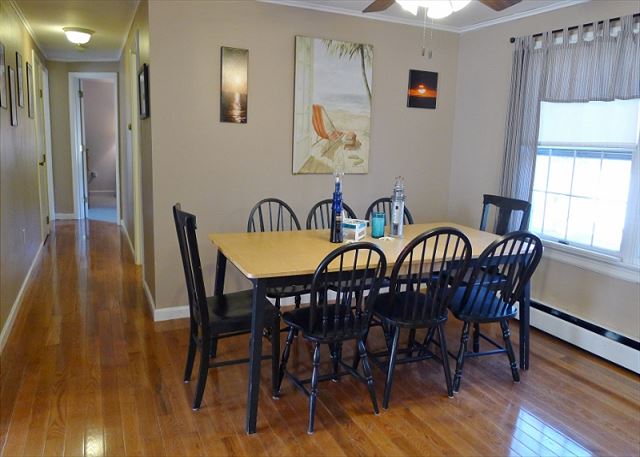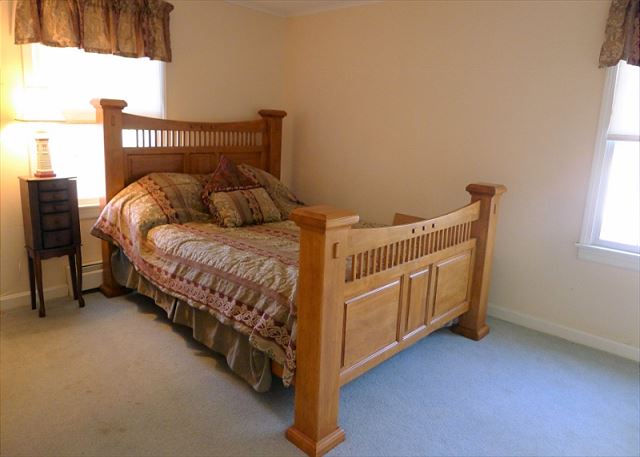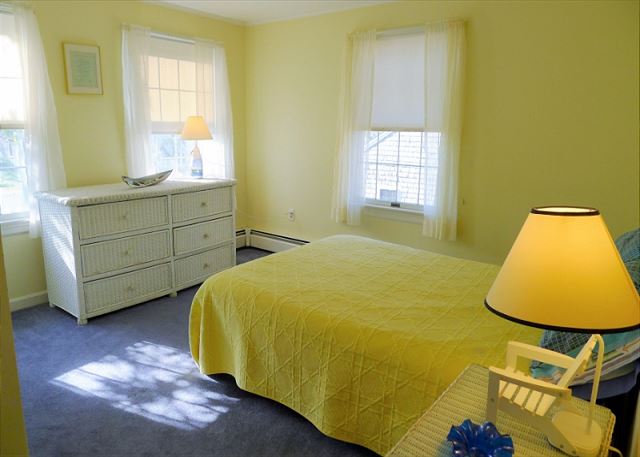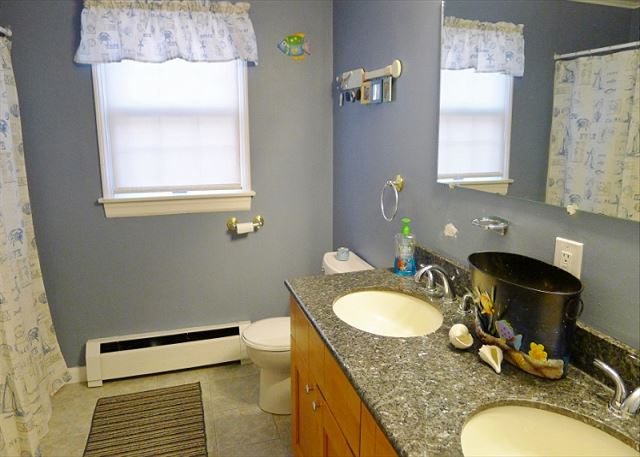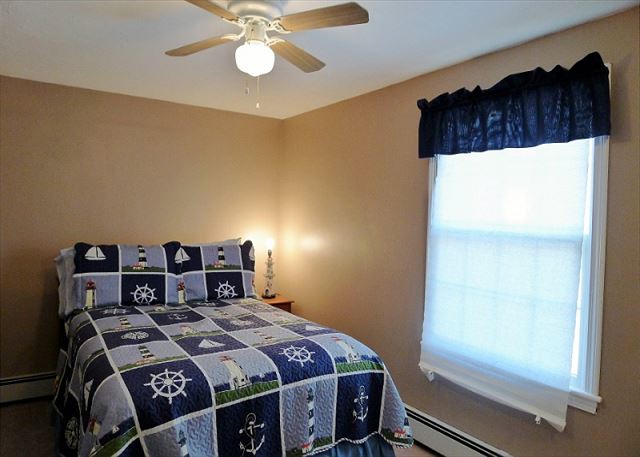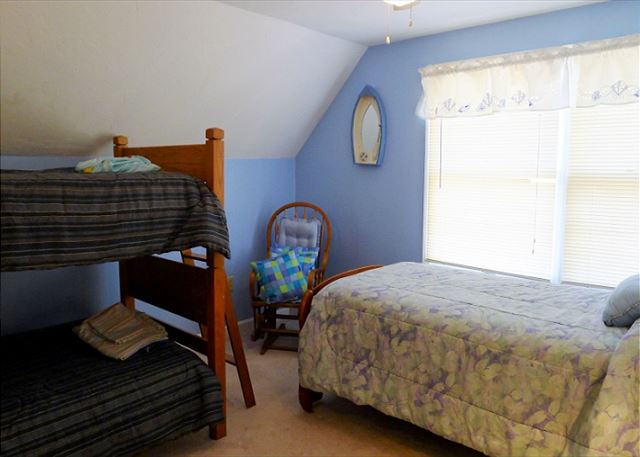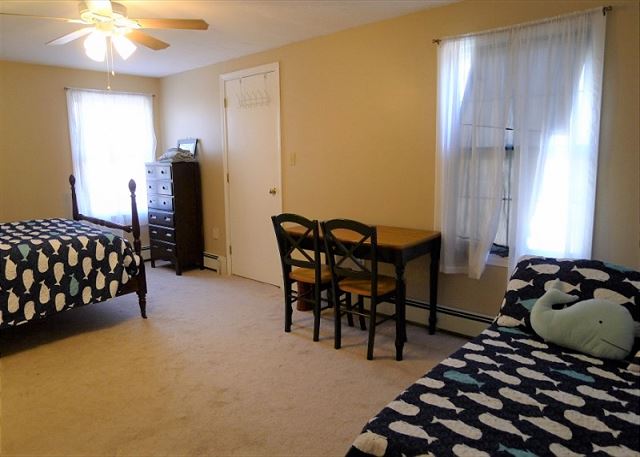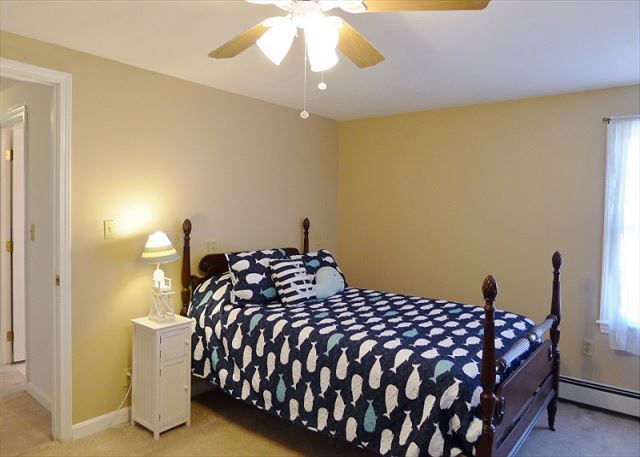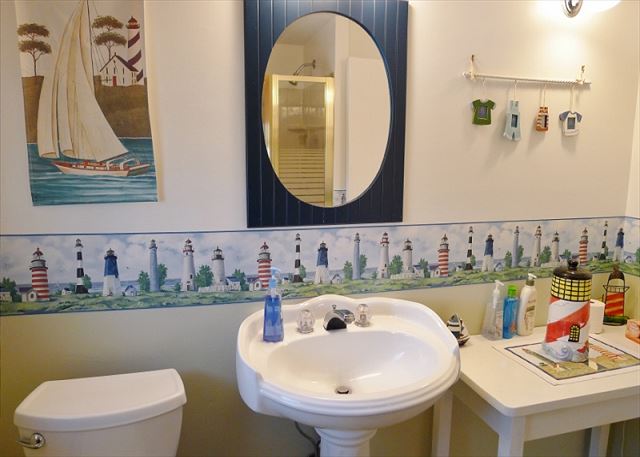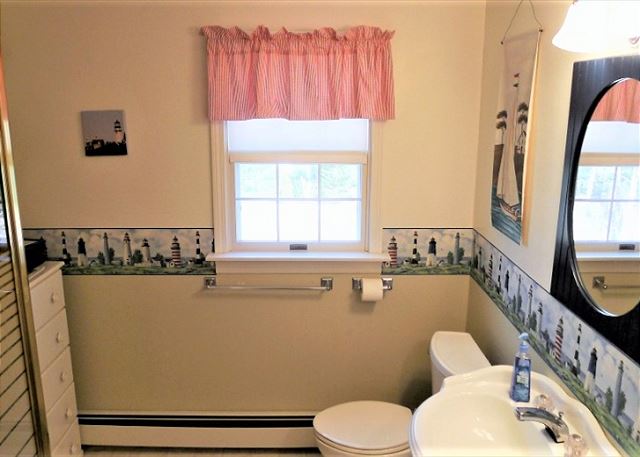 ---
Bedroom(s): 5
Bathroom(s): 2
Sleeps: 8
Type: House
Area:
Town: South Dennis
Price Range $1915 - PRICE

Rates include all charges; no hidden fees!

This large Cape was built for fun and relaxation with 5 bedrooms, 2 full baths, a great backyard that includes both a deck through the mud room from the kitchen and a porch with outdoor dining and lounging furniture, with umbrella. There is even a patio with a fire pit! Plus it is close to so many bay beaches in Dennis: Corporation, Mayflower, Sea Street, and under a mile to Princess Beach on Scargo Lake!

The comfortable living room is to the right of the front door and features a 34 inch wall mounted flat screen TV with extended Comcast cable service, the perfect spot to reboot after an active day in the sun and surf. From here you enter the completely outfitted kitchen kept cool by a window a/c and two ceiling fans. The kitchen boasts granite counters and a center island surrounded by 4 cushioned stools with high backs. There is a dining area for 8 that faces the private and nicely landscaped backyard abounding with flowering shrubs, perennials, and native wildflowers that deliver Cape color and fragrance to these al fresco spaces.

Also on the main level: a full bath with tub/shower combination and 2 bedrooms. Bedroom #1 and bedroom #2 each have a queen bed and a window a/c.

The second floor has three more bedrooms, each with a ceiling fan and window a/c. Bedroom #3 includes bunk beds and a twin that together sleep 3 and bedroom #4 has a queen. Bedroom #5 is very generously sized and features two queen sized beds and a desk under a sunny window that often functions as a computer station.

With gleaming hardwood floors, a sleek kitchen, expansive outdoor rooms, and close proximity to beaches, golf, and town amenities, this home is the very definition of casual elegance.

Also included: Wifi, enclosed outdoor shower, garage access for 2 cars, parking for 3-4 cars in driveway and washer and dryer. *Owner provides 8 beach chairs.* *Owners provide these items as favors to guests only and not as an integral part of the rental. If these items become lost or damaged during the course of the rentals season, owners are not responsible for replacements.*

Sorry no pets and no smoking allowed.

8 guests maximum allowed at any time. No parties exceeding the occupancy limit allowed.

LINENS (SHEETS/TOWELS) ARE NOT INCLUDED IN THIS RENTAL.

Travel Insurance is highly recommended and affordable coverage to protect your vacation investment.

Please view our policy and procedure page on our web site for detailed information about renting with us.
- DVD Player
- Extended Cable
- Flat Screen TV
- Microwave
- Teapot or Tea Kettle
- Drip Coffee Maker
- Cookware
- Dishes / Glassware / Utensils
- Kitchen Table
- Blender
- Iron
- Ice Maker
- Island or Counter Seating
- Ceiling Fan
- Dishwasher
- Lobster Pot
- Extra Refrigerator
- Door to Deck
- microwave
- ironing board
- Toaster Oven
- Ceiling Fan
- A/C
- Hair Dryer
- Tub/Shower Combo
- washer
- dryer
- Deck
- Patio
- Dining Table w/ Umbrella
- Enclosed Outdoor Shower
- Firepit or Chiminea
- Garage Access
- Beach Chairs
- Outdoor Lighting
- Near Cape Cod Bay Beaches
July 2017

| S | M | T | W | T | F | S |
| --- | --- | --- | --- | --- | --- | --- |
| | | | | | | 01 |
| 02 | 03 | 04 | 05 | 06 | 07 | 08 |
| 09 | 10 | 11 | 12 | 13 | 14 | 15 |
| 16 | 17 | 18 | 19 | 20 | 21 | 22 |
| 23 | 24 | 25 | 26 | 27 | 28 | 29 |
| 30 | 31 | | | | | |
August 2017

| S | M | T | W | T | F | S |
| --- | --- | --- | --- | --- | --- | --- |
| | | 01 | 02 | 03 | 04 | 05 |
| 06 | 07 | 08 | 09 | 10 | 11 | 12 |
| 13 | 14 | 15 | 16 | 17 | 18 | 19 |
| 20 | 21 | 22 | 23 | 24 | 25 | 26 |
| 27 | 28 | 29 | 30 | 31 | | |
September 2017

| S | M | T | W | T | F | S |
| --- | --- | --- | --- | --- | --- | --- |
| | | | | | 01 | 02 |
| 03 | 04 | 05 | 06 | 07 | 08 | 09 |
| 10 | 11 | 12 | 13 | 14 | 15 | 16 |
| 17 | 18 | 19 | 20 | 21 | 22 | 23 |
| 24 | 25 | 26 | 27 | 28 | 29 | 30 |
October 2017

| S | M | T | W | T | F | S |
| --- | --- | --- | --- | --- | --- | --- |
| 01 | 02 | 03 | 04 | 05 | 06 | 07 |
| 08 | 09 | 10 | 11 | 12 | 13 | 14 |
| 15 | 16 | 17 | 18 | 19 | 20 | 21 |
| 22 | 23 | 24 | 25 | 26 | 27 | 28 |
| 29 | 30 | 31 | | | | |
November 2017

| S | M | T | W | T | F | S |
| --- | --- | --- | --- | --- | --- | --- |
| | | | 01 | 02 | 03 | 04 |
| 05 | 06 | 07 | 08 | 09 | 10 | 11 |
| 12 | 13 | 14 | 15 | 16 | 17 | 18 |
| 19 | 20 | 21 | 22 | 23 | 24 | 25 |
| 26 | 27 | 28 | 29 | 30 | | |
December 2017

| S | M | T | W | T | F | S |
| --- | --- | --- | --- | --- | --- | --- |
| | | | | | 01 | 02 |
| 03 | 04 | 05 | 06 | 07 | 08 | 09 |
| 10 | 11 | 12 | 13 | 14 | 15 | 16 |
| 17 | 18 | 19 | 20 | 21 | 22 | 23 |
| 24 | 25 | 26 | 27 | 28 | 29 | 30 |
| 31 | | | | | | |
January 2018

| S | M | T | W | T | F | S |
| --- | --- | --- | --- | --- | --- | --- |
| | 01 | 02 | 03 | 04 | 05 | 06 |
| 07 | 08 | 09 | 10 | 11 | 12 | 13 |
| 14 | 15 | 16 | 17 | 18 | 19 | 20 |
| 21 | 22 | 23 | 24 | 25 | 26 | 27 |
| 28 | 29 | 30 | 31 | | | |
February 2018

| S | M | T | W | T | F | S |
| --- | --- | --- | --- | --- | --- | --- |
| | | | | 01 | 02 | 03 |
| 04 | 05 | 06 | 07 | 08 | 09 | 10 |
| 11 | 12 | 13 | 14 | 15 | 16 | 17 |
| 18 | 19 | 20 | 21 | 22 | 23 | 24 |
| 25 | 26 | 27 | 28 | | | |
March 2018

| S | M | T | W | T | F | S |
| --- | --- | --- | --- | --- | --- | --- |
| | | | | 01 | 02 | 03 |
| 04 | 05 | 06 | 07 | 08 | 09 | 10 |
| 11 | 12 | 13 | 14 | 15 | 16 | 17 |
| 18 | 19 | 20 | 21 | 22 | 23 | 24 |
| 25 | 26 | 27 | 28 | 29 | 30 | 31 |
April 2018

| S | M | T | W | T | F | S |
| --- | --- | --- | --- | --- | --- | --- |
| 01 | 02 | 03 | 04 | 05 | 06 | 07 |
| 08 | 09 | 10 | 11 | 12 | 13 | 14 |
| 15 | 16 | 17 | 18 | 19 | 20 | 21 |
| 22 | 23 | 24 | 25 | 26 | 27 | 28 |
| 29 | 30 | | | | | |
May 2018

| S | M | T | W | T | F | S |
| --- | --- | --- | --- | --- | --- | --- |
| | | 01 | 02 | 03 | 04 | 05 |
| 06 | 07 | 08 | 09 | 10 | 11 | 12 |
| 13 | 14 | 15 | 16 | 17 | 18 | 19 |
| 20 | 21 | 22 | 23 | 24 | 25 | 26 |
| 27 | 28 | 29 | 30 | 31 | | |
June 2018

| S | M | T | W | T | F | S |
| --- | --- | --- | --- | --- | --- | --- |
| | | | | | 01 | 02 |
| 03 | 04 | 05 | 06 | 07 | 08 | 09 |
| 10 | 11 | 12 | 13 | 14 | 15 | 16 |
| 17 | 18 | 19 | 20 | 21 | 22 | 23 |
| 24 | 25 | 26 | 27 | 28 | 29 | 30 |
July 2018

| S | M | T | W | T | F | S |
| --- | --- | --- | --- | --- | --- | --- |
| 01 | 02 | 03 | 04 | 05 | 06 | 07 |
| 08 | 09 | 10 | 11 | 12 | 13 | 14 |
| 15 | 16 | 17 | 18 | 19 | 20 | 21 |
| 22 | 23 | 24 | 25 | 26 | 27 | 28 |
| 29 | 30 | 31 | | | | |
Available
Unavailable
Sat to Sat booking