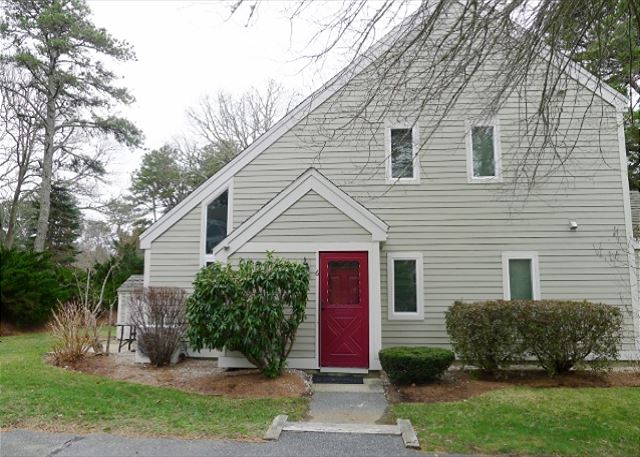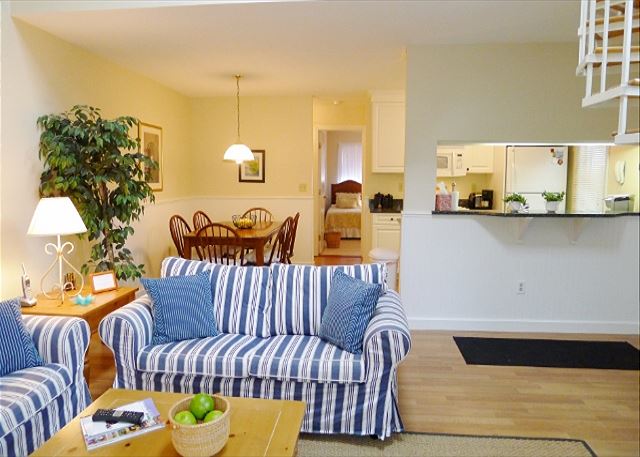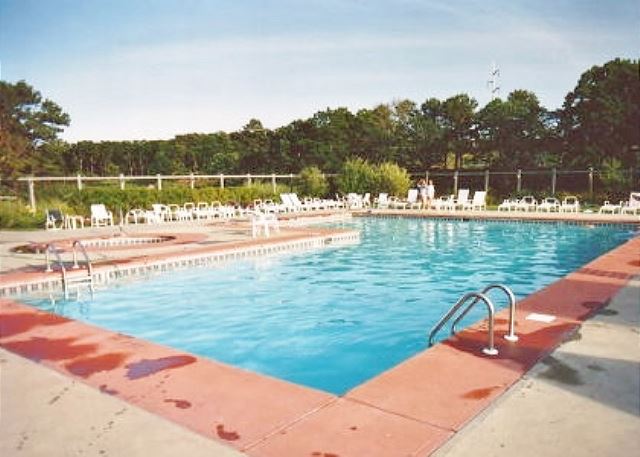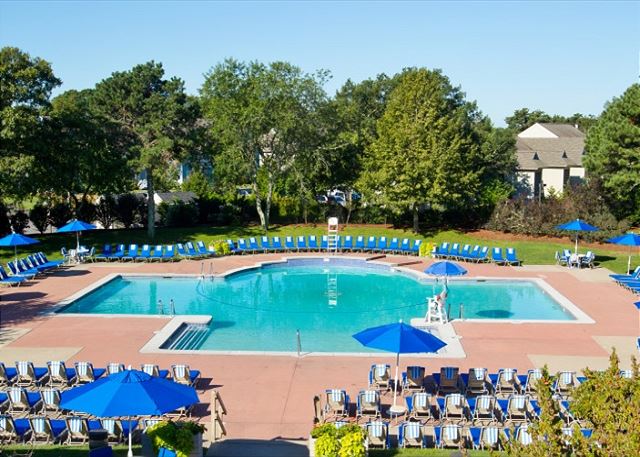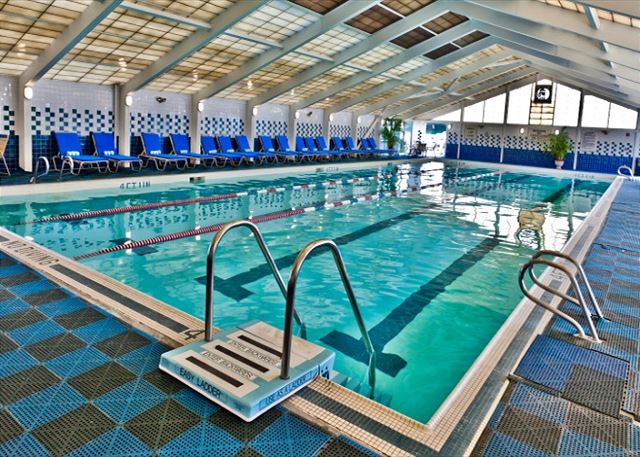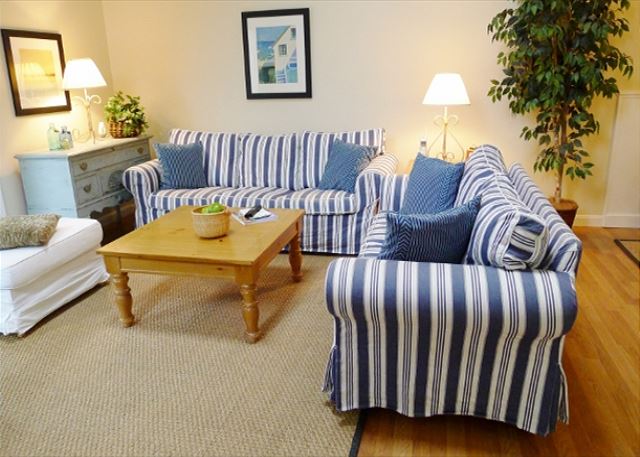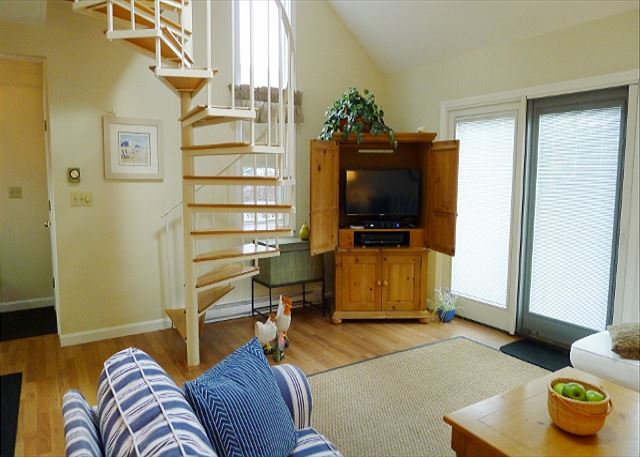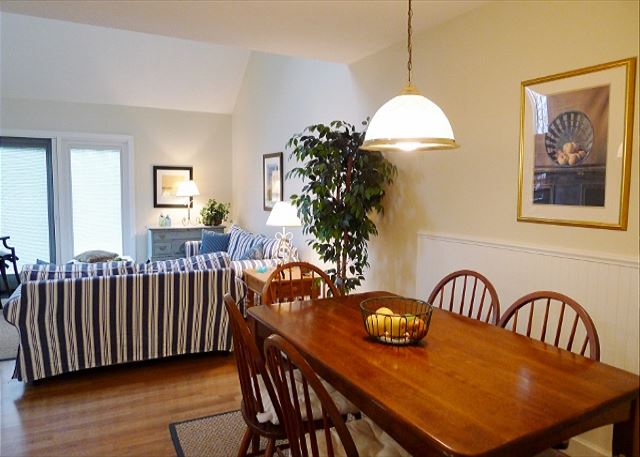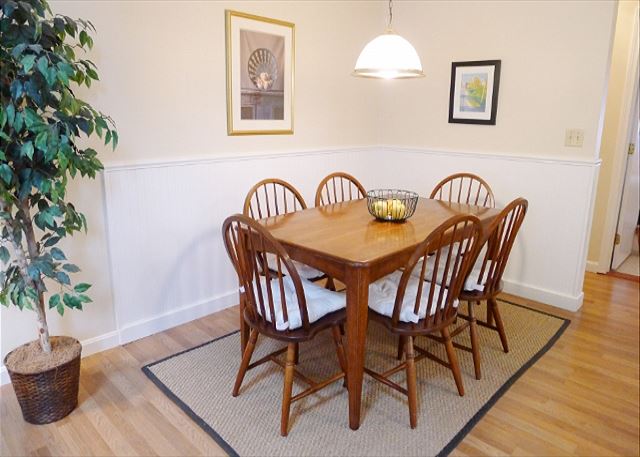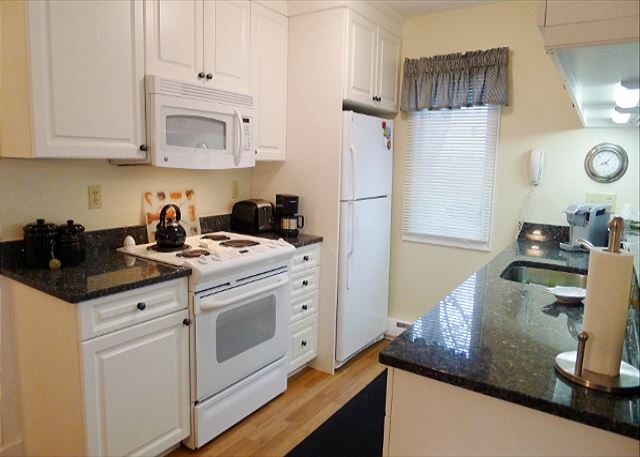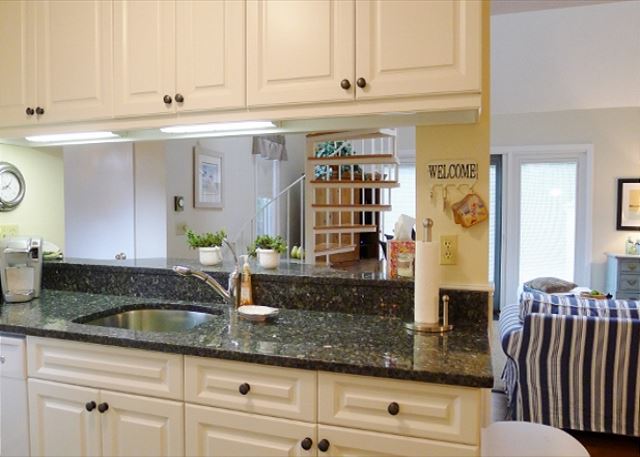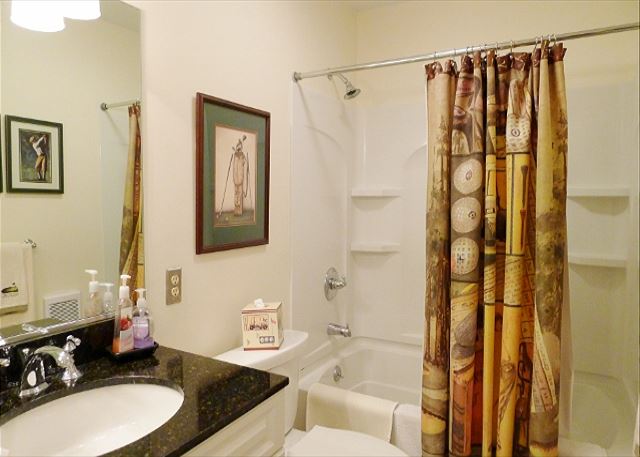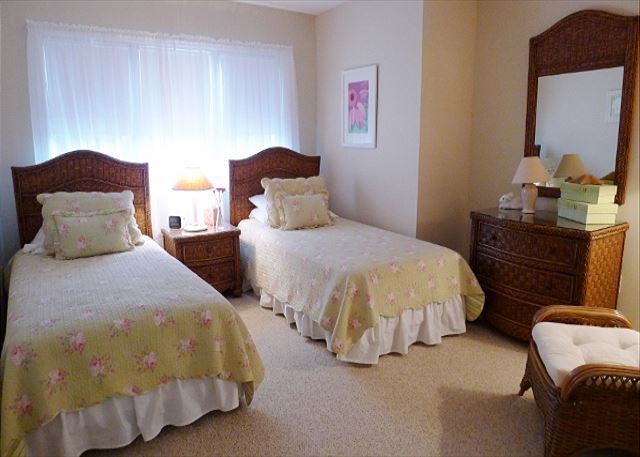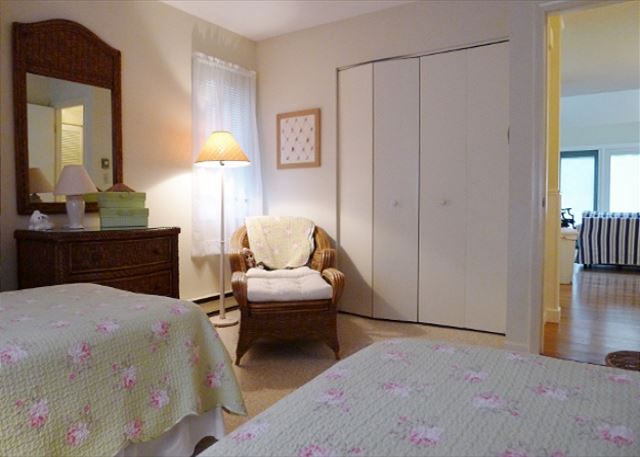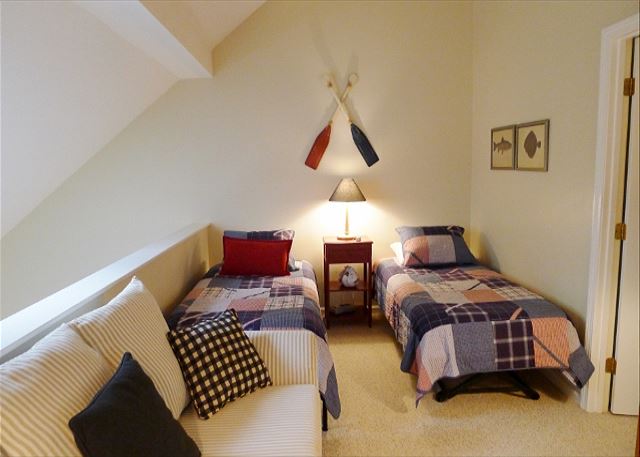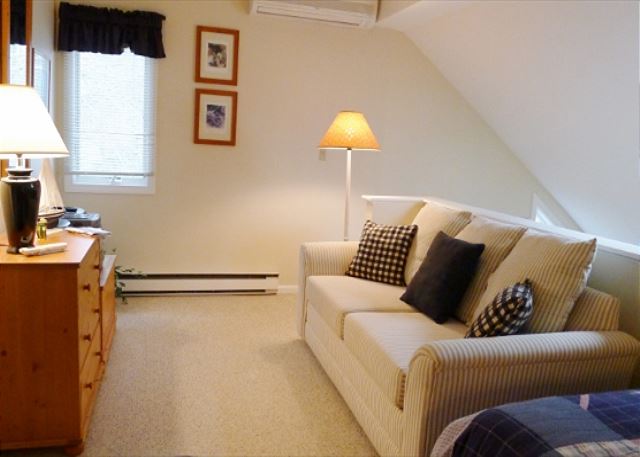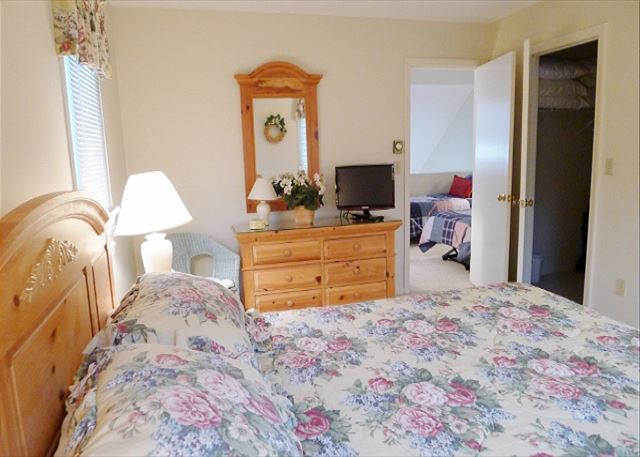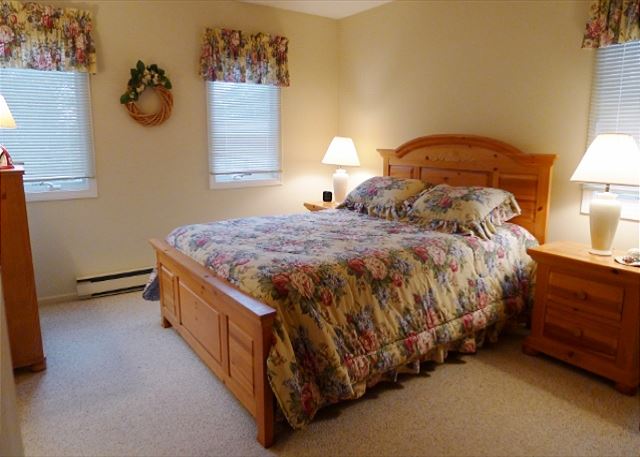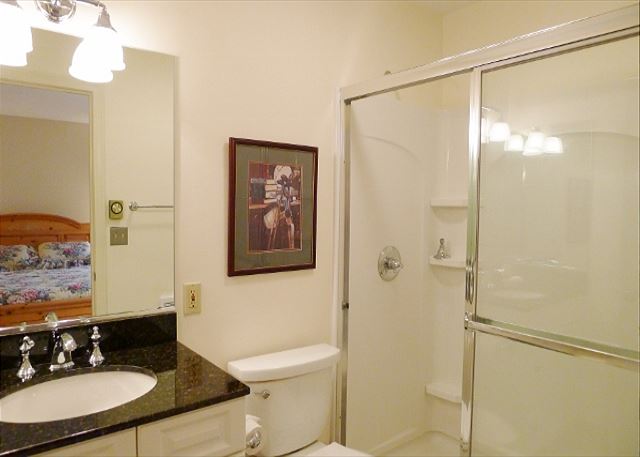 ---
Bedroom(s): 2
Bathroom(s): 2
Sleeps: 6
Type: Townhouse
Area:
Town: Brewster
Price $2435

Rate includes all agency charges; Ocean Edge bills seperately to use the the resort amenities.

Features a gorgeous and nautically-inspired interior, all modern amenities, lush landscaping, Central A/C, WiFi, and access to the golf course for six guests!

This immaculate home has been updated and renovated - new furniture, flooring, and fresh paint. The living and dining area have hardwood floors and opens on to your patio outfitted with outside dining table for 6 and charcoal grill, cloistered by trees and flowering shrubs. Grill outdoors and or choose to eat inside in the dining room adjacent to the contemporary kitchen that is stocked with dishes, glassware, pots and pans, flatware, toaster, Keurig coffee maker, lobster pot, blender, dishwasher, and microwave.

The living room is tailored designed for entertainment with comfortable seating, a 32 inch flat screen TV with Comcast extended cable service, including free on-demand movies and a DVD player.

In addition to the living and dining area, the first floor also includes a full bath with tub/shower combination and a bedroom towards the back with twin beds. The spiral staircase leads to two more sleeping quarters on the second floor; The loft has two twin beds, stereo, CD player, and a ductless a/c unit and ceiling fan that cools the entire unit. The private master has a queen bed, 20 inch flat screen TV, and ensuite bath with walk-in shower.

This idyllic retreat is the perfect place to relax and step up your game at the same time!

Also included: Washer/dryer, WiFi, parking

A townhouse rental gives you access to indoor and outdoor pools, cardio room, and tennis court. It is also one of the few rentals that provide access to the GOLF course and the ability to make tee times 30 days in advance (green fees not included). Resort charges fees to use any of these amenities. You must complete your OE guest list and submit it to our office 10 days prior to your stay in order to have privileges. Remember all Ocean Edge fees are to be paid upon arrival to Ocean Edge who will issues passes to these amenities.

Sorry no pets and no smoking allowed.

6 Guests maximum allowed at any time. No parties exceeding the occupancy limit allowed.

NOTE: LINENS (SHEETS/TOWELS) ARE NOT INCLUDED IN THIS RENTAL.

Travel Insurance is highly recommended and affordable coverage to protect your vacation investment.

Please view our policy and procedure page on our web site for detailed information about renting with us.
- Extended Cable
- Stereo w/ CD player
- Ceiling Fan
- WiFi
- Iron/Ironing Board
- Land line telephone
- Flat Screen TV
- ductless a/c in loft
- Microwave
- Teapot or Tea Kettle
- Cookware
- Dishes / Glassware / Utensils
- Blender
- Iron
- Keurig Coffee Maker
- Toaster or Toaster Oven
- Dishwasher
- Lobster Pot
- microwave
- Toaster
- Dining Table
- On Suite Main Bedroom Bath
- main bedroom flat screen tv
- Hair Dryer
- Tub/Shower Combo
- Washer & Dryer
- Patio
- Charcoal Grill
- Dining Table w/o Umbrella
- Shared Pool
- Tennis
- Outdoor Lighting
- Resort Golf Course Access
- Near Cape Cod Bay Beaches
- Resort Location & Amenities
- Near Golf Course
Guest Reviews of
6 trevor Brewster , MA
Home Away From Home
Very nice home. Clean. Modern. Quiet. Had 1 queen bed and 4 twins; wish the twins were at least doubles, otherwise bedding was comfortable.
4 out of 5 stars
6 Trevor Lane Property Review
We had a very nice stay at 6 Trevor Lane. The unit is lovely and has plenty of space. We found everything clean when we arrived and wellMaintained. Beds were comfortable, kitchen well stocked, and bathrooms very nice . Property is in great location right around the corner from Fletcher Pool complex and just a short walk to Arbor Pool. We had a great time and would definitely stay here again .
5 out of 5 stars
September 2017

| S | M | T | W | T | F | S |
| --- | --- | --- | --- | --- | --- | --- |
| | | | | | 01 | 02 |
| 03 | 04 | 05 | 06 | 07 | 08 | 09 |
| 10 | 11 | 12 | 13 | 14 | 15 | 16 |
| 17 | 18 | 19 | 20 | 21 | 22 | 23 |
| 24 | 25 | 26 | 27 | 28 | 29 | 30 |
October 2017

| S | M | T | W | T | F | S |
| --- | --- | --- | --- | --- | --- | --- |
| 01 | 02 | 03 | 04 | 05 | 06 | 07 |
| 08 | 09 | 10 | 11 | 12 | 13 | 14 |
| 15 | 16 | 17 | 18 | 19 | 20 | 21 |
| 22 | 23 | 24 | 25 | 26 | 27 | 28 |
| 29 | 30 | 31 | | | | |
November 2017

| S | M | T | W | T | F | S |
| --- | --- | --- | --- | --- | --- | --- |
| | | | 01 | 02 | 03 | 04 |
| 05 | 06 | 07 | 08 | 09 | 10 | 11 |
| 12 | 13 | 14 | 15 | 16 | 17 | 18 |
| 19 | 20 | 21 | 22 | 23 | 24 | 25 |
| 26 | 27 | 28 | 29 | 30 | | |
December 2017

| S | M | T | W | T | F | S |
| --- | --- | --- | --- | --- | --- | --- |
| | | | | | 01 | 02 |
| 03 | 04 | 05 | 06 | 07 | 08 | 09 |
| 10 | 11 | 12 | 13 | 14 | 15 | 16 |
| 17 | 18 | 19 | 20 | 21 | 22 | 23 |
| 24 | 25 | 26 | 27 | 28 | 29 | 30 |
| 31 | | | | | | |
January 2018

| S | M | T | W | T | F | S |
| --- | --- | --- | --- | --- | --- | --- |
| | 01 | 02 | 03 | 04 | 05 | 06 |
| 07 | 08 | 09 | 10 | 11 | 12 | 13 |
| 14 | 15 | 16 | 17 | 18 | 19 | 20 |
| 21 | 22 | 23 | 24 | 25 | 26 | 27 |
| 28 | 29 | 30 | 31 | | | |
February 2018

| S | M | T | W | T | F | S |
| --- | --- | --- | --- | --- | --- | --- |
| | | | | 01 | 02 | 03 |
| 04 | 05 | 06 | 07 | 08 | 09 | 10 |
| 11 | 12 | 13 | 14 | 15 | 16 | 17 |
| 18 | 19 | 20 | 21 | 22 | 23 | 24 |
| 25 | 26 | 27 | 28 | | | |
March 2018

| S | M | T | W | T | F | S |
| --- | --- | --- | --- | --- | --- | --- |
| | | | | 01 | 02 | 03 |
| 04 | 05 | 06 | 07 | 08 | 09 | 10 |
| 11 | 12 | 13 | 14 | 15 | 16 | 17 |
| 18 | 19 | 20 | 21 | 22 | 23 | 24 |
| 25 | 26 | 27 | 28 | 29 | 30 | 31 |
April 2018

| S | M | T | W | T | F | S |
| --- | --- | --- | --- | --- | --- | --- |
| 01 | 02 | 03 | 04 | 05 | 06 | 07 |
| 08 | 09 | 10 | 11 | 12 | 13 | 14 |
| 15 | 16 | 17 | 18 | 19 | 20 | 21 |
| 22 | 23 | 24 | 25 | 26 | 27 | 28 |
| 29 | 30 | | | | | |
May 2018

| S | M | T | W | T | F | S |
| --- | --- | --- | --- | --- | --- | --- |
| | | 01 | 02 | 03 | 04 | 05 |
| 06 | 07 | 08 | 09 | 10 | 11 | 12 |
| 13 | 14 | 15 | 16 | 17 | 18 | 19 |
| 20 | 21 | 22 | 23 | 24 | 25 | 26 |
| 27 | 28 | 29 | 30 | 31 | | |
June 2018

| S | M | T | W | T | F | S |
| --- | --- | --- | --- | --- | --- | --- |
| | | | | | 01 | 02 |
| 03 | 04 | 05 | 06 | 07 | 08 | 09 |
| 10 | 11 | 12 | 13 | 14 | 15 | 16 |
| 17 | 18 | 19 | 20 | 21 | 22 | 23 |
| 24 | 25 | 26 | 27 | 28 | 29 | 30 |
July 2018

| S | M | T | W | T | F | S |
| --- | --- | --- | --- | --- | --- | --- |
| 01 | 02 | 03 | 04 | 05 | 06 | 07 |
| 08 | 09 | 10 | 11 | 12 | 13 | 14 |
| 15 | 16 | 17 | 18 | 19 | 20 | 21 |
| 22 | 23 | 24 | 25 | 26 | 27 | 28 |
| 29 | 30 | 31 | | | | |
August 2018

| S | M | T | W | T | F | S |
| --- | --- | --- | --- | --- | --- | --- |
| | | | 01 | 02 | 03 | 04 |
| 05 | 06 | 07 | 08 | 09 | 10 | 11 |
| 12 | 13 | 14 | 15 | 16 | 17 | 18 |
| 19 | 20 | 21 | 22 | 23 | 24 | 25 |
| 26 | 27 | 28 | 29 | 30 | 31 | |
September 2018

| S | M | T | W | T | F | S |
| --- | --- | --- | --- | --- | --- | --- |
| | | | | | | 01 |
| 02 | 03 | 04 | 05 | 06 | 07 | 08 |
| 09 | 10 | 11 | 12 | 13 | 14 | 15 |
| 16 | 17 | 18 | 19 | 20 | 21 | 22 |
| 23 | 24 | 25 | 26 | 27 | 28 | 29 |
| 30 | | | | | | |
Available
Unavailable
Sat to Sat booking