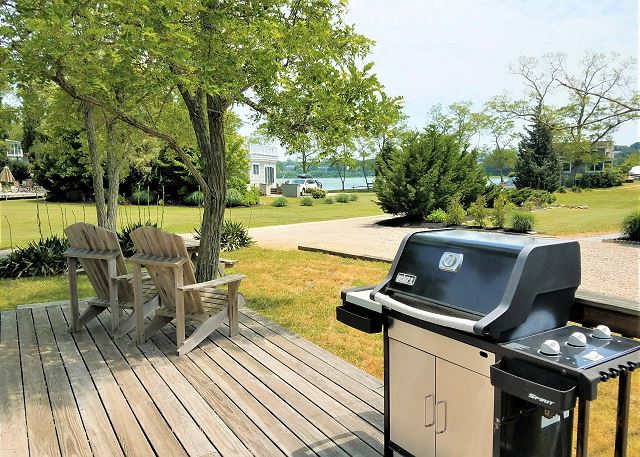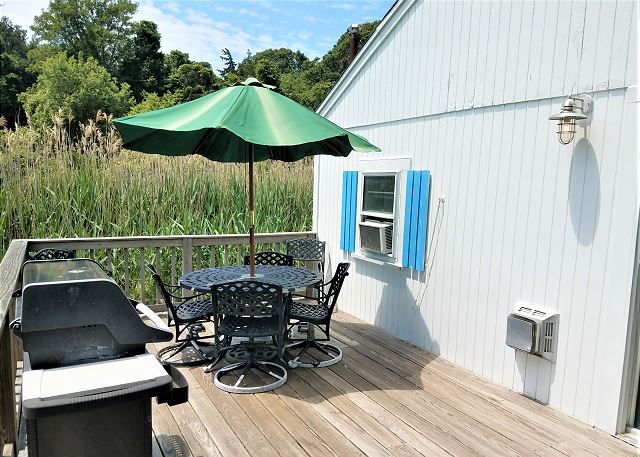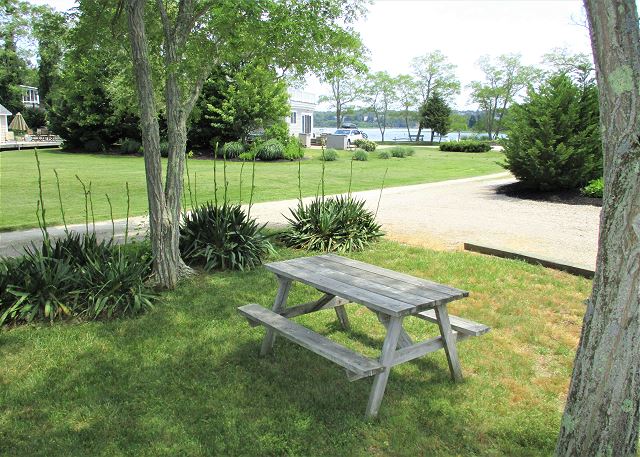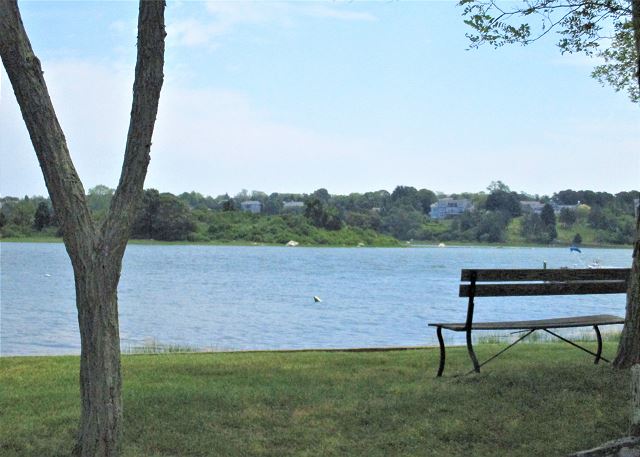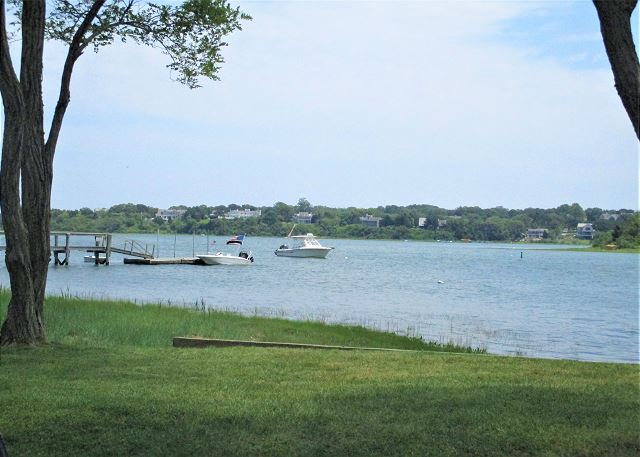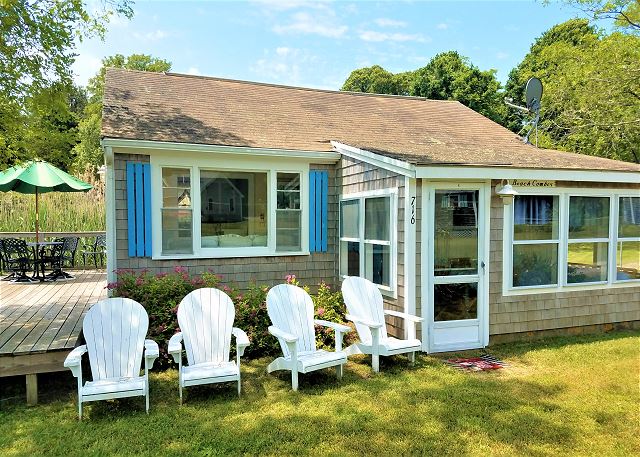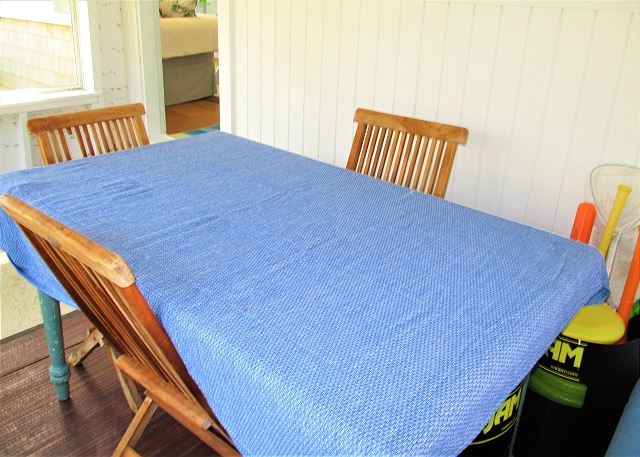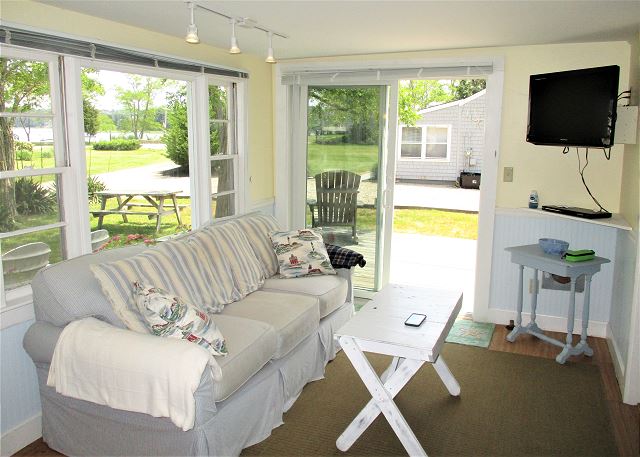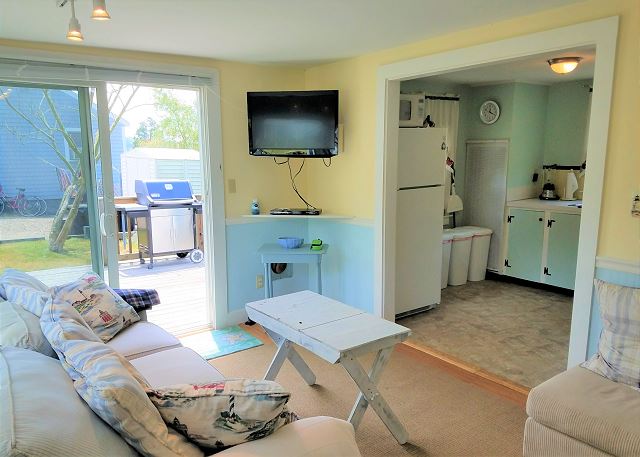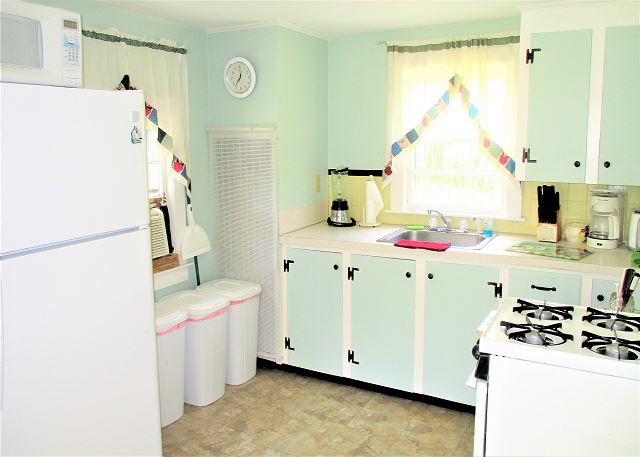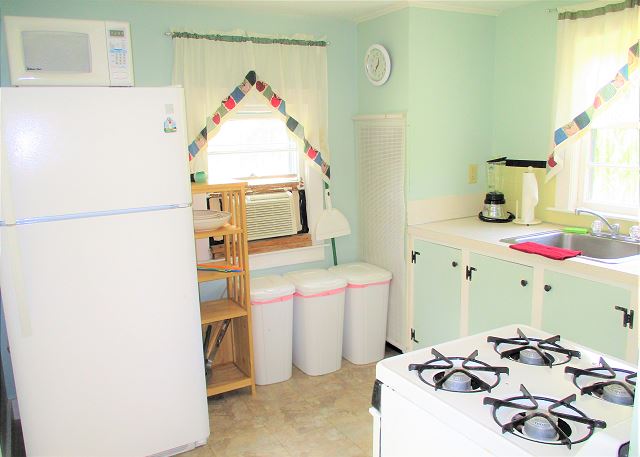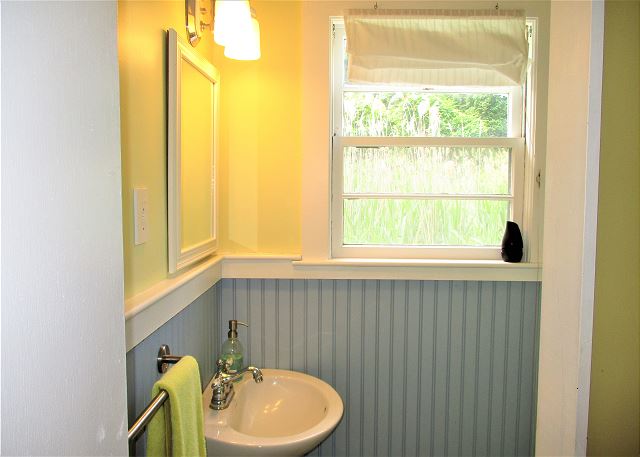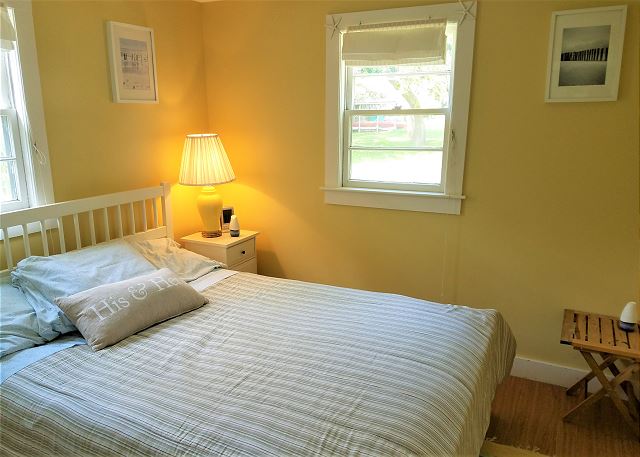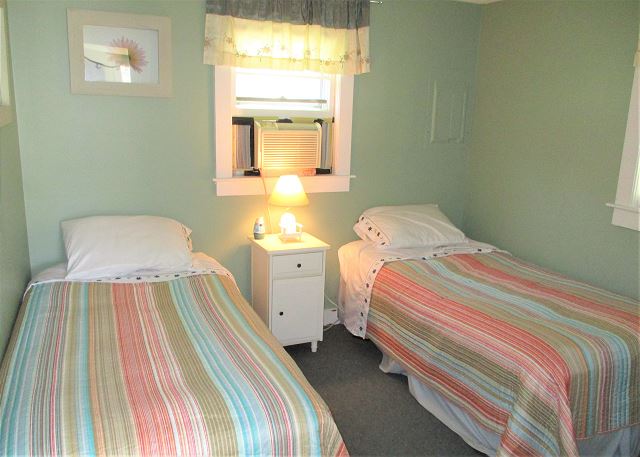 ---
Bedroom(s): 2
Bathroom(s): 1
Sleeps: 4
Type: Cottage
Area:
Town: Eastham
Price $895 - $1040

Rates include all charges; no hidden fees!

What a sweet spot for 4 guests!! This two bedroom/one bath gem in Eastham is tucked away in a charming cottage colony right on Town Cove – a tranquil inlet that stretches north to meet the Atlantic. Take in the view from the large deck complete with gas grill, outdoor table (with umbrella) and chairs, or from the picnic table that sits below, or from any one of the 4 Adirondack chairs placed strategically in front.

Guests have access to the cove for swimming, fishing, and non-motorized boating, as well as a grassy beach area that offers both sun and shade.

You enter the home through a screened porch that functions as an indoor dining area for four, and also features a couch perfect for stretching out on during late afternoons.

The interior is streamlined and comfortably appointed, maximizing space without sacrificing amenities. The living area has a large convertible sofa flanked on one side by a matching chair. It also features a 32" wall mounted flat screen TV with DVD and basic Comcast cable. The cheerful kitchen is fully stocked with all the dishes, glassware, flatware, pots (including the big one for Lobster) and pans you'll need for a week or two of grilling outdoors.

The single bath boasts lovely wainscoting and a step in shower.

Both bedrooms are cleanly furnished and echo the graceful simplicity that hallmarks the design of the cottage. Bedroom #1 features a queen, and bedroom #2 has two twins.

There are two window a/c's that cool the entire cottage; one is located in the kitchen; the second is in bedroom #2.

Once you arrive, you'll be tempted to set down roots and stay within the privacy of this island-like setting for the duration of your stay. But given the close proximity of multiple bay beaches, the National Seashore with its two Eastham ocean beaches, fine and family dining, great shopping, the Cape Cod Rail Trail, etc, this vacation oasis will also serve as home base as you explore so much more of what Cape Cod has to offer.

Also included: Wifi, driveway space for two cars, and beach toys

Sorry no pets and no smoking allowed.

4 guests maximum allowed at any time. No parties exceeding the occupancy limit allowed.

LINENS (SHEETS/TOWELS) ARE NOT INCLUDED IN THIS RENTAL.

Travel Insurance is highly recommended and affordable coverage to protect your vacation investment.

Please view our policy and procedure page on our web site for detailed information about renting with us.
- DVD Player
- Basic Cable
- Sleep Sofa
- WiFi
- Flat Screen TV
- Drip Coffee Maker
- Cookware
- Dishes / Glassware / Utensils
- Blender
- Lobster Pot
- Door to Deck
- A/C unit
- microwave
- Toaster
- Dining Table
- Window A/C
- Hair Dryer
- Shower Only
- Deck
- Gas Grill with Propane Tank
- Dining Table w/ Umbrella
- Association Dock
- Screened-In Porch
- Outdoor Seating
- Private Beach
- Near National Sea Shore Beaches
- Waterview
- Near Cove
Guest Reviews of
716 state Eastham , MA
Clean and cute
The bed was hard as a rock, there was no can opener and the grill did not work. The price was reasonable so all in all it was worth it. The cul de sac was quiet and it was a clean and well maintained property, save for the few things mentioned above.
4 out of 5 stars
September 2017

| S | M | T | W | T | F | S |
| --- | --- | --- | --- | --- | --- | --- |
| | | | | | 01 | 02 |
| 03 | 04 | 05 | 06 | 07 | 08 | 09 |
| 10 | 11 | 12 | 13 | 14 | 15 | 16 |
| 17 | 18 | 19 | 20 | 21 | 22 | 23 |
| 24 | 25 | 26 | 27 | 28 | 29 | 30 |
October 2017

| S | M | T | W | T | F | S |
| --- | --- | --- | --- | --- | --- | --- |
| 01 | 02 | 03 | 04 | 05 | 06 | 07 |
| 08 | 09 | 10 | 11 | 12 | 13 | 14 |
| 15 | 16 | 17 | 18 | 19 | 20 | 21 |
| 22 | 23 | 24 | 25 | 26 | 27 | 28 |
| 29 | 30 | 31 | | | | |
November 2017

| S | M | T | W | T | F | S |
| --- | --- | --- | --- | --- | --- | --- |
| | | | 01 | 02 | 03 | 04 |
| 05 | 06 | 07 | 08 | 09 | 10 | 11 |
| 12 | 13 | 14 | 15 | 16 | 17 | 18 |
| 19 | 20 | 21 | 22 | 23 | 24 | 25 |
| 26 | 27 | 28 | 29 | 30 | | |
December 2017

| S | M | T | W | T | F | S |
| --- | --- | --- | --- | --- | --- | --- |
| | | | | | 01 | 02 |
| 03 | 04 | 05 | 06 | 07 | 08 | 09 |
| 10 | 11 | 12 | 13 | 14 | 15 | 16 |
| 17 | 18 | 19 | 20 | 21 | 22 | 23 |
| 24 | 25 | 26 | 27 | 28 | 29 | 30 |
| 31 | | | | | | |
January 2018

| S | M | T | W | T | F | S |
| --- | --- | --- | --- | --- | --- | --- |
| | 01 | 02 | 03 | 04 | 05 | 06 |
| 07 | 08 | 09 | 10 | 11 | 12 | 13 |
| 14 | 15 | 16 | 17 | 18 | 19 | 20 |
| 21 | 22 | 23 | 24 | 25 | 26 | 27 |
| 28 | 29 | 30 | 31 | | | |
February 2018

| S | M | T | W | T | F | S |
| --- | --- | --- | --- | --- | --- | --- |
| | | | | 01 | 02 | 03 |
| 04 | 05 | 06 | 07 | 08 | 09 | 10 |
| 11 | 12 | 13 | 14 | 15 | 16 | 17 |
| 18 | 19 | 20 | 21 | 22 | 23 | 24 |
| 25 | 26 | 27 | 28 | | | |
March 2018

| S | M | T | W | T | F | S |
| --- | --- | --- | --- | --- | --- | --- |
| | | | | 01 | 02 | 03 |
| 04 | 05 | 06 | 07 | 08 | 09 | 10 |
| 11 | 12 | 13 | 14 | 15 | 16 | 17 |
| 18 | 19 | 20 | 21 | 22 | 23 | 24 |
| 25 | 26 | 27 | 28 | 29 | 30 | 31 |
April 2018

| S | M | T | W | T | F | S |
| --- | --- | --- | --- | --- | --- | --- |
| 01 | 02 | 03 | 04 | 05 | 06 | 07 |
| 08 | 09 | 10 | 11 | 12 | 13 | 14 |
| 15 | 16 | 17 | 18 | 19 | 20 | 21 |
| 22 | 23 | 24 | 25 | 26 | 27 | 28 |
| 29 | 30 | | | | | |
May 2018

| S | M | T | W | T | F | S |
| --- | --- | --- | --- | --- | --- | --- |
| | | 01 | 02 | 03 | 04 | 05 |
| 06 | 07 | 08 | 09 | 10 | 11 | 12 |
| 13 | 14 | 15 | 16 | 17 | 18 | 19 |
| 20 | 21 | 22 | 23 | 24 | 25 | 26 |
| 27 | 28 | 29 | 30 | 31 | | |
June 2018

| S | M | T | W | T | F | S |
| --- | --- | --- | --- | --- | --- | --- |
| | | | | | 01 | 02 |
| 03 | 04 | 05 | 06 | 07 | 08 | 09 |
| 10 | 11 | 12 | 13 | 14 | 15 | 16 |
| 17 | 18 | 19 | 20 | 21 | 22 | 23 |
| 24 | 25 | 26 | 27 | 28 | 29 | 30 |
July 2018

| S | M | T | W | T | F | S |
| --- | --- | --- | --- | --- | --- | --- |
| 01 | 02 | 03 | 04 | 05 | 06 | 07 |
| 08 | 09 | 10 | 11 | 12 | 13 | 14 |
| 15 | 16 | 17 | 18 | 19 | 20 | 21 |
| 22 | 23 | 24 | 25 | 26 | 27 | 28 |
| 29 | 30 | 31 | | | | |
August 2018

| S | M | T | W | T | F | S |
| --- | --- | --- | --- | --- | --- | --- |
| | | | 01 | 02 | 03 | 04 |
| 05 | 06 | 07 | 08 | 09 | 10 | 11 |
| 12 | 13 | 14 | 15 | 16 | 17 | 18 |
| 19 | 20 | 21 | 22 | 23 | 24 | 25 |
| 26 | 27 | 28 | 29 | 30 | 31 | |
September 2018

| S | M | T | W | T | F | S |
| --- | --- | --- | --- | --- | --- | --- |
| | | | | | | 01 |
| 02 | 03 | 04 | 05 | 06 | 07 | 08 |
| 09 | 10 | 11 | 12 | 13 | 14 | 15 |
| 16 | 17 | 18 | 19 | 20 | 21 | 22 |
| 23 | 24 | 25 | 26 | 27 | 28 | 29 |
| 30 | | | | | | |
Available
Unavailable
Sat to Sat booking