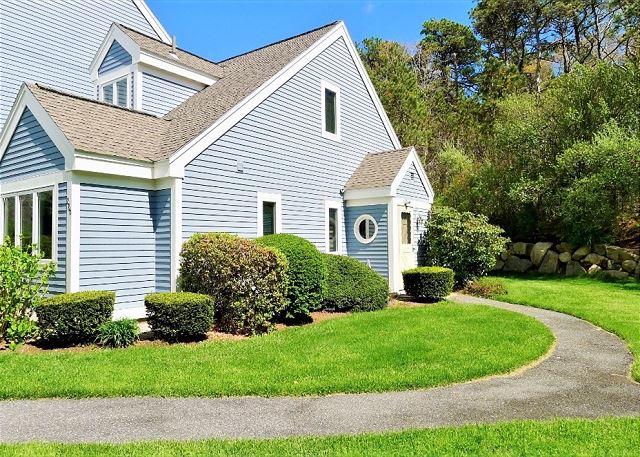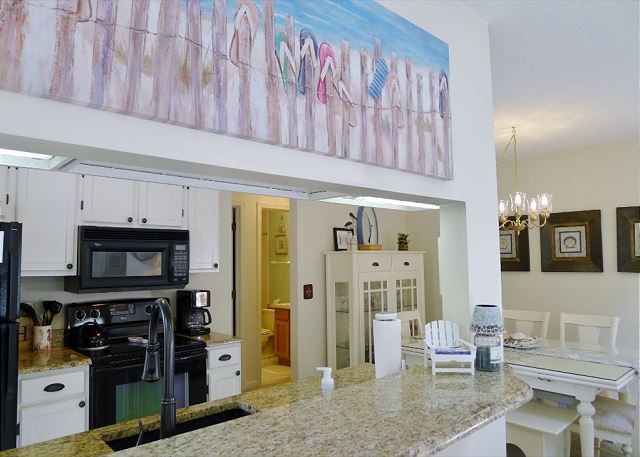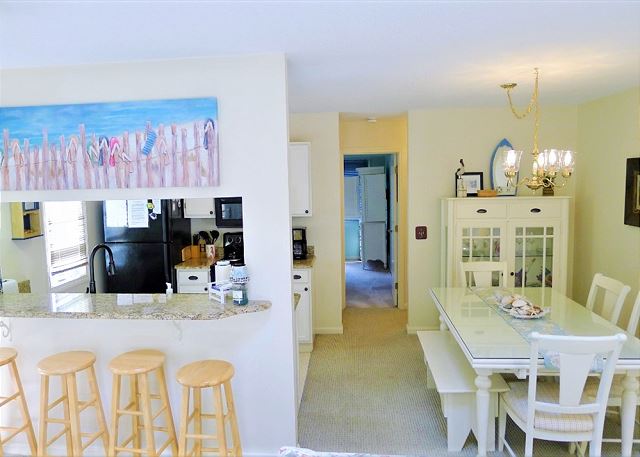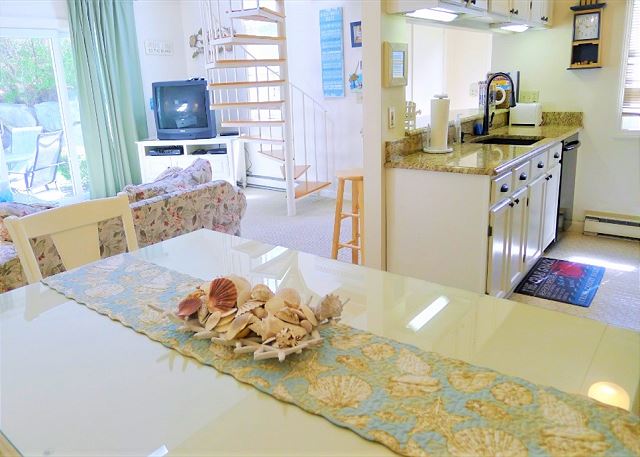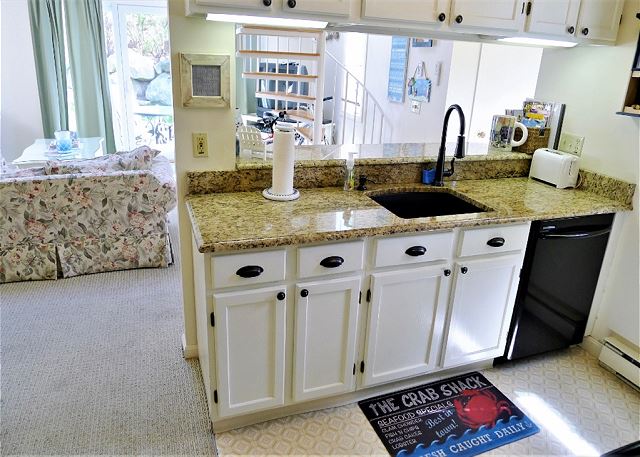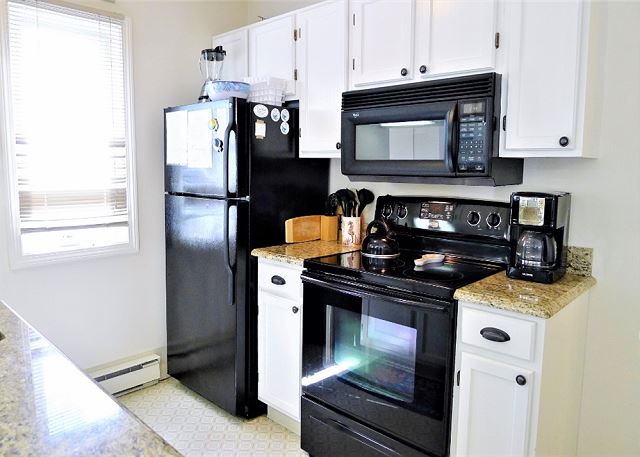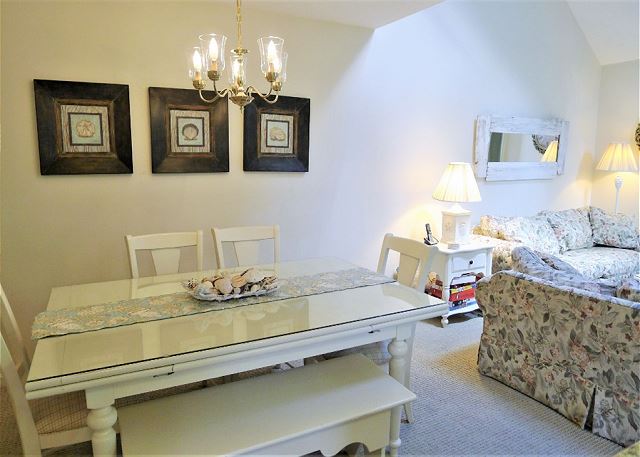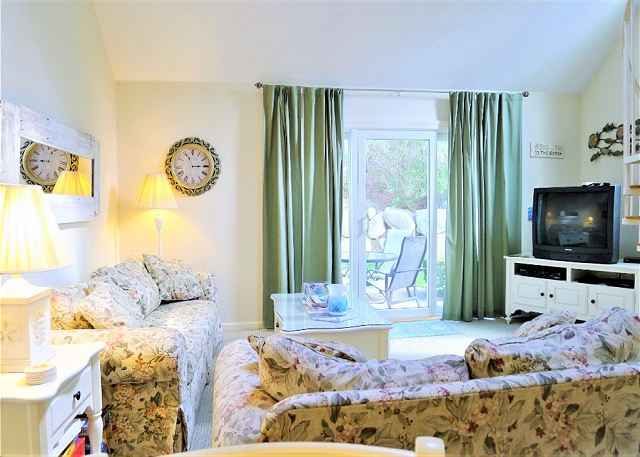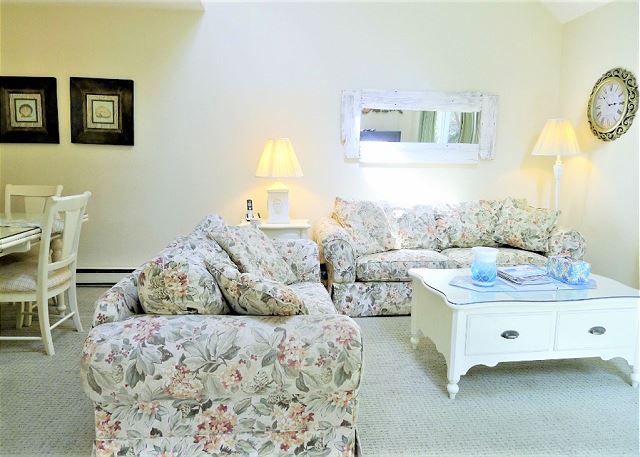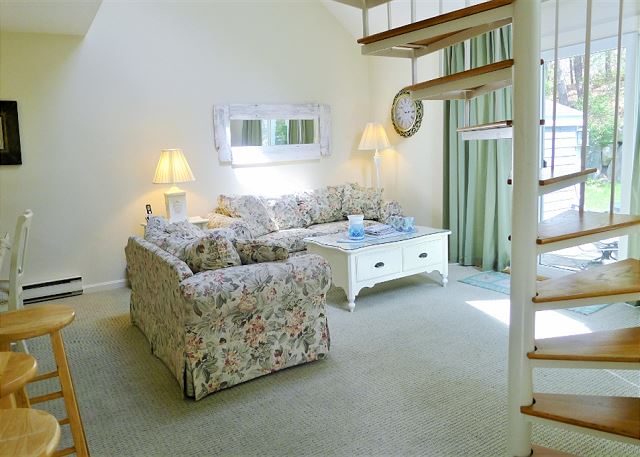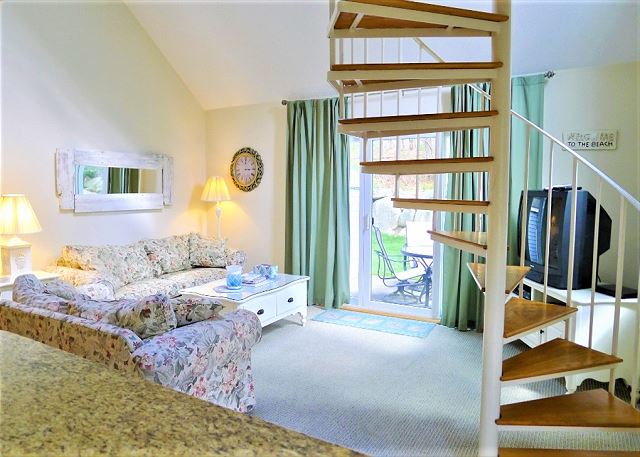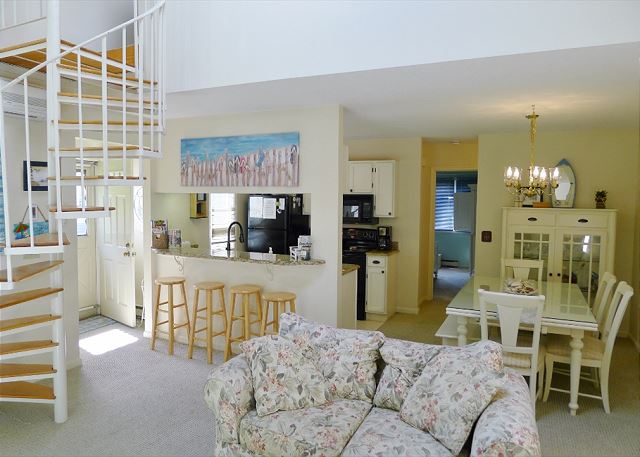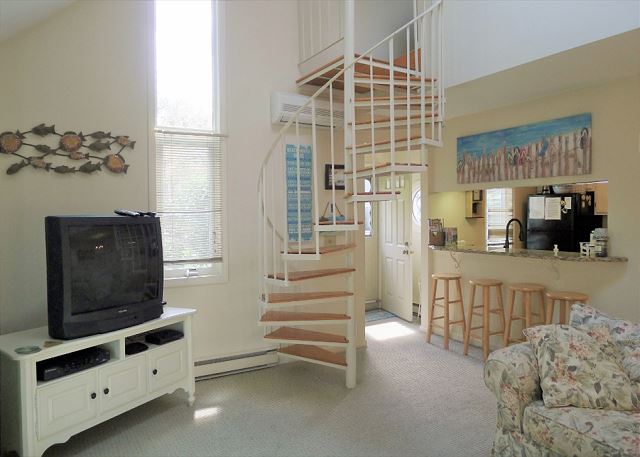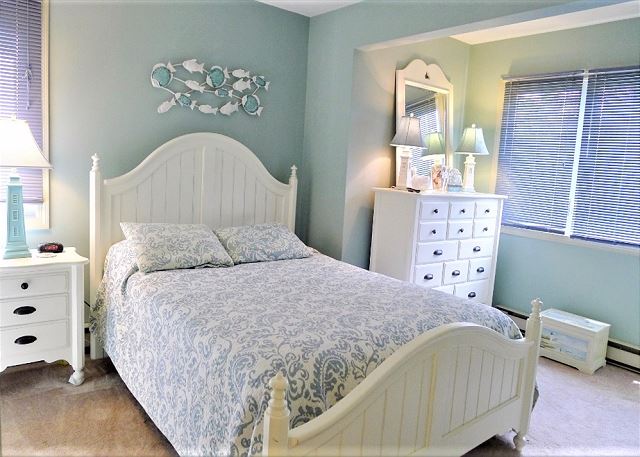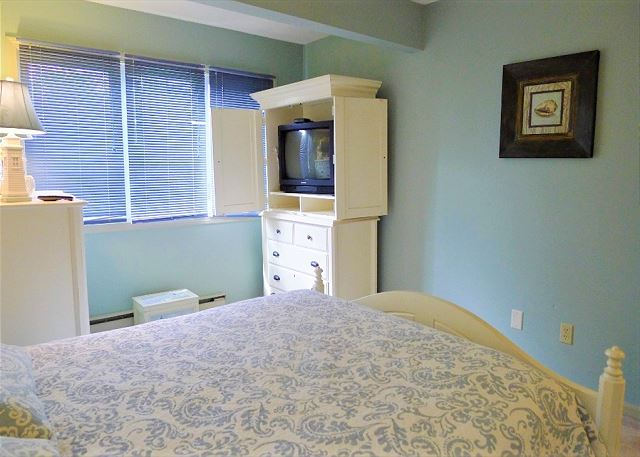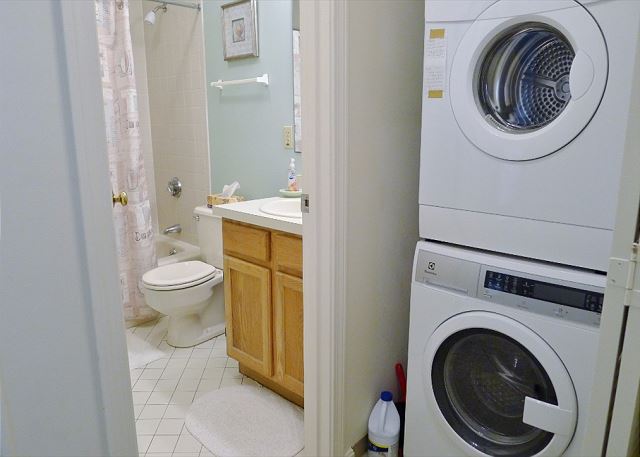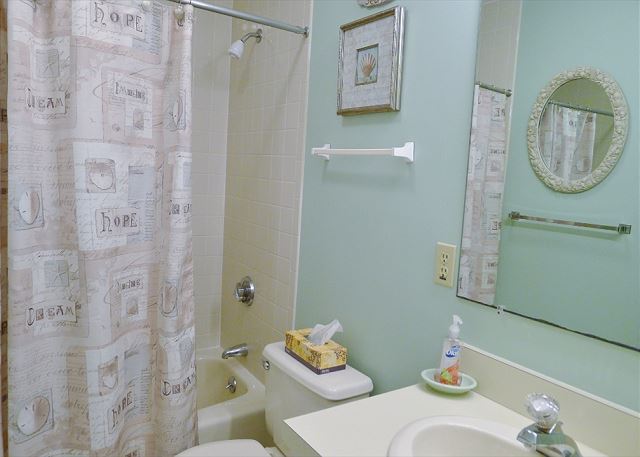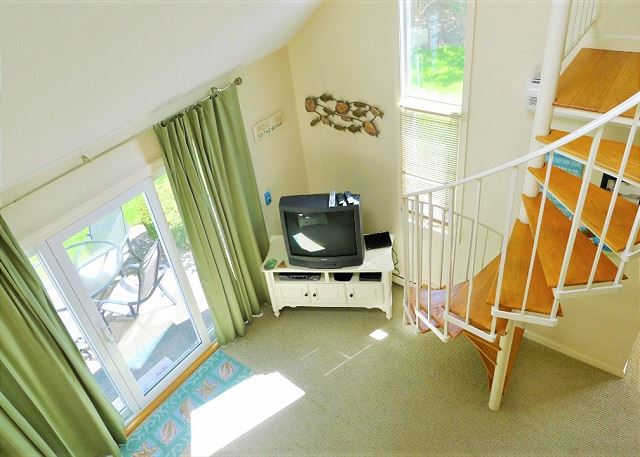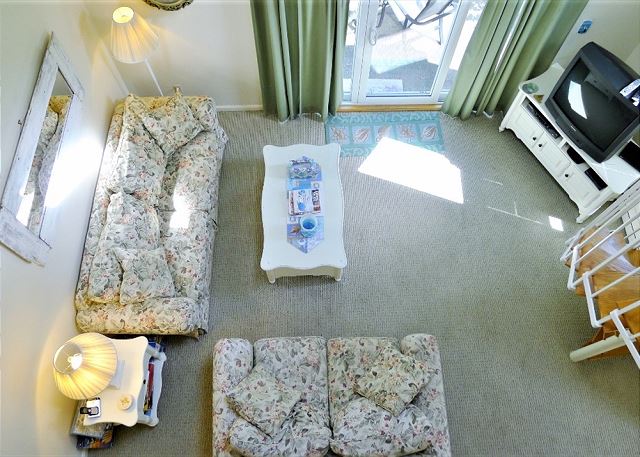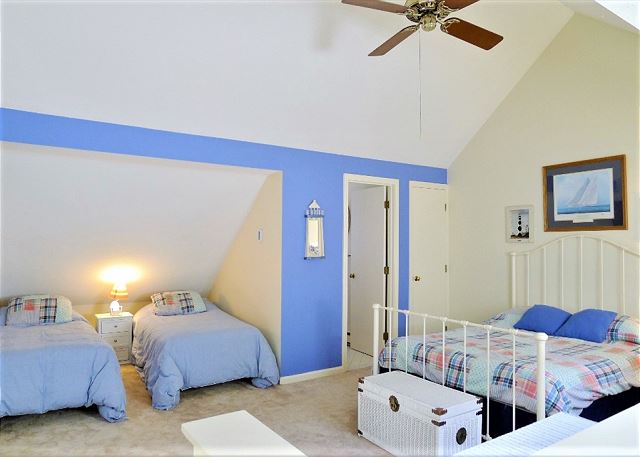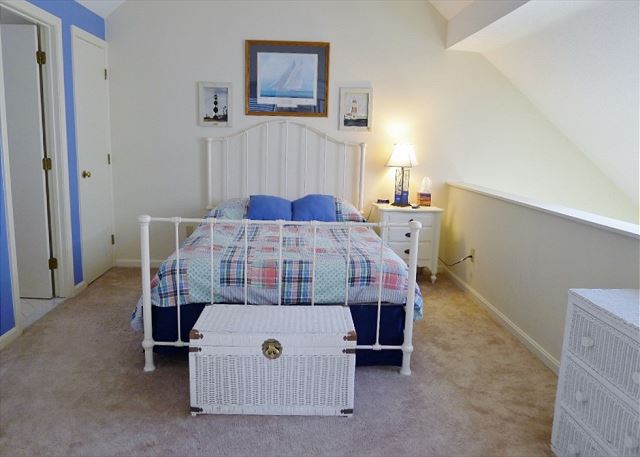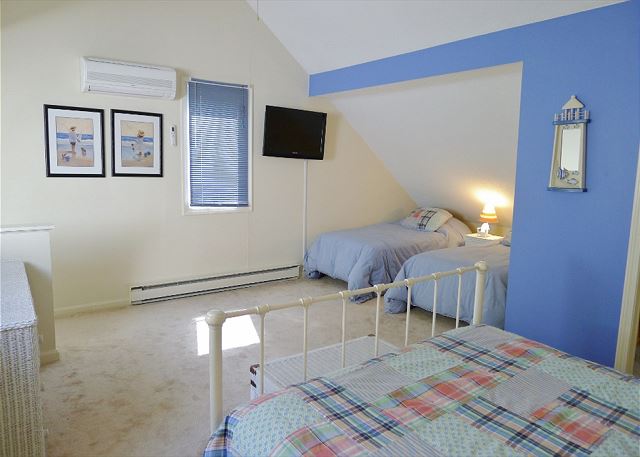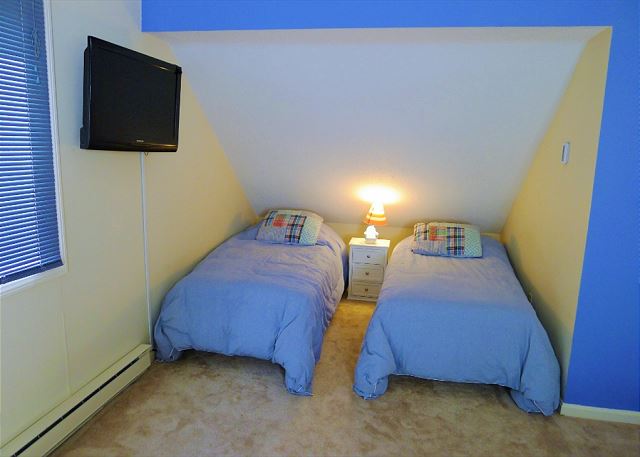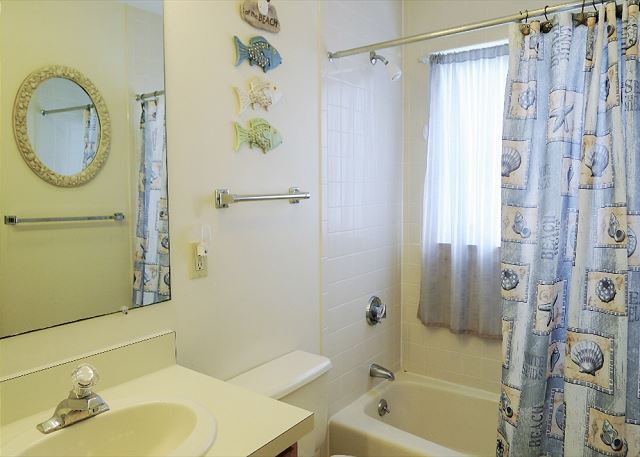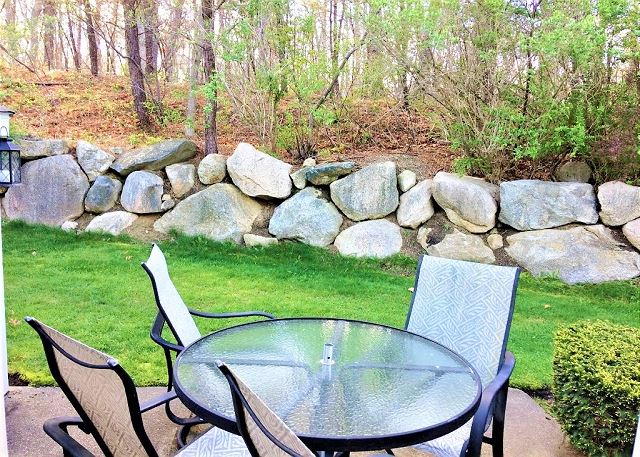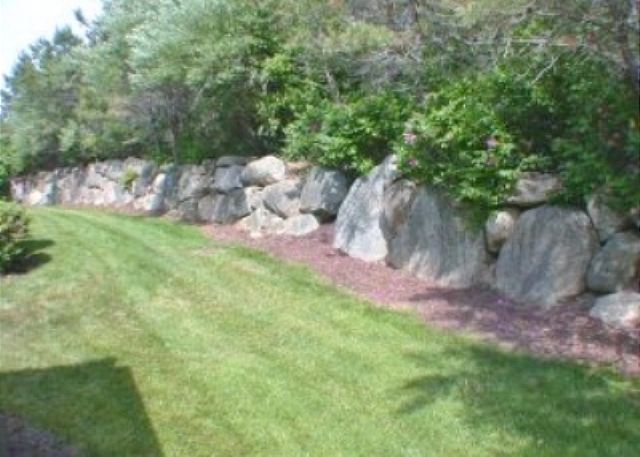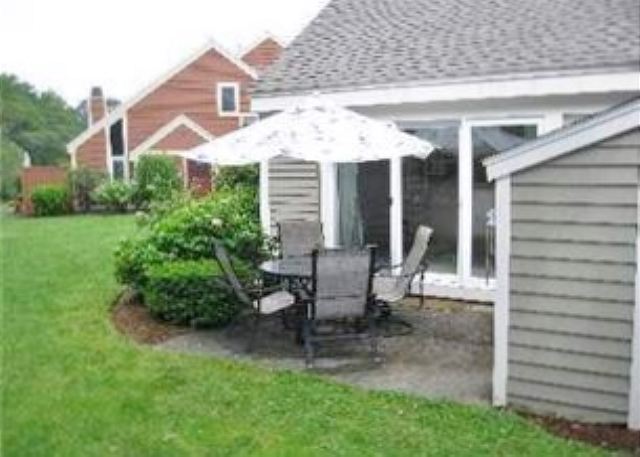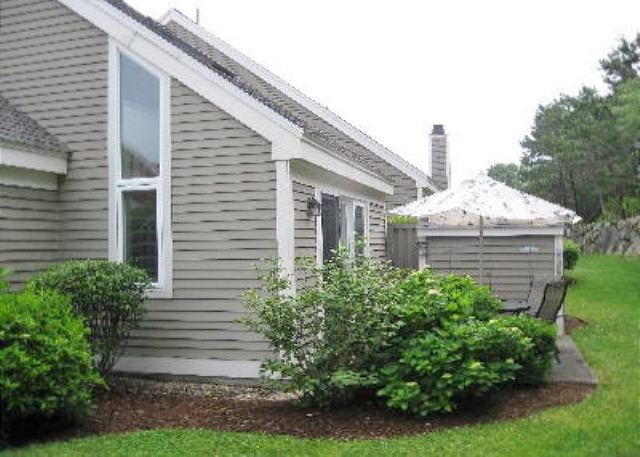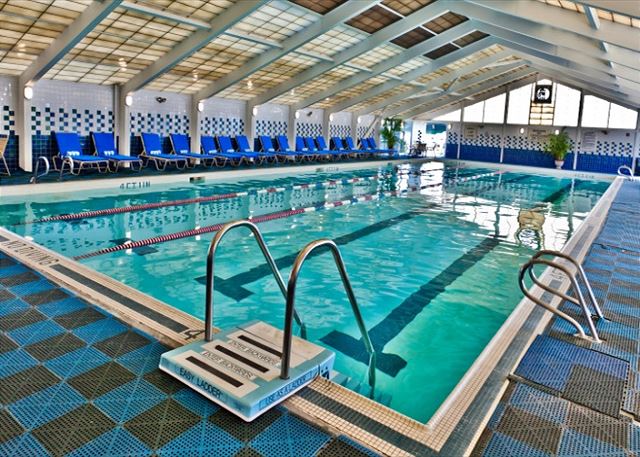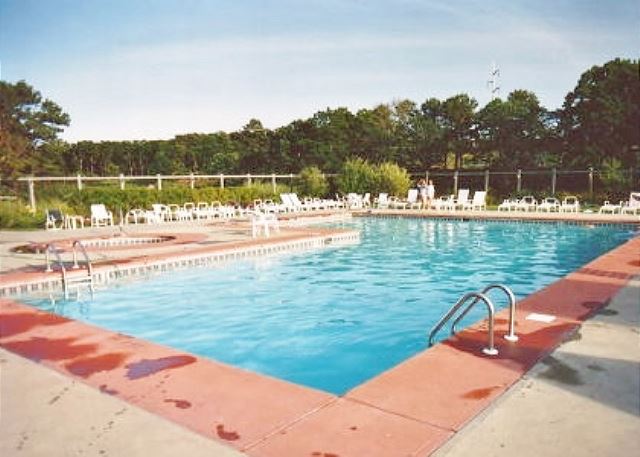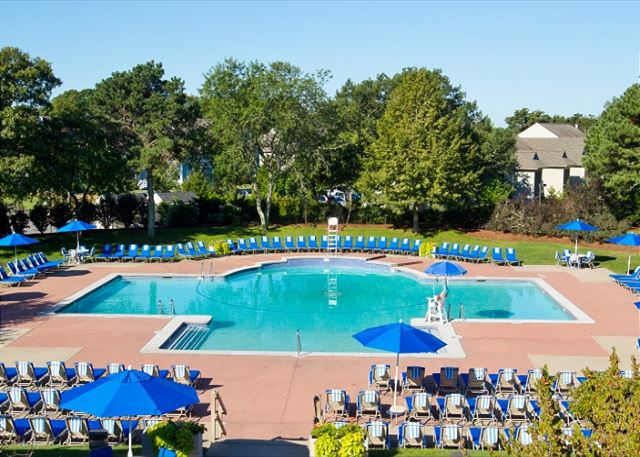 ---
Bedroom(s): 2
Bathroom(s): 2
Sleeps: 6
Type: Condominium
Area:
Town: Brewster
Price Range $1370-$2070

Rate includes all agency charges; Ocean Edge bills seperately to use the the resort amenities.

Affordable Brewster Getaway! Fletcher Indoor Pool is Open Year Round!

Brewster's Desirable Ocean Edge Resort, this "B" Style townhome located in Fletcher Village just a short distance from the Fletcher indoor/outdoor pool, fitness center, tennis courts, has A/C, and much more! This condo unit has beautiful fresh interior and can sleep up to 6 Guests.

On the first level of this town home there is an inviting living room with a full size sleeper sofa, TV, DVD player and a wall A/C unit. There is a galley style kitchen with marble counter tops and updated appliances, all fully outfitted with dining and cooking items that includes toaster, drip coffee maker and lobster pot. The sunny kitchen opens into the dining area, seating 6 guests, with breakfast counter also. Off the dining area is a hallway with laundry in closet, also a full bath and bedroom with queen size bed and wall A/C unit. Spiral stairs lead to the second floor loft with two twin size beds and a ceiling fan, flat screen TV and additional queen bed, wall A/C unit, and another full bath.

This home offers wireless Internet access, outdoor dining table, and a charcoal grill outside on the patio. This home also includes 3 TV's with cable, a DVD player, AM/FM Stereo with CD player, Nintendo game console, clothing washer & dyer, and 3-zone ductless A/C system, beach chairs, cooler & umbrella, beach toys and baby gate.

Guests of this home will have Ocean Edge privileges except access to the private beach area. The resort charges fees to use these amenities which will include the use of Fletcher indoor & outdoor pools, Fletcher cardio room, Arbor outdoor pool, the New Fitness Center with outdoor pool, and Tennis courts. This home does not include Golf privileges. You must complete your OE guest list and submit it to us 10 days prior to your stay in order to have privileges.

Remember all Ocean Edge fees are to be paid upon arrival to Ocean Edge.

Sorry no pets and no smoking allowed.

6 Guests maximum allowed at any time. No parties exceeding the occupancy limit allowed.

LINENS (SHEETS/TOWELS) ARE NOT INCLUDED IN THIS RENTAL.

Travel Insurance is available, highly recommended, and affordable coverage to protect your vacation investment.

Please view our policy and procedure page on our web site for detailed information about renting with us.
- DVD Player
- Flat Screen HDTV
- Extended Cable
- A/C Unit
- Microwave
- Drip Coffee Maker
- Pantry items (sugar, salt & pep)
- Cookware
- Dishes / Glassware / Utensils
- Kitchen Table
- Blender
- Toaster or Toaster Oven
- Ice Maker
- Island or Counter Seating
- Dishwasher
- Lobster Pot
- Door to Deck
- Window A/C
- Room Fans
- TV
- DVD Player
- Beds
- Patio
- Charcoal Grill
- Dining Table w/ Umbrella
- Shared Pool
- Tennis
- Beach Chairs
- Close to Town
- Near Rail Trail Bike Path
- Near Cape Cod Bay Beaches
- Resort Location & Amenities
- Near Golf Course
Guest Reviews of
286 fletcher* Brewster , MA
286 Fletcher
All in all the experience was fine.the washing machine was very flaky to get working. Not any privacy outside.
4 out of 5 stars
July 2017

| S | M | T | W | T | F | S |
| --- | --- | --- | --- | --- | --- | --- |
| | | | | | | 01 |
| 02 | 03 | 04 | 05 | 06 | 07 | 08 |
| 09 | 10 | 11 | 12 | 13 | 14 | 15 |
| 16 | 17 | 18 | 19 | 20 | 21 | 22 |
| 23 | 24 | 25 | 26 | 27 | 28 | 29 |
| 30 | 31 | | | | | |
August 2017

| S | M | T | W | T | F | S |
| --- | --- | --- | --- | --- | --- | --- |
| | | 01 | 02 | 03 | 04 | 05 |
| 06 | 07 | 08 | 09 | 10 | 11 | 12 |
| 13 | 14 | 15 | 16 | 17 | 18 | 19 |
| 20 | 21 | 22 | 23 | 24 | 25 | 26 |
| 27 | 28 | 29 | 30 | 31 | | |
September 2017

| S | M | T | W | T | F | S |
| --- | --- | --- | --- | --- | --- | --- |
| | | | | | 01 | 02 |
| 03 | 04 | 05 | 06 | 07 | 08 | 09 |
| 10 | 11 | 12 | 13 | 14 | 15 | 16 |
| 17 | 18 | 19 | 20 | 21 | 22 | 23 |
| 24 | 25 | 26 | 27 | 28 | 29 | 30 |
October 2017

| S | M | T | W | T | F | S |
| --- | --- | --- | --- | --- | --- | --- |
| 01 | 02 | 03 | 04 | 05 | 06 | 07 |
| 08 | 09 | 10 | 11 | 12 | 13 | 14 |
| 15 | 16 | 17 | 18 | 19 | 20 | 21 |
| 22 | 23 | 24 | 25 | 26 | 27 | 28 |
| 29 | 30 | 31 | | | | |
November 2017

| S | M | T | W | T | F | S |
| --- | --- | --- | --- | --- | --- | --- |
| | | | 01 | 02 | 03 | 04 |
| 05 | 06 | 07 | 08 | 09 | 10 | 11 |
| 12 | 13 | 14 | 15 | 16 | 17 | 18 |
| 19 | 20 | 21 | 22 | 23 | 24 | 25 |
| 26 | 27 | 28 | 29 | 30 | | |
December 2017

| S | M | T | W | T | F | S |
| --- | --- | --- | --- | --- | --- | --- |
| | | | | | 01 | 02 |
| 03 | 04 | 05 | 06 | 07 | 08 | 09 |
| 10 | 11 | 12 | 13 | 14 | 15 | 16 |
| 17 | 18 | 19 | 20 | 21 | 22 | 23 |
| 24 | 25 | 26 | 27 | 28 | 29 | 30 |
| 31 | | | | | | |
January 2018

| S | M | T | W | T | F | S |
| --- | --- | --- | --- | --- | --- | --- |
| | 01 | 02 | 03 | 04 | 05 | 06 |
| 07 | 08 | 09 | 10 | 11 | 12 | 13 |
| 14 | 15 | 16 | 17 | 18 | 19 | 20 |
| 21 | 22 | 23 | 24 | 25 | 26 | 27 |
| 28 | 29 | 30 | 31 | | | |
February 2018

| S | M | T | W | T | F | S |
| --- | --- | --- | --- | --- | --- | --- |
| | | | | 01 | 02 | 03 |
| 04 | 05 | 06 | 07 | 08 | 09 | 10 |
| 11 | 12 | 13 | 14 | 15 | 16 | 17 |
| 18 | 19 | 20 | 21 | 22 | 23 | 24 |
| 25 | 26 | 27 | 28 | | | |
March 2018

| S | M | T | W | T | F | S |
| --- | --- | --- | --- | --- | --- | --- |
| | | | | 01 | 02 | 03 |
| 04 | 05 | 06 | 07 | 08 | 09 | 10 |
| 11 | 12 | 13 | 14 | 15 | 16 | 17 |
| 18 | 19 | 20 | 21 | 22 | 23 | 24 |
| 25 | 26 | 27 | 28 | 29 | 30 | 31 |
April 2018

| S | M | T | W | T | F | S |
| --- | --- | --- | --- | --- | --- | --- |
| 01 | 02 | 03 | 04 | 05 | 06 | 07 |
| 08 | 09 | 10 | 11 | 12 | 13 | 14 |
| 15 | 16 | 17 | 18 | 19 | 20 | 21 |
| 22 | 23 | 24 | 25 | 26 | 27 | 28 |
| 29 | 30 | | | | | |
May 2018

| S | M | T | W | T | F | S |
| --- | --- | --- | --- | --- | --- | --- |
| | | 01 | 02 | 03 | 04 | 05 |
| 06 | 07 | 08 | 09 | 10 | 11 | 12 |
| 13 | 14 | 15 | 16 | 17 | 18 | 19 |
| 20 | 21 | 22 | 23 | 24 | 25 | 26 |
| 27 | 28 | 29 | 30 | 31 | | |
June 2018

| S | M | T | W | T | F | S |
| --- | --- | --- | --- | --- | --- | --- |
| | | | | | 01 | 02 |
| 03 | 04 | 05 | 06 | 07 | 08 | 09 |
| 10 | 11 | 12 | 13 | 14 | 15 | 16 |
| 17 | 18 | 19 | 20 | 21 | 22 | 23 |
| 24 | 25 | 26 | 27 | 28 | 29 | 30 |
July 2018

| S | M | T | W | T | F | S |
| --- | --- | --- | --- | --- | --- | --- |
| 01 | 02 | 03 | 04 | 05 | 06 | 07 |
| 08 | 09 | 10 | 11 | 12 | 13 | 14 |
| 15 | 16 | 17 | 18 | 19 | 20 | 21 |
| 22 | 23 | 24 | 25 | 26 | 27 | 28 |
| 29 | 30 | 31 | | | | |
Available
Unavailable
Sat to Sat booking