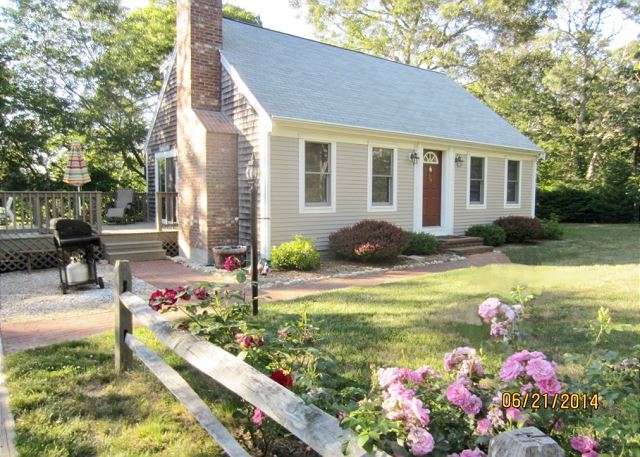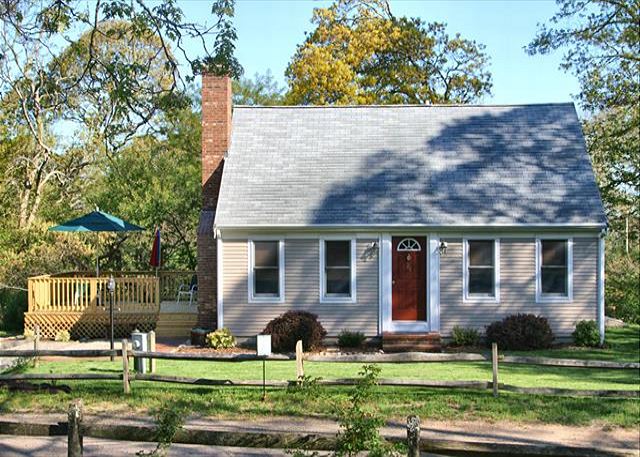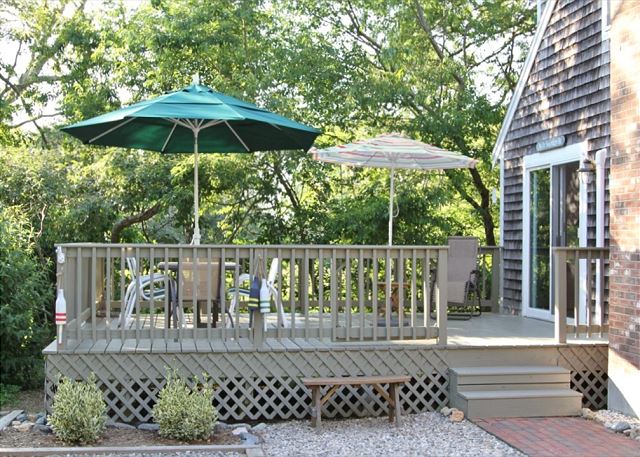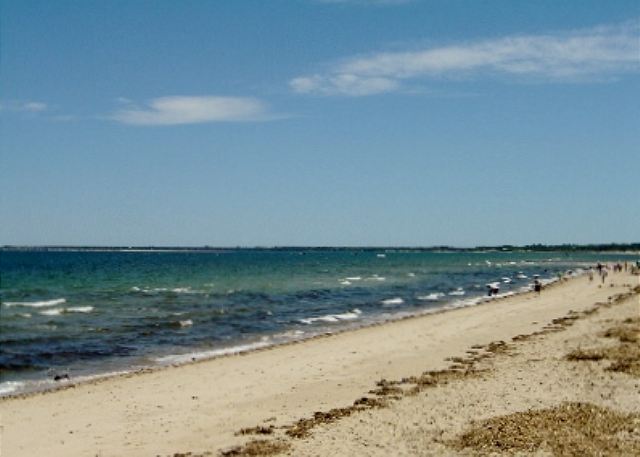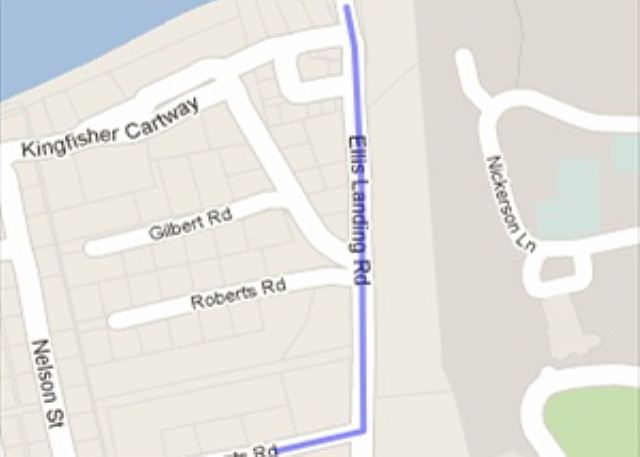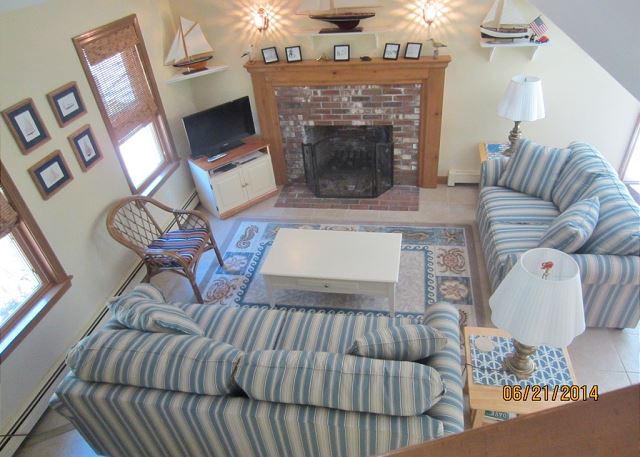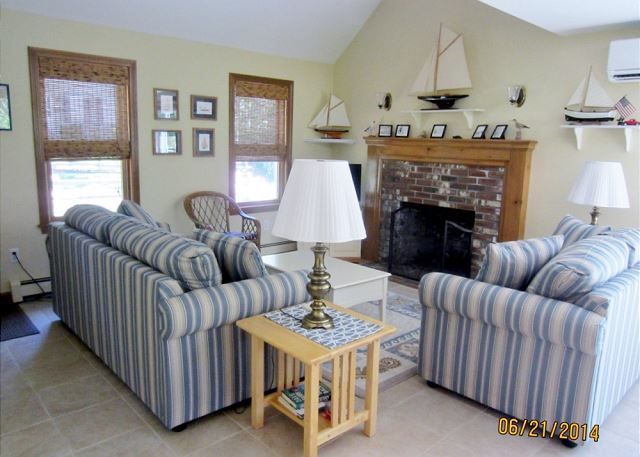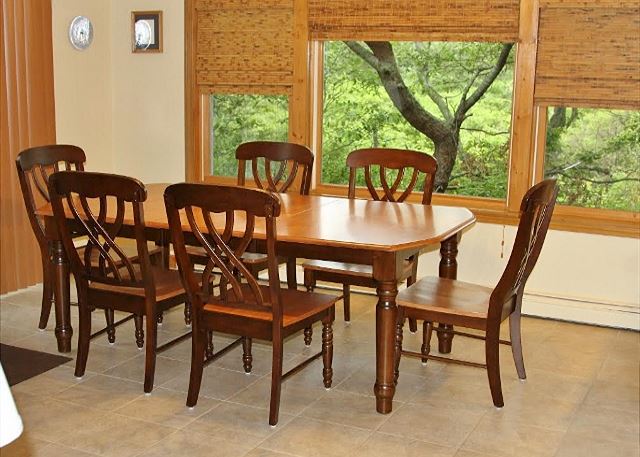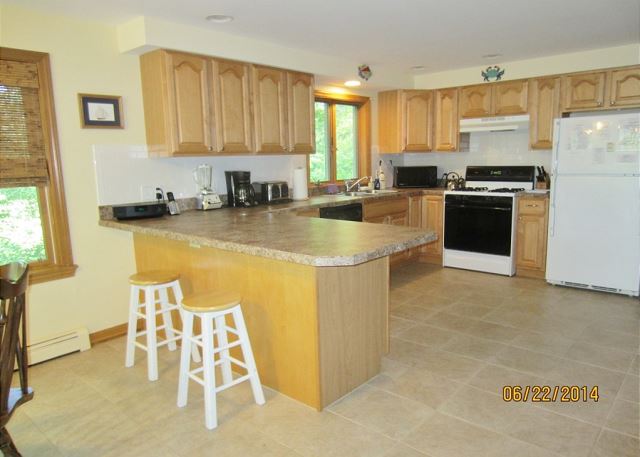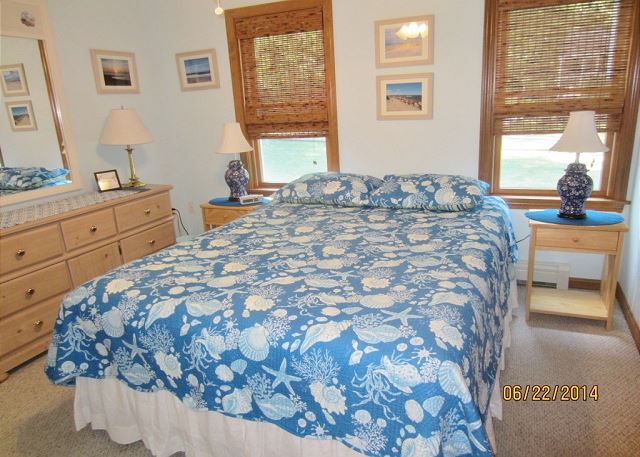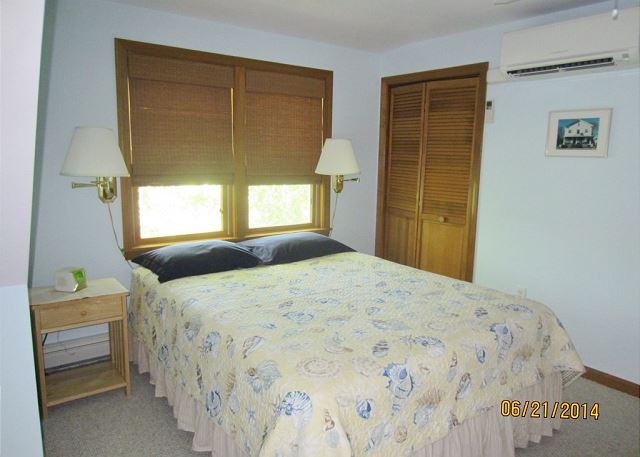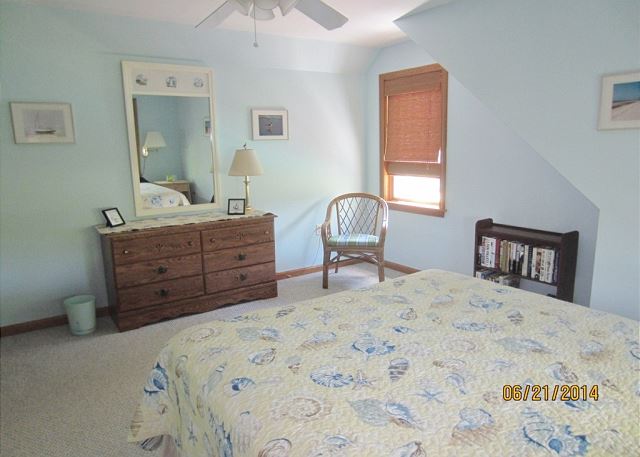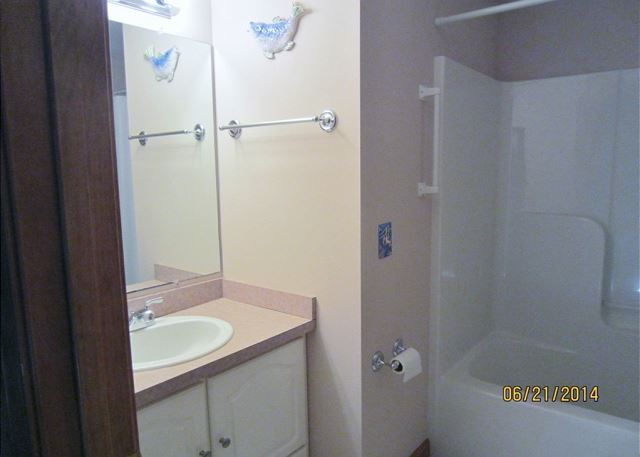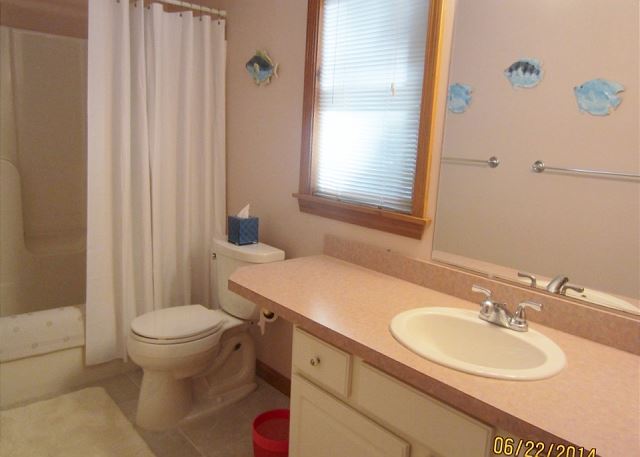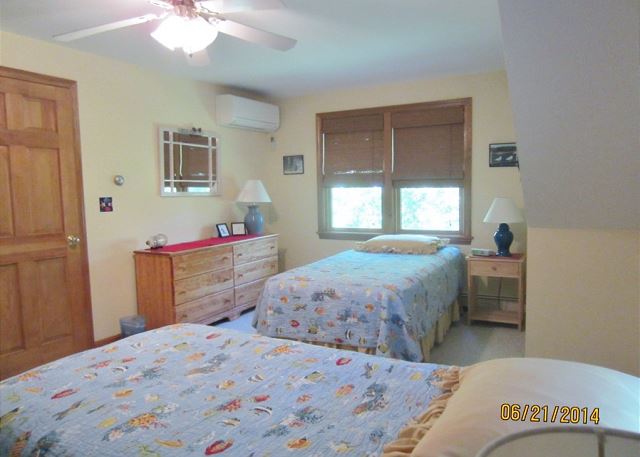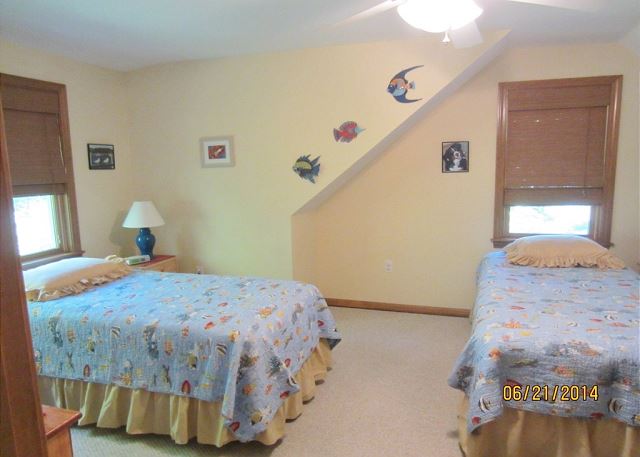 ---
Bedroom(s): 3
Bathroom(s): 2
Sleeps: 6
Type: House
Area:
Town: Brewster
Price Range $2250-$2450

Cape Style Brewster Vacation home, built in 1998 with 1344 Sq. Ft. of living space, and located just 3/10ths of a mile to Ellis Landing Beach on Cape Cod Bay in Brewster!

Great location with deli, fish market, ice cream shop, and fine dining nearby, this well-maintained home located on dead-end street.

This Cape home features an open floor plan style in living, dining, and kitchen area. The living room has sofa seating, A/C, ceiling fan, TV 37" LED, Blue ray DVD, with basic Comcast TV channels,WIFI internet, and stereo/cd player. The fully equipped modern kitchen includes dining for 6, spacious counter with 2 stools, a microwave, dish washer, drip coffee maker, toaster, blender, spices, and an iron & ironing board.

The first floor has full bath with tub/shower combo and a bedroom with a King size bed & A/C. There is clothing washer and dryer located in basement with interior access from the first floor.

The second floor has 2 more bedrooms, one with a queen size bed and one with 2 twin size beds and 27" TV with DVD player. Both of these bedrooms have ceiling fans and A/C wall units. There is a full bath with tub/shower combo off the hall on second floor.

The lovely yard has wonderful deck that includes a dining table with umbrella, seating for 6 guests, a gas grill, and also additional lounge chairs for plenty of outdoor enjoyment!

Sorry no pets and no smoking allowed.

6 guests maximum allowed at any time. No parties allowed.

LINENS (SHEETS/TOWELS) ARE NOT INCLUDED IN THIS RENTAL.

Booking fee for this rental is $295.

Travel Insurance is highly recommended and affordable coverage to protect your vacation investment.

For more information about this property or our other vacation rentals, call us at or toll free at and ask for property ID #CLEM26 or visit

Please view our policy and procedure page on our web site for detailed information about renting with us.
- Air Conditioning
- DVD Player
- Flat Screen HDTV
- Basic Cable
- Stereo w/ CD player
- Ceiling Fan
- A/C
- Microwave
- Drip Coffee Maker
- Pantry items (sugar, salt & pep)
- Cookware
- Dishes / Glassware / Utensils
- Kitchen Table
- Blender
- Toaster or Toaster Oven
- Island or Counter Seating
- Dishwasher
- Lobster Pot
- A/C
- TV
- Ceiling Fan
- A/C
- Hair Dryer
- Tub/Shower Combo
- Deck
- Gas Grill with Propane Tank
- Dining Table w/ Umbrella
- Beach Chairs
- Close to Town
- Near Cape Cod Bay Beaches
- Walk to Beach
Guest Reviews of
26 clements Brewster , MA
Great stay in Brewster
Review by
Lauren B.
We had a quick walk to the beach from our three bedroom rental. It was equipped with everything we needed for a peaceful stay on the cape.
5 out of 5 stars
Excellent stay in Brewster, Cape Cod
Wonderful time in Cape Cod, and first time renting there. 26 Clements Rd is a wonderful property and a fantastic location. Loved easy walk to beach and restaurants, shops, etc. House is absolutely beautiful and well maintained - Loved our stay!!!
5 out of 5 stars
Great great house
Review by
Katelyn R.
This house would be a perfect house if they had an outdoors shower..But this house is amazing and I hope to stay there again...
5 out of 5 stars
May 2017

| S | M | T | W | T | F | S |
| --- | --- | --- | --- | --- | --- | --- |
| | 01 | 02 | 03 | 04 | 05 | 06 |
| 07 | 08 | 09 | 10 | 11 | 12 | 13 |
| 14 | 15 | 16 | 17 | 18 | 19 | 20 |
| 21 | 22 | 23 | 24 | 25 | 26 | 27 |
| 28 | 29 | 30 | 31 | | | |
June 2017

| S | M | T | W | T | F | S |
| --- | --- | --- | --- | --- | --- | --- |
| | | | | 01 | 02 | 03 |
| 04 | 05 | 06 | 07 | 08 | 09 | 10 |
| 11 | 12 | 13 | 14 | 15 | 16 | 17 |
| 18 | 19 | 20 | 21 | 22 | 23 | 24 |
| 25 | 26 | 27 | 28 | 29 | 30 | |
July 2017

| S | M | T | W | T | F | S |
| --- | --- | --- | --- | --- | --- | --- |
| | | | | | | 01 |
| 02 | 03 | 04 | 05 | 06 | 07 | 08 |
| 09 | 10 | 11 | 12 | 13 | 14 | 15 |
| 16 | 17 | 18 | 19 | 20 | 21 | 22 |
| 23 | 24 | 25 | 26 | 27 | 28 | 29 |
| 30 | 31 | | | | | |
August 2017

| S | M | T | W | T | F | S |
| --- | --- | --- | --- | --- | --- | --- |
| | | 01 | 02 | 03 | 04 | 05 |
| 06 | 07 | 08 | 09 | 10 | 11 | 12 |
| 13 | 14 | 15 | 16 | 17 | 18 | 19 |
| 20 | 21 | 22 | 23 | 24 | 25 | 26 |
| 27 | 28 | 29 | 30 | 31 | | |
September 2017

| S | M | T | W | T | F | S |
| --- | --- | --- | --- | --- | --- | --- |
| | | | | | 01 | 02 |
| 03 | 04 | 05 | 06 | 07 | 08 | 09 |
| 10 | 11 | 12 | 13 | 14 | 15 | 16 |
| 17 | 18 | 19 | 20 | 21 | 22 | 23 |
| 24 | 25 | 26 | 27 | 28 | 29 | 30 |
October 2017

| S | M | T | W | T | F | S |
| --- | --- | --- | --- | --- | --- | --- |
| 01 | 02 | 03 | 04 | 05 | 06 | 07 |
| 08 | 09 | 10 | 11 | 12 | 13 | 14 |
| 15 | 16 | 17 | 18 | 19 | 20 | 21 |
| 22 | 23 | 24 | 25 | 26 | 27 | 28 |
| 29 | 30 | 31 | | | | |
November 2017

| S | M | T | W | T | F | S |
| --- | --- | --- | --- | --- | --- | --- |
| | | | 01 | 02 | 03 | 04 |
| 05 | 06 | 07 | 08 | 09 | 10 | 11 |
| 12 | 13 | 14 | 15 | 16 | 17 | 18 |
| 19 | 20 | 21 | 22 | 23 | 24 | 25 |
| 26 | 27 | 28 | 29 | 30 | | |
December 2017

| S | M | T | W | T | F | S |
| --- | --- | --- | --- | --- | --- | --- |
| | | | | | 01 | 02 |
| 03 | 04 | 05 | 06 | 07 | 08 | 09 |
| 10 | 11 | 12 | 13 | 14 | 15 | 16 |
| 17 | 18 | 19 | 20 | 21 | 22 | 23 |
| 24 | 25 | 26 | 27 | 28 | 29 | 30 |
| 31 | | | | | | |
January 2018

| S | M | T | W | T | F | S |
| --- | --- | --- | --- | --- | --- | --- |
| | 01 | 02 | 03 | 04 | 05 | 06 |
| 07 | 08 | 09 | 10 | 11 | 12 | 13 |
| 14 | 15 | 16 | 17 | 18 | 19 | 20 |
| 21 | 22 | 23 | 24 | 25 | 26 | 27 |
| 28 | 29 | 30 | 31 | | | |
February 2018

| S | M | T | W | T | F | S |
| --- | --- | --- | --- | --- | --- | --- |
| | | | | 01 | 02 | 03 |
| 04 | 05 | 06 | 07 | 08 | 09 | 10 |
| 11 | 12 | 13 | 14 | 15 | 16 | 17 |
| 18 | 19 | 20 | 21 | 22 | 23 | 24 |
| 25 | 26 | 27 | 28 | | | |
March 2018

| S | M | T | W | T | F | S |
| --- | --- | --- | --- | --- | --- | --- |
| | | | | 01 | 02 | 03 |
| 04 | 05 | 06 | 07 | 08 | 09 | 10 |
| 11 | 12 | 13 | 14 | 15 | 16 | 17 |
| 18 | 19 | 20 | 21 | 22 | 23 | 24 |
| 25 | 26 | 27 | 28 | 29 | 30 | 31 |
April 2018

| S | M | T | W | T | F | S |
| --- | --- | --- | --- | --- | --- | --- |
| 01 | 02 | 03 | 04 | 05 | 06 | 07 |
| 08 | 09 | 10 | 11 | 12 | 13 | 14 |
| 15 | 16 | 17 | 18 | 19 | 20 | 21 |
| 22 | 23 | 24 | 25 | 26 | 27 | 28 |
| 29 | 30 | | | | | |
May 2018

| S | M | T | W | T | F | S |
| --- | --- | --- | --- | --- | --- | --- |
| | | 01 | 02 | 03 | 04 | 05 |
| 06 | 07 | 08 | 09 | 10 | 11 | 12 |
| 13 | 14 | 15 | 16 | 17 | 18 | 19 |
| 20 | 21 | 22 | 23 | 24 | 25 | 26 |
| 27 | 28 | 29 | 30 | 31 | | |
Available
Unavailable
Sat to Sat booking