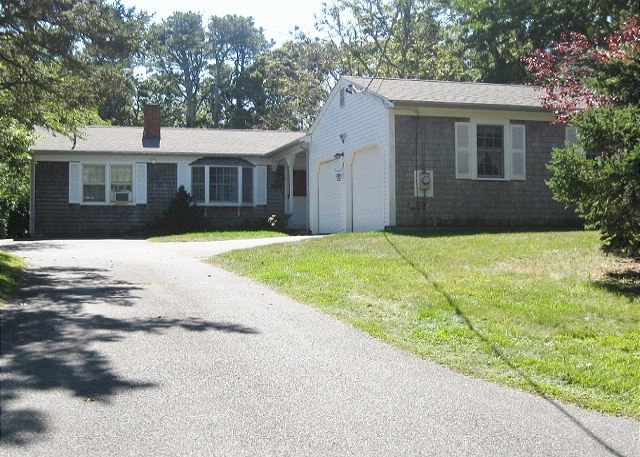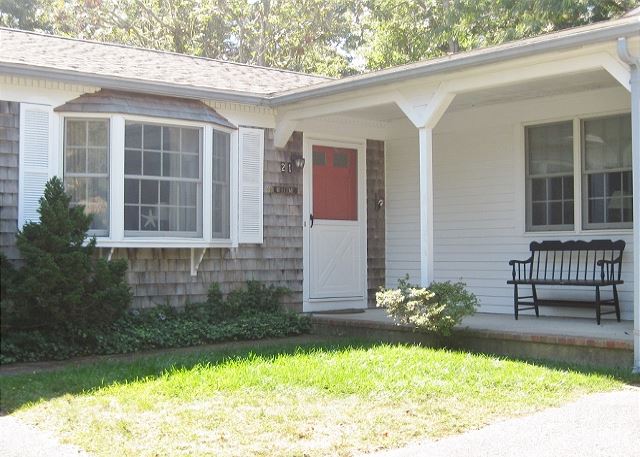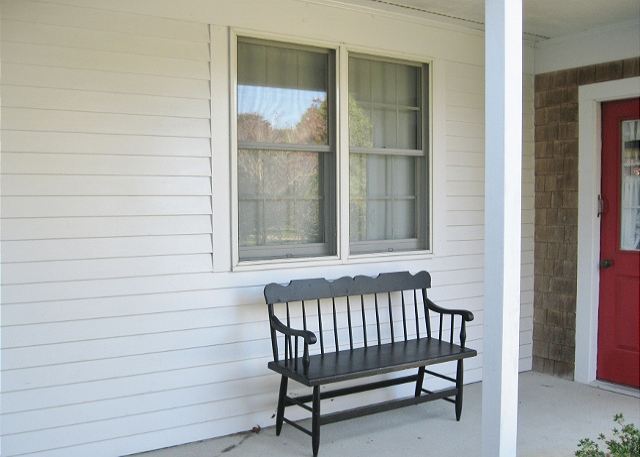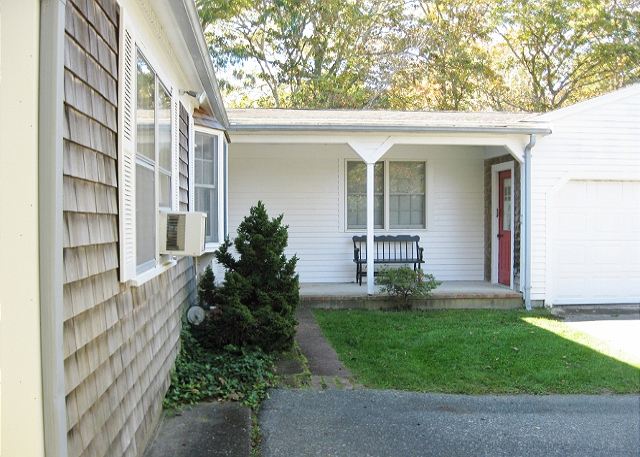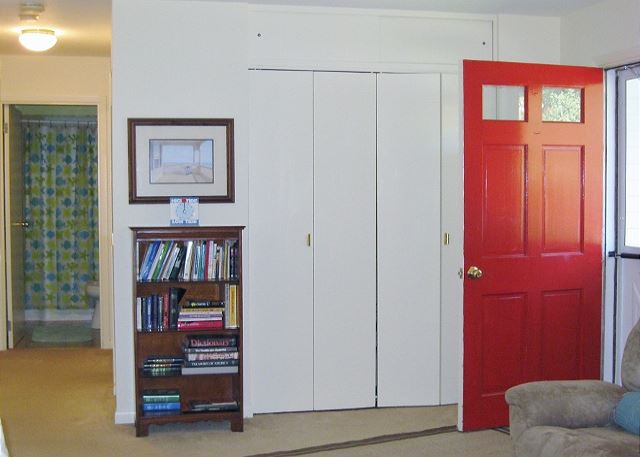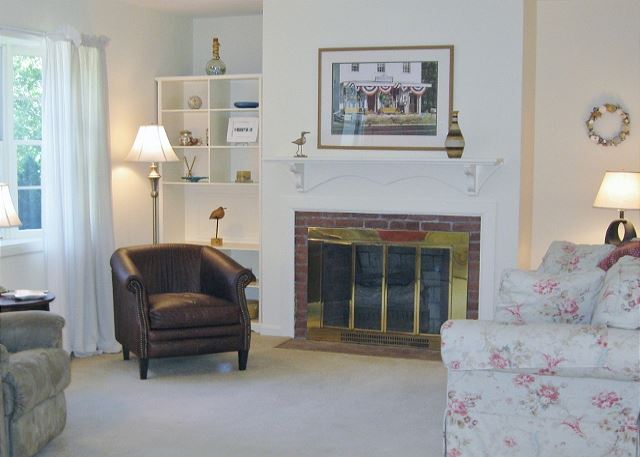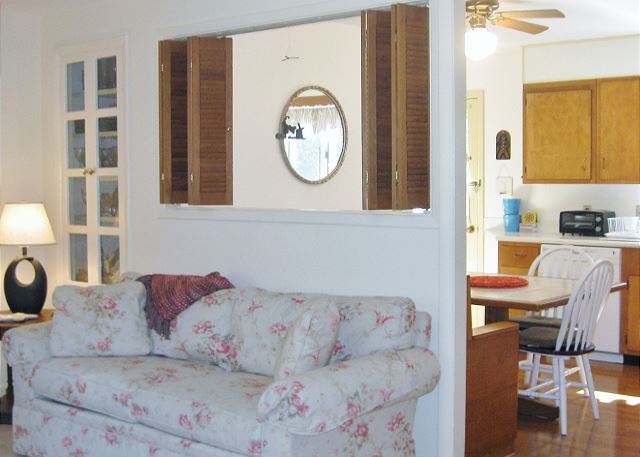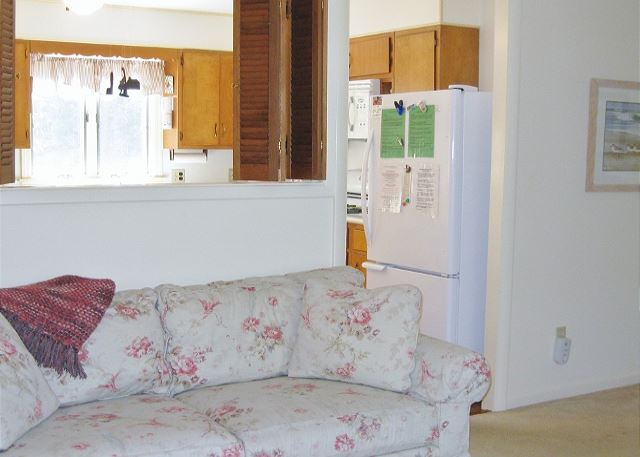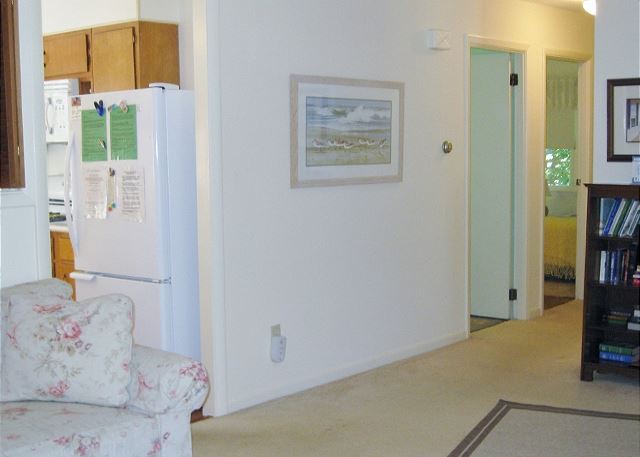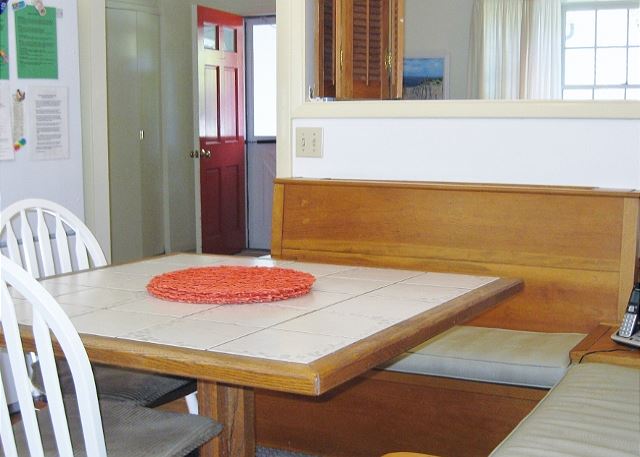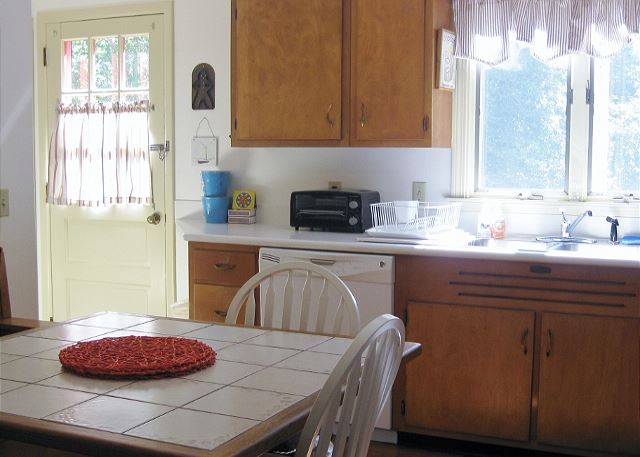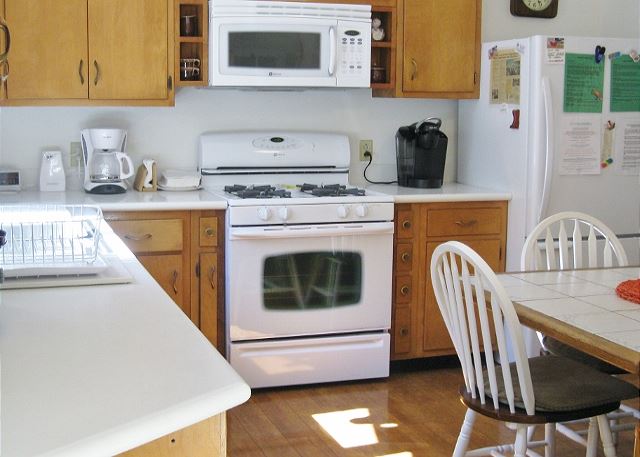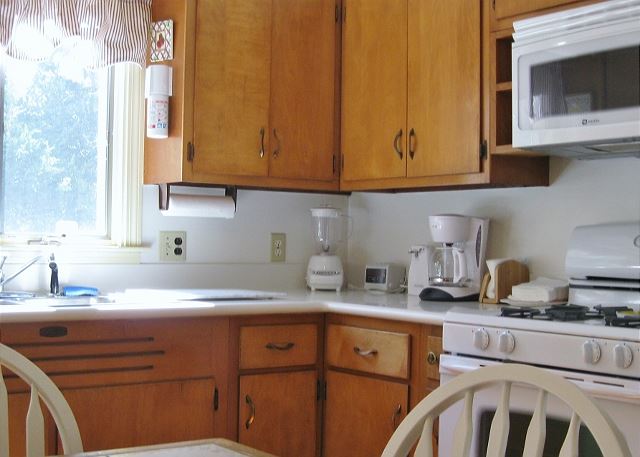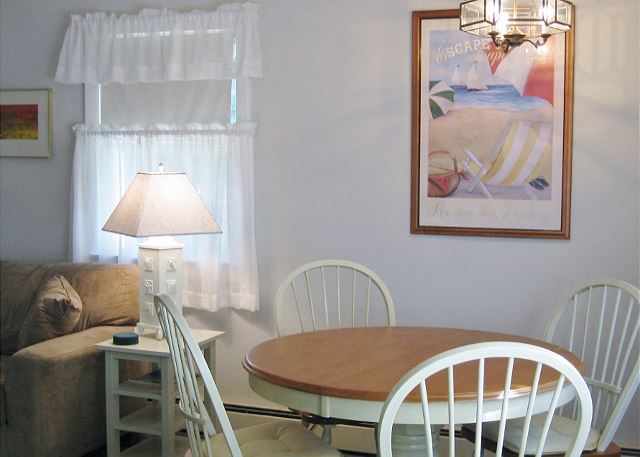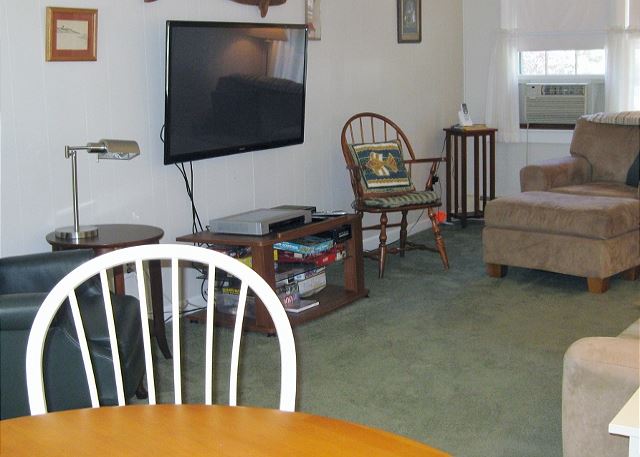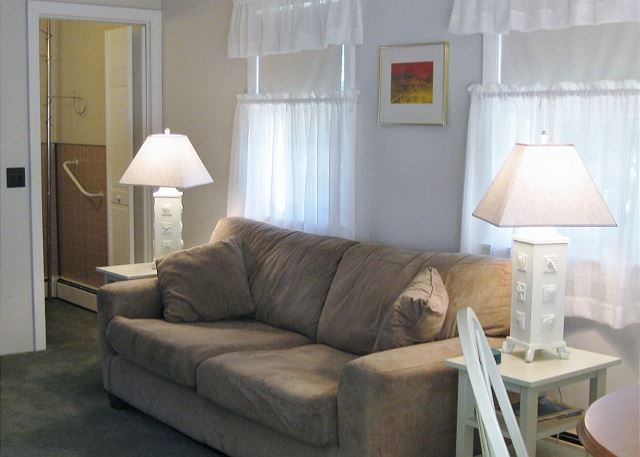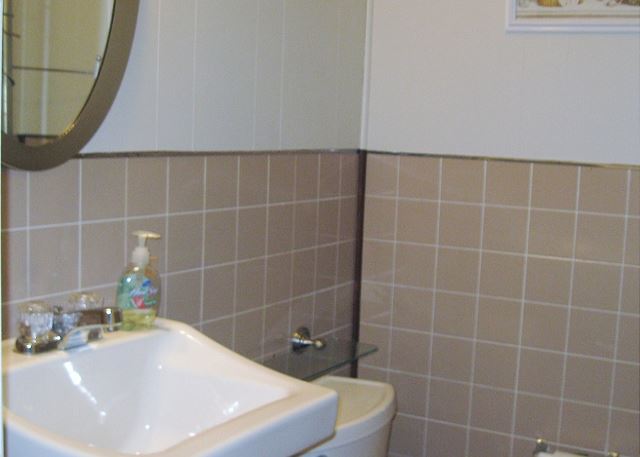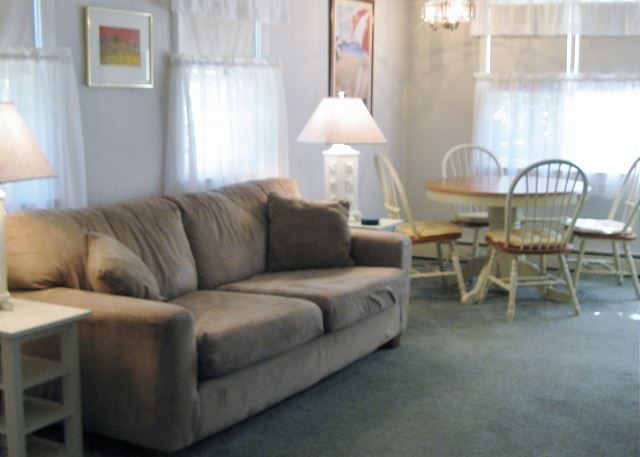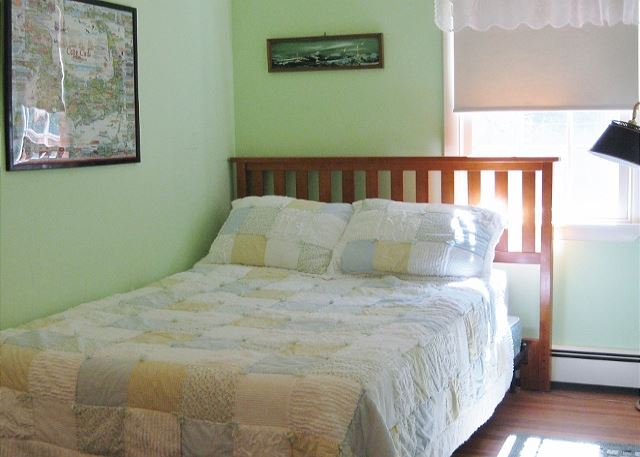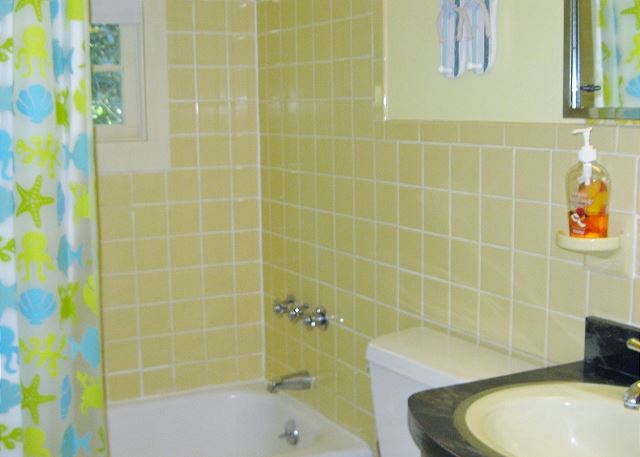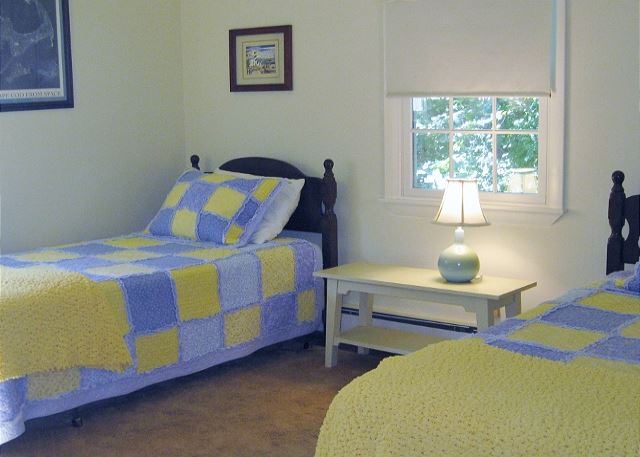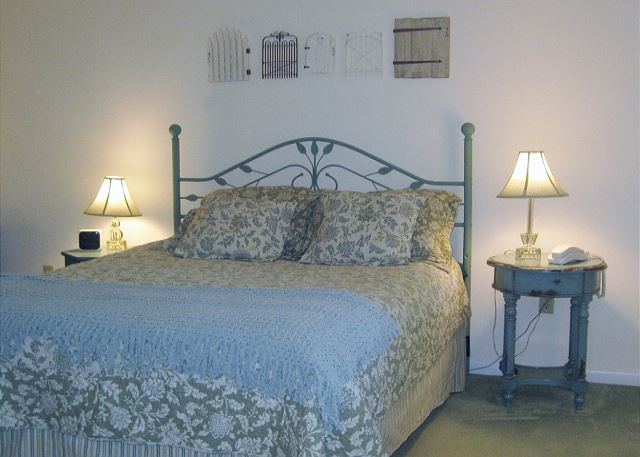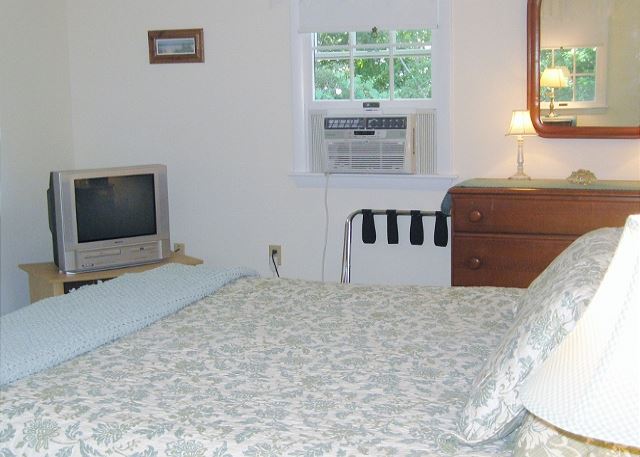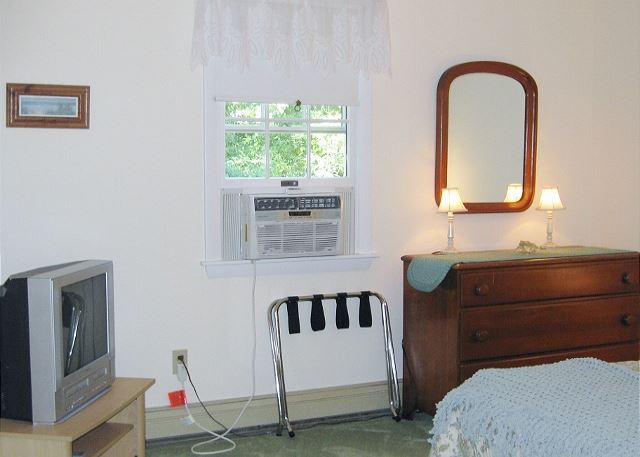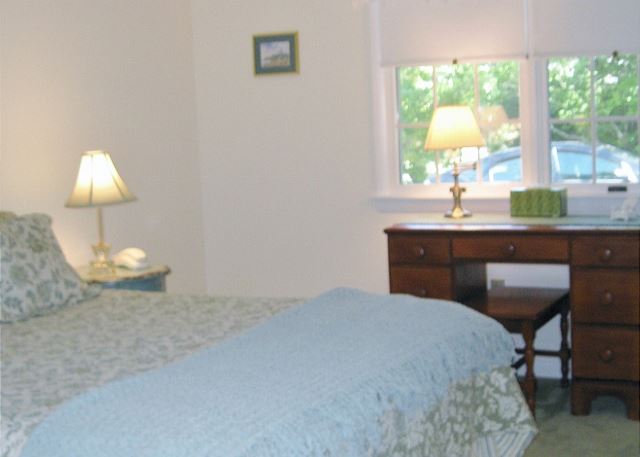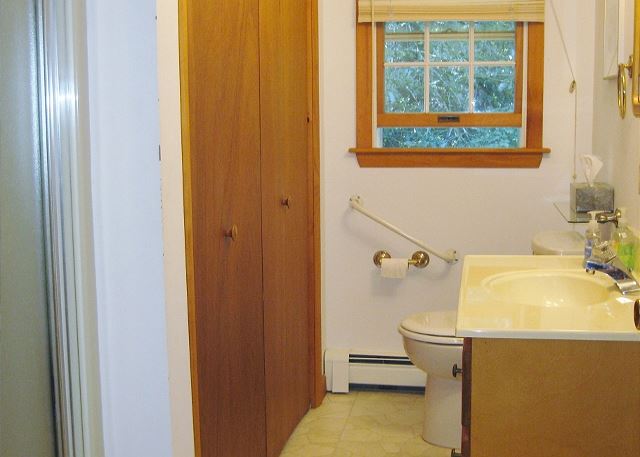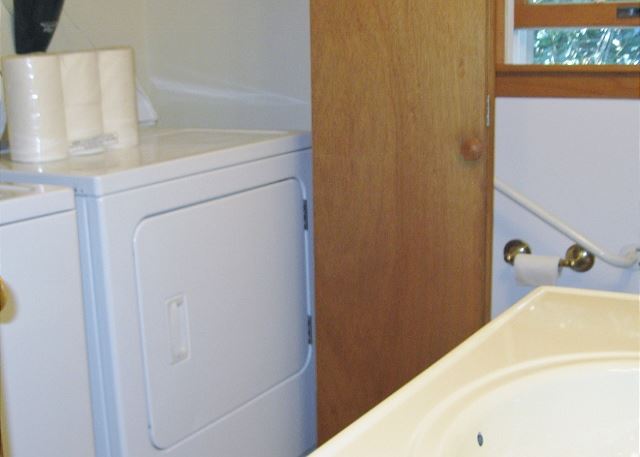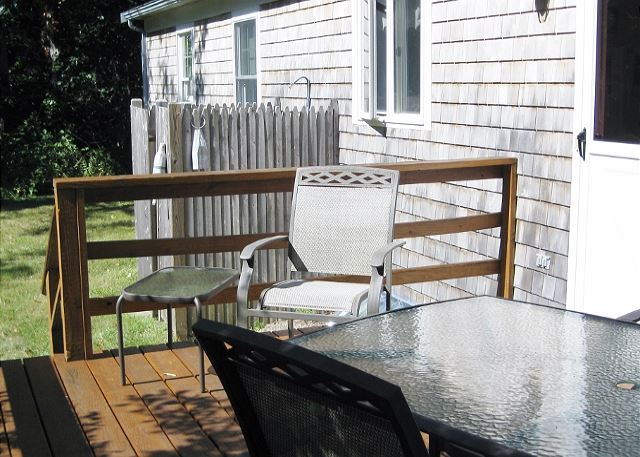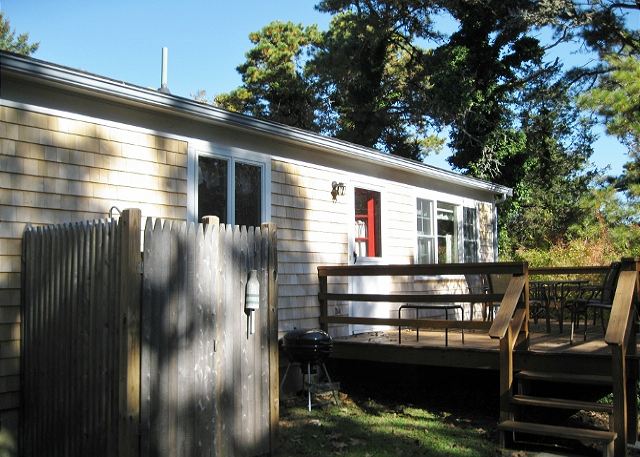 ---
Bedroom(s): 3
Bathroom(s): 2.5
Sleeps: 6
Type: House
Area:
Town: Brewster
Price $1500

Brewster"s Linnell Landing beach is just 9/10th's of a mile away from this 3 bedroom, 2.5 bath vacation home!

This neat one level, ranch style home which is located in the heart of Brewster, just in off historic Route 6A and offers direct access to the Cape Cod Rail Trail Bike path located right behind the property, and close to many Brewster Beaches.

Enter into the living room where you will find comfortable seating to read and relax. There is a fully equipped eat-in kitchen, featuring a brand new refrigerator/freezer, a ceiling fan, dishwasher microwave, blender, both a drip coffee maker and Keurig machine, along with toaster oven, and a dining table for 6 guests. From the kitchen is a door to den/dining area with small dining/game table, 50" HD TV, DVD player, A/C unit, ceiling fan, and a half bathroom.

There is a door to the deck between kitchen and den where you will find a charcoal grill, an outdoor dining table, and an enclosed outdoor shower to enjoy after a day at the beach and grassy private yard.

The bedrooms consist of a queen bedroom suite with queen size bed, full Bath with shower, TV, DVD player, ceiling fan, and A/C unit. In the second bedroom is a full size bed and the third bedroom, you will find a set of twin size beds, and another A/C unit, with a full hallway bath and shower/tub combo.

Additional amenities include WiFi, expanded Comcast TV channels, local phone service, iron, ironing board & hair dryer, 1st floor washer & dryer, field guides and local references, and garage for bike storage, beach chairs and water toys (boogie boards, rafts, noodles, etc.) for your use.

Sorry, no pets and no smoking allowed.

6 guests maximum allowed at any time. No parties allowed

LINENS (SHEETS/TOWELS) ARE NOT INCLUDED IN THIS RENTAL.

Booking fee for this rental is $145.

Travel Insurance is highly recommended and affordable coverage to protect your vacation investment.

For more information about this property or our other vacation rentals, call us at or toll free at and ask for property ID #CTRY21 or visit

Please view our policy and procedure page on our web site for detailed information about renting with us.
- DVD Player
- Flat Screen HDTV
- Extended Cable
- Ceiling Fan
- A/C Unit
- Deck
- AM/FM Radio
- WiFi
- Iron/Ironing Board
- Washer & Dryer
- Room Or Window Fans
- A/C
- Microwave
- Drip Coffee Maker
- Cookware
- Dishes / Glassware / Utensils
- Kitchen Table
- Blender
- Keurig Coffee Maker
- Toaster or Toaster Oven
- Dishwasher
- Lobster Pot
- Door to Deck
- TV
- A/C
- DVD Player
- TV
- Window A/C
- Hair Dryer
- Tub/Shower Combo
- Deck
- Charcoal Grill
- Dining Table w/o Umbrella
- Enclosed Outdoor Shower
- Garage Access
- Beach Chairs
- Close to Town
- Near Cape Cod Bay Beaches
- Near Golf Course
Guest Reviews of
21 country* Brewster , MA
Clean and Close
Review by
Thomas P.
This home was clean, close to beaches and the rail trail and a well stocked kitchen. We liked the layout of the house also.
5 out of 5 stars
our perfect week
Review by
Ronnie T.
Excellent
5 out of 5 stars
May 2017

| S | M | T | W | T | F | S |
| --- | --- | --- | --- | --- | --- | --- |
| | 01 | 02 | 03 | 04 | 05 | 06 |
| 07 | 08 | 09 | 10 | 11 | 12 | 13 |
| 14 | 15 | 16 | 17 | 18 | 19 | 20 |
| 21 | 22 | 23 | 24 | 25 | 26 | 27 |
| 28 | 29 | 30 | 31 | | | |
June 2017

| S | M | T | W | T | F | S |
| --- | --- | --- | --- | --- | --- | --- |
| | | | | 01 | 02 | 03 |
| 04 | 05 | 06 | 07 | 08 | 09 | 10 |
| 11 | 12 | 13 | 14 | 15 | 16 | 17 |
| 18 | 19 | 20 | 21 | 22 | 23 | 24 |
| 25 | 26 | 27 | 28 | 29 | 30 | |
July 2017

| S | M | T | W | T | F | S |
| --- | --- | --- | --- | --- | --- | --- |
| | | | | | | 01 |
| 02 | 03 | 04 | 05 | 06 | 07 | 08 |
| 09 | 10 | 11 | 12 | 13 | 14 | 15 |
| 16 | 17 | 18 | 19 | 20 | 21 | 22 |
| 23 | 24 | 25 | 26 | 27 | 28 | 29 |
| 30 | 31 | | | | | |
August 2017

| S | M | T | W | T | F | S |
| --- | --- | --- | --- | --- | --- | --- |
| | | 01 | 02 | 03 | 04 | 05 |
| 06 | 07 | 08 | 09 | 10 | 11 | 12 |
| 13 | 14 | 15 | 16 | 17 | 18 | 19 |
| 20 | 21 | 22 | 23 | 24 | 25 | 26 |
| 27 | 28 | 29 | 30 | 31 | | |
September 2017

| S | M | T | W | T | F | S |
| --- | --- | --- | --- | --- | --- | --- |
| | | | | | 01 | 02 |
| 03 | 04 | 05 | 06 | 07 | 08 | 09 |
| 10 | 11 | 12 | 13 | 14 | 15 | 16 |
| 17 | 18 | 19 | 20 | 21 | 22 | 23 |
| 24 | 25 | 26 | 27 | 28 | 29 | 30 |
October 2017

| S | M | T | W | T | F | S |
| --- | --- | --- | --- | --- | --- | --- |
| 01 | 02 | 03 | 04 | 05 | 06 | 07 |
| 08 | 09 | 10 | 11 | 12 | 13 | 14 |
| 15 | 16 | 17 | 18 | 19 | 20 | 21 |
| 22 | 23 | 24 | 25 | 26 | 27 | 28 |
| 29 | 30 | 31 | | | | |
November 2017

| S | M | T | W | T | F | S |
| --- | --- | --- | --- | --- | --- | --- |
| | | | 01 | 02 | 03 | 04 |
| 05 | 06 | 07 | 08 | 09 | 10 | 11 |
| 12 | 13 | 14 | 15 | 16 | 17 | 18 |
| 19 | 20 | 21 | 22 | 23 | 24 | 25 |
| 26 | 27 | 28 | 29 | 30 | | |
December 2017

| S | M | T | W | T | F | S |
| --- | --- | --- | --- | --- | --- | --- |
| | | | | | 01 | 02 |
| 03 | 04 | 05 | 06 | 07 | 08 | 09 |
| 10 | 11 | 12 | 13 | 14 | 15 | 16 |
| 17 | 18 | 19 | 20 | 21 | 22 | 23 |
| 24 | 25 | 26 | 27 | 28 | 29 | 30 |
| 31 | | | | | | |
January 2018

| S | M | T | W | T | F | S |
| --- | --- | --- | --- | --- | --- | --- |
| | 01 | 02 | 03 | 04 | 05 | 06 |
| 07 | 08 | 09 | 10 | 11 | 12 | 13 |
| 14 | 15 | 16 | 17 | 18 | 19 | 20 |
| 21 | 22 | 23 | 24 | 25 | 26 | 27 |
| 28 | 29 | 30 | 31 | | | |
February 2018

| S | M | T | W | T | F | S |
| --- | --- | --- | --- | --- | --- | --- |
| | | | | 01 | 02 | 03 |
| 04 | 05 | 06 | 07 | 08 | 09 | 10 |
| 11 | 12 | 13 | 14 | 15 | 16 | 17 |
| 18 | 19 | 20 | 21 | 22 | 23 | 24 |
| 25 | 26 | 27 | 28 | | | |
March 2018

| S | M | T | W | T | F | S |
| --- | --- | --- | --- | --- | --- | --- |
| | | | | 01 | 02 | 03 |
| 04 | 05 | 06 | 07 | 08 | 09 | 10 |
| 11 | 12 | 13 | 14 | 15 | 16 | 17 |
| 18 | 19 | 20 | 21 | 22 | 23 | 24 |
| 25 | 26 | 27 | 28 | 29 | 30 | 31 |
April 2018

| S | M | T | W | T | F | S |
| --- | --- | --- | --- | --- | --- | --- |
| 01 | 02 | 03 | 04 | 05 | 06 | 07 |
| 08 | 09 | 10 | 11 | 12 | 13 | 14 |
| 15 | 16 | 17 | 18 | 19 | 20 | 21 |
| 22 | 23 | 24 | 25 | 26 | 27 | 28 |
| 29 | 30 | | | | | |
May 2018

| S | M | T | W | T | F | S |
| --- | --- | --- | --- | --- | --- | --- |
| | | 01 | 02 | 03 | 04 | 05 |
| 06 | 07 | 08 | 09 | 10 | 11 | 12 |
| 13 | 14 | 15 | 16 | 17 | 18 | 19 |
| 20 | 21 | 22 | 23 | 24 | 25 | 26 |
| 27 | 28 | 29 | 30 | 31 | | |
Available
Unavailable
Sat to Sat booking