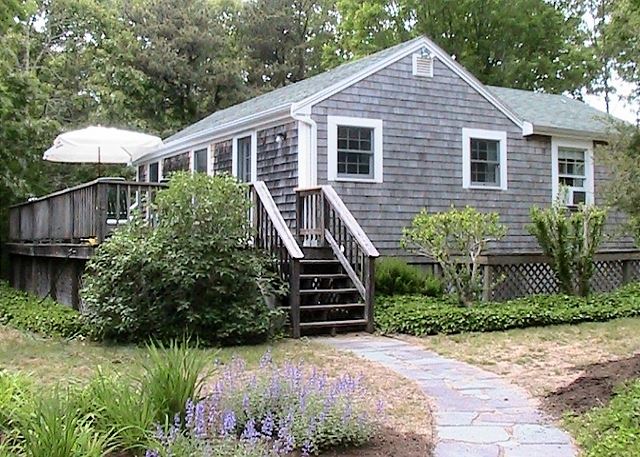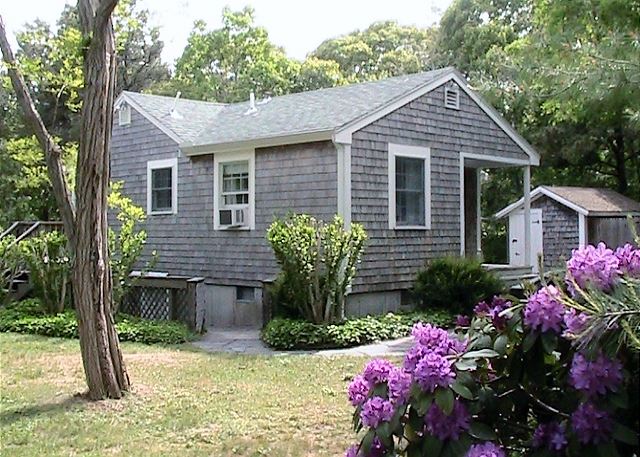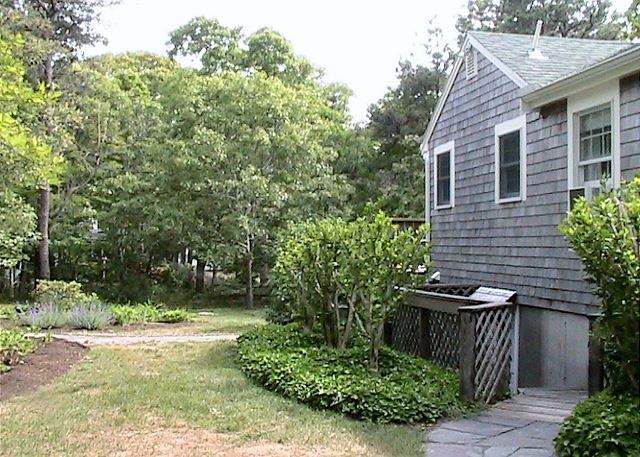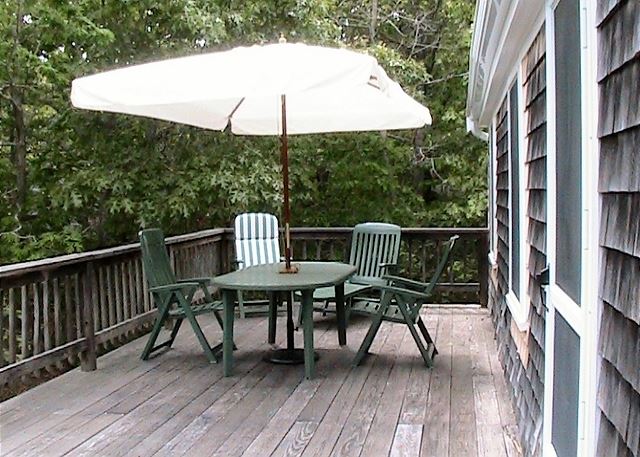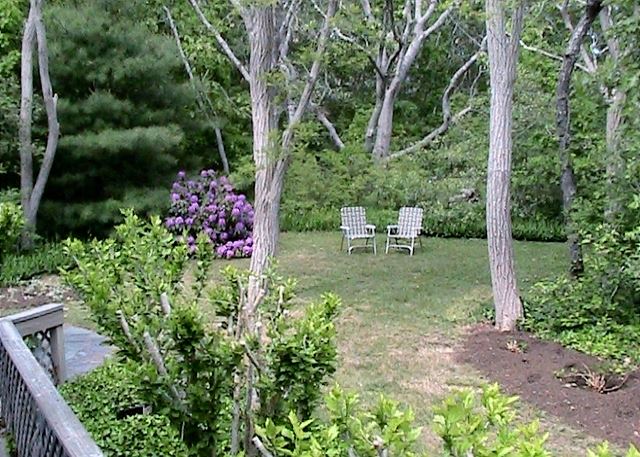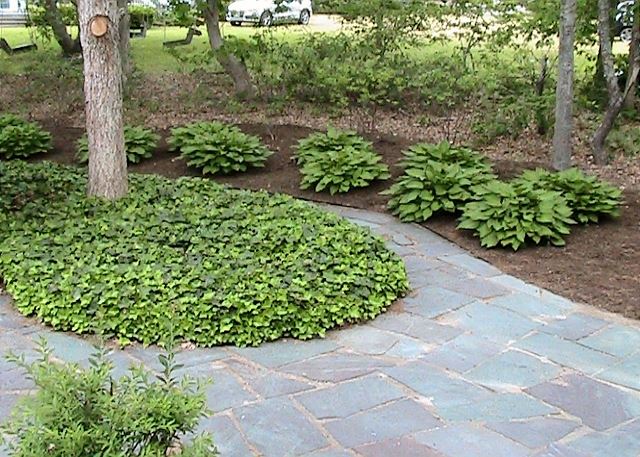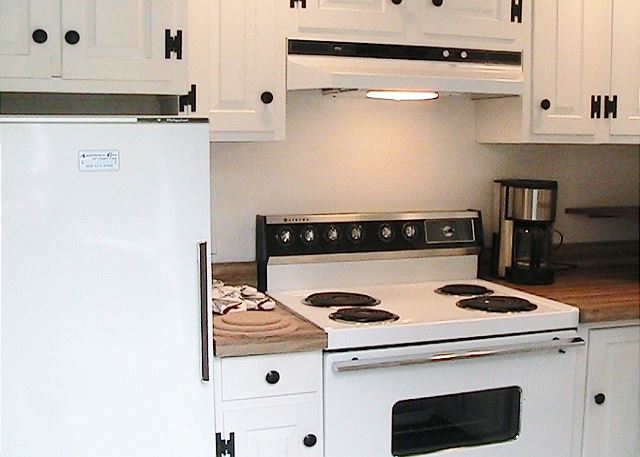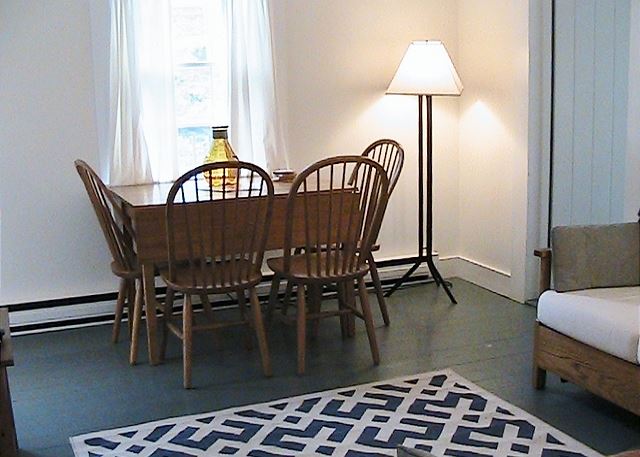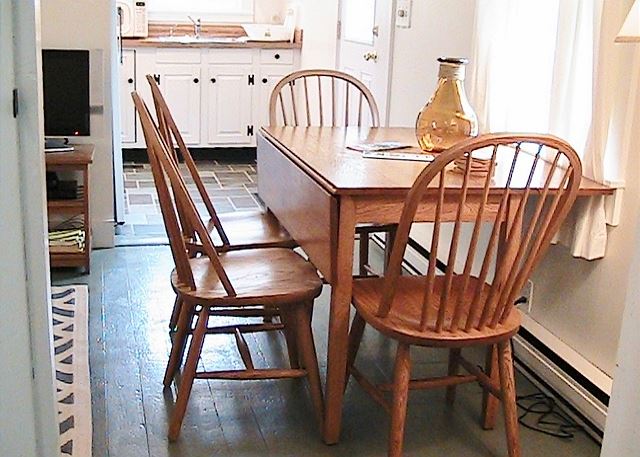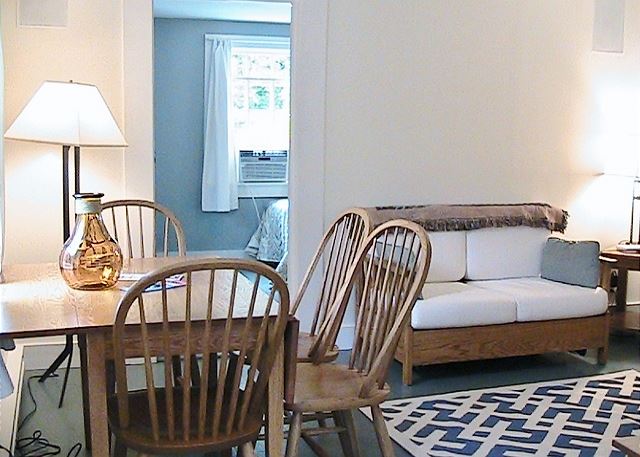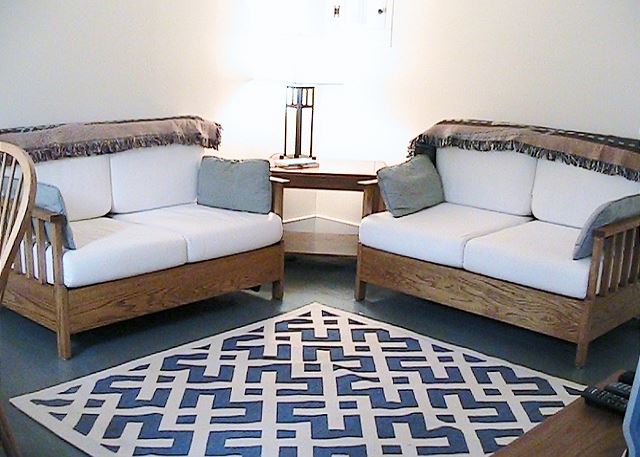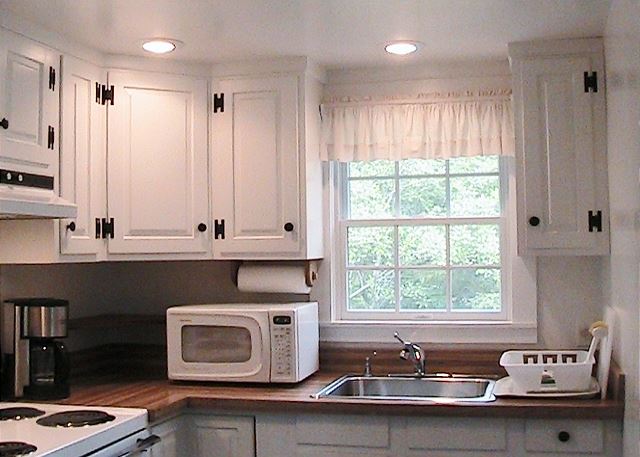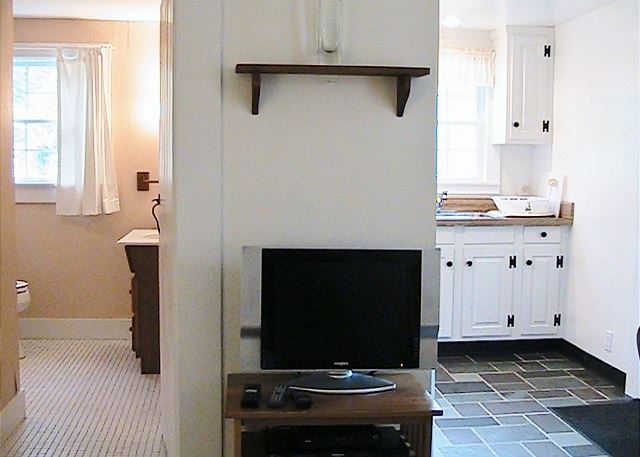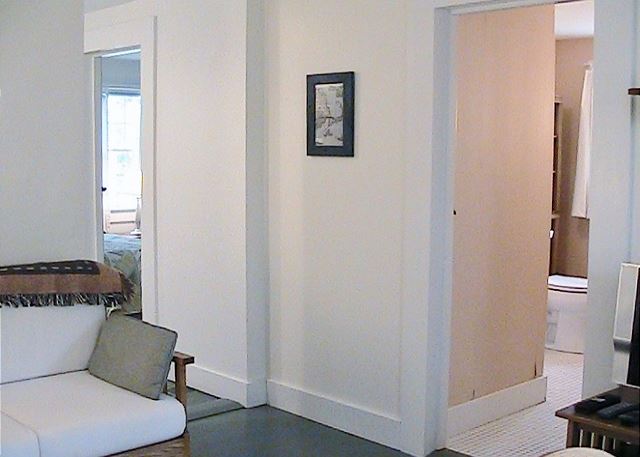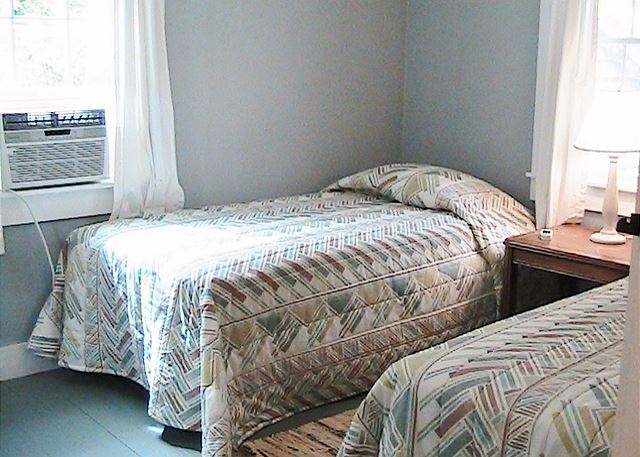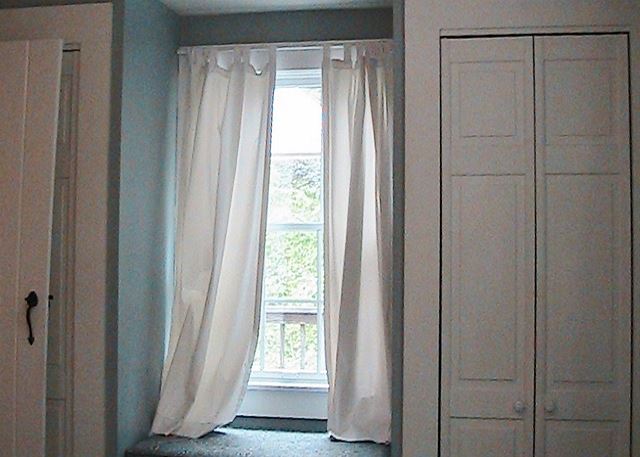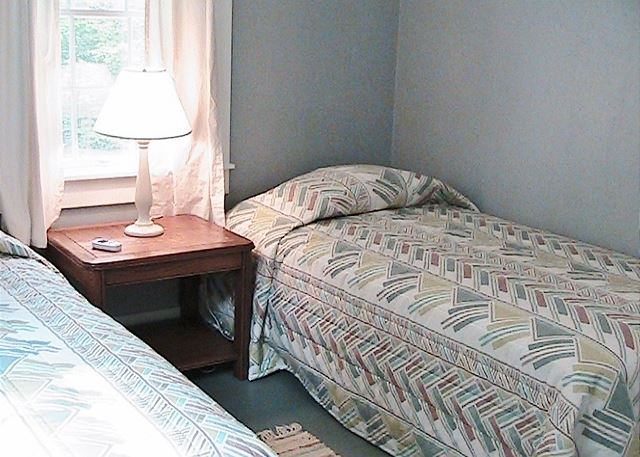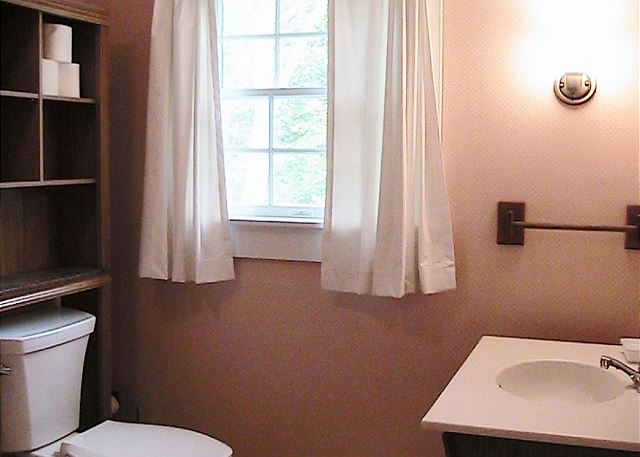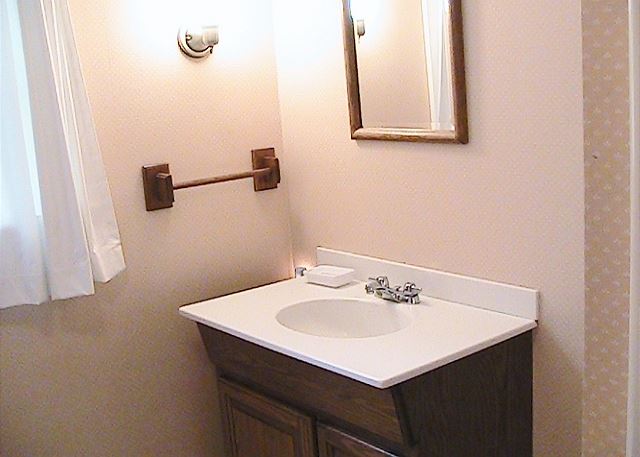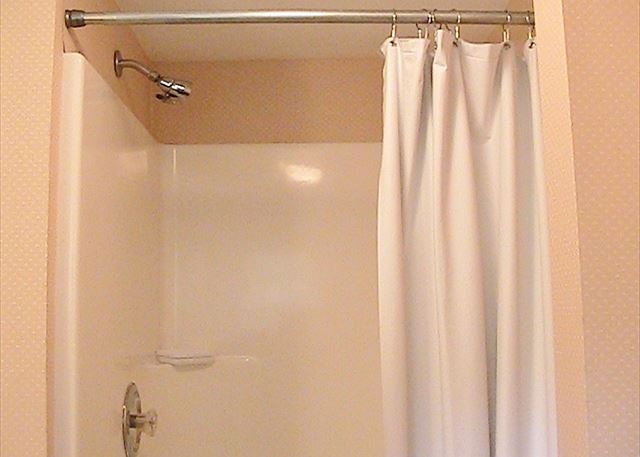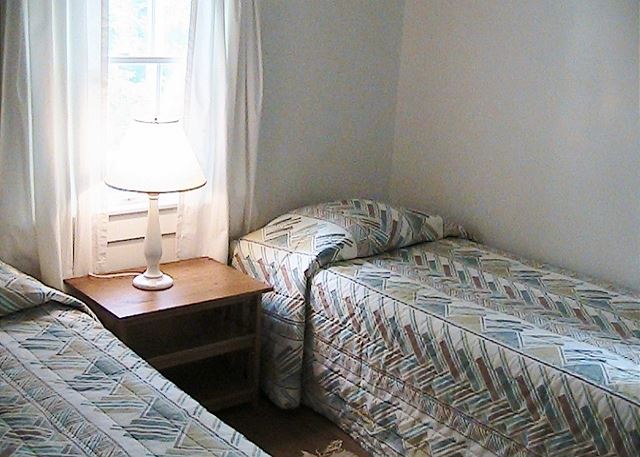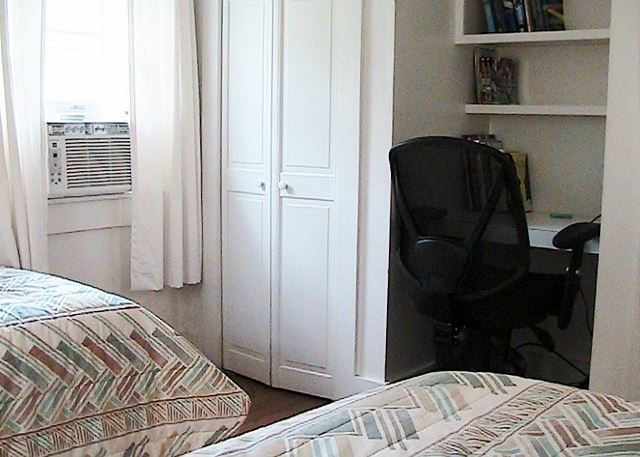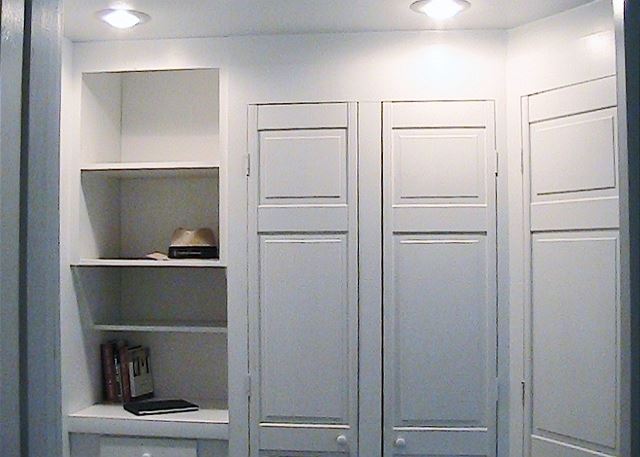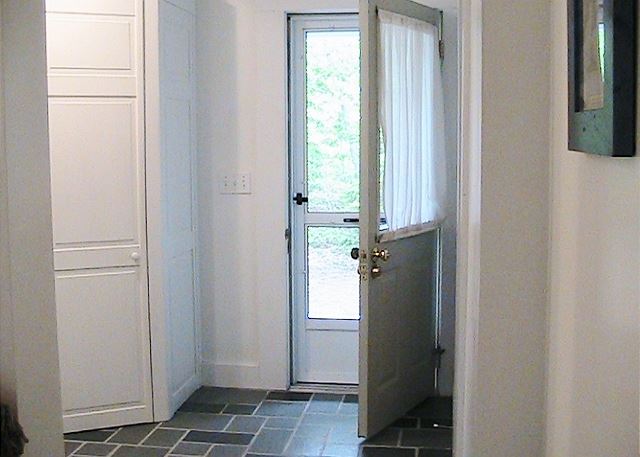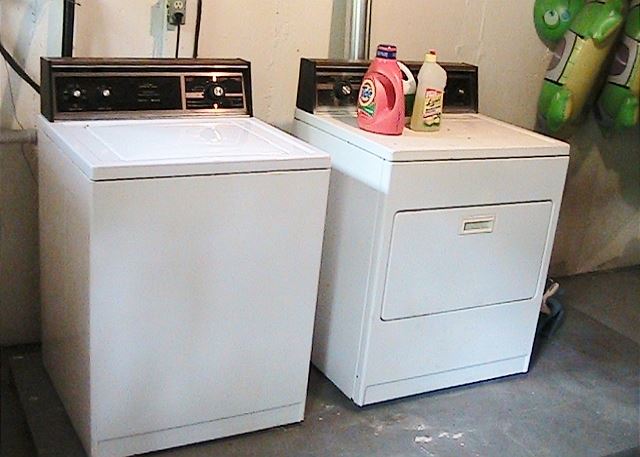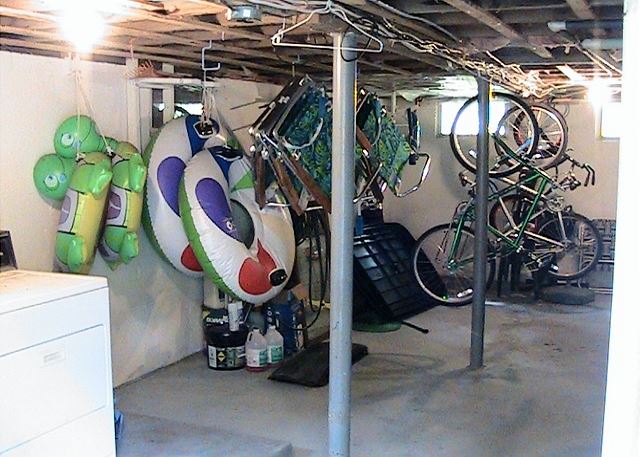 ---
Bedroom(s): 2
Bathroom(s): 1
Sleeps: 4
Type: Cottage
Area:
Town: Eastham
Price Range $1025-$1325*

*without pet $100 less

Rates include all charges; no hidden fees!

PET FRIENDLY, RENOVATED CAPE COD VACATION HOME LOCATED IN EASTHAM!

Recently renovated and beautifully landscaped by its owner to the highest quality standards, this classic cottage is quintessential Cape Cod: A shingled cottage on a peaceful lot of scrub pine and sand with the smell of the sea in the air.

The front tiled entry of this classic home opens directly into an intimate living area that includes a dining table and chairs for four, upholstered furniture, a flat screen TV with Comcast cable stations, a CD and DVD player, and an IPOD dock. To the right of the living room is the bright, white kitchen that boasts a full complement of dishes, glassware, pots and pans - including a lobster pot - coffee maker, toaster, and microwave.

Two bedrooms flank either side of the living area; one with a great window seat and each outfitted with twin beds, A/C units in large windows, and plenty of storage space. The thoroughly updated bath with shower sits towards the back of the house.

This great home offers two additional dining options: A huge front deck featuring a gas grill, a table with umbrella, and seating for 4. Also, there is a sheltered patio/lawn area towards the rear with table and chairs for 4. Best of all, Campground Beach is less than half a mile away!

Other amenities include driveway parking for 2-3 cars, WiFi internet, enclosed outdoor shower, and a basement that houses the washer and dryer along with a bounty of beach toys, chairs, and two bicycles for guests' use.

A dog 25 lbs. or less may be allowed with pre-approval and noted in your lease in advance.

Sorry no smoking allowed.

4 guests maximum at any time. No parties exceeding the occupancy limit allowed.

LINENS (SHEETS/TOWELS) ARE NOT INCLUDED IN THIS RENTAL.

Travel insurance is available and highly recommended coverage to protect your vacation investment.

Please view our policy and procedure page on our web site for detailed information about renting with us.
- pets considered
- DVD Player
- Basic Cable
- IPod docking station
- Stereo w/ CD player
- Netflix
- Ceiling Fan
- A/C Unit
- Patio
- Deck
- AM/FM Radio
- WiFi
- Iron/Ironing Board
- Washer & Dryer
- Room Or Window Fans
- Flat Screen TV
- Microwave
- Teapot or Tea Kettle
- Drip Coffee Maker
- Cleaning Supplies
- Cookware
- Dishes / Glassware / Utensils
- Kitchen Table
- Iron
- Toaster or Toaster Oven
- Lobster Pot
- Door to Deck
- Pet Friendly
- microwave
- Dining Table
- Deck
- Patio
- Window A/C
- Ceiling Fan
- washer
- dryer
- detergent provided
- Deck
- Patio
- Gas Grill with Propane Tank
- Dining Table w/ Umbrella
- Enclosed Outdoor Shower
- Beach Chairs
- Outdoor Lighting
- Outdoor Seating
- Near Cape Cod Bay Beaches
- Walk to Beach
- Yes
- DOG
- Pet Considered
Guest Reviews of
120 old farm Eastham , MA
review
Nice property.Closet door in rear bedroom was off track.Could also use some additional utensils and other items for the kitchen (like a strainer for pasta).
3 out of 5 stars
120 Old Farm
Review by
Linda T.
My daughter and I loved the house and property! The owner promptly replaced a non-working TV! The location is wonderful, close to many bay beaches and not too far from the ocean beaches as well. I would recommend this property to all.
5 out of 5 stars
A great location for a small family
Review by
Nancy Z.
This property has some pluses: * it has a great location 1/2 mile from Campground Beach. If walking, you can cut across the lot behind the house to access Campground Beach Road in a direct manner. When driving you must go back to a main road and access Campground Road higher up.* It is very near three National Seashore Beaches, various restaurants, delis etc.*The house is air conditioned which we didn't need in May and has electric heat which we did need!The house has a lovely big porch with nice furniture and an OK kitchen,2 bedrooms (small but with plenty of storage), and a nice bath (large) with shower. It also has a nice outdoor shower and sink which we didn't use in MayThe living room area of the house is very small and is more suitable for 2 people rather than the 4 allowed. A different furniture arrangement would help--replacing one of the two 2 seater sofas with 2 chairs for example.The owner does allow some. dogs on request which we greatly appreciated.
3 out of 5 stars
House and location good, however...
Review by
Walter C.
Upon driving two days and following the check-in letter instructions, we arrived to a locked empty office, despite posted office hours. Called the emergency number and the password didn't work to unlock key box. Finally I fished the key out. Went to house and immediately spent an hour defrosting the freezer that was frozen solid, wiping spaghetti sauce of walls and more. Just as I finished my wife screamed from the basement were she had gone to clean our laundry.... the mouse was lying dead on the floor. Later when we went to cook dinner, we discovered many of the pots and pans were covered with baked-on food. We do have pictures however this site doesn't allow them to be posted. I believe the fault for all this lies with the management company, not the property owner. This house is cute and comfortable with the exception of the love seats in the living room. I will not rent from this management company again. That said we did really enjoy our visit to the cape.
3 out of 5 stars
Manager Response:
I emailed him an apology, and the promise that I would make sure his next experience with us went smoothly (I couldn't write that he in fact did have the correct password otherwise he couldn't have gotten the key, that the dead mouse couldn't be helped, even the pots and pans condition is not something a changeover clean typically uncovers)- so 10/16/15
September 2017

| S | M | T | W | T | F | S |
| --- | --- | --- | --- | --- | --- | --- |
| | | | | | 01 | 02 |
| 03 | 04 | 05 | 06 | 07 | 08 | 09 |
| 10 | 11 | 12 | 13 | 14 | 15 | 16 |
| 17 | 18 | 19 | 20 | 21 | 22 | 23 |
| 24 | 25 | 26 | 27 | 28 | 29 | 30 |
October 2017

| S | M | T | W | T | F | S |
| --- | --- | --- | --- | --- | --- | --- |
| 01 | 02 | 03 | 04 | 05 | 06 | 07 |
| 08 | 09 | 10 | 11 | 12 | 13 | 14 |
| 15 | 16 | 17 | 18 | 19 | 20 | 21 |
| 22 | 23 | 24 | 25 | 26 | 27 | 28 |
| 29 | 30 | 31 | | | | |
November 2017

| S | M | T | W | T | F | S |
| --- | --- | --- | --- | --- | --- | --- |
| | | | 01 | 02 | 03 | 04 |
| 05 | 06 | 07 | 08 | 09 | 10 | 11 |
| 12 | 13 | 14 | 15 | 16 | 17 | 18 |
| 19 | 20 | 21 | 22 | 23 | 24 | 25 |
| 26 | 27 | 28 | 29 | 30 | | |
December 2017

| S | M | T | W | T | F | S |
| --- | --- | --- | --- | --- | --- | --- |
| | | | | | 01 | 02 |
| 03 | 04 | 05 | 06 | 07 | 08 | 09 |
| 10 | 11 | 12 | 13 | 14 | 15 | 16 |
| 17 | 18 | 19 | 20 | 21 | 22 | 23 |
| 24 | 25 | 26 | 27 | 28 | 29 | 30 |
| 31 | | | | | | |
January 2018

| S | M | T | W | T | F | S |
| --- | --- | --- | --- | --- | --- | --- |
| | 01 | 02 | 03 | 04 | 05 | 06 |
| 07 | 08 | 09 | 10 | 11 | 12 | 13 |
| 14 | 15 | 16 | 17 | 18 | 19 | 20 |
| 21 | 22 | 23 | 24 | 25 | 26 | 27 |
| 28 | 29 | 30 | 31 | | | |
February 2018

| S | M | T | W | T | F | S |
| --- | --- | --- | --- | --- | --- | --- |
| | | | | 01 | 02 | 03 |
| 04 | 05 | 06 | 07 | 08 | 09 | 10 |
| 11 | 12 | 13 | 14 | 15 | 16 | 17 |
| 18 | 19 | 20 | 21 | 22 | 23 | 24 |
| 25 | 26 | 27 | 28 | | | |
March 2018

| S | M | T | W | T | F | S |
| --- | --- | --- | --- | --- | --- | --- |
| | | | | 01 | 02 | 03 |
| 04 | 05 | 06 | 07 | 08 | 09 | 10 |
| 11 | 12 | 13 | 14 | 15 | 16 | 17 |
| 18 | 19 | 20 | 21 | 22 | 23 | 24 |
| 25 | 26 | 27 | 28 | 29 | 30 | 31 |
April 2018

| S | M | T | W | T | F | S |
| --- | --- | --- | --- | --- | --- | --- |
| 01 | 02 | 03 | 04 | 05 | 06 | 07 |
| 08 | 09 | 10 | 11 | 12 | 13 | 14 |
| 15 | 16 | 17 | 18 | 19 | 20 | 21 |
| 22 | 23 | 24 | 25 | 26 | 27 | 28 |
| 29 | 30 | | | | | |
May 2018

| S | M | T | W | T | F | S |
| --- | --- | --- | --- | --- | --- | --- |
| | | 01 | 02 | 03 | 04 | 05 |
| 06 | 07 | 08 | 09 | 10 | 11 | 12 |
| 13 | 14 | 15 | 16 | 17 | 18 | 19 |
| 20 | 21 | 22 | 23 | 24 | 25 | 26 |
| 27 | 28 | 29 | 30 | 31 | | |
June 2018

| S | M | T | W | T | F | S |
| --- | --- | --- | --- | --- | --- | --- |
| | | | | | 01 | 02 |
| 03 | 04 | 05 | 06 | 07 | 08 | 09 |
| 10 | 11 | 12 | 13 | 14 | 15 | 16 |
| 17 | 18 | 19 | 20 | 21 | 22 | 23 |
| 24 | 25 | 26 | 27 | 28 | 29 | 30 |
July 2018

| S | M | T | W | T | F | S |
| --- | --- | --- | --- | --- | --- | --- |
| 01 | 02 | 03 | 04 | 05 | 06 | 07 |
| 08 | 09 | 10 | 11 | 12 | 13 | 14 |
| 15 | 16 | 17 | 18 | 19 | 20 | 21 |
| 22 | 23 | 24 | 25 | 26 | 27 | 28 |
| 29 | 30 | 31 | | | | |
August 2018

| S | M | T | W | T | F | S |
| --- | --- | --- | --- | --- | --- | --- |
| | | | 01 | 02 | 03 | 04 |
| 05 | 06 | 07 | 08 | 09 | 10 | 11 |
| 12 | 13 | 14 | 15 | 16 | 17 | 18 |
| 19 | 20 | 21 | 22 | 23 | 24 | 25 |
| 26 | 27 | 28 | 29 | 30 | 31 | |
September 2018

| S | M | T | W | T | F | S |
| --- | --- | --- | --- | --- | --- | --- |
| | | | | | | 01 |
| 02 | 03 | 04 | 05 | 06 | 07 | 08 |
| 09 | 10 | 11 | 12 | 13 | 14 | 15 |
| 16 | 17 | 18 | 19 | 20 | 21 | 22 |
| 23 | 24 | 25 | 26 | 27 | 28 | 29 |
| 30 | | | | | | |
Available
Unavailable
Sat to Sat booking