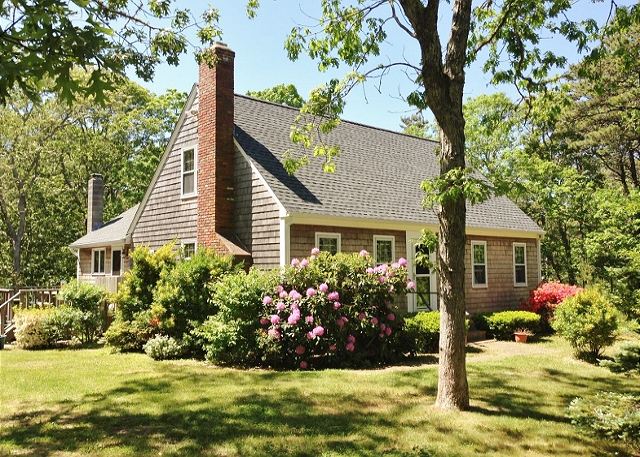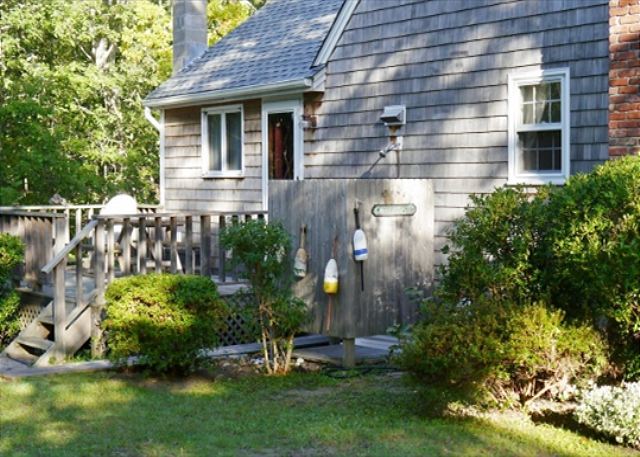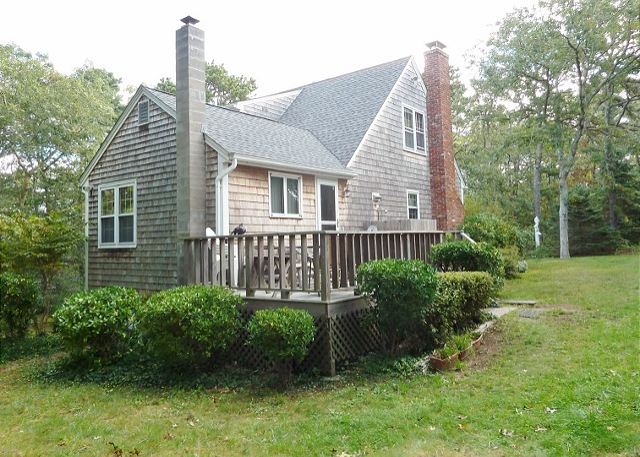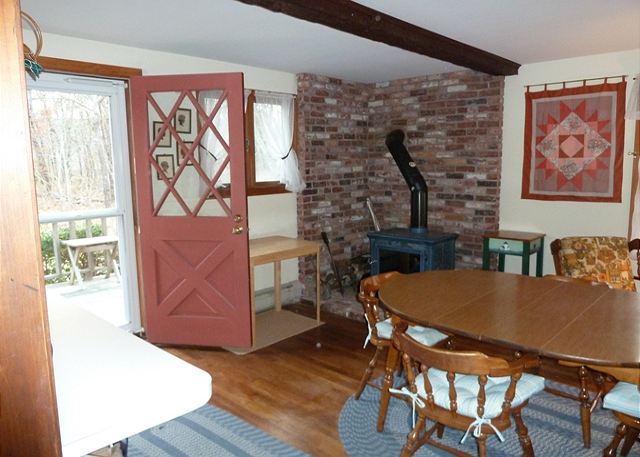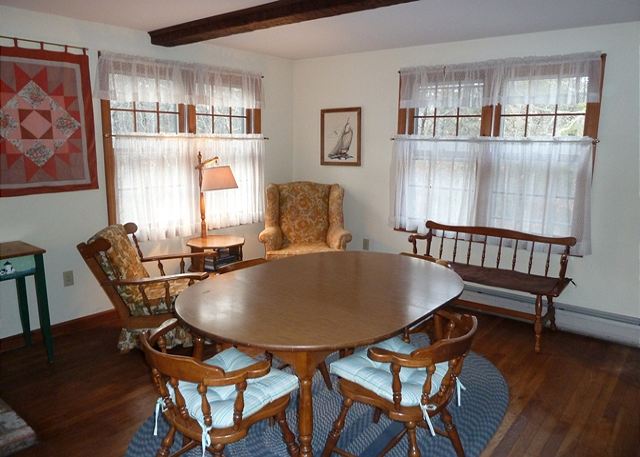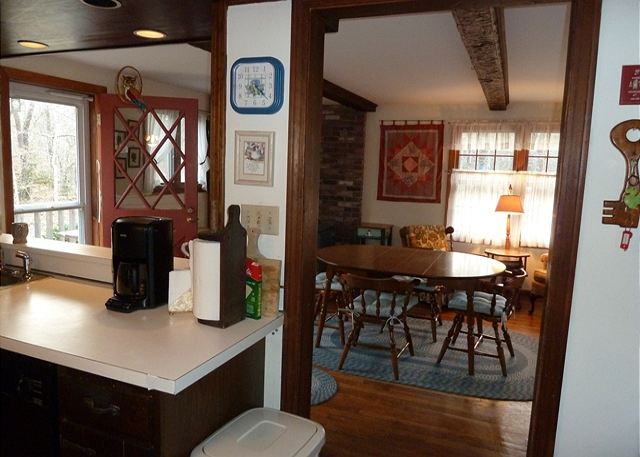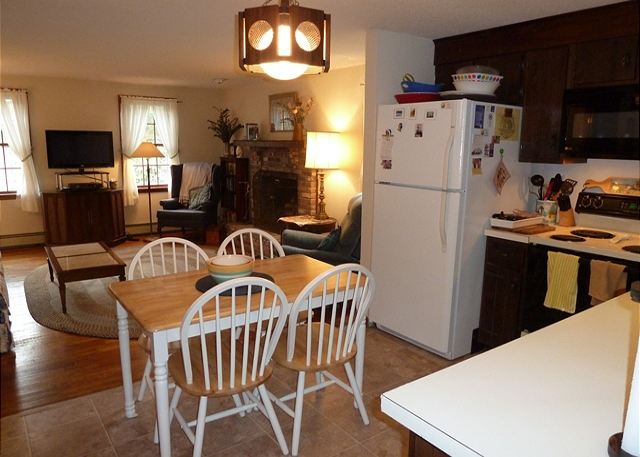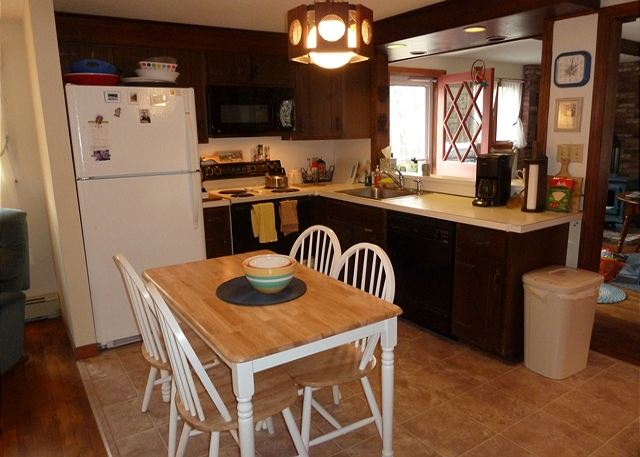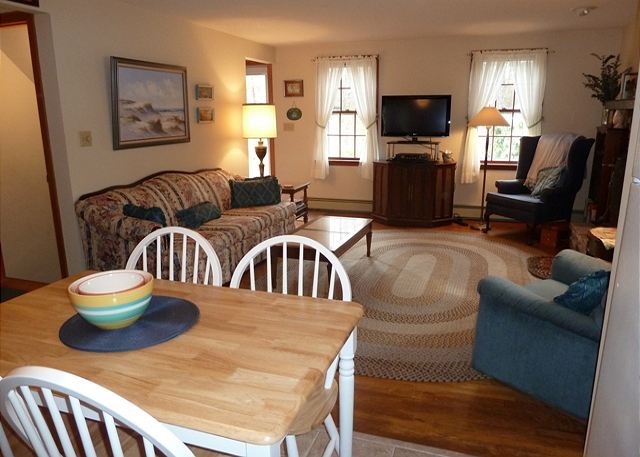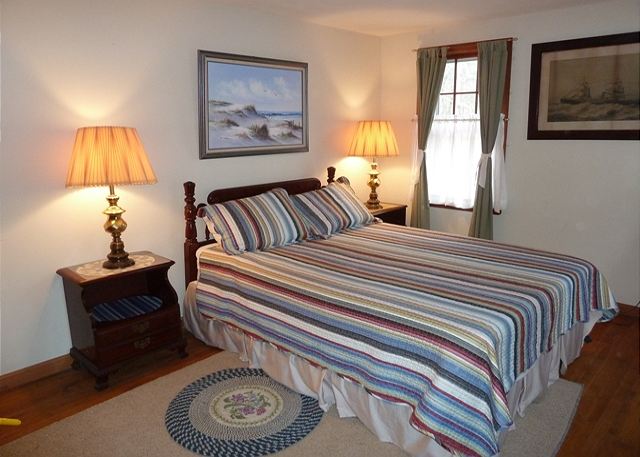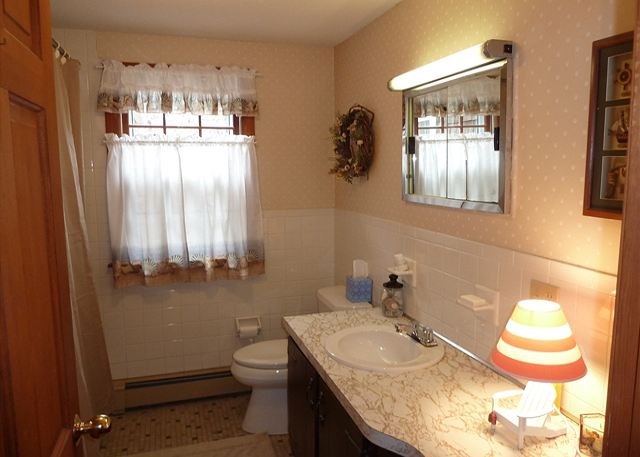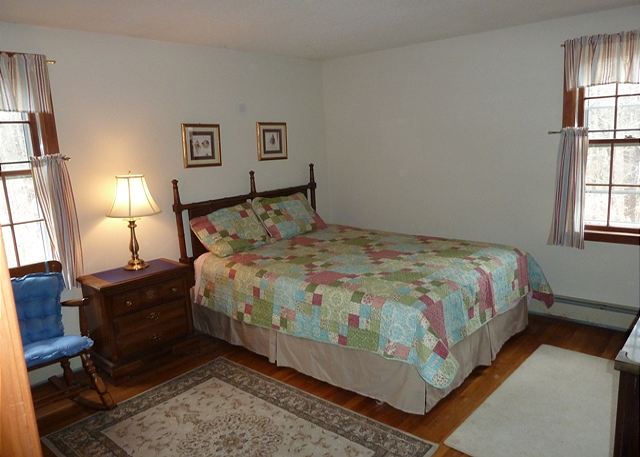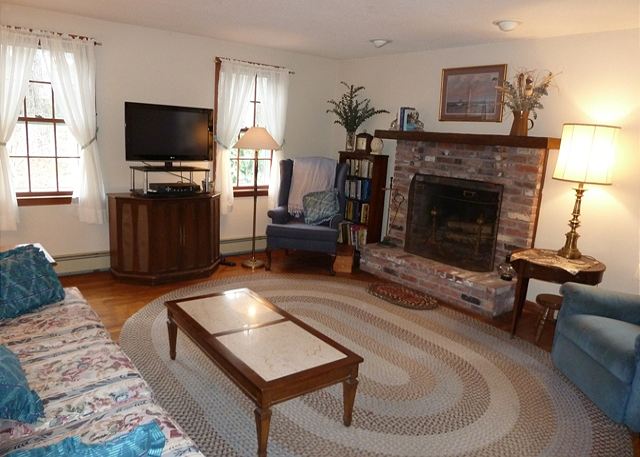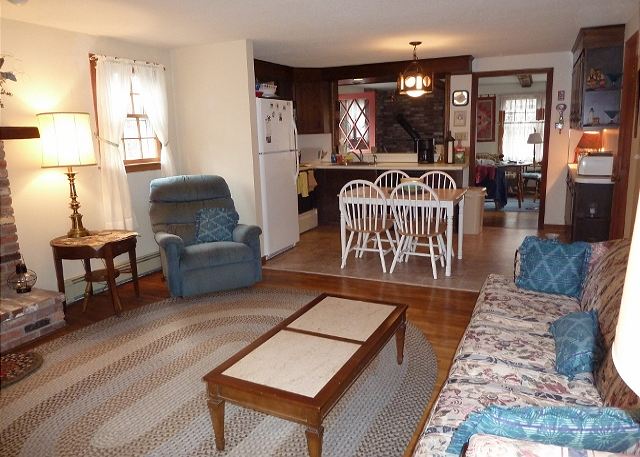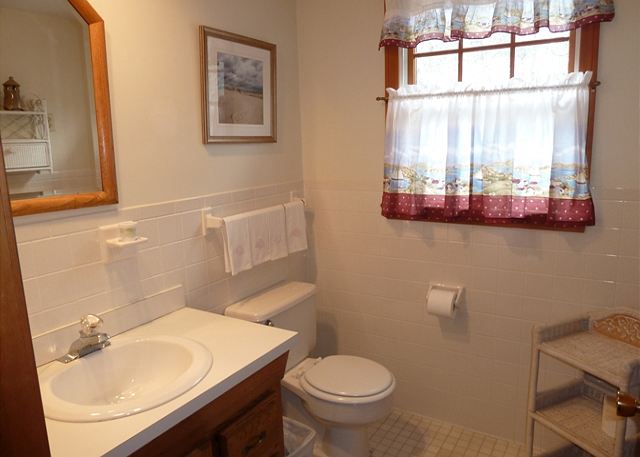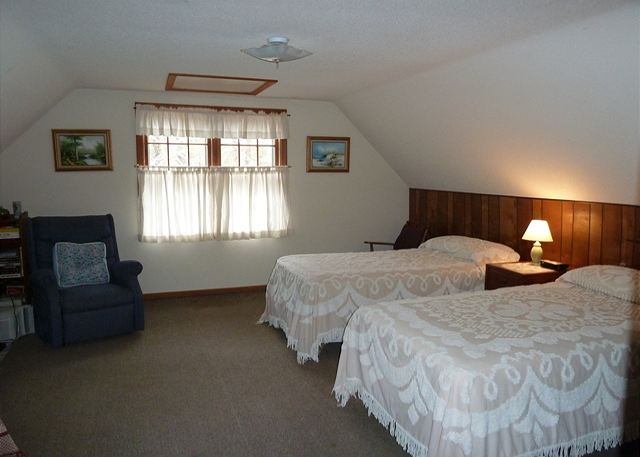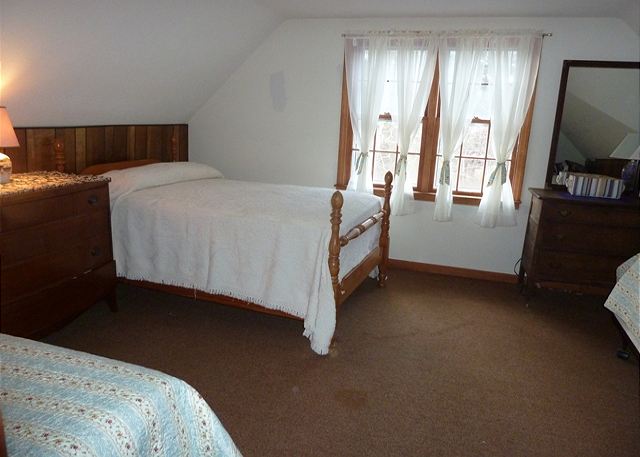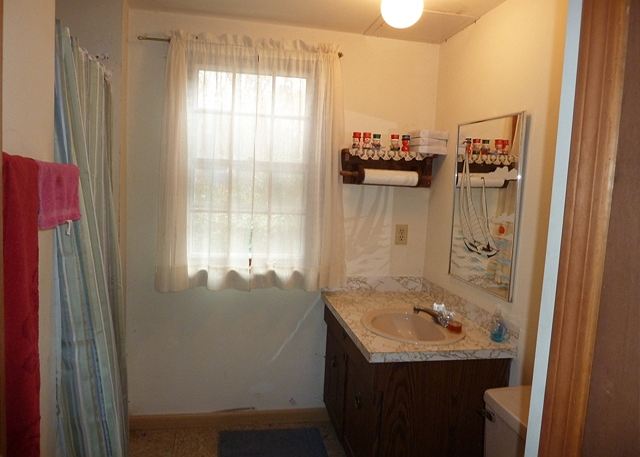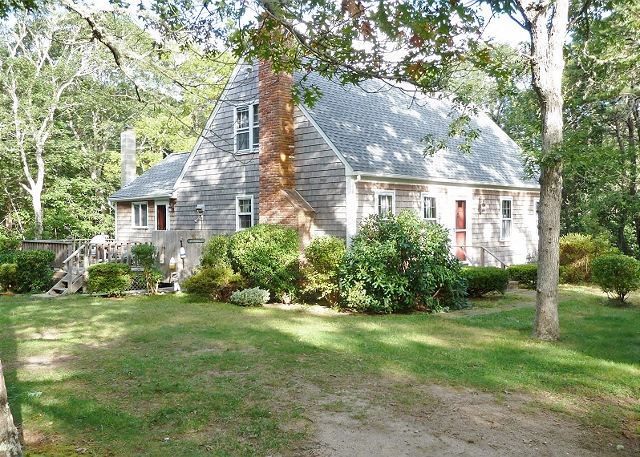 ---
Bedroom(s): 4
Bathroom(s): 2.5
Sleeps: 8
Type: House
Area:
Town: Eastham
Price Range $1850-$1950

Cape Style Eastham 4 Bedroom Vacation home that Sleeps 8 and is 3/10th of mile to Cape Cod Rail Trail bike Path!

Loved family home located conveniently near Nauset Light Beach (1.5 miles) and Cape Cod National Sea Shore and just in from Route 6 for easy access to exploring the lower Cape region.

Set on a private wooded rustic setting, this home offers many desired amenities, such as Flat Screen TVs, Wi-Fi internet access, outdoor shower, 3 baths, laundry, window A/C units, gas grill and deck dining area.

This home features a fully outfitted kitchen with dish washer, microwave, coffee maker, toaster oven, lobster pot and most dining and cooking utensils you will need. Also there is kitchen dining table and a dining table in dining/sitting room located at side entry, just in from deck.

The living room has a comfortable seating area with sofa, a flat screen TV with Comcast expanded TV channels, a DVD player, and a window A/C unit. Also on the first floor are two bedrooms and the main bath, with a tub/shower combo. Each of the first floor bedrooms has a queen-sized bed, and window A/C units. One of the bedrooms has a small TV. On the second floor of this lovely home, you will find a half bath and two additional bedrooms. The bedroom on the left has two twin beds and one full-sized bed, with a window A/C unit. The bedroom on the right has two twin beds, a window A/C unit, and a flat screen TV.

The basement has laundry area with new high efficiency washer and dryer and a bathroom with shower as part of the unfinished basement.

Pet dog considered, must be approved in advance and stated on lease.

Sorry smoking is allowed.

8 guests maximum allowed at any time. No parties allowed

LINENS (SHEETS/TOWELS) ARE NOT INCLUDED IN THIS RENTAL.

Booking fee for this rental is $315 ($415 with dog). NOTE: If you are not bringing a dog with you, please notify us and we will credit your charge accordingly.

Travel insurance is available and highly recommended coverage to protect your vacation investment.

For more information about this property or our other vacation rentals call us at or toll free at and ask for property ID#EMER30 or visit

Please view our policy and procedure page on our web site for detailed information about renting with us.
- pets considered
- DVD Player
- Flat Screen HDTV
- Extended Cable
- Stereo w/ CD player
- A/C Unit
- WiFi
- Microwave
- Drip Coffee Maker
- Pantry items (sugar, salt & pep)
- Cleaning Supplies
- Cookware
- Dishes / Glassware / Utensils
- Kitchen Table
- Blender
- Toaster or Toaster Oven
- Dishwasher
- Laundry
- Lobster Pot
- washer & dryer, detergent
- A/C unit
- TV
- Window A/C
- Hair Dryer
- Tub/Shower Combo
- Walk-In Shower
- Bathroom
- washer
- dryer
- detergent provided
- Deck
- Gas Grill with Propane Tank
- Dining Table w/o Umbrella
- Enclosed Outdoor Shower
- Beach Chairs
- Near Rail Trail Bike Path
- Near National Sea Shore Beaches
- Yes
- DOG
- Pet Considered
Guest Reviews of
30 emerson* Eastham , MA
good vacation
very comfortable, very well equipped house, quiet area, close to everything.
5 out of 5 stars
30 Emmerson Rd Eastham
Review by
Maria G.
Everything was delightful, the staff, the house the location was super...
5 out of 5 stars
Jessie's Wedding
Review by
Elaine M.
Place was clean & ready for us! We were here for our daughter's wedding,with the following week as relaxation. It was very convenient to everything we were doing. We would definitely book this again... we love it!
5 out of 5 stars
Great family vacation in eastham
Review by
Melanie L.
House was great! Very clean. Worked for 5 adults, 1 child and 3 dogs. The yard is much smaller than the picture seems and there are a ton of moths. Not too far beach. We did things in p-town, Orleans, Hyannis and Chatham and it never seemed too far from the house.
4 out of 5 stars
Met My Expectations and went beyond!
Review by
Lisa B.
We were very pleased with the property. It was well stocked. The bedrooms were amazingly spacious. The open layout worked well for our family's gathering. We definitely want to come back next year.
5 out of 5 stars
cape vacation-eastham
Review by
Susan V.
The house was clean, large and had everything we needed.
5 out of 5 stars
May 2017

| S | M | T | W | T | F | S |
| --- | --- | --- | --- | --- | --- | --- |
| | 01 | 02 | 03 | 04 | 05 | 06 |
| 07 | 08 | 09 | 10 | 11 | 12 | 13 |
| 14 | 15 | 16 | 17 | 18 | 19 | 20 |
| 21 | 22 | 23 | 24 | 25 | 26 | 27 |
| 28 | 29 | 30 | 31 | | | |
June 2017

| S | M | T | W | T | F | S |
| --- | --- | --- | --- | --- | --- | --- |
| | | | | 01 | 02 | 03 |
| 04 | 05 | 06 | 07 | 08 | 09 | 10 |
| 11 | 12 | 13 | 14 | 15 | 16 | 17 |
| 18 | 19 | 20 | 21 | 22 | 23 | 24 |
| 25 | 26 | 27 | 28 | 29 | 30 | |
July 2017

| S | M | T | W | T | F | S |
| --- | --- | --- | --- | --- | --- | --- |
| | | | | | | 01 |
| 02 | 03 | 04 | 05 | 06 | 07 | 08 |
| 09 | 10 | 11 | 12 | 13 | 14 | 15 |
| 16 | 17 | 18 | 19 | 20 | 21 | 22 |
| 23 | 24 | 25 | 26 | 27 | 28 | 29 |
| 30 | 31 | | | | | |
August 2017

| S | M | T | W | T | F | S |
| --- | --- | --- | --- | --- | --- | --- |
| | | 01 | 02 | 03 | 04 | 05 |
| 06 | 07 | 08 | 09 | 10 | 11 | 12 |
| 13 | 14 | 15 | 16 | 17 | 18 | 19 |
| 20 | 21 | 22 | 23 | 24 | 25 | 26 |
| 27 | 28 | 29 | 30 | 31 | | |
September 2017

| S | M | T | W | T | F | S |
| --- | --- | --- | --- | --- | --- | --- |
| | | | | | 01 | 02 |
| 03 | 04 | 05 | 06 | 07 | 08 | 09 |
| 10 | 11 | 12 | 13 | 14 | 15 | 16 |
| 17 | 18 | 19 | 20 | 21 | 22 | 23 |
| 24 | 25 | 26 | 27 | 28 | 29 | 30 |
October 2017

| S | M | T | W | T | F | S |
| --- | --- | --- | --- | --- | --- | --- |
| 01 | 02 | 03 | 04 | 05 | 06 | 07 |
| 08 | 09 | 10 | 11 | 12 | 13 | 14 |
| 15 | 16 | 17 | 18 | 19 | 20 | 21 |
| 22 | 23 | 24 | 25 | 26 | 27 | 28 |
| 29 | 30 | 31 | | | | |
November 2017

| S | M | T | W | T | F | S |
| --- | --- | --- | --- | --- | --- | --- |
| | | | 01 | 02 | 03 | 04 |
| 05 | 06 | 07 | 08 | 09 | 10 | 11 |
| 12 | 13 | 14 | 15 | 16 | 17 | 18 |
| 19 | 20 | 21 | 22 | 23 | 24 | 25 |
| 26 | 27 | 28 | 29 | 30 | | |
December 2017

| S | M | T | W | T | F | S |
| --- | --- | --- | --- | --- | --- | --- |
| | | | | | 01 | 02 |
| 03 | 04 | 05 | 06 | 07 | 08 | 09 |
| 10 | 11 | 12 | 13 | 14 | 15 | 16 |
| 17 | 18 | 19 | 20 | 21 | 22 | 23 |
| 24 | 25 | 26 | 27 | 28 | 29 | 30 |
| 31 | | | | | | |
January 2018

| S | M | T | W | T | F | S |
| --- | --- | --- | --- | --- | --- | --- |
| | 01 | 02 | 03 | 04 | 05 | 06 |
| 07 | 08 | 09 | 10 | 11 | 12 | 13 |
| 14 | 15 | 16 | 17 | 18 | 19 | 20 |
| 21 | 22 | 23 | 24 | 25 | 26 | 27 |
| 28 | 29 | 30 | 31 | | | |
February 2018

| S | M | T | W | T | F | S |
| --- | --- | --- | --- | --- | --- | --- |
| | | | | 01 | 02 | 03 |
| 04 | 05 | 06 | 07 | 08 | 09 | 10 |
| 11 | 12 | 13 | 14 | 15 | 16 | 17 |
| 18 | 19 | 20 | 21 | 22 | 23 | 24 |
| 25 | 26 | 27 | 28 | | | |
March 2018

| S | M | T | W | T | F | S |
| --- | --- | --- | --- | --- | --- | --- |
| | | | | 01 | 02 | 03 |
| 04 | 05 | 06 | 07 | 08 | 09 | 10 |
| 11 | 12 | 13 | 14 | 15 | 16 | 17 |
| 18 | 19 | 20 | 21 | 22 | 23 | 24 |
| 25 | 26 | 27 | 28 | 29 | 30 | 31 |
April 2018

| S | M | T | W | T | F | S |
| --- | --- | --- | --- | --- | --- | --- |
| 01 | 02 | 03 | 04 | 05 | 06 | 07 |
| 08 | 09 | 10 | 11 | 12 | 13 | 14 |
| 15 | 16 | 17 | 18 | 19 | 20 | 21 |
| 22 | 23 | 24 | 25 | 26 | 27 | 28 |
| 29 | 30 | | | | | |
May 2018

| S | M | T | W | T | F | S |
| --- | --- | --- | --- | --- | --- | --- |
| | | 01 | 02 | 03 | 04 | 05 |
| 06 | 07 | 08 | 09 | 10 | 11 | 12 |
| 13 | 14 | 15 | 16 | 17 | 18 | 19 |
| 20 | 21 | 22 | 23 | 24 | 25 | 26 |
| 27 | 28 | 29 | 30 | 31 | | |
Available
Unavailable
Sat to Sat booking