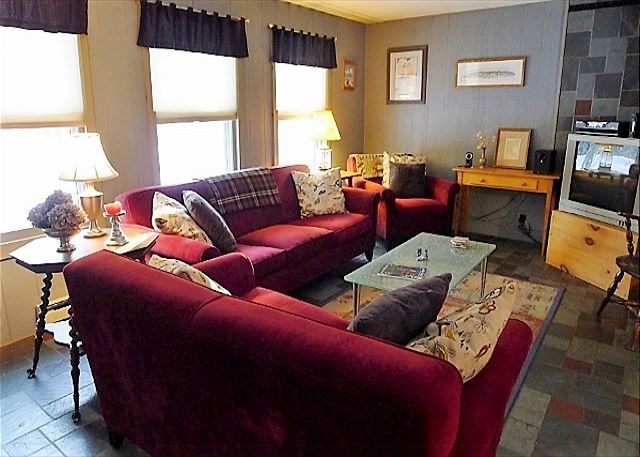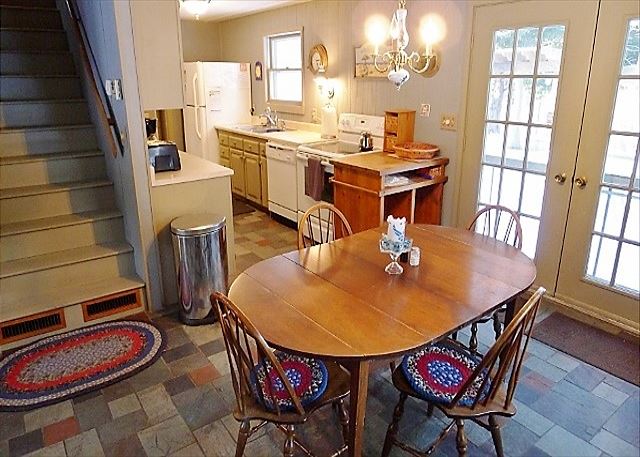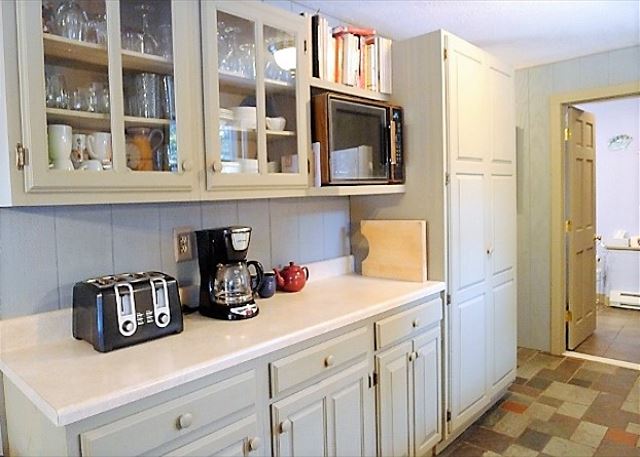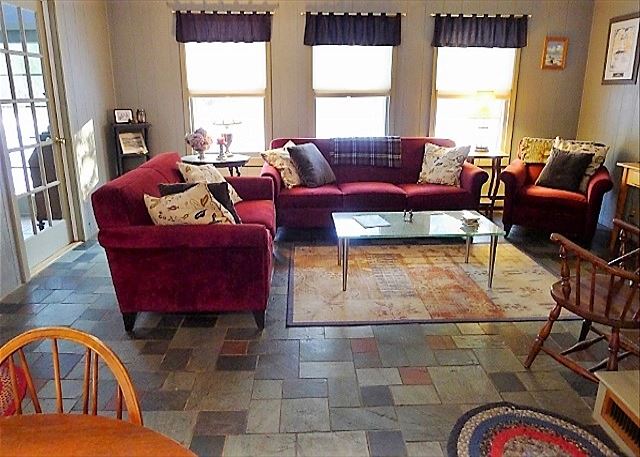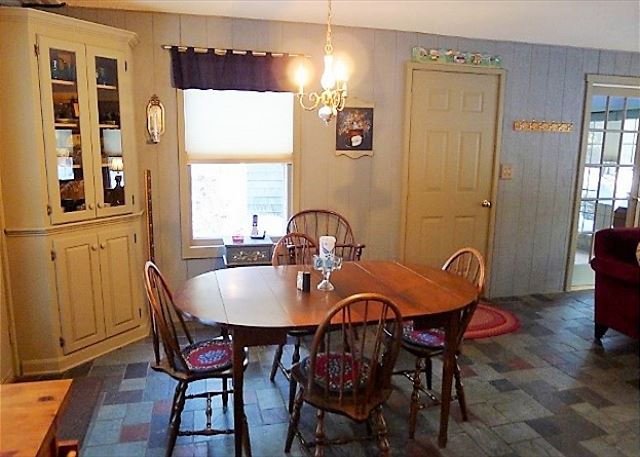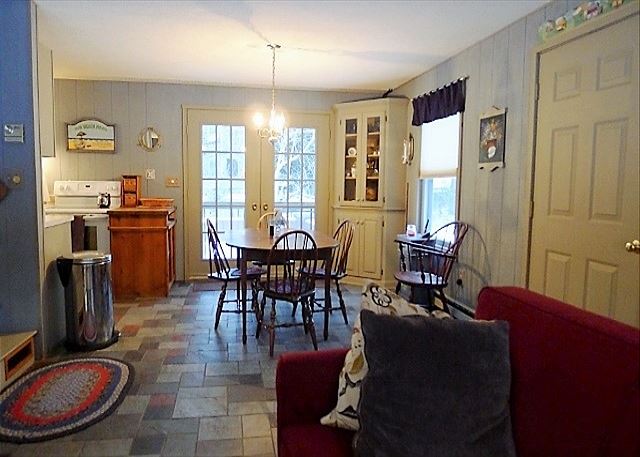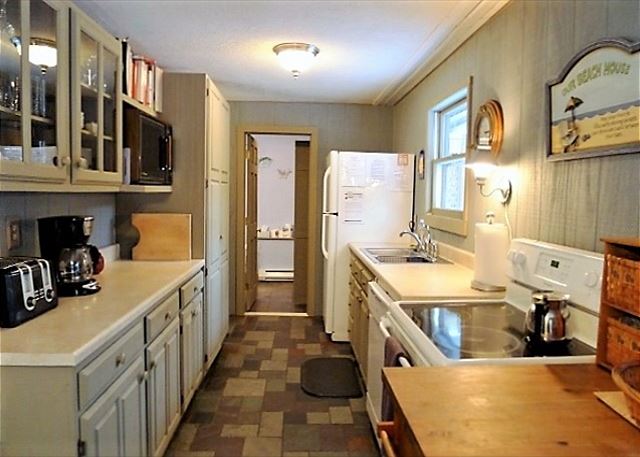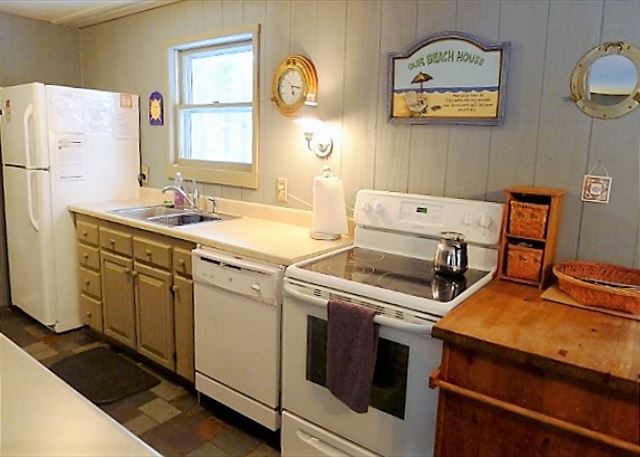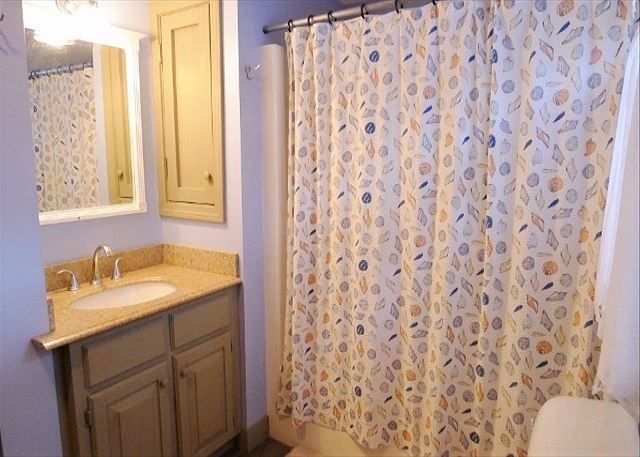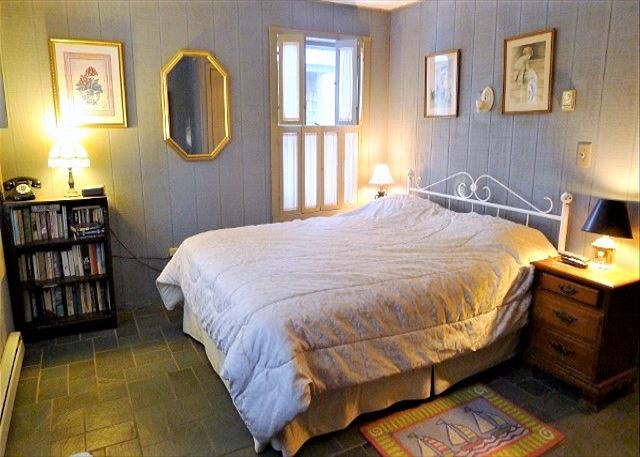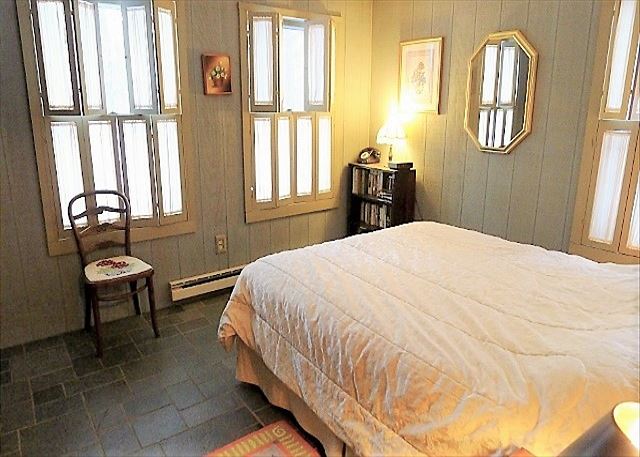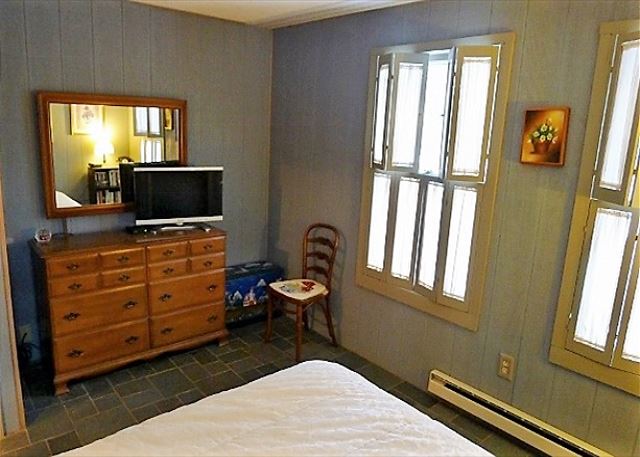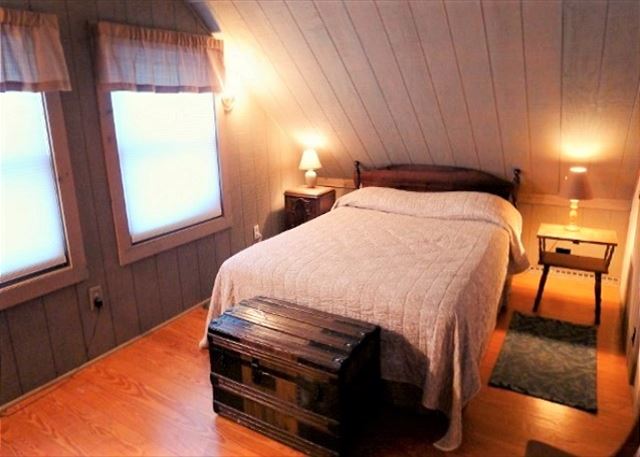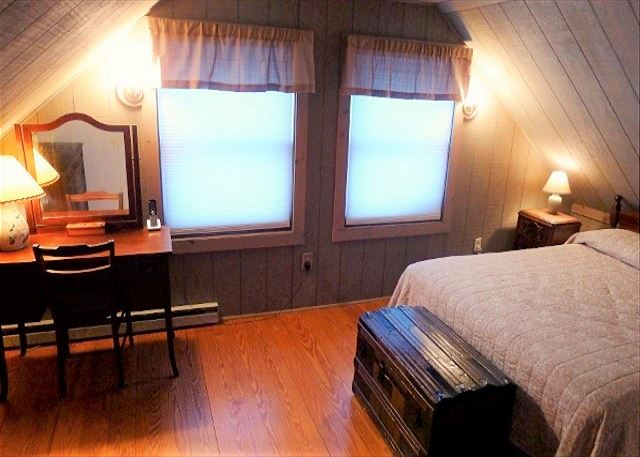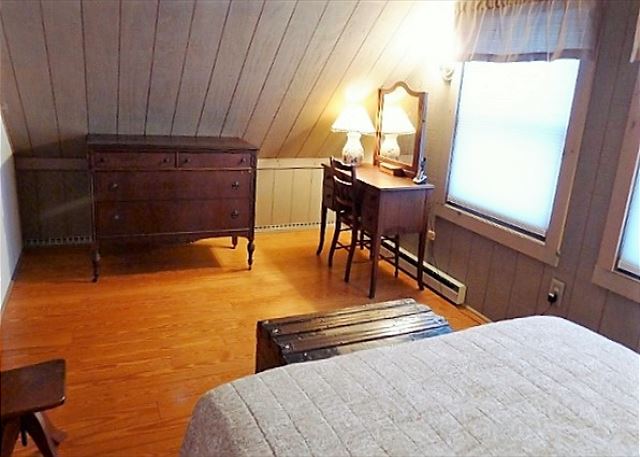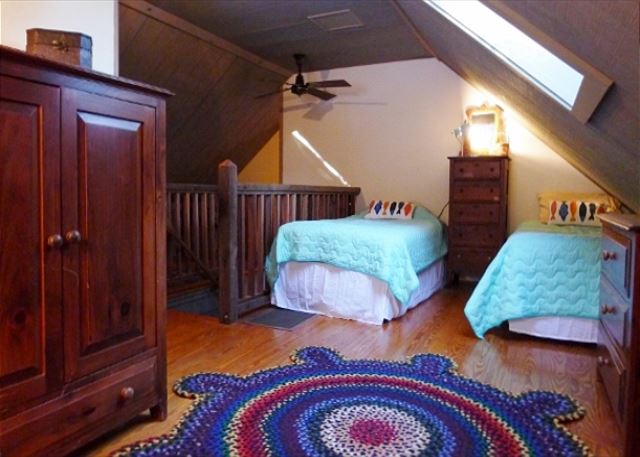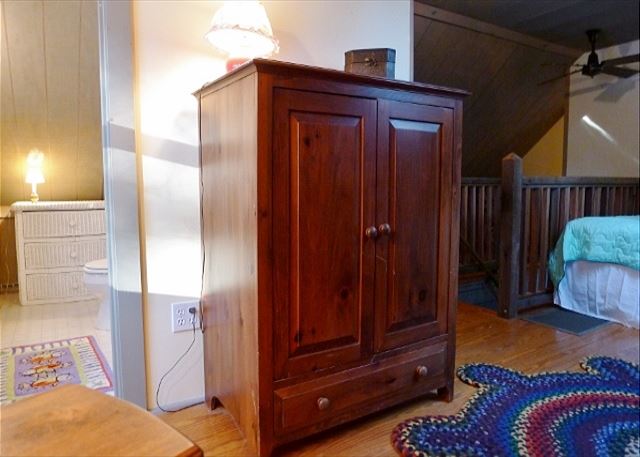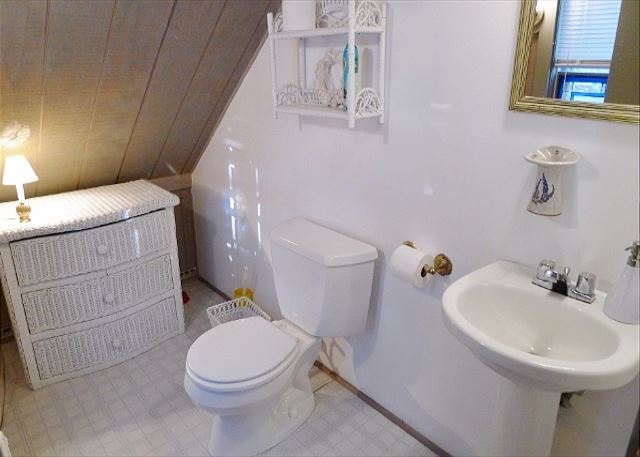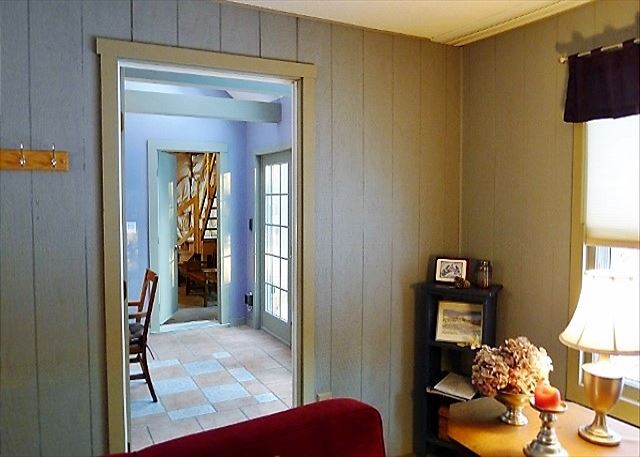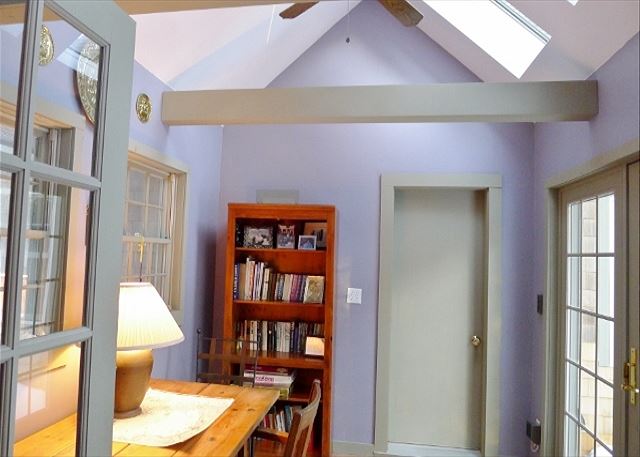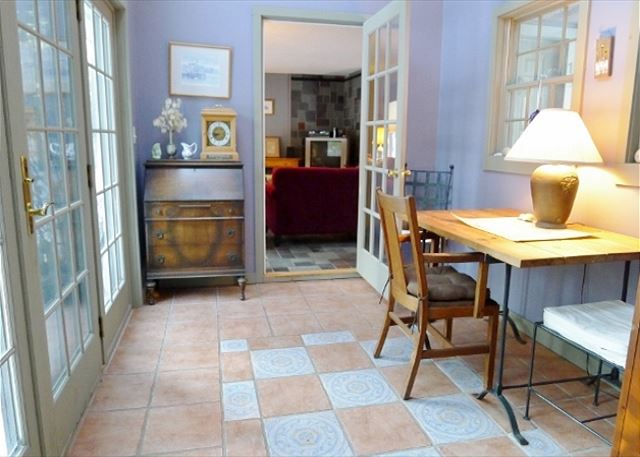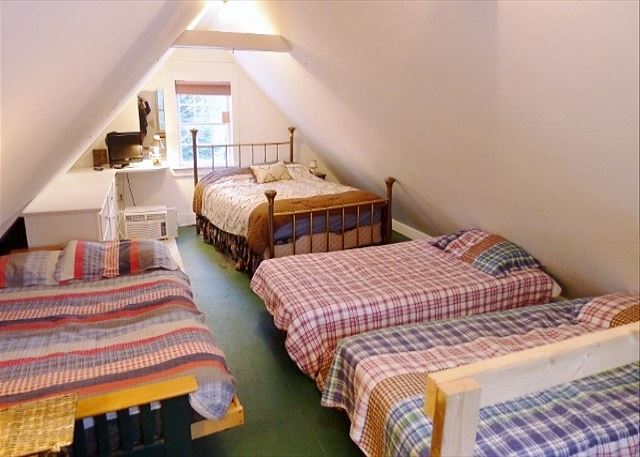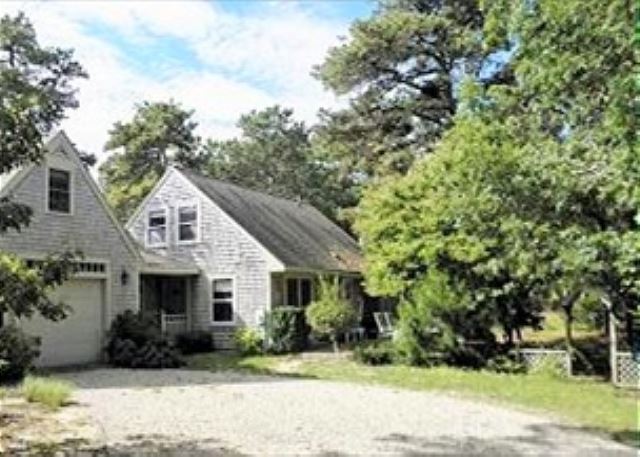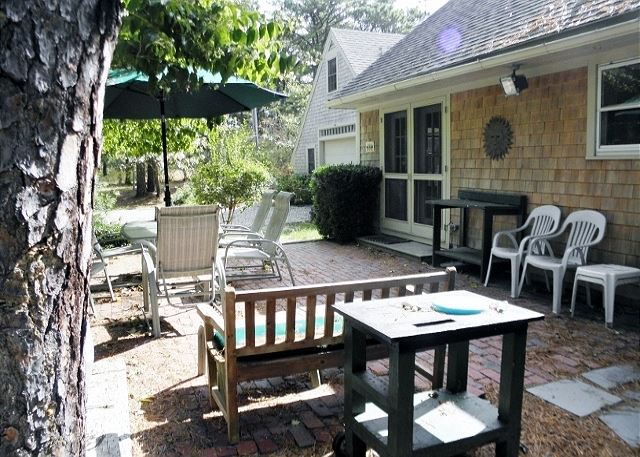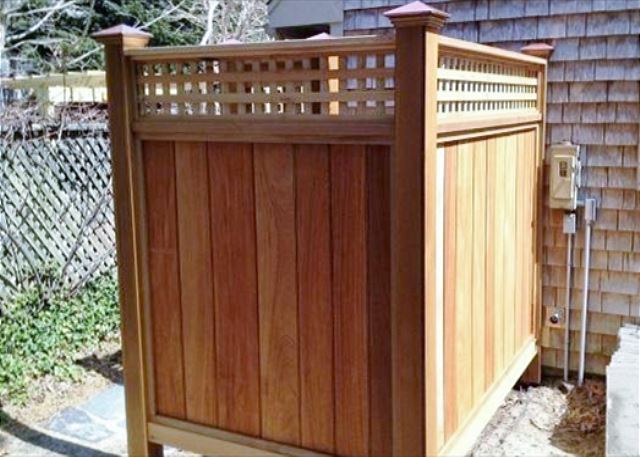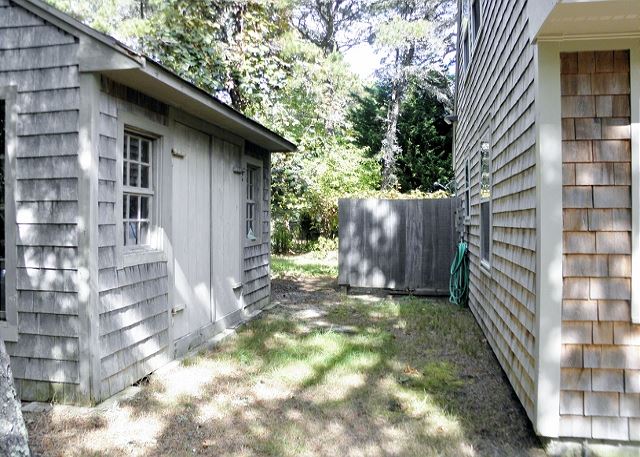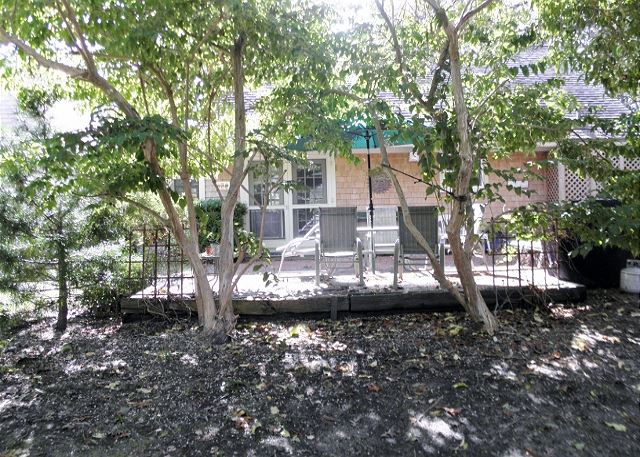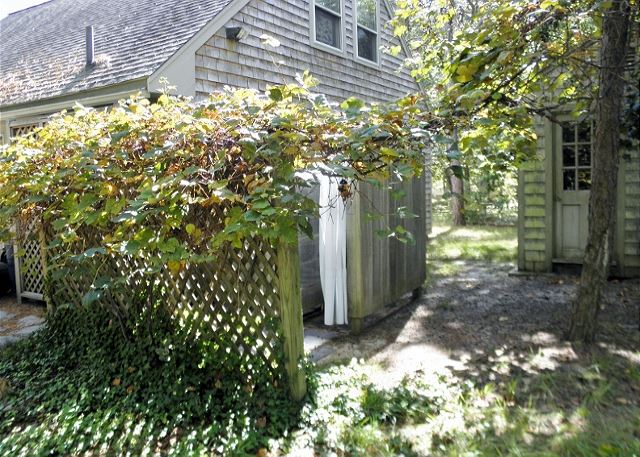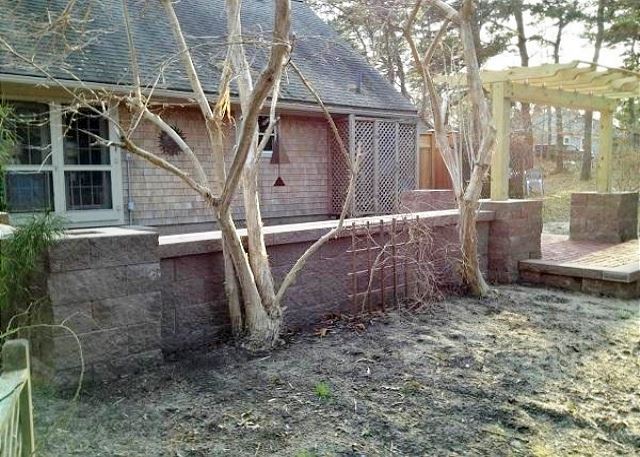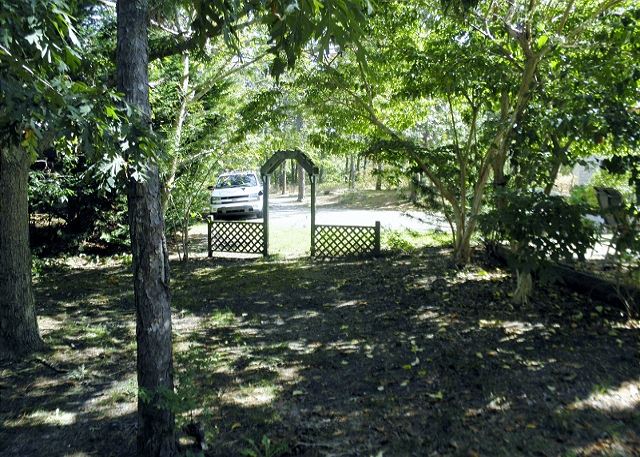 ---
Bedroom(s): 3
Bathroom(s): 1.5
Sleeps: 8
Type: House
Area:
Town: Wellfleet
Price $2150

Come Experience Wellfleet's Olde Cape Cod charm!

Set at the end of a quiet tree lined street is this wonderful 3+ bedroom, 1.5 bathroom, 1981 built and recently renovated Wellfleet pet-friendly vacation home. This home has an excellent location between Mayo Beach and Powers Landing Beach on the Cape's Bay side only a 0.3 mile walk/bike or 0.8 mile by car to the beach! It is also just short 3-5 mile drive to Wellfleet's Ocean side beaches of the National Seashore. It is less than 1 mile to Wellfleet Village and its many shops and restaurants of the Main Street area. About 1.2 miles to Uncle Tim's Bridge, Wellfleet Harbor, the Bookstore Restaurant, and other local favorites.

The first floor includes central A/C and outfitted kitchen with drip coffee maker, toaster, microwave, dishwasher, electric range, WIFI, and breakfast table for 4 guests. The comfortable living room with its lush red couches has a TV/DVD player, and off to the side is the gorgeous sun room with a sitting table and doors leading out to both the back yard. There is a first floor bedroom with Queen size bed and a TV. Also on this floor, between the kitchen and bedroom is a full bathroom with a tub/shower combo and the clothing washer and dryer.

The second floor has an open loft that has two twin beds with a sitting or play area. Also on this floor is a lovely third bedroom with a Queen size bed, ceiling fan, and a half bath.There is a simple bunk room above the attached garage (you must walk thru garage to access) that has another Queen bed, two more twin beds, a futon, and a window A/C unit. Lower garage has an area with sectional sofa for a bonus hang out area. There is a large yard and brick patio with dining for 6 guests, a gas grill, and an enclosed hot /cold outdoor shower.

Parking for 4-5 cars.

No smoking allowed.

Owner allows a dog or cat with pre-approval and noted on your lease, Pet/Guest rules apply.

8 guests maximum allowed at any time. No parties allowed.

LINENS (SHEETS/TOWELS) ARE NOT INCLUDED IN THIS RENTAL.

Booking fee for this rental is $315 ($415 with pet). NOTE: If you are not bringing a dog with you, please notify us and we will credit your charge accordingly.

Travel Insurance is available and highly recommended coverage to protect your vacation investment.

For more information about this property or our other vacation rentals call us at or toll free at and ask for property ID #HARRIS1 or visit

Please view our policy and procedure page on our web site for detailed information about renting with us.
- pets considered
- Standard TV
- DVD Player
- Basic Cable
- AM/FM Radio
- Microwave
- Drip Coffee Maker
- Pantry items (sugar, salt & pep)
- Cookware
- Dishes / Glassware / Utensils
- Kitchen Table
- Blender
- Toaster or Toaster Oven
- Dishwasher
- Laundry
- Lobster Pot
- TV
- TV
- Hair Dryer
- Deck
- Patio
- Gas Grill with Propane Tank
- Dining Table w/ Umbrella
- Enclosed Outdoor Shower
- Garage Access
- Beach Chairs
- Outdoor Seating
- Near National Sea Shore Beaches
- Yes
- DOG
- Pet Considered
Guest Reviews of
1 harrison* Wellfleet , MA
Embleton vacation
Review by
Alan E.
The property was great. The experience could have been better. We arrived a little early so we stopped at the property and left a few things and then we went to pick up the keys when we got back to the property the beach chair and sun umbrella I left was missing and the only people to be there was the cleaning service which I think took the property and I was not able to contact them to check with them. We also lost a big box of detergent which I also think they took. Very dispointing. Other than those two incidents the vacation was great.e
4 out of 5 stars
Home away from home
Review by
Alan E.
We like this property very much. This is our fifth year and we would not think of any other place. Walking distance to the beach and at the end of a dead end rd.
5 out of 5 stars
May 2017

| S | M | T | W | T | F | S |
| --- | --- | --- | --- | --- | --- | --- |
| | 01 | 02 | 03 | 04 | 05 | 06 |
| 07 | 08 | 09 | 10 | 11 | 12 | 13 |
| 14 | 15 | 16 | 17 | 18 | 19 | 20 |
| 21 | 22 | 23 | 24 | 25 | 26 | 27 |
| 28 | 29 | 30 | 31 | | | |
June 2017

| S | M | T | W | T | F | S |
| --- | --- | --- | --- | --- | --- | --- |
| | | | | 01 | 02 | 03 |
| 04 | 05 | 06 | 07 | 08 | 09 | 10 |
| 11 | 12 | 13 | 14 | 15 | 16 | 17 |
| 18 | 19 | 20 | 21 | 22 | 23 | 24 |
| 25 | 26 | 27 | 28 | 29 | 30 | |
July 2017

| S | M | T | W | T | F | S |
| --- | --- | --- | --- | --- | --- | --- |
| | | | | | | 01 |
| 02 | 03 | 04 | 05 | 06 | 07 | 08 |
| 09 | 10 | 11 | 12 | 13 | 14 | 15 |
| 16 | 17 | 18 | 19 | 20 | 21 | 22 |
| 23 | 24 | 25 | 26 | 27 | 28 | 29 |
| 30 | 31 | | | | | |
August 2017

| S | M | T | W | T | F | S |
| --- | --- | --- | --- | --- | --- | --- |
| | | 01 | 02 | 03 | 04 | 05 |
| 06 | 07 | 08 | 09 | 10 | 11 | 12 |
| 13 | 14 | 15 | 16 | 17 | 18 | 19 |
| 20 | 21 | 22 | 23 | 24 | 25 | 26 |
| 27 | 28 | 29 | 30 | 31 | | |
September 2017

| S | M | T | W | T | F | S |
| --- | --- | --- | --- | --- | --- | --- |
| | | | | | 01 | 02 |
| 03 | 04 | 05 | 06 | 07 | 08 | 09 |
| 10 | 11 | 12 | 13 | 14 | 15 | 16 |
| 17 | 18 | 19 | 20 | 21 | 22 | 23 |
| 24 | 25 | 26 | 27 | 28 | 29 | 30 |
October 2017

| S | M | T | W | T | F | S |
| --- | --- | --- | --- | --- | --- | --- |
| 01 | 02 | 03 | 04 | 05 | 06 | 07 |
| 08 | 09 | 10 | 11 | 12 | 13 | 14 |
| 15 | 16 | 17 | 18 | 19 | 20 | 21 |
| 22 | 23 | 24 | 25 | 26 | 27 | 28 |
| 29 | 30 | 31 | | | | |
November 2017

| S | M | T | W | T | F | S |
| --- | --- | --- | --- | --- | --- | --- |
| | | | 01 | 02 | 03 | 04 |
| 05 | 06 | 07 | 08 | 09 | 10 | 11 |
| 12 | 13 | 14 | 15 | 16 | 17 | 18 |
| 19 | 20 | 21 | 22 | 23 | 24 | 25 |
| 26 | 27 | 28 | 29 | 30 | | |
December 2017

| S | M | T | W | T | F | S |
| --- | --- | --- | --- | --- | --- | --- |
| | | | | | 01 | 02 |
| 03 | 04 | 05 | 06 | 07 | 08 | 09 |
| 10 | 11 | 12 | 13 | 14 | 15 | 16 |
| 17 | 18 | 19 | 20 | 21 | 22 | 23 |
| 24 | 25 | 26 | 27 | 28 | 29 | 30 |
| 31 | | | | | | |
January 2018

| S | M | T | W | T | F | S |
| --- | --- | --- | --- | --- | --- | --- |
| | 01 | 02 | 03 | 04 | 05 | 06 |
| 07 | 08 | 09 | 10 | 11 | 12 | 13 |
| 14 | 15 | 16 | 17 | 18 | 19 | 20 |
| 21 | 22 | 23 | 24 | 25 | 26 | 27 |
| 28 | 29 | 30 | 31 | | | |
February 2018

| S | M | T | W | T | F | S |
| --- | --- | --- | --- | --- | --- | --- |
| | | | | 01 | 02 | 03 |
| 04 | 05 | 06 | 07 | 08 | 09 | 10 |
| 11 | 12 | 13 | 14 | 15 | 16 | 17 |
| 18 | 19 | 20 | 21 | 22 | 23 | 24 |
| 25 | 26 | 27 | 28 | | | |
March 2018

| S | M | T | W | T | F | S |
| --- | --- | --- | --- | --- | --- | --- |
| | | | | 01 | 02 | 03 |
| 04 | 05 | 06 | 07 | 08 | 09 | 10 |
| 11 | 12 | 13 | 14 | 15 | 16 | 17 |
| 18 | 19 | 20 | 21 | 22 | 23 | 24 |
| 25 | 26 | 27 | 28 | 29 | 30 | 31 |
April 2018

| S | M | T | W | T | F | S |
| --- | --- | --- | --- | --- | --- | --- |
| 01 | 02 | 03 | 04 | 05 | 06 | 07 |
| 08 | 09 | 10 | 11 | 12 | 13 | 14 |
| 15 | 16 | 17 | 18 | 19 | 20 | 21 |
| 22 | 23 | 24 | 25 | 26 | 27 | 28 |
| 29 | 30 | | | | | |
May 2018

| S | M | T | W | T | F | S |
| --- | --- | --- | --- | --- | --- | --- |
| | | 01 | 02 | 03 | 04 | 05 |
| 06 | 07 | 08 | 09 | 10 | 11 | 12 |
| 13 | 14 | 15 | 16 | 17 | 18 | 19 |
| 20 | 21 | 22 | 23 | 24 | 25 | 26 |
| 27 | 28 | 29 | 30 | 31 | | |
Available
Unavailable
Sat to Sat booking