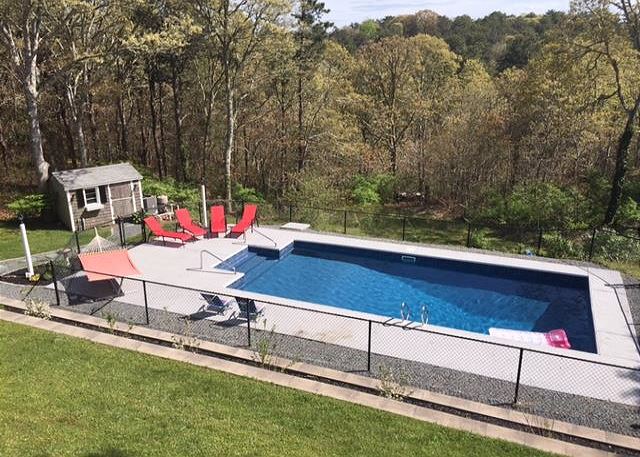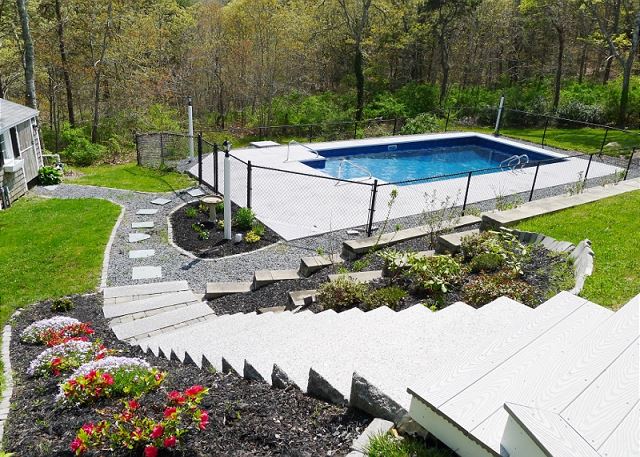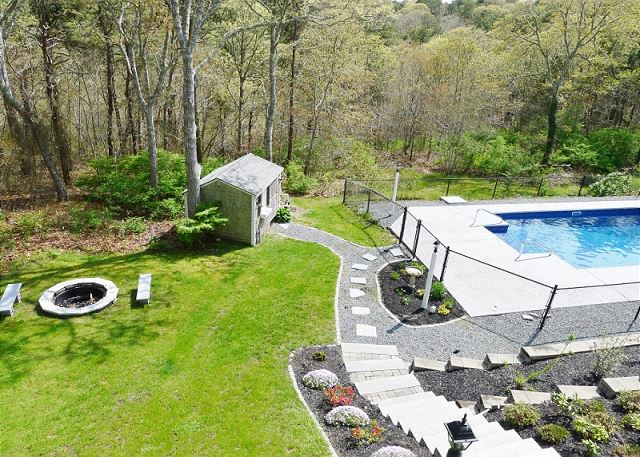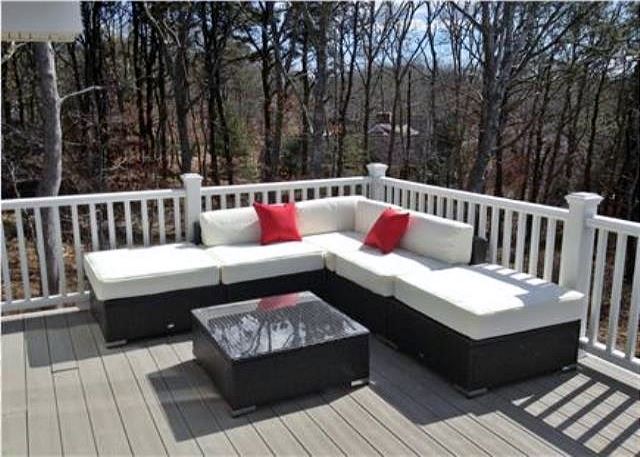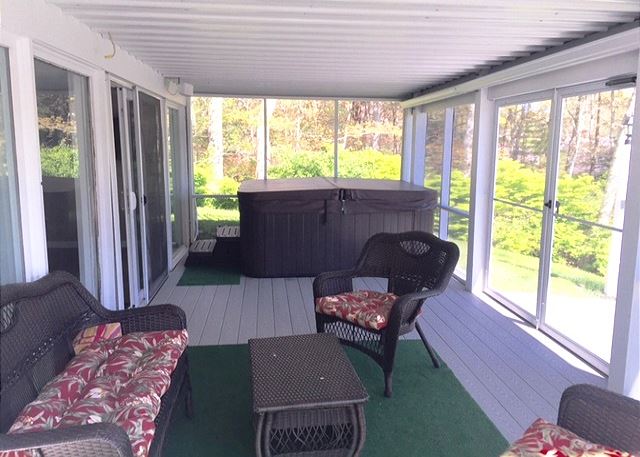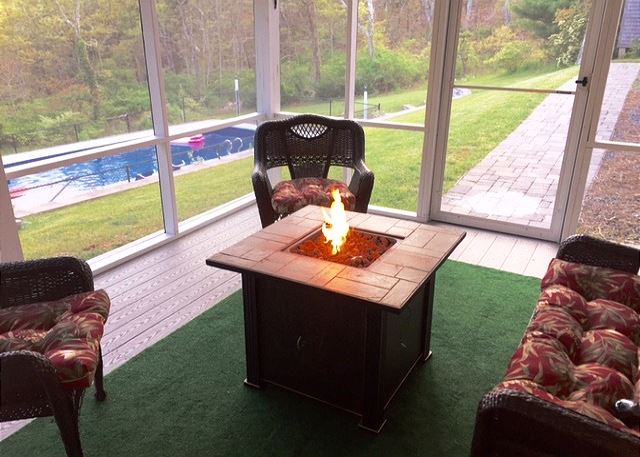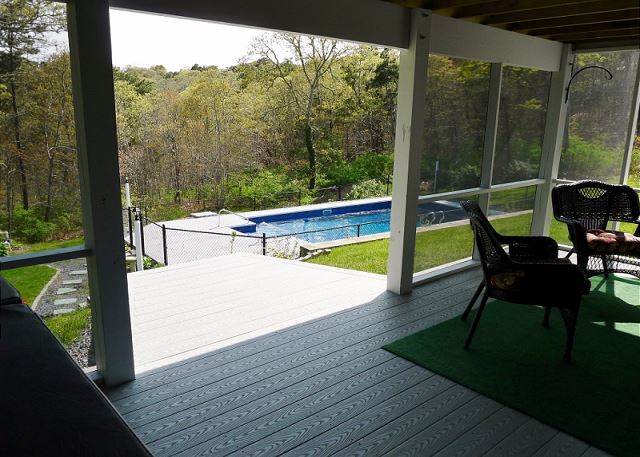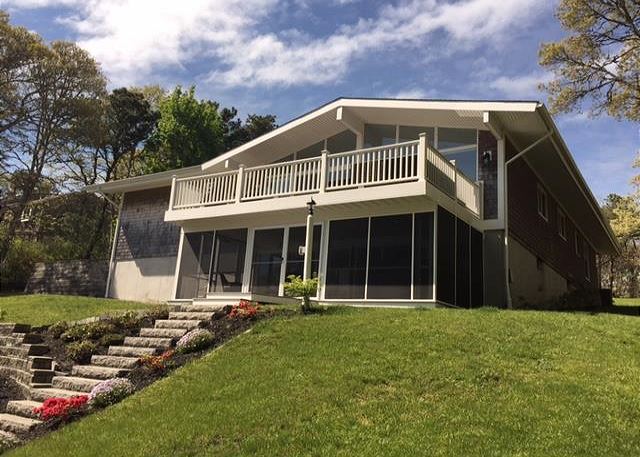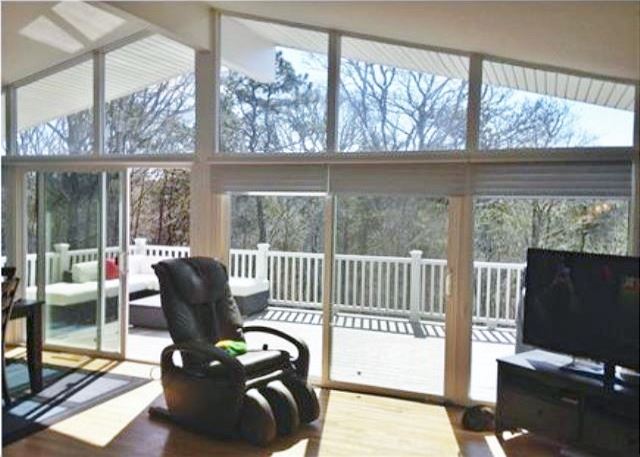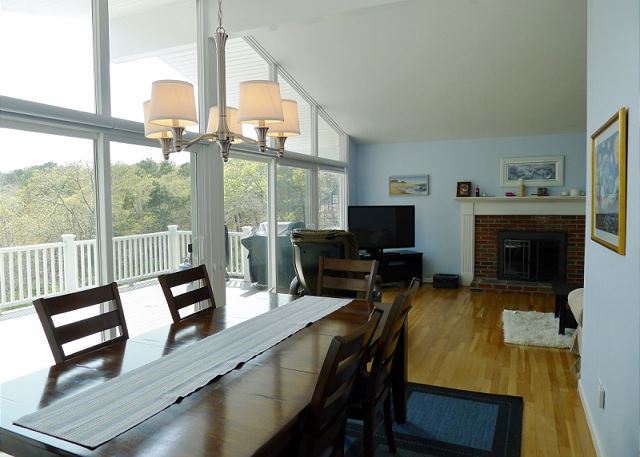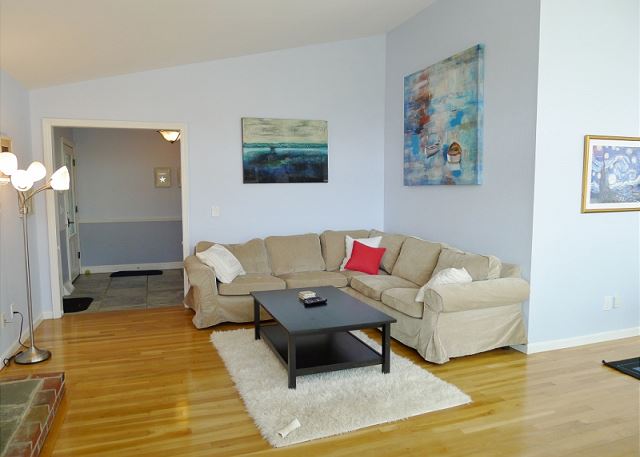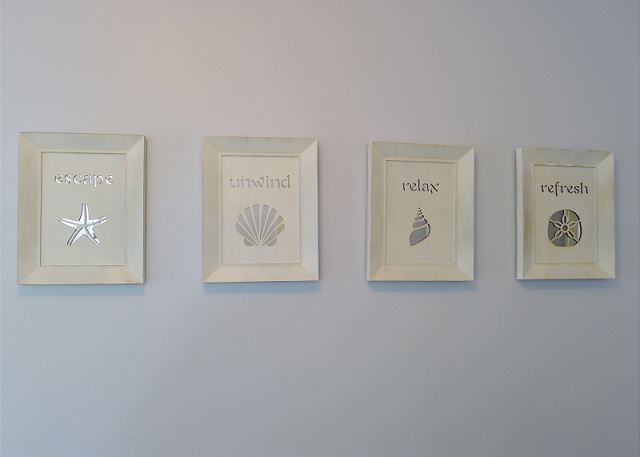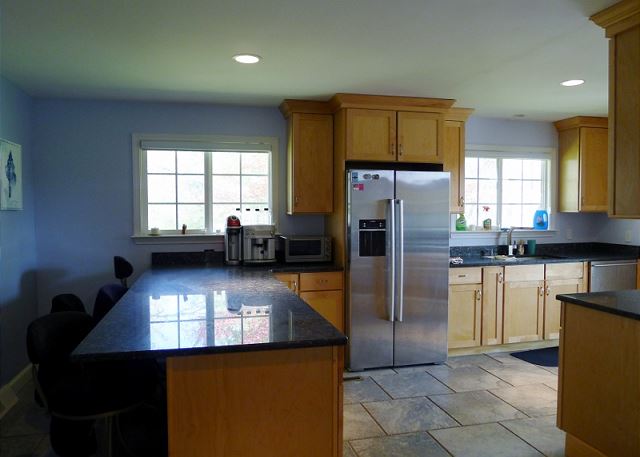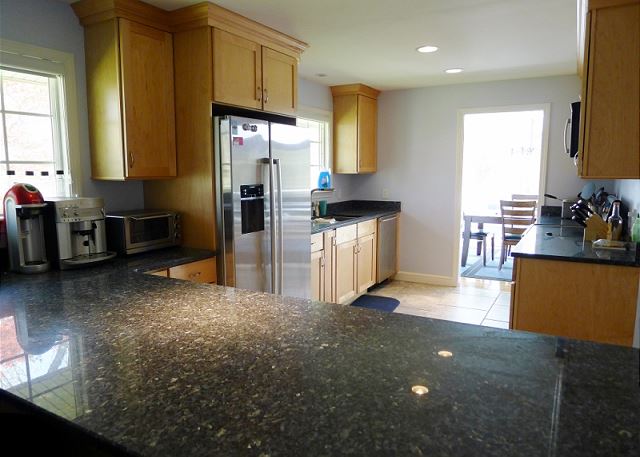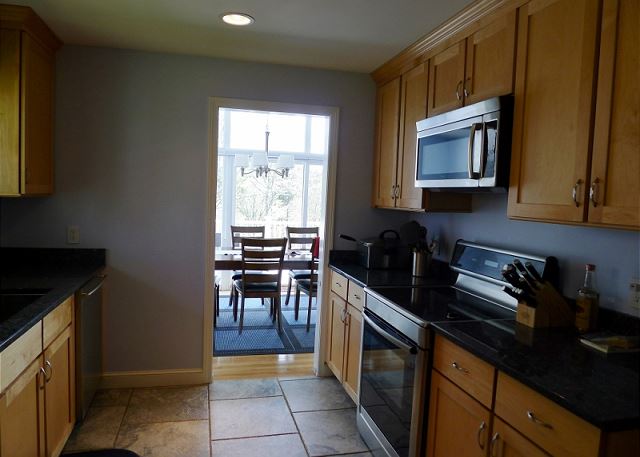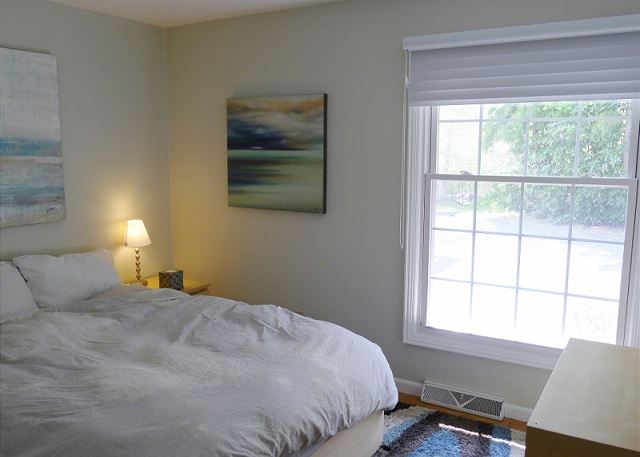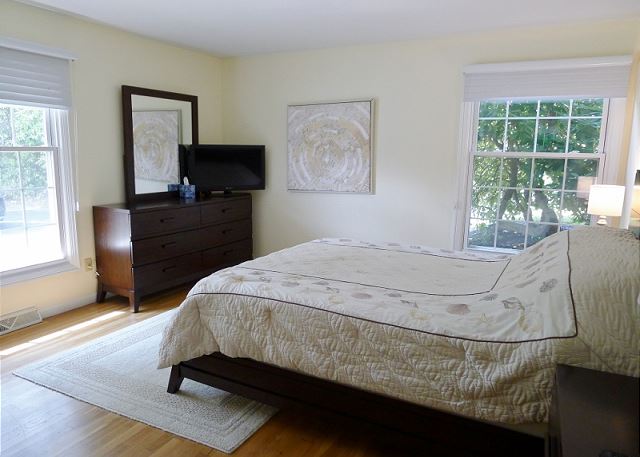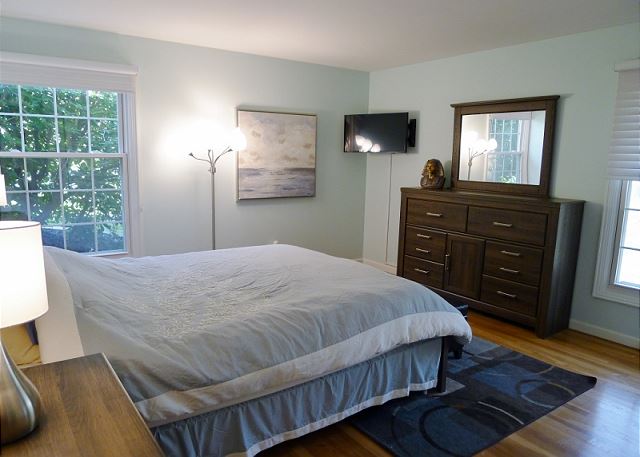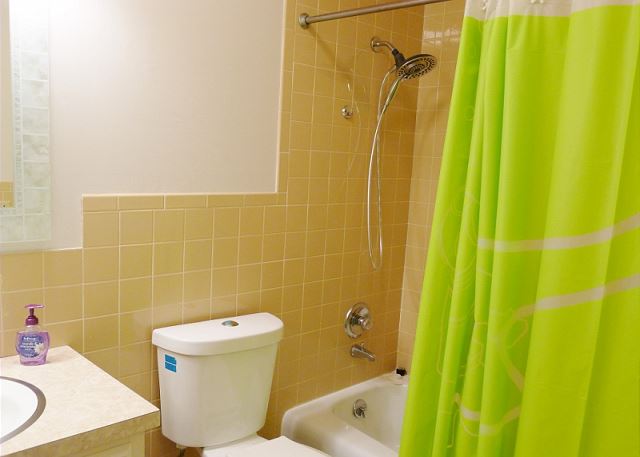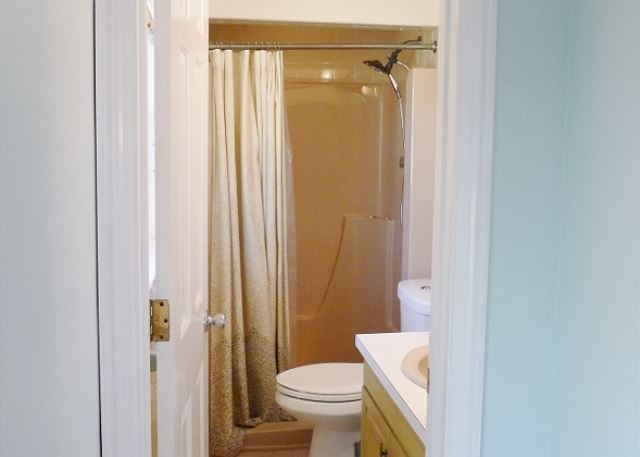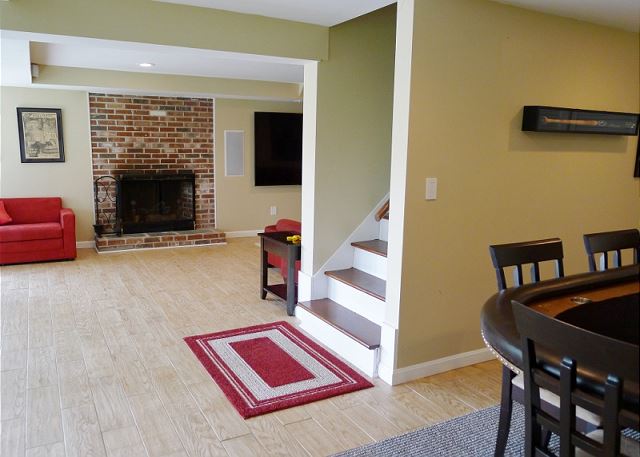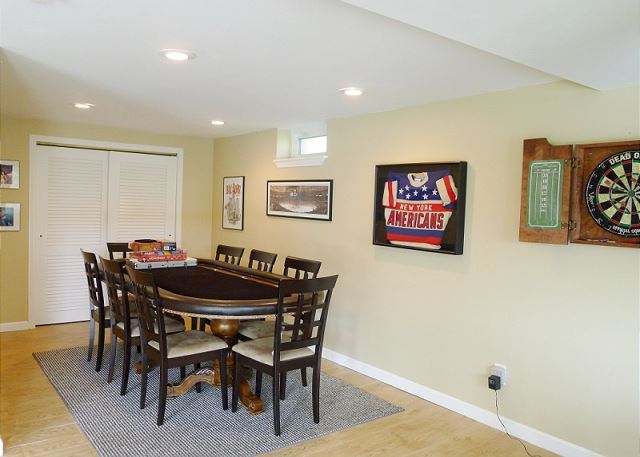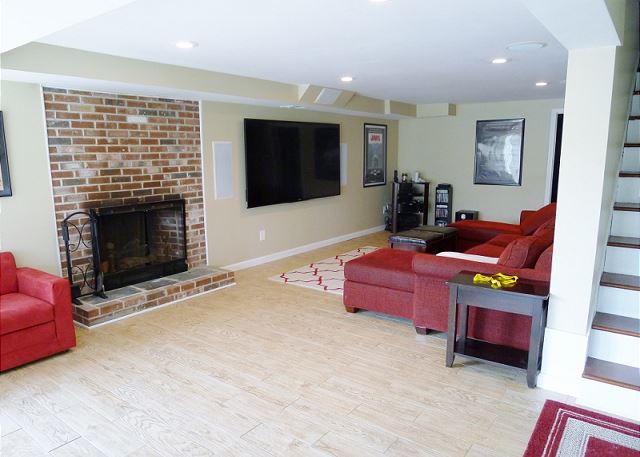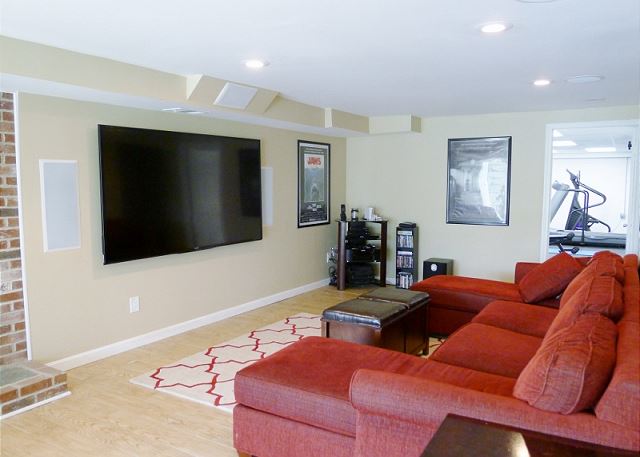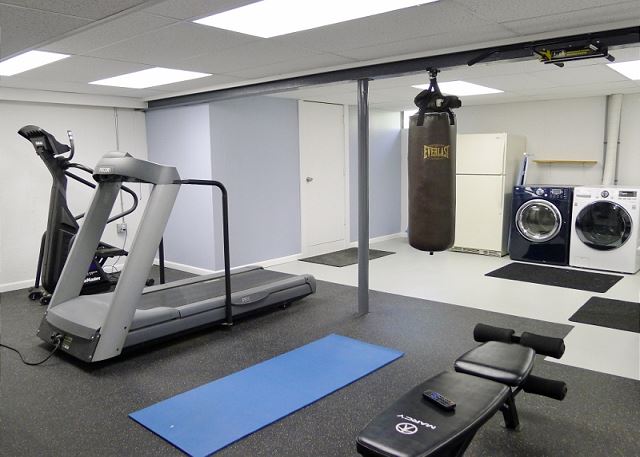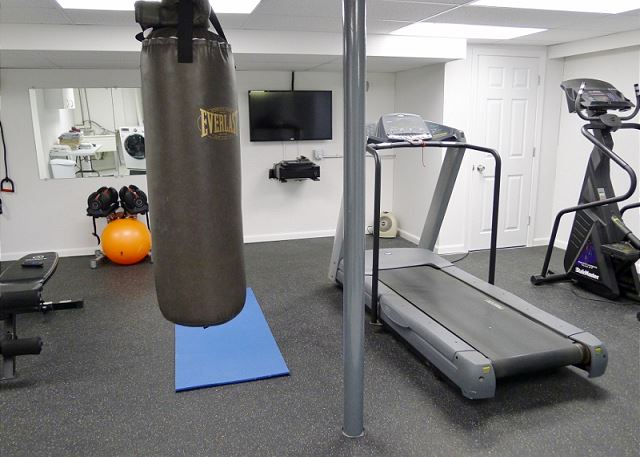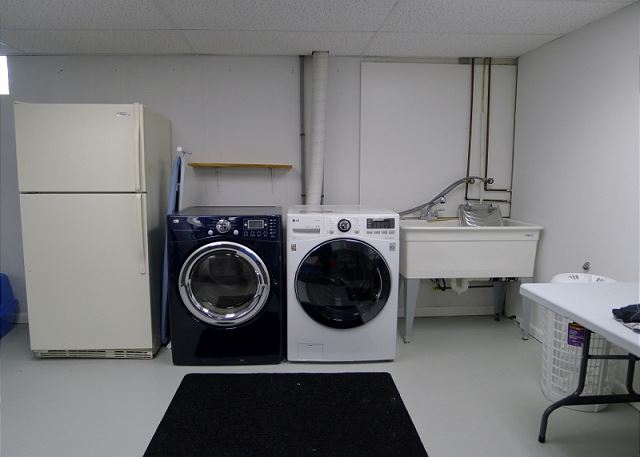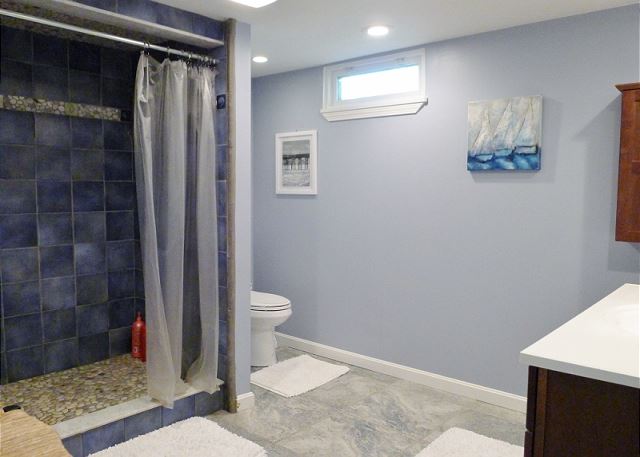 ---
Bedroom(s): 3.5
Bathroom(s): 3
Sleeps: 8
Type: House
Area:
Town: Chatham
Price Range $3650 - $4150

This beautiful home with central a/c sleeps 8 and has the open and bright spaces of a contemporary classic. The first floor boasts floor-to-ceiling windows facing the deck which overlooks acres of private woods and the heated swimming pool. This gorgeous deck contains a new wicker L-shaped couch, a Weber gas grill, and a slow smoker for incredible BBQs!

In the living room, there is an L-shaped couch, Brookstone massage recliner chair, a 50 inch HDTV with expanded Comcast service and DVD, VHS, and stereo. The living area flows into the dining room for 8 and continues into the kitchen. The kitchen includes a lot more than the standard complement of dishes, pots and pans. Here, you will also enjoy brand new Bosch appliances, DeLonghi espresso/coffee machine, deep-fat fryer, and granite counters with a breakfast island that seats 4.

Towards the rear are three bedrooms (2 queen, and 1 full with memory foam mattress), all with brand new furniture. There is a full-sized hall bath and the main bedroom has a full ensuite bath.

On the ground floor, there is an amazing home theater with an 80 inch 3D LED TV and surround sound, a large couch that converts into a sleep sofa with two recliner sections, an 8 seat poker table and dart board. Further back is a brand new commercial grade gym with treadmill and stair climber, a punching bag, exercise videos, and a dedicated TV/DVD/Bluetooth stereo to stream music through your phone. Adjoining the gym is a artfully tiled bath with huge step-in shower.

Just outside is a 6-person hot-tub for those cool summer nights, and stairs leading down to the in ground pool for those hot summer days. And if the day is not that hot you can still swim because the pool is HEATED. After your swim, throw a few logs on the new stone firepit and toast some smores!

The property is located just over a half a mile to the Pleasant Bay beaches and just a few miles from the ocean and downtown Chatham, and the community is adjacent to a golf course.

Also included: WiFi, Washer and Dryer, Central A/C, Fireplace, access to two bay garage plus room for 3-4 cars in driveway.

No smoking allowed.

8 guests maximum allowed at any time. No parties allowed

LINENS (SHEETS/TOWELS) ARE NOT INCLUDED IN THIS RENTAL.

Booking fee for this rental is $315 ($415 with pet). NOTE: If you are not bringing a dog with you, please notify us and we will credit your charge accordingly.

Travel insurance is highly recommended and affordable coverage to protect your vacation investment.

For more information about this property or our other vacation rentals call us at or toll free at and ask for property ID # or visit

Please view our policy and procedure page on our web site for detailed information about renting with us.
- pets considered
- DVD Player
- Flat Screen HDTV
- Extended Cable
- Movie Channels
- Game System (Xbox, Wii, Playstn)
- Stereo w/ CD player
- Fireplace
- Roku TV
- Deck
- Home Theater System
- AM/FM Radio
- WiFi
- Iron/Ironing Board
- Central Air Conditioning
- LCD TV
- wii
- Microwave
- Teapot or Tea Kettle
- Pantry items (sugar, salt & pep)
- Cleaning Supplies
- Cookware
- Dishes / Glassware / Utensils
- Blender
- Island or Counter Seating
- Convenience Items
- Dishwasher
- microwave
- Toaster
- Toaster Oven
- Waffle maker
- Island Seating
- Soda Streamer
- deep Fat Fryer
- Rice maker
- Electric knife set
- Pancake griddle
- DeLonghi coffee/cappucino machin
- Dining Table
- Private bath
- main bedroom flat screen tv
- Hair Dryer
- Exercise Equipment
- Home Theater Room
- sleep sofa
- washer
- dryer
- Poker Table
- Dart Board
- Surround Sound
- Deck
- Patio
- Gas Grill with Propane Tank
- Private Pool
- Firepit or Chiminea
- Garage Access
- Beach Chairs
- Hot Tub
- Outdoor Lighting
- Horse Shoes
- Screened-In Porch
- Outdoor Seating
- Exercise Equipment
- Movie Theatre Room
- Beach Cooler
- poker table
- dart board
- Slow Smoker Cooker
- Near Cape Cod Bay Beaches
- Walk to Beach
- Yes
- DOG
- Pet Considered
Guest Reviews of
114 potonumecot Chatham , MA
A Vacation House with all kinds of fun toys
Review by
Ruth C.
We had a fabulous time! We loved the pool, hot tub and both fire pits! Close to downtown and not too far from the beach!
5 out of 5 stars
Great Family Vacation home
Great for family and dog. Kids had a blast in the pool and movie theater. Adults liked the hot tub. The games, card table and darts were a great addition also. All of the cookware and appliances were in really great shape. Plenty of space indoors and outdoors. 10 minutes was the most we had to drive to get anywhere in Chatham - downtown, beaches, grocery store...The house could use a few improvements in terms of painting over a few dog chewed spots, and could also use a better cleaning service. Overall great experience in the cape!
4 out of 5 stars
Perfect weekend
Review by
Inglid P.
the house and the place wonderful and we had a perfect weekend, we will be back soon
5 out of 5 stars
May 2017

| S | M | T | W | T | F | S |
| --- | --- | --- | --- | --- | --- | --- |
| | 01 | 02 | 03 | 04 | 05 | 06 |
| 07 | 08 | 09 | 10 | 11 | 12 | 13 |
| 14 | 15 | 16 | 17 | 18 | 19 | 20 |
| 21 | 22 | 23 | 24 | 25 | 26 | 27 |
| 28 | 29 | 30 | 31 | | | |
June 2017

| S | M | T | W | T | F | S |
| --- | --- | --- | --- | --- | --- | --- |
| | | | | 01 | 02 | 03 |
| 04 | 05 | 06 | 07 | 08 | 09 | 10 |
| 11 | 12 | 13 | 14 | 15 | 16 | 17 |
| 18 | 19 | 20 | 21 | 22 | 23 | 24 |
| 25 | 26 | 27 | 28 | 29 | 30 | |
July 2017

| S | M | T | W | T | F | S |
| --- | --- | --- | --- | --- | --- | --- |
| | | | | | | 01 |
| 02 | 03 | 04 | 05 | 06 | 07 | 08 |
| 09 | 10 | 11 | 12 | 13 | 14 | 15 |
| 16 | 17 | 18 | 19 | 20 | 21 | 22 |
| 23 | 24 | 25 | 26 | 27 | 28 | 29 |
| 30 | 31 | | | | | |
August 2017

| S | M | T | W | T | F | S |
| --- | --- | --- | --- | --- | --- | --- |
| | | 01 | 02 | 03 | 04 | 05 |
| 06 | 07 | 08 | 09 | 10 | 11 | 12 |
| 13 | 14 | 15 | 16 | 17 | 18 | 19 |
| 20 | 21 | 22 | 23 | 24 | 25 | 26 |
| 27 | 28 | 29 | 30 | 31 | | |
September 2017

| S | M | T | W | T | F | S |
| --- | --- | --- | --- | --- | --- | --- |
| | | | | | 01 | 02 |
| 03 | 04 | 05 | 06 | 07 | 08 | 09 |
| 10 | 11 | 12 | 13 | 14 | 15 | 16 |
| 17 | 18 | 19 | 20 | 21 | 22 | 23 |
| 24 | 25 | 26 | 27 | 28 | 29 | 30 |
October 2017

| S | M | T | W | T | F | S |
| --- | --- | --- | --- | --- | --- | --- |
| 01 | 02 | 03 | 04 | 05 | 06 | 07 |
| 08 | 09 | 10 | 11 | 12 | 13 | 14 |
| 15 | 16 | 17 | 18 | 19 | 20 | 21 |
| 22 | 23 | 24 | 25 | 26 | 27 | 28 |
| 29 | 30 | 31 | | | | |
November 2017

| S | M | T | W | T | F | S |
| --- | --- | --- | --- | --- | --- | --- |
| | | | 01 | 02 | 03 | 04 |
| 05 | 06 | 07 | 08 | 09 | 10 | 11 |
| 12 | 13 | 14 | 15 | 16 | 17 | 18 |
| 19 | 20 | 21 | 22 | 23 | 24 | 25 |
| 26 | 27 | 28 | 29 | 30 | | |
December 2017

| S | M | T | W | T | F | S |
| --- | --- | --- | --- | --- | --- | --- |
| | | | | | 01 | 02 |
| 03 | 04 | 05 | 06 | 07 | 08 | 09 |
| 10 | 11 | 12 | 13 | 14 | 15 | 16 |
| 17 | 18 | 19 | 20 | 21 | 22 | 23 |
| 24 | 25 | 26 | 27 | 28 | 29 | 30 |
| 31 | | | | | | |
January 2018

| S | M | T | W | T | F | S |
| --- | --- | --- | --- | --- | --- | --- |
| | 01 | 02 | 03 | 04 | 05 | 06 |
| 07 | 08 | 09 | 10 | 11 | 12 | 13 |
| 14 | 15 | 16 | 17 | 18 | 19 | 20 |
| 21 | 22 | 23 | 24 | 25 | 26 | 27 |
| 28 | 29 | 30 | 31 | | | |
February 2018

| S | M | T | W | T | F | S |
| --- | --- | --- | --- | --- | --- | --- |
| | | | | 01 | 02 | 03 |
| 04 | 05 | 06 | 07 | 08 | 09 | 10 |
| 11 | 12 | 13 | 14 | 15 | 16 | 17 |
| 18 | 19 | 20 | 21 | 22 | 23 | 24 |
| 25 | 26 | 27 | 28 | | | |
March 2018

| S | M | T | W | T | F | S |
| --- | --- | --- | --- | --- | --- | --- |
| | | | | 01 | 02 | 03 |
| 04 | 05 | 06 | 07 | 08 | 09 | 10 |
| 11 | 12 | 13 | 14 | 15 | 16 | 17 |
| 18 | 19 | 20 | 21 | 22 | 23 | 24 |
| 25 | 26 | 27 | 28 | 29 | 30 | 31 |
April 2018

| S | M | T | W | T | F | S |
| --- | --- | --- | --- | --- | --- | --- |
| 01 | 02 | 03 | 04 | 05 | 06 | 07 |
| 08 | 09 | 10 | 11 | 12 | 13 | 14 |
| 15 | 16 | 17 | 18 | 19 | 20 | 21 |
| 22 | 23 | 24 | 25 | 26 | 27 | 28 |
| 29 | 30 | | | | | |
May 2018

| S | M | T | W | T | F | S |
| --- | --- | --- | --- | --- | --- | --- |
| | | 01 | 02 | 03 | 04 | 05 |
| 06 | 07 | 08 | 09 | 10 | 11 | 12 |
| 13 | 14 | 15 | 16 | 17 | 18 | 19 |
| 20 | 21 | 22 | 23 | 24 | 25 | 26 |
| 27 | 28 | 29 | 30 | 31 | | |
Available
Unavailable
Sat to Sat booking