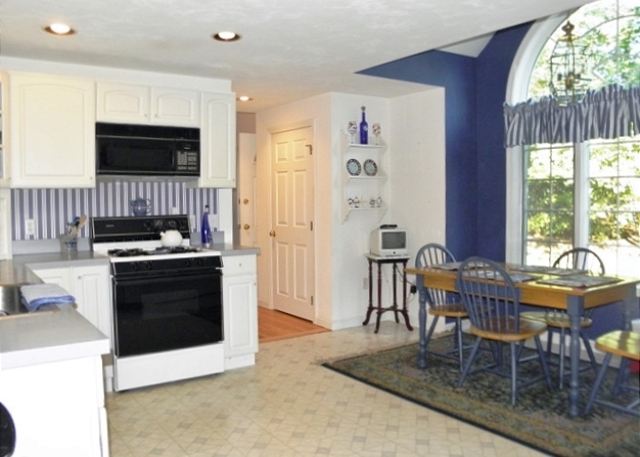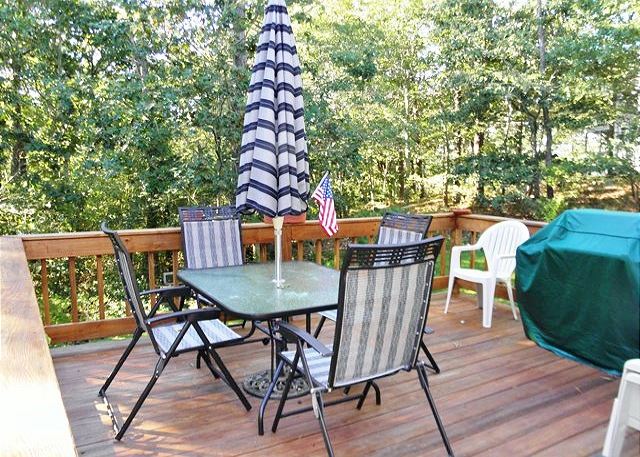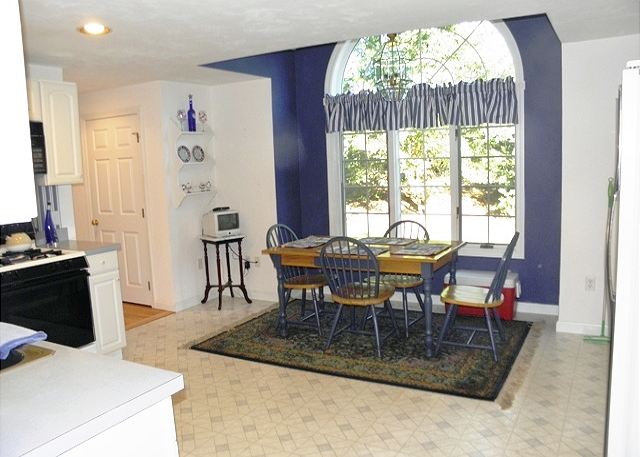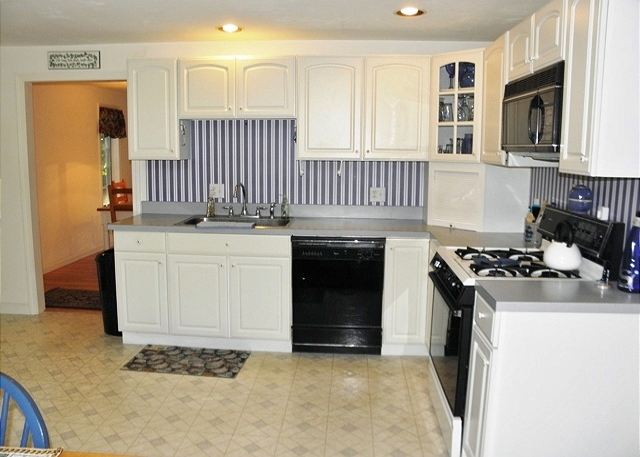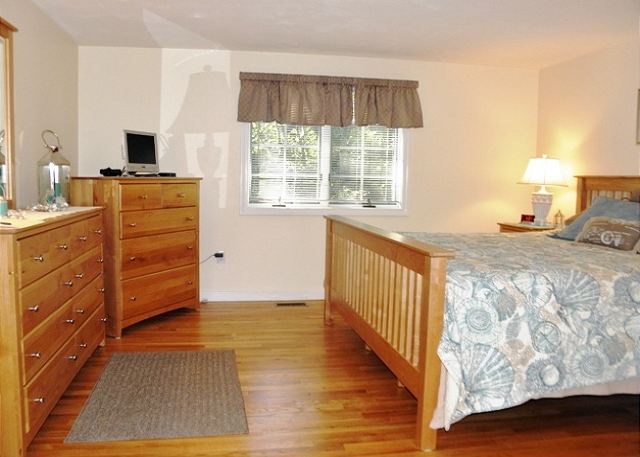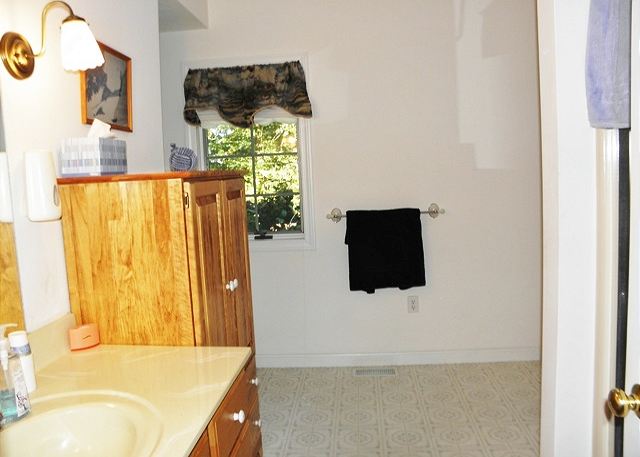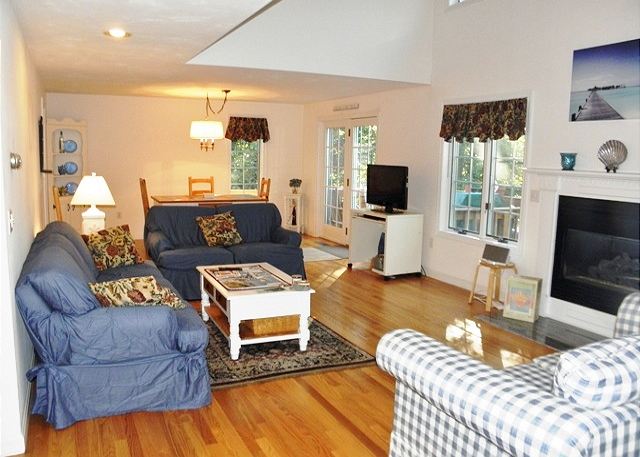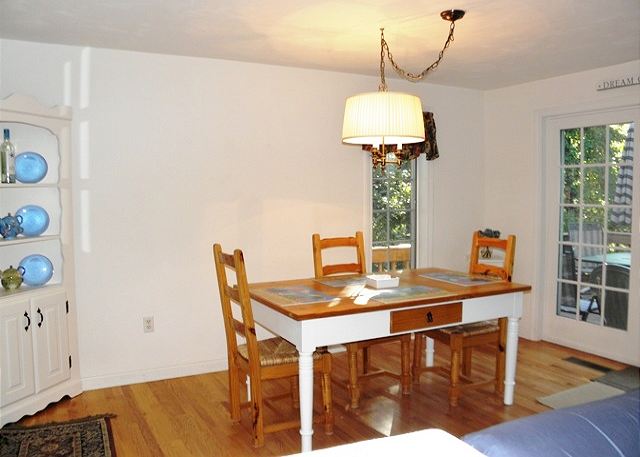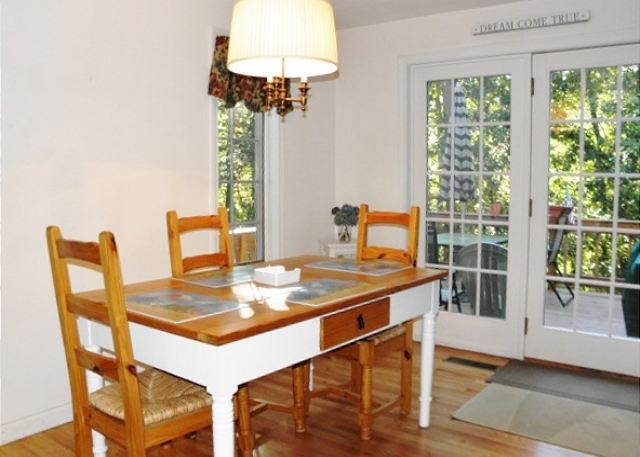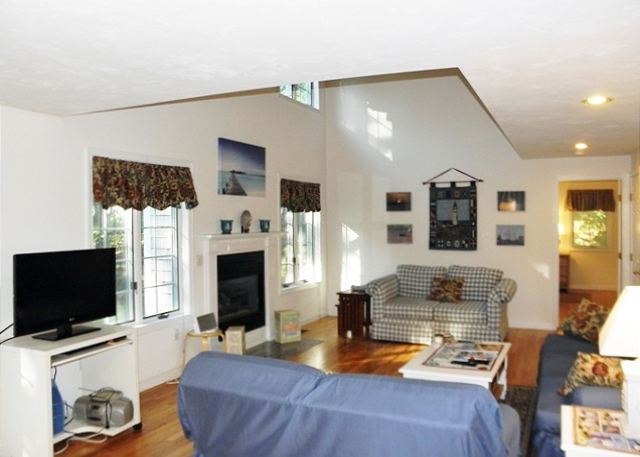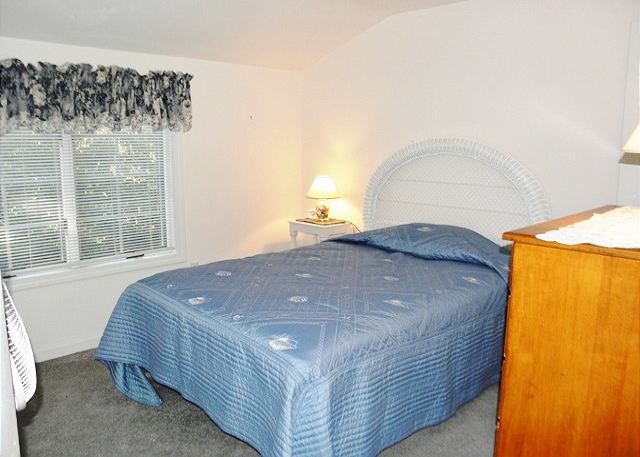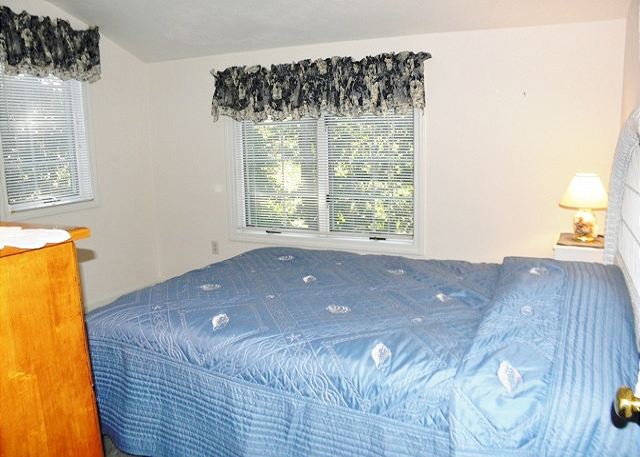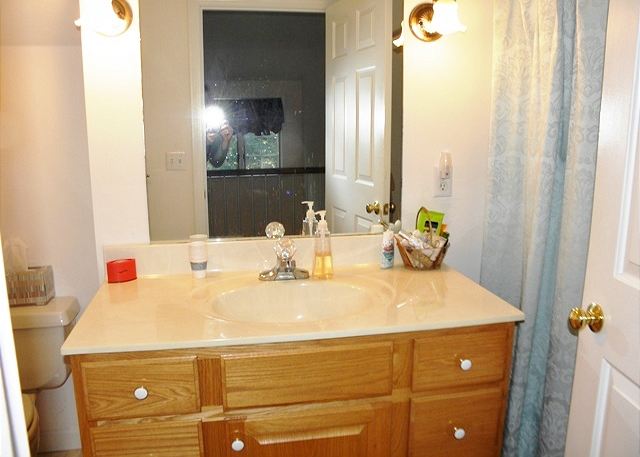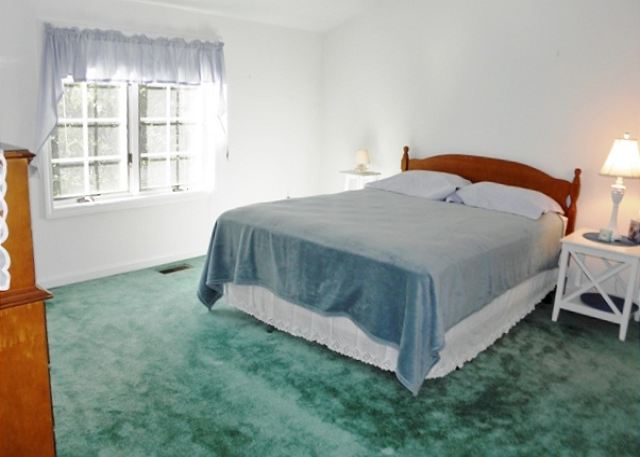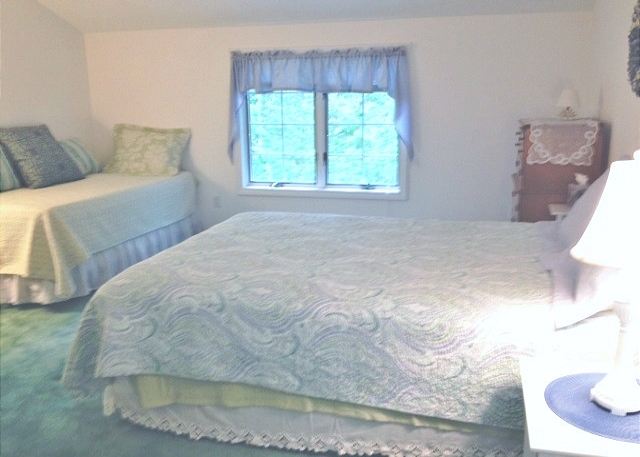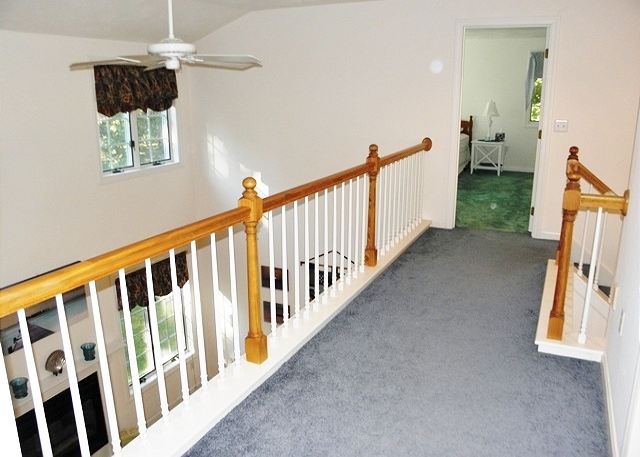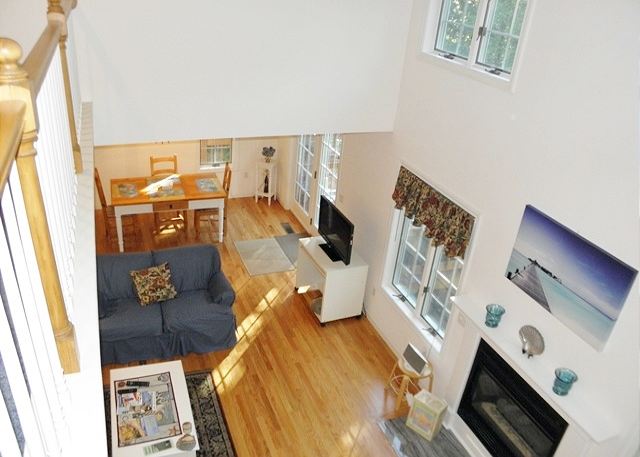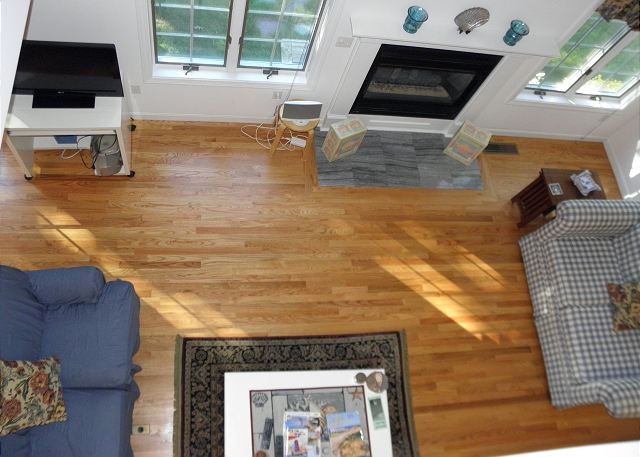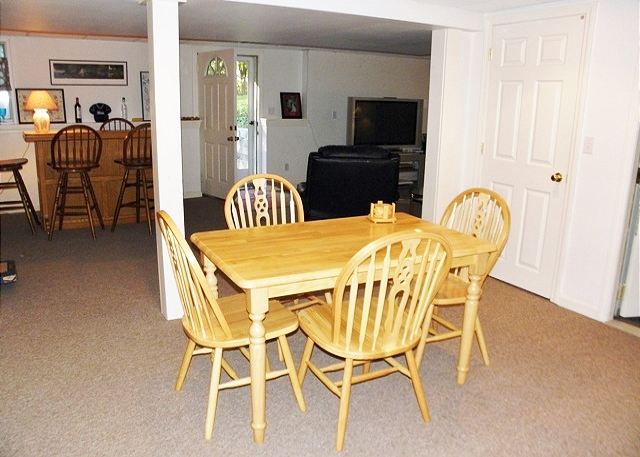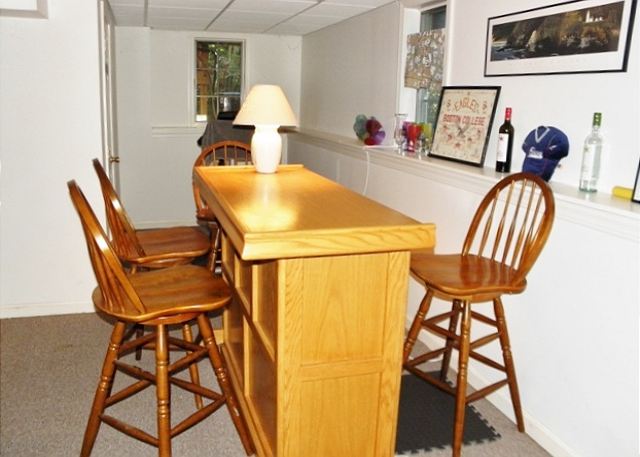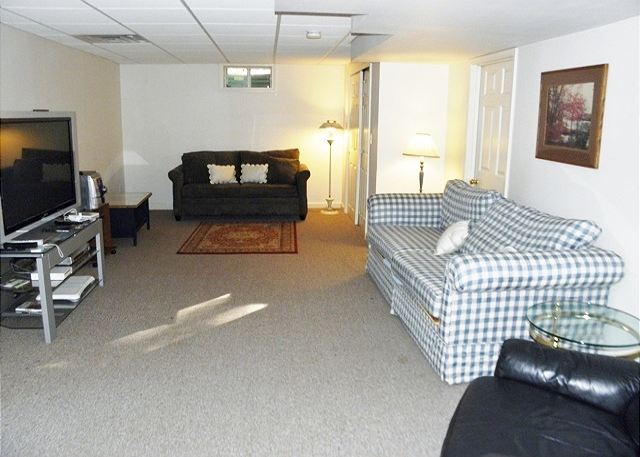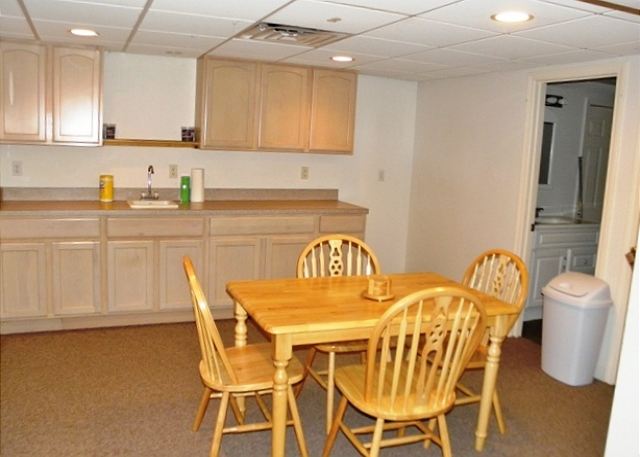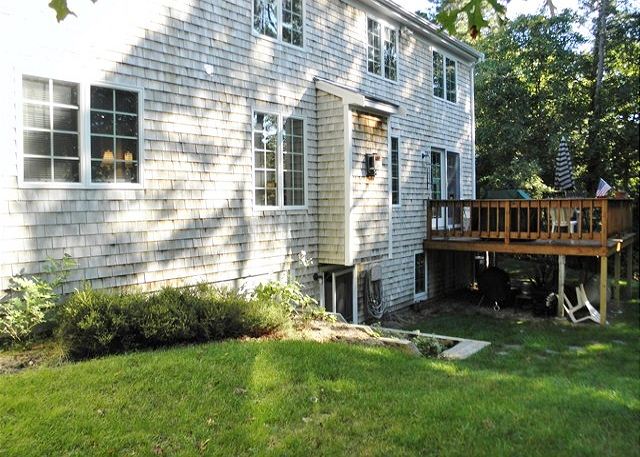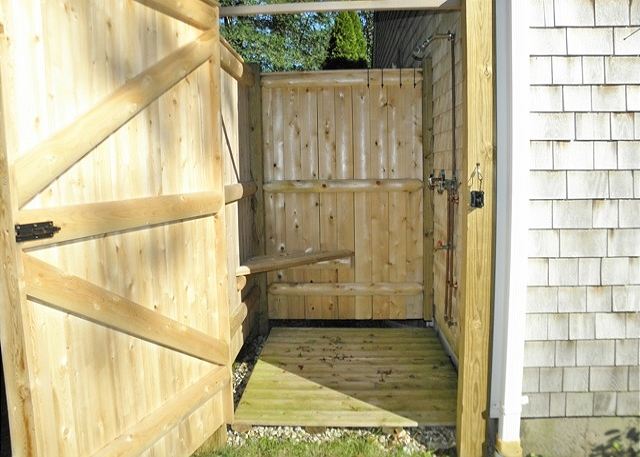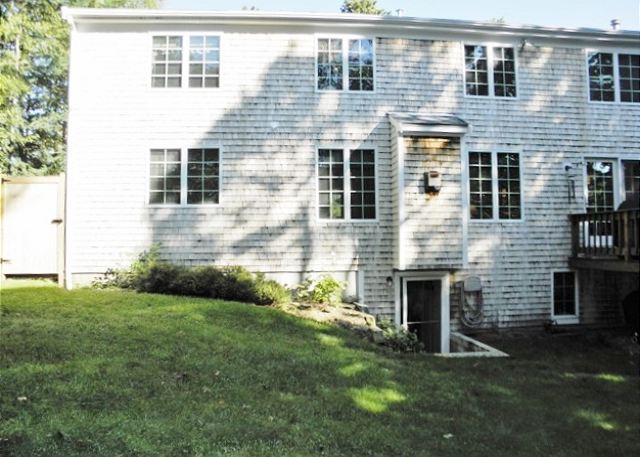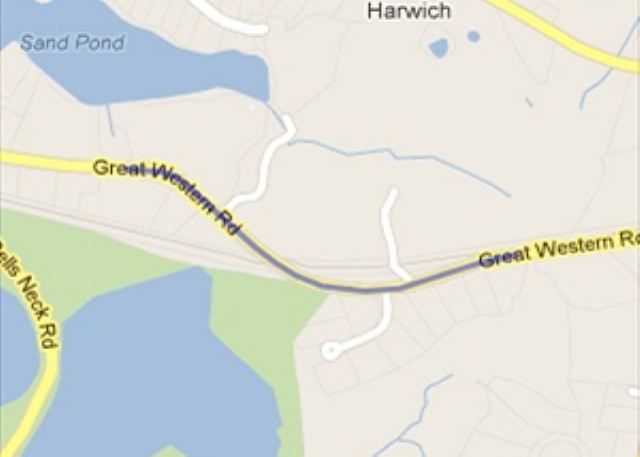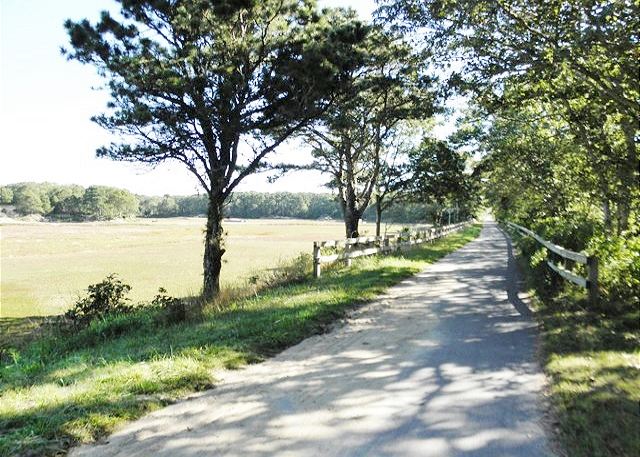 ---
Bedroom(s): 3
Bathroom(s): 3.5
Sleeps: 6
Type: House
Area:
Town: Harwich
Price Range $1815-$2315

Rates include all charges; no hidden fees!

This bright and attractive Contemporary Cape style Harwich Vacation Home is located directly across from Cape Cod Rail Trail bike path and picturesque cranberry bogs.

A spacious three bedroom, three and half bathroom home has new furnishings throughout and central air, wireless internet access, landline phone, and Comcast basic cable channels with Netflix account access. The colorfully decorated interior features wood floors and many desired amenities including HD Flat screen TV's.

There is an bonus area in lower level with a full bathroom, kitchenette, bar area, couch, full size - sleeper sofa, with Big HD flat screen 47" 3D HD TV & 3D Blue ray DVD player, Wii player, games, stereo with CD player, and door to rear yard!

The first floor has soaring windows and ceilings and includes an eat-in modern fully outfitted kitchen with all updated appliances, gas cooking, microwave, garage disposal, dish washer, toaster, blender, coffee maker, ice maker, and lobster pot. Also there is a full size clothing washer & dryer in the kitchen closet.

Off the kitchen is the dining area that leads to deck with outdoor dining table with umbrella, gas grill, and stairs to the yard. The landscaped yard is wooded at the edge and has a wonderful enclosed outdoor shower.

The living area features cathedral ceilings with sofa seating, gas fireplace, a ceiling fan, and fireplace, 32" HD TV, DVD player and IPod Dock. Off the living room is King bedroom suite, with small TV, and private bathroom with a shower.

Up the stairs to the 2nd floor with open landing are two additional bedrooms, one with queen bed and a twin bed, the other with full size bed. In the hallway is desk nook and a full bathroom with tub and shower combo.

From this home you are minutes to Route 134 shopping or Harwich Center and Bells Neck Conservation area covering 259 Acres with 2 ponds; West Reservoir with fresh water and East Reservoir with Brackish water. There are 2.75 miles of trails, with access to ponds to put in canoes or kayaks. Also Sand Pond is 0.5 miles away. Check out map in pictures, nice sand beach, and parking by permit, or take your bike! Driveway has room for 3 cars. Garage access is not included in this rental.

Sorry no pets and no smoking allowed.

6 guests maximum at any time. No parties exceeding the occupancy limit allowed.

LINENS (SHEETS/TOWELS) ARE NOT INCLUDED IN THIS RENTAL.

Travel Insurance is highly recommended and affordable coverage to protect your vacation investment.

Please view our policy and procedure page on our web site for detailed information about renting with us.
- Flat Screen HDTV
- Basic Cable
- IPod docking station
- Game System (Xbox, Wii, Playstn)
- Stereo w/ CD player
- Netflix
- Ceiling Fan
- Microwave
- Drip Coffee Maker
- Cookware
- Dishes / Glassware / Utensils
- Kitchen Table
- Blender
- Iron
- Ice Maker
- Dishwasher
- Laundry
- Lobster Pot
- Dining Table
- Deck
- TV
- Bar
- DVD Player
- Deck
- Dining Table w/ Umbrella
- Enclosed Outdoor Shower
- Garage Access
- Beach Chairs
- Outdoor Lighting
- Outdoor Seating
- Near Rail Trail Bike Path
- Near Nantucket Sound Beaches
- Lake or Pond Access
- Near Golf Course
Guest Reviews of
281 great western* Harwich , MA
2016 Family Fun
Review by
Nanette S.
Wonderful home! Worked out great for 5 adults and a 1 and 3 year old. Huge closet where we were able to place a pack and play in same room as the single and queen bed. Central air was huge blessing during our stay as it was beautiful beach weather week but hot and muggy! Very spacious, clean home designed for a relaxing stay. Thank You!
5 out of 5 stars
We love this house - you will too
We have been vacationing on the Cape for over 15 years and this is our favorite home. It is on a busy road but it is set far enough back and is very private and quiet. The owners take great care of the home and let renters know they are welcome and appreciated with a lot of unexpected extra special touches, there is always a roll of toilet paper in each bathroom, a bottle of Cape Cod beer in the Refrigerator, fresh Hydrangeas on the table to welcome us! These things seem simple but we have never experienced them from any other rental. In turn we take extra special care of this lovely home during our 2-week stay. The location & convenience to the bike path is a huge plus for us. The home is roomy with plenty of closet space. Kitchen is well equipped and laundry on main floor is a pleasure with sandy clothes! The only inconvenience / complaint we have is the locked garage door, we find it difficult to lug bikes up the back stairs daily and wish we could simply open the garage door when we enjoy the bike path.
5 out of 5 stars
Great location, beautiful home, and thoughtful amenities!
The property was lovely, inside and out. It was very clean. We felt very welcomed there as the owners had left many convenient amenities for us, including a growler of Cape Cod beer and a bottle of wine in the fridge for their guests. There were fresh cut flowers on the kitchen table. We really needed to bring nothing but our linens. The only set back to the property was if you have noisy guests with you, you will be able to here them because of the openness of the second floor. The location could not be beat with the bike path just feet from the bottom of the driveway.
5 out of 5 stars
July 2017

| S | M | T | W | T | F | S |
| --- | --- | --- | --- | --- | --- | --- |
| | | | | | | 01 |
| 02 | 03 | 04 | 05 | 06 | 07 | 08 |
| 09 | 10 | 11 | 12 | 13 | 14 | 15 |
| 16 | 17 | 18 | 19 | 20 | 21 | 22 |
| 23 | 24 | 25 | 26 | 27 | 28 | 29 |
| 30 | 31 | | | | | |
August 2017

| S | M | T | W | T | F | S |
| --- | --- | --- | --- | --- | --- | --- |
| | | 01 | 02 | 03 | 04 | 05 |
| 06 | 07 | 08 | 09 | 10 | 11 | 12 |
| 13 | 14 | 15 | 16 | 17 | 18 | 19 |
| 20 | 21 | 22 | 23 | 24 | 25 | 26 |
| 27 | 28 | 29 | 30 | 31 | | |
September 2017

| S | M | T | W | T | F | S |
| --- | --- | --- | --- | --- | --- | --- |
| | | | | | 01 | 02 |
| 03 | 04 | 05 | 06 | 07 | 08 | 09 |
| 10 | 11 | 12 | 13 | 14 | 15 | 16 |
| 17 | 18 | 19 | 20 | 21 | 22 | 23 |
| 24 | 25 | 26 | 27 | 28 | 29 | 30 |
October 2017

| S | M | T | W | T | F | S |
| --- | --- | --- | --- | --- | --- | --- |
| 01 | 02 | 03 | 04 | 05 | 06 | 07 |
| 08 | 09 | 10 | 11 | 12 | 13 | 14 |
| 15 | 16 | 17 | 18 | 19 | 20 | 21 |
| 22 | 23 | 24 | 25 | 26 | 27 | 28 |
| 29 | 30 | 31 | | | | |
November 2017

| S | M | T | W | T | F | S |
| --- | --- | --- | --- | --- | --- | --- |
| | | | 01 | 02 | 03 | 04 |
| 05 | 06 | 07 | 08 | 09 | 10 | 11 |
| 12 | 13 | 14 | 15 | 16 | 17 | 18 |
| 19 | 20 | 21 | 22 | 23 | 24 | 25 |
| 26 | 27 | 28 | 29 | 30 | | |
December 2017

| S | M | T | W | T | F | S |
| --- | --- | --- | --- | --- | --- | --- |
| | | | | | 01 | 02 |
| 03 | 04 | 05 | 06 | 07 | 08 | 09 |
| 10 | 11 | 12 | 13 | 14 | 15 | 16 |
| 17 | 18 | 19 | 20 | 21 | 22 | 23 |
| 24 | 25 | 26 | 27 | 28 | 29 | 30 |
| 31 | | | | | | |
January 2018

| S | M | T | W | T | F | S |
| --- | --- | --- | --- | --- | --- | --- |
| | 01 | 02 | 03 | 04 | 05 | 06 |
| 07 | 08 | 09 | 10 | 11 | 12 | 13 |
| 14 | 15 | 16 | 17 | 18 | 19 | 20 |
| 21 | 22 | 23 | 24 | 25 | 26 | 27 |
| 28 | 29 | 30 | 31 | | | |
February 2018

| S | M | T | W | T | F | S |
| --- | --- | --- | --- | --- | --- | --- |
| | | | | 01 | 02 | 03 |
| 04 | 05 | 06 | 07 | 08 | 09 | 10 |
| 11 | 12 | 13 | 14 | 15 | 16 | 17 |
| 18 | 19 | 20 | 21 | 22 | 23 | 24 |
| 25 | 26 | 27 | 28 | | | |
March 2018

| S | M | T | W | T | F | S |
| --- | --- | --- | --- | --- | --- | --- |
| | | | | 01 | 02 | 03 |
| 04 | 05 | 06 | 07 | 08 | 09 | 10 |
| 11 | 12 | 13 | 14 | 15 | 16 | 17 |
| 18 | 19 | 20 | 21 | 22 | 23 | 24 |
| 25 | 26 | 27 | 28 | 29 | 30 | 31 |
April 2018

| S | M | T | W | T | F | S |
| --- | --- | --- | --- | --- | --- | --- |
| 01 | 02 | 03 | 04 | 05 | 06 | 07 |
| 08 | 09 | 10 | 11 | 12 | 13 | 14 |
| 15 | 16 | 17 | 18 | 19 | 20 | 21 |
| 22 | 23 | 24 | 25 | 26 | 27 | 28 |
| 29 | 30 | | | | | |
May 2018

| S | M | T | W | T | F | S |
| --- | --- | --- | --- | --- | --- | --- |
| | | 01 | 02 | 03 | 04 | 05 |
| 06 | 07 | 08 | 09 | 10 | 11 | 12 |
| 13 | 14 | 15 | 16 | 17 | 18 | 19 |
| 20 | 21 | 22 | 23 | 24 | 25 | 26 |
| 27 | 28 | 29 | 30 | 31 | | |
June 2018

| S | M | T | W | T | F | S |
| --- | --- | --- | --- | --- | --- | --- |
| | | | | | 01 | 02 |
| 03 | 04 | 05 | 06 | 07 | 08 | 09 |
| 10 | 11 | 12 | 13 | 14 | 15 | 16 |
| 17 | 18 | 19 | 20 | 21 | 22 | 23 |
| 24 | 25 | 26 | 27 | 28 | 29 | 30 |
July 2018

| S | M | T | W | T | F | S |
| --- | --- | --- | --- | --- | --- | --- |
| 01 | 02 | 03 | 04 | 05 | 06 | 07 |
| 08 | 09 | 10 | 11 | 12 | 13 | 14 |
| 15 | 16 | 17 | 18 | 19 | 20 | 21 |
| 22 | 23 | 24 | 25 | 26 | 27 | 28 |
| 29 | 30 | 31 | | | | |
Available
Unavailable
Sat to Sat booking