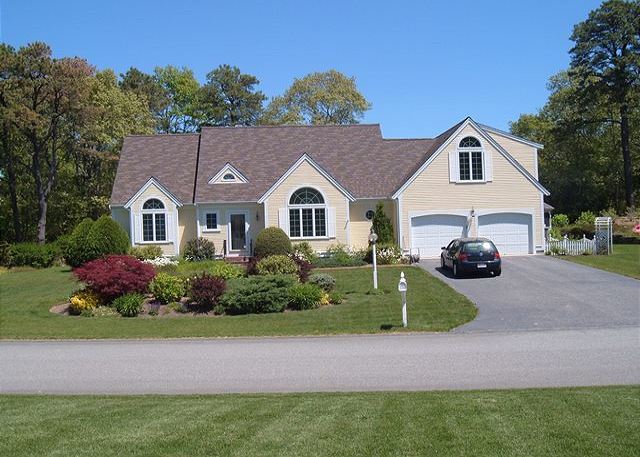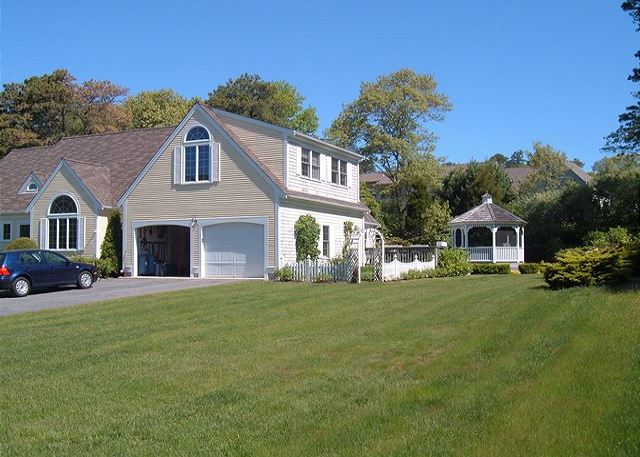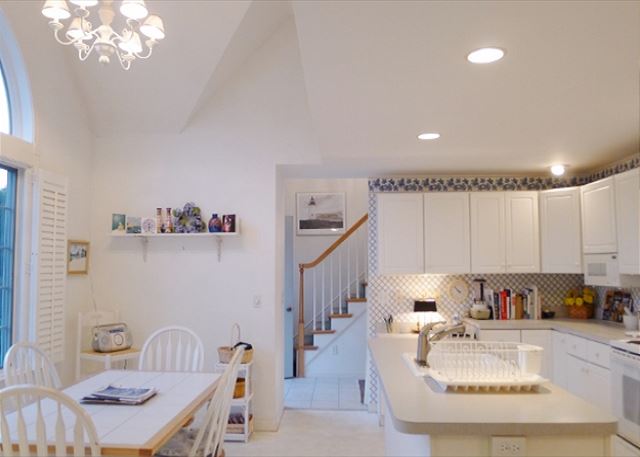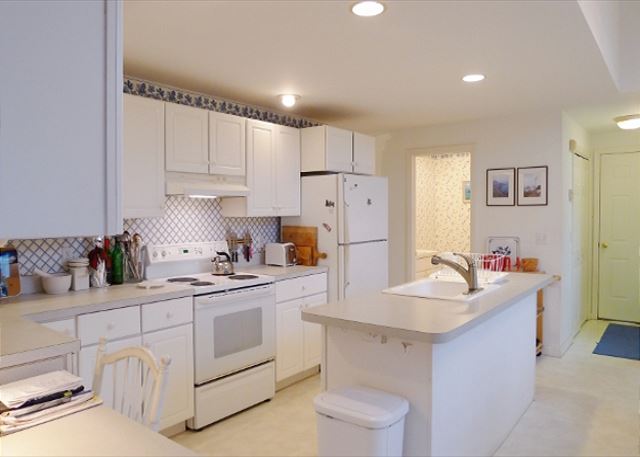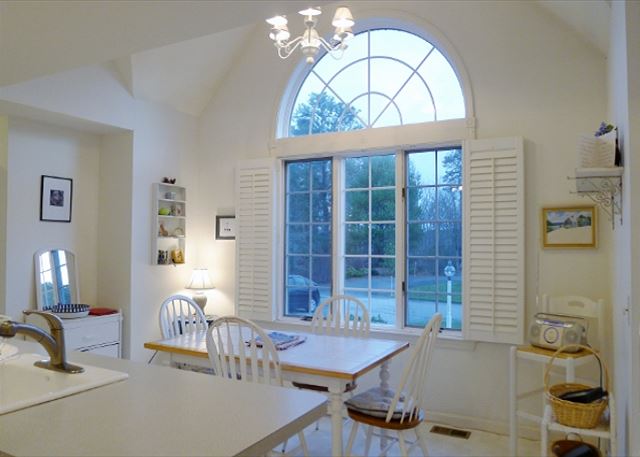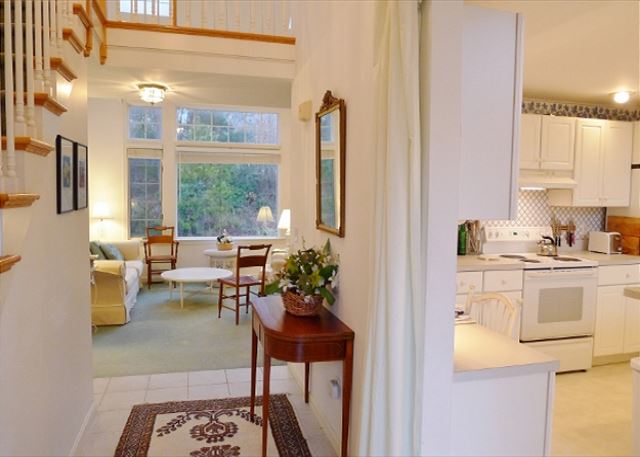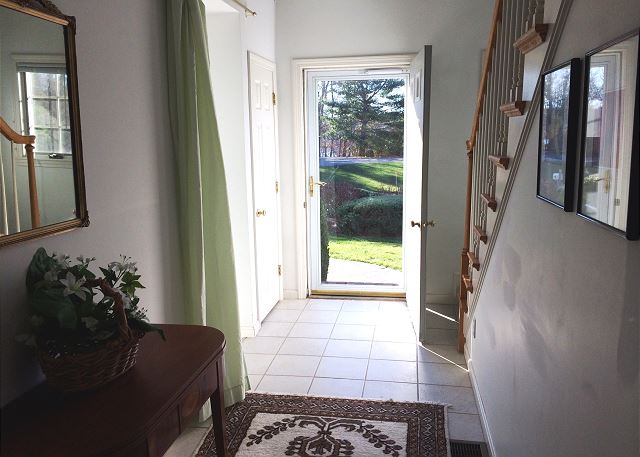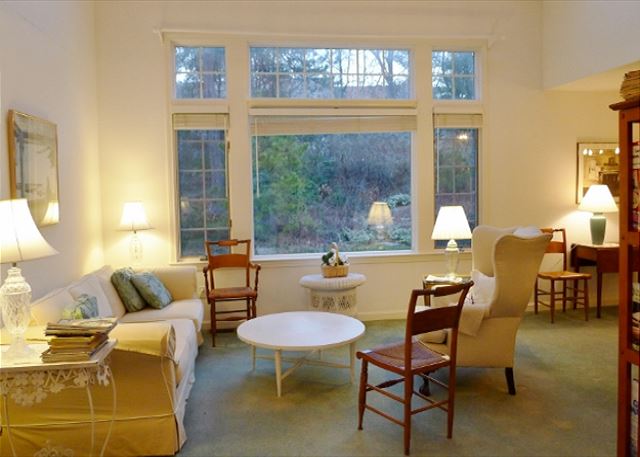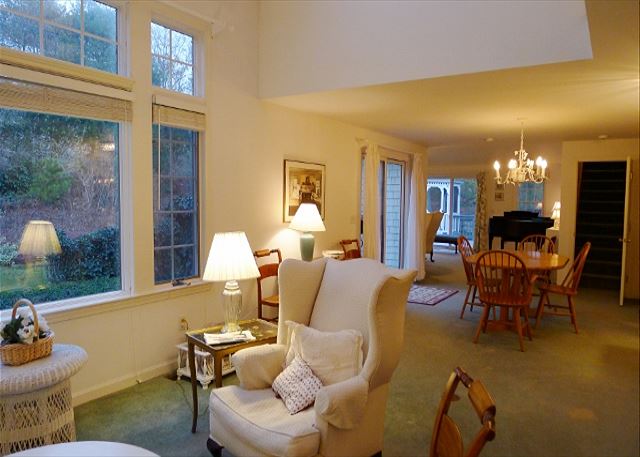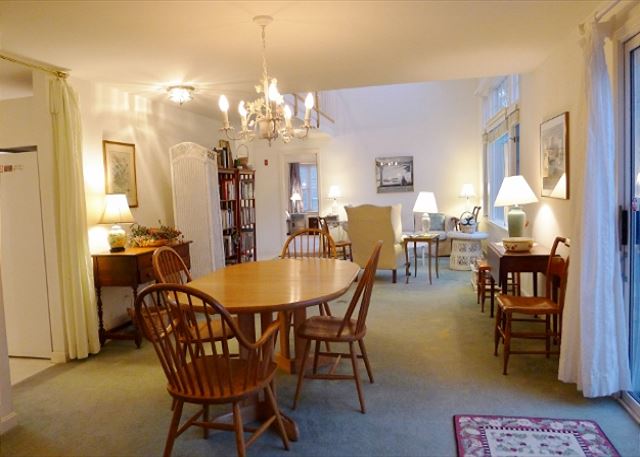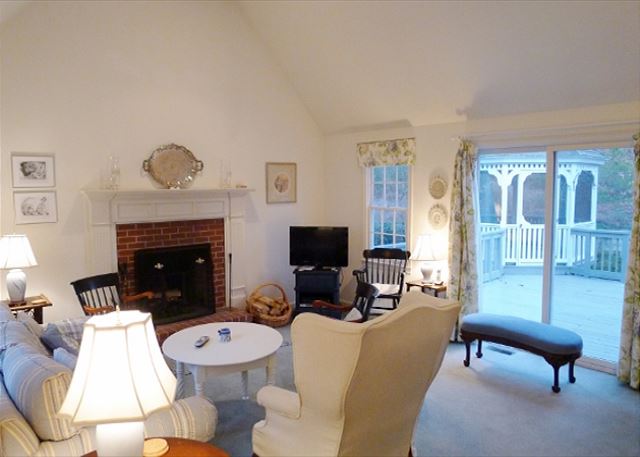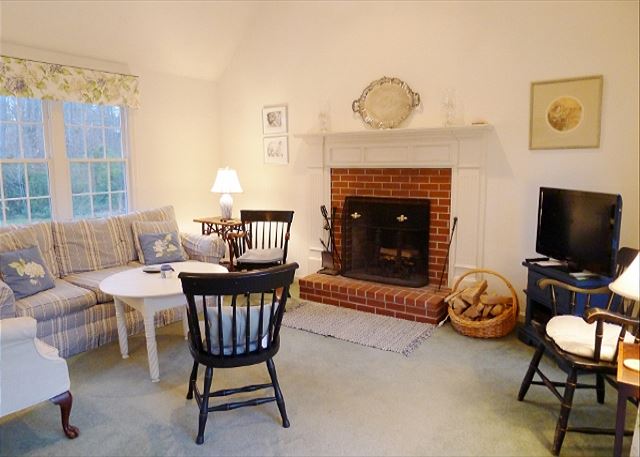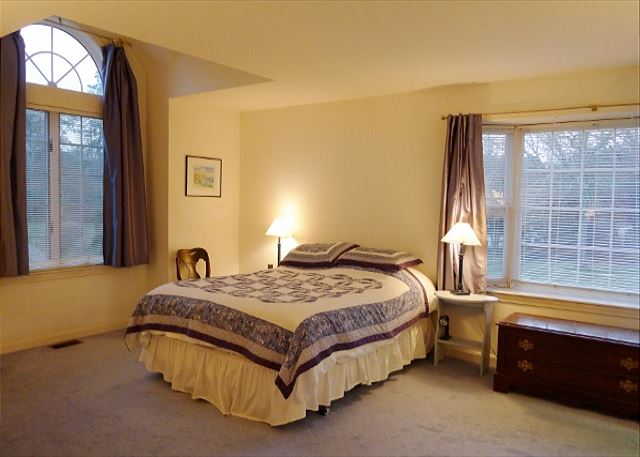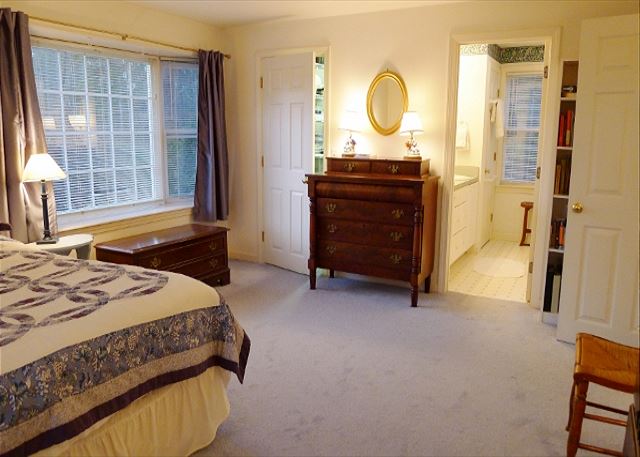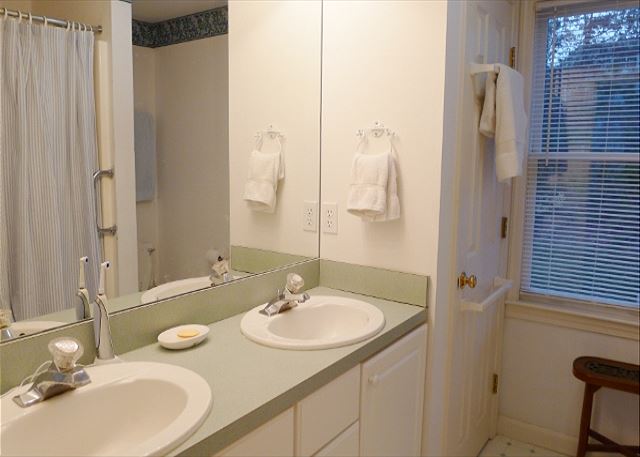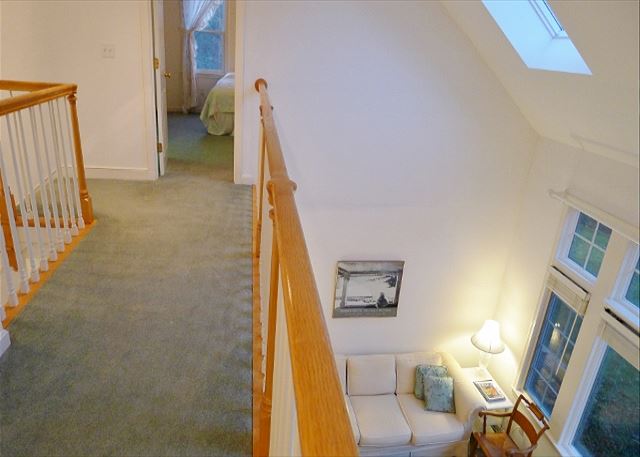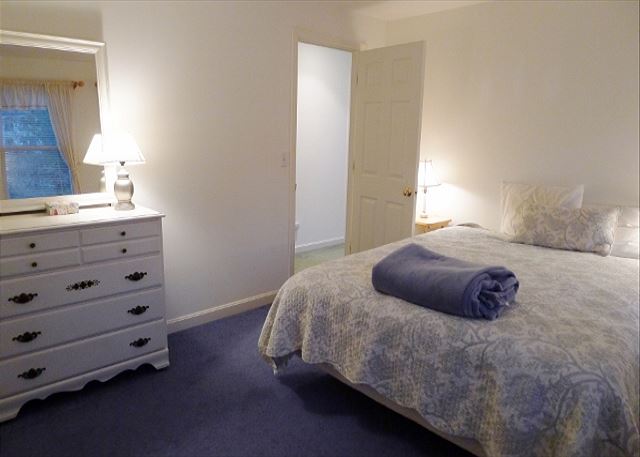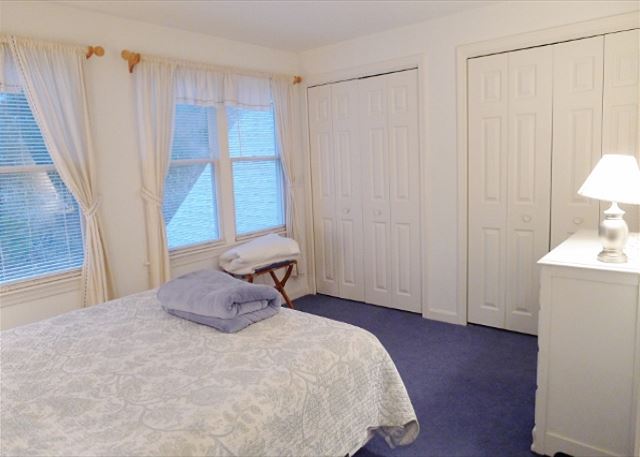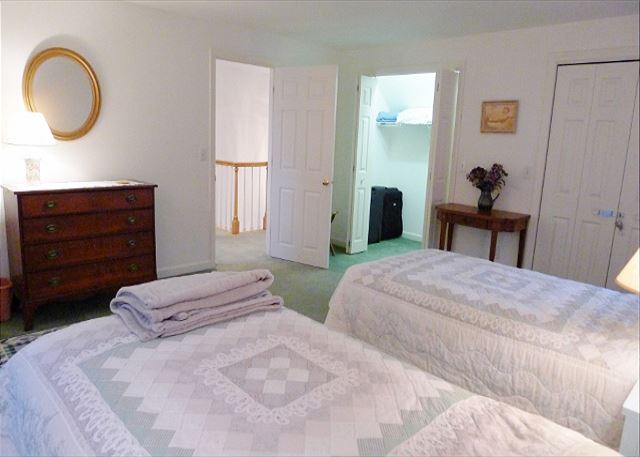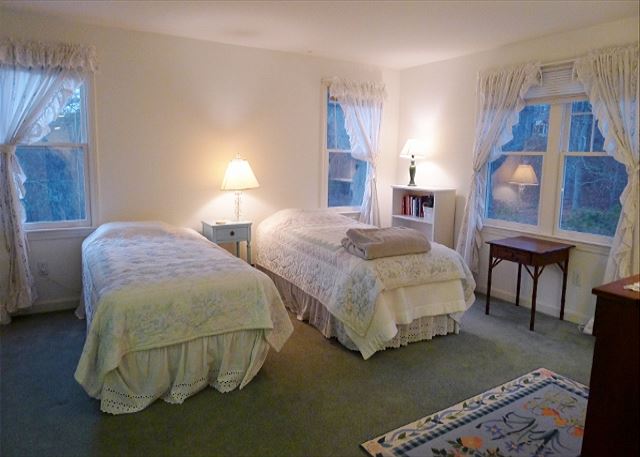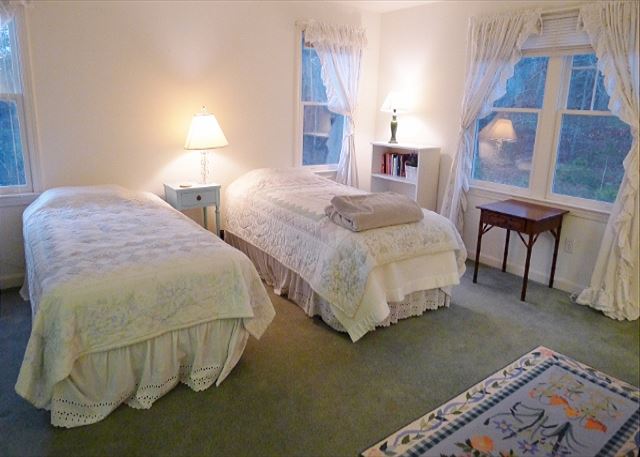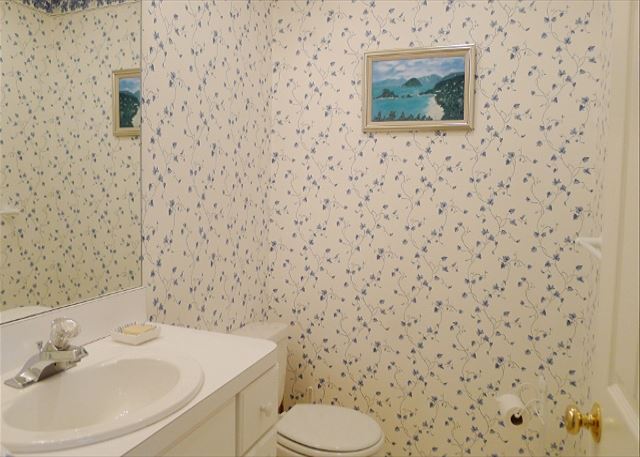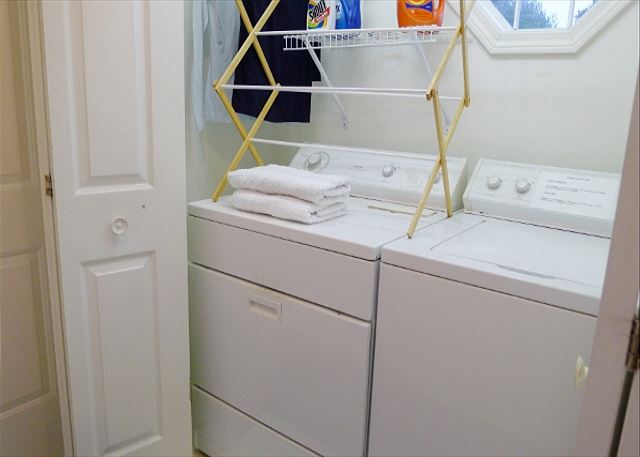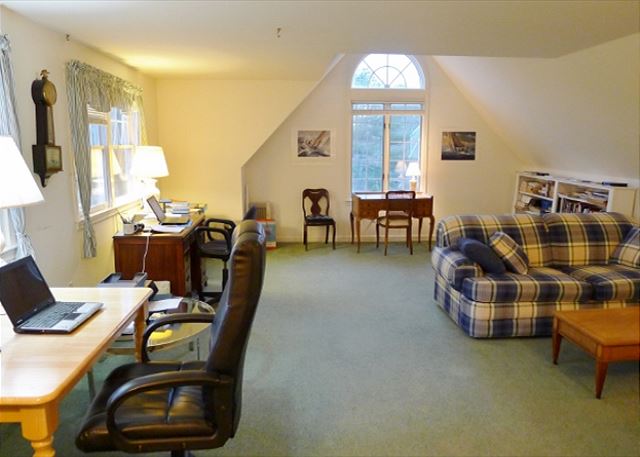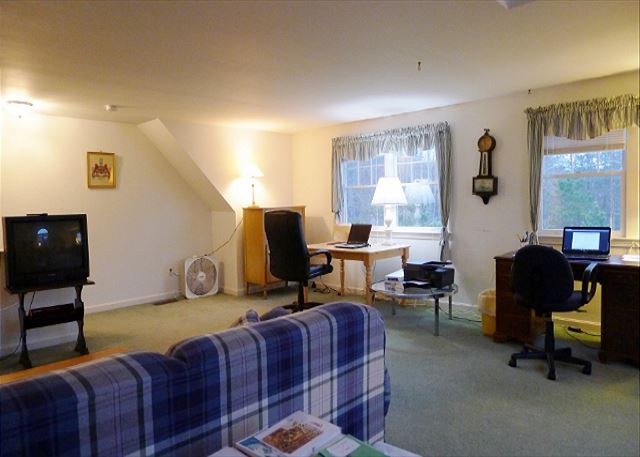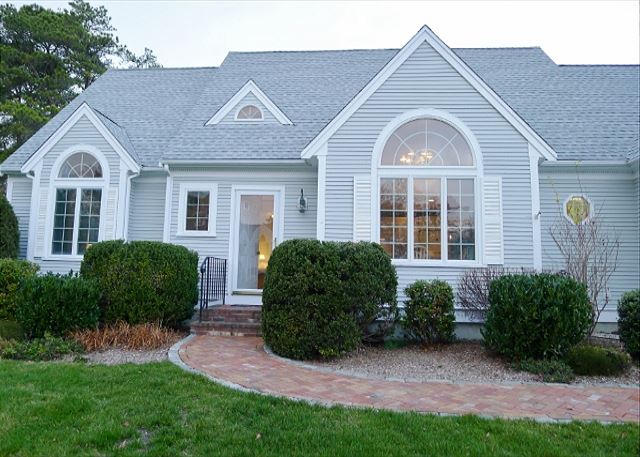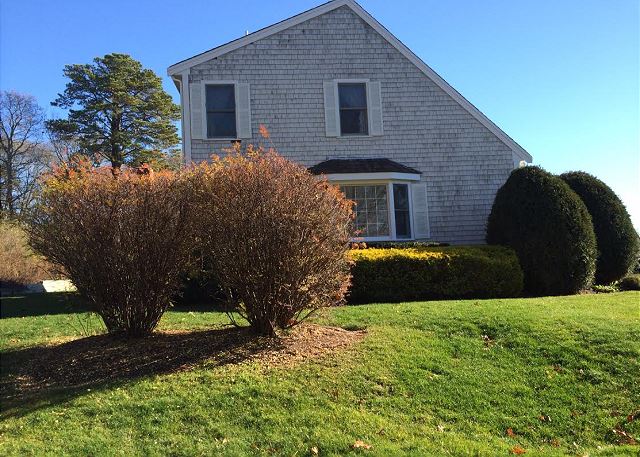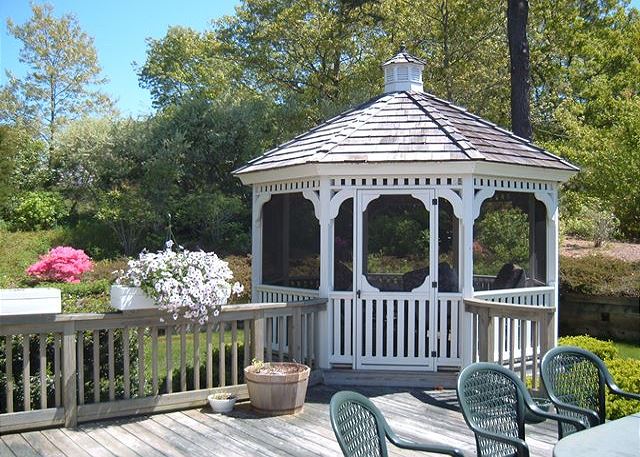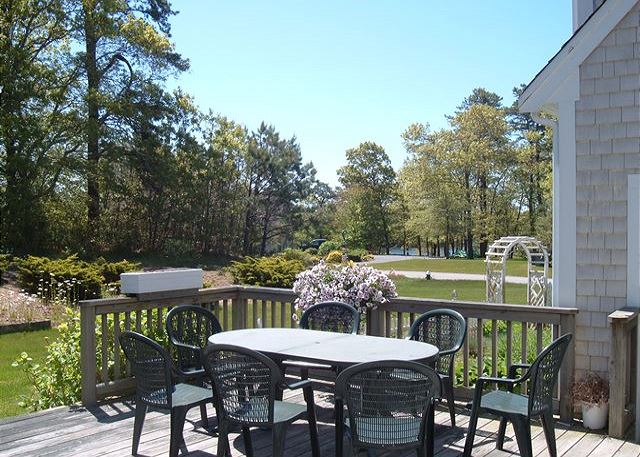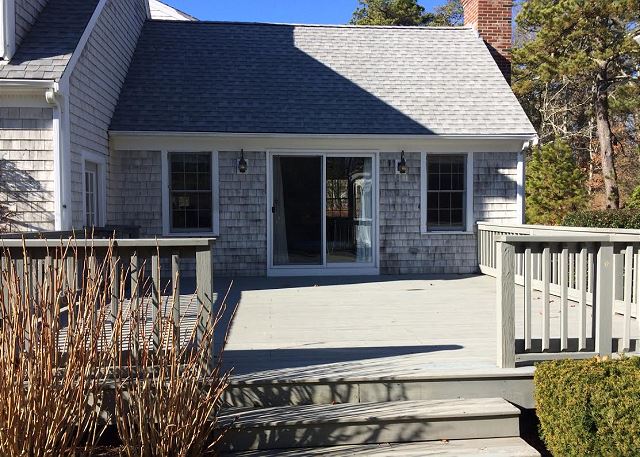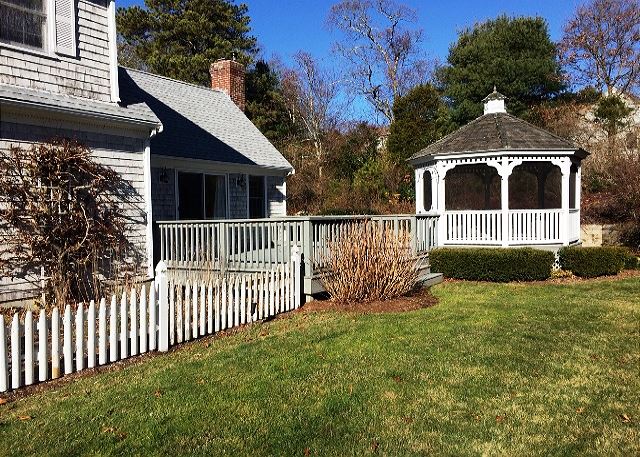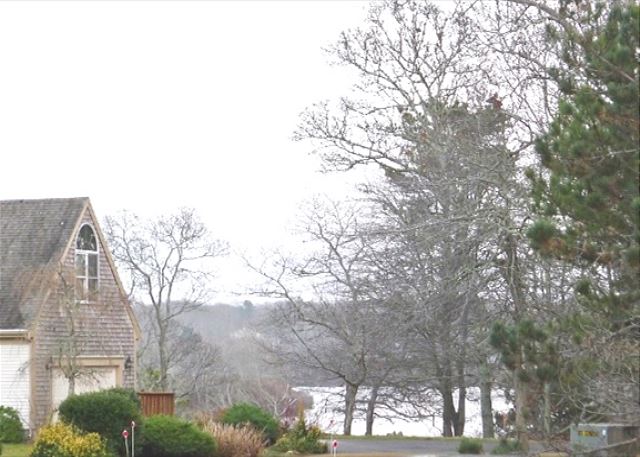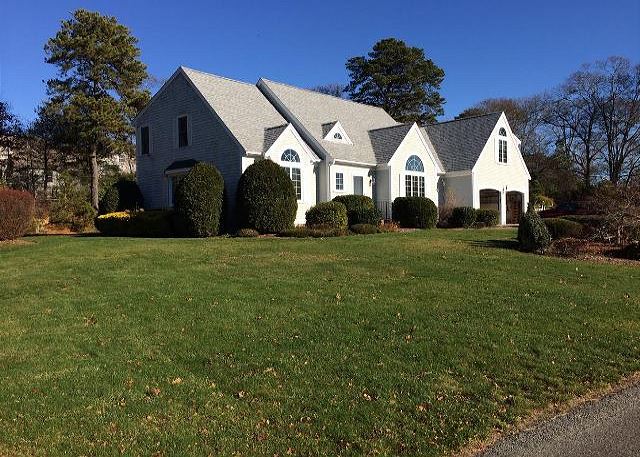 ---
Bedroom(s): 3
Bathroom(s): 3.5
Sleeps: 8
Type: House
Area:
Town: Centerville
Price Range $2945-$3545

Rates include all charges; no hidden fees!

This lovely 3 bedroom, 3 bath (all tub/shower combinations) plus one half bath home is sited on an acre of beautifully landscaped lawns. This special home was designed to catch the light from dawn to dusk and is directly across the street from Shallow Pond. After a day of biking, swimming, kayaking, or exploring, you will return to a peaceful neighborhood that is insulated from the summer crowds.

The main floor features a large and bright kitchen where you can enjoy meals at the tiled table overlooking the water beyond the trees. It is stocked with all the kitchenware you will need, plus a lobster pot, toaster, coffee maker, blender, dishwasher, and microwave.

The expansive first floor interior boasts cathedral ceilings and open living spaces that flow seamlessly into one another. On this level, there is the main bedroom with a queen-sized bed and en-suite bath; a sitting area with an over sized window that frames the rear patio; a dining area; and a living space with a full-sized sofa bed, ceiling fan, a flat-screened TV with Comcast stations, CD player, and sliding doors leading to the deck and screened gazebo. The deck is equipped with outside dining table and chairs and gas grill to take advantage of the perfect Cape Cod weather at any time of day!

On the second floor, there are two double bedrooms, each with its own bath, plus a spacious studio over the garage where guests of all ages can retreat to watch TV, work or play on their computer, or read a book on the couch.]If you are looking for a rental home that is both secluded but centrally located, elegant but ultra comfortable, offers tons of space to stretch out, provides easy access to pond and ocean beaches and all the attractions Cape Cod has to offer, then this stunning vacation rental is your only destination. NOW YOU CAN RENT THIS HOME FOR THE ENTIRE SUMMER FOR A VERY SPECIAL PRICE!

Also includes: WiFi, Central A/C, enclosed outdoor shower, washer and dryer, FREE beach permits to ALL Barnstable beaches, and a Sunfish sailboat and beach coolers for guests to use in the basement.

No garage access, but room for 4+ cars in driveway

Sorry no pets and no smoking allowed.

8 Guests Maximum Allowed at Any Time. NO MORE THAN 6 ADULTS. No parties exceeding the occupancy limit allowed.

LINENS (SHEETS/TOWELS) ARE NOT INCLUDED IN THIS RENTAL.

Travel Insurance is highly recommended and affordable coverage to protect your vacation investment.

Please view our policy and procedure page on our web site for detailed information about renting with us.
- Basic Cable
- Fireplace
- Ceiling Fan
- Sleep Sofa
- Central Air Conditioning
- Flat Screen TV
- CD Player
- Microwave
- Teapot or Tea Kettle
- Cleaning Supplies
- Cookware
- Dishes / Glassware / Utensils
- Kitchen Table
- Blender
- Iron
- Toaster or Toaster Oven
- Dishwasher
- Lobster Pot
- microwave
- ironing board
- Dining Table
- TV
- Desk
- UPSTAIRS STUDIO
- On Suite Main Bedroom Bath
- Hair Dryer
- Tub/Shower Combo
- washer and dryer first floor
- Deck
- Patio
- Gas Grill with Propane Tank
- Dining Table w/o Umbrella
- Enclosed Outdoor Shower
- Outdoor Lighting
- Screened-In Porch
- Sail Fish Boat
- Beach Cooler
Guest Reviews of
40 blue water Centerville , MA
40 Blue Water Dr. in, Centerville on the Cape
Review by
Carolyn D.
Very well situated near route 6 & 132. Fantastic House with great separation of space.
5 out of 5 stars
July 2017

| S | M | T | W | T | F | S |
| --- | --- | --- | --- | --- | --- | --- |
| | | | | | | 01 |
| 02 | 03 | 04 | 05 | 06 | 07 | 08 |
| 09 | 10 | 11 | 12 | 13 | 14 | 15 |
| 16 | 17 | 18 | 19 | 20 | 21 | 22 |
| 23 | 24 | 25 | 26 | 27 | 28 | 29 |
| 30 | 31 | | | | | |
August 2017

| S | M | T | W | T | F | S |
| --- | --- | --- | --- | --- | --- | --- |
| | | 01 | 02 | 03 | 04 | 05 |
| 06 | 07 | 08 | 09 | 10 | 11 | 12 |
| 13 | 14 | 15 | 16 | 17 | 18 | 19 |
| 20 | 21 | 22 | 23 | 24 | 25 | 26 |
| 27 | 28 | 29 | 30 | 31 | | |
September 2017

| S | M | T | W | T | F | S |
| --- | --- | --- | --- | --- | --- | --- |
| | | | | | 01 | 02 |
| 03 | 04 | 05 | 06 | 07 | 08 | 09 |
| 10 | 11 | 12 | 13 | 14 | 15 | 16 |
| 17 | 18 | 19 | 20 | 21 | 22 | 23 |
| 24 | 25 | 26 | 27 | 28 | 29 | 30 |
October 2017

| S | M | T | W | T | F | S |
| --- | --- | --- | --- | --- | --- | --- |
| 01 | 02 | 03 | 04 | 05 | 06 | 07 |
| 08 | 09 | 10 | 11 | 12 | 13 | 14 |
| 15 | 16 | 17 | 18 | 19 | 20 | 21 |
| 22 | 23 | 24 | 25 | 26 | 27 | 28 |
| 29 | 30 | 31 | | | | |
November 2017

| S | M | T | W | T | F | S |
| --- | --- | --- | --- | --- | --- | --- |
| | | | 01 | 02 | 03 | 04 |
| 05 | 06 | 07 | 08 | 09 | 10 | 11 |
| 12 | 13 | 14 | 15 | 16 | 17 | 18 |
| 19 | 20 | 21 | 22 | 23 | 24 | 25 |
| 26 | 27 | 28 | 29 | 30 | | |
December 2017

| S | M | T | W | T | F | S |
| --- | --- | --- | --- | --- | --- | --- |
| | | | | | 01 | 02 |
| 03 | 04 | 05 | 06 | 07 | 08 | 09 |
| 10 | 11 | 12 | 13 | 14 | 15 | 16 |
| 17 | 18 | 19 | 20 | 21 | 22 | 23 |
| 24 | 25 | 26 | 27 | 28 | 29 | 30 |
| 31 | | | | | | |
January 2018

| S | M | T | W | T | F | S |
| --- | --- | --- | --- | --- | --- | --- |
| | 01 | 02 | 03 | 04 | 05 | 06 |
| 07 | 08 | 09 | 10 | 11 | 12 | 13 |
| 14 | 15 | 16 | 17 | 18 | 19 | 20 |
| 21 | 22 | 23 | 24 | 25 | 26 | 27 |
| 28 | 29 | 30 | 31 | | | |
February 2018

| S | M | T | W | T | F | S |
| --- | --- | --- | --- | --- | --- | --- |
| | | | | 01 | 02 | 03 |
| 04 | 05 | 06 | 07 | 08 | 09 | 10 |
| 11 | 12 | 13 | 14 | 15 | 16 | 17 |
| 18 | 19 | 20 | 21 | 22 | 23 | 24 |
| 25 | 26 | 27 | 28 | | | |
March 2018

| S | M | T | W | T | F | S |
| --- | --- | --- | --- | --- | --- | --- |
| | | | | 01 | 02 | 03 |
| 04 | 05 | 06 | 07 | 08 | 09 | 10 |
| 11 | 12 | 13 | 14 | 15 | 16 | 17 |
| 18 | 19 | 20 | 21 | 22 | 23 | 24 |
| 25 | 26 | 27 | 28 | 29 | 30 | 31 |
April 2018

| S | M | T | W | T | F | S |
| --- | --- | --- | --- | --- | --- | --- |
| 01 | 02 | 03 | 04 | 05 | 06 | 07 |
| 08 | 09 | 10 | 11 | 12 | 13 | 14 |
| 15 | 16 | 17 | 18 | 19 | 20 | 21 |
| 22 | 23 | 24 | 25 | 26 | 27 | 28 |
| 29 | 30 | | | | | |
May 2018

| S | M | T | W | T | F | S |
| --- | --- | --- | --- | --- | --- | --- |
| | | 01 | 02 | 03 | 04 | 05 |
| 06 | 07 | 08 | 09 | 10 | 11 | 12 |
| 13 | 14 | 15 | 16 | 17 | 18 | 19 |
| 20 | 21 | 22 | 23 | 24 | 25 | 26 |
| 27 | 28 | 29 | 30 | 31 | | |
June 2018

| S | M | T | W | T | F | S |
| --- | --- | --- | --- | --- | --- | --- |
| | | | | | 01 | 02 |
| 03 | 04 | 05 | 06 | 07 | 08 | 09 |
| 10 | 11 | 12 | 13 | 14 | 15 | 16 |
| 17 | 18 | 19 | 20 | 21 | 22 | 23 |
| 24 | 25 | 26 | 27 | 28 | 29 | 30 |
July 2018

| S | M | T | W | T | F | S |
| --- | --- | --- | --- | --- | --- | --- |
| 01 | 02 | 03 | 04 | 05 | 06 | 07 |
| 08 | 09 | 10 | 11 | 12 | 13 | 14 |
| 15 | 16 | 17 | 18 | 19 | 20 | 21 |
| 22 | 23 | 24 | 25 | 26 | 27 | 28 |
| 29 | 30 | 31 | | | | |
Available
Unavailable
Sat to Sat booking