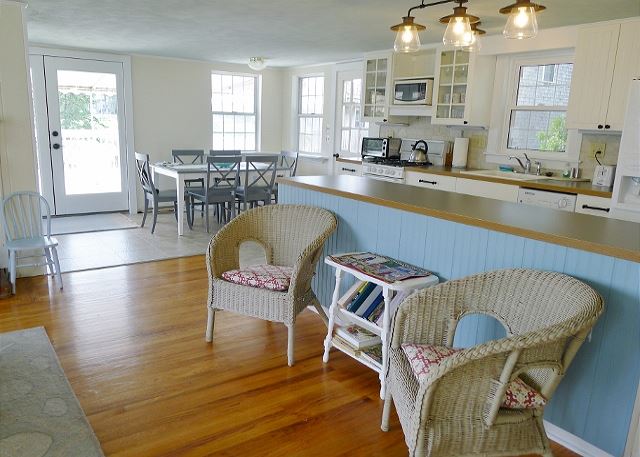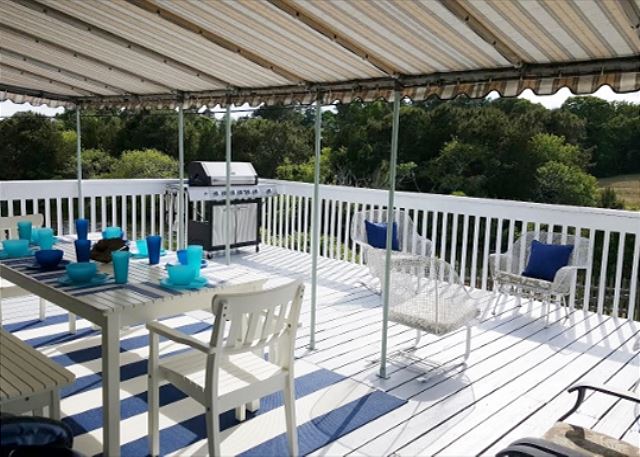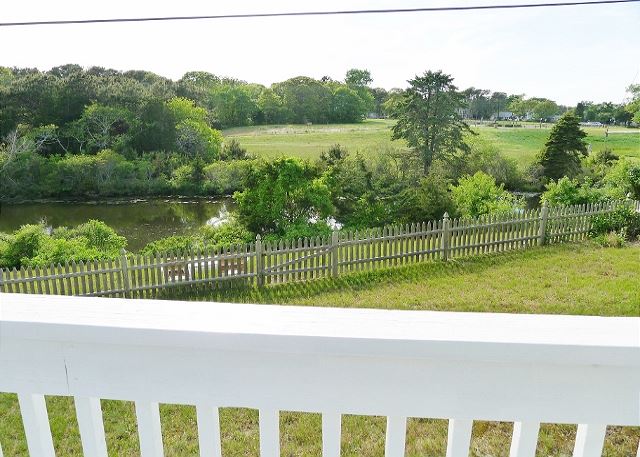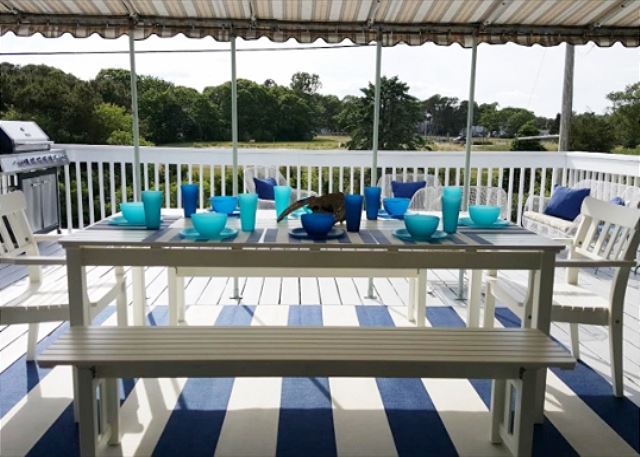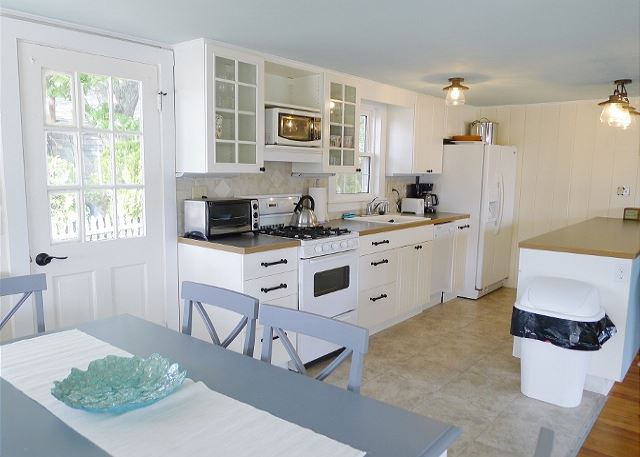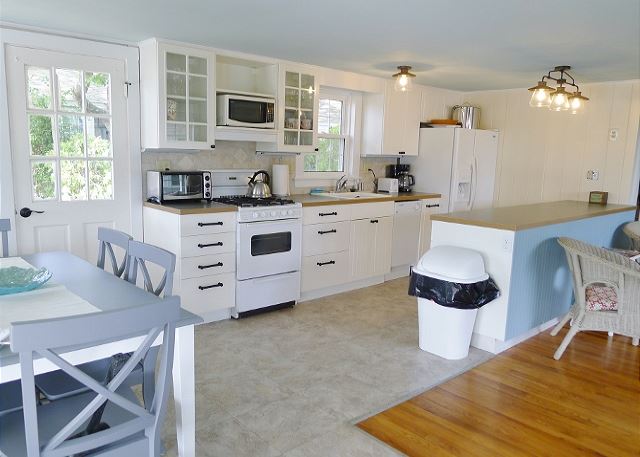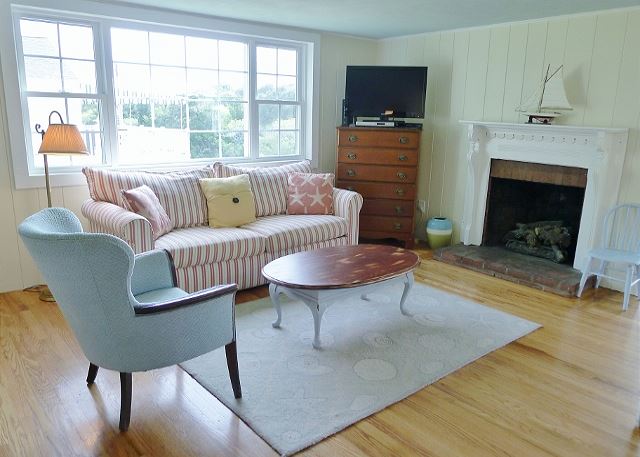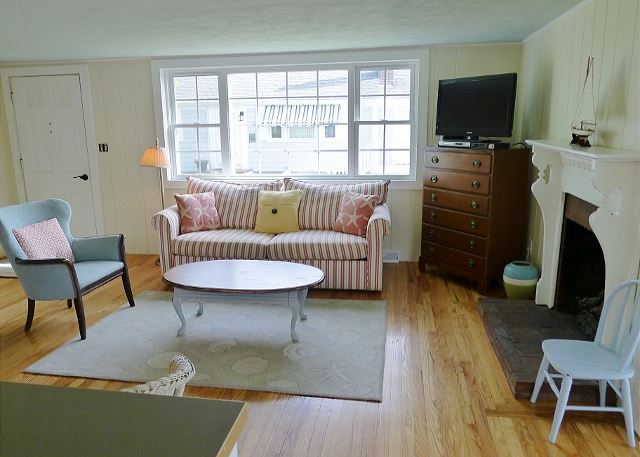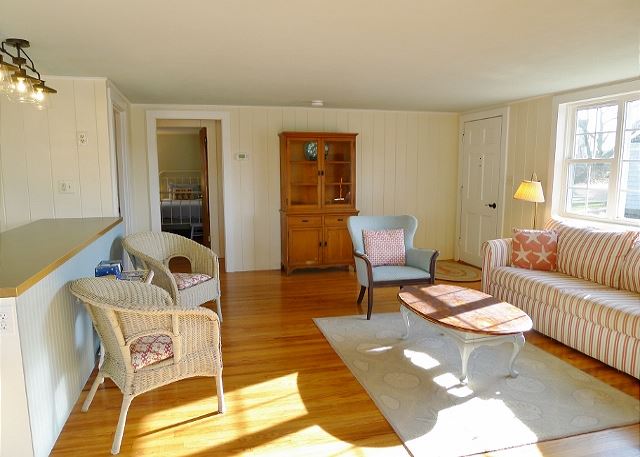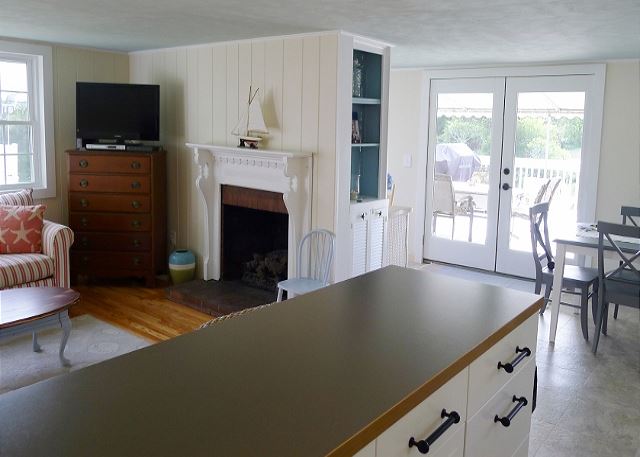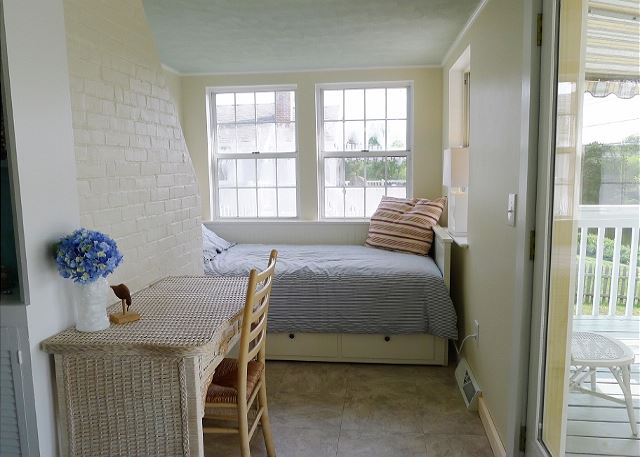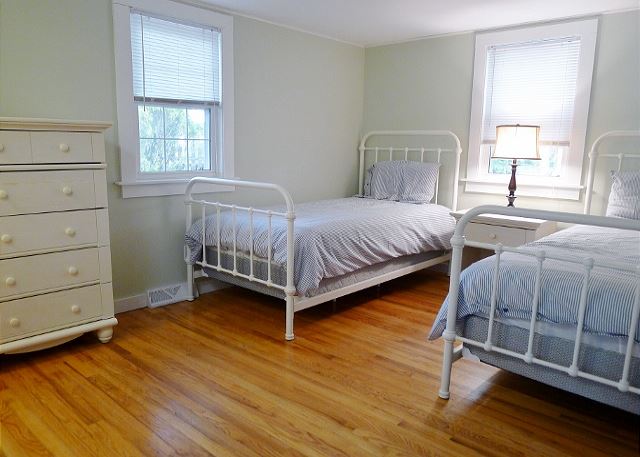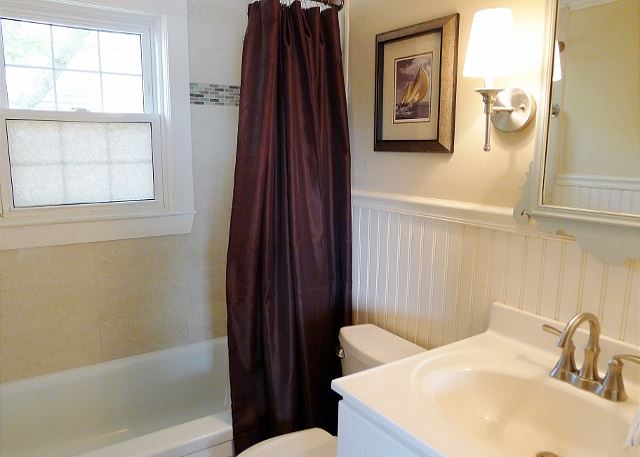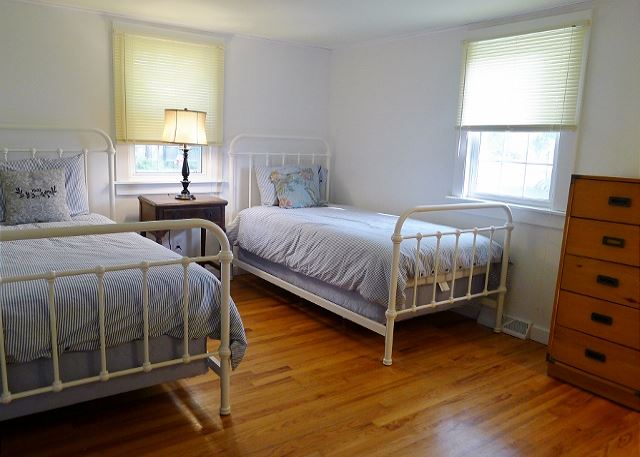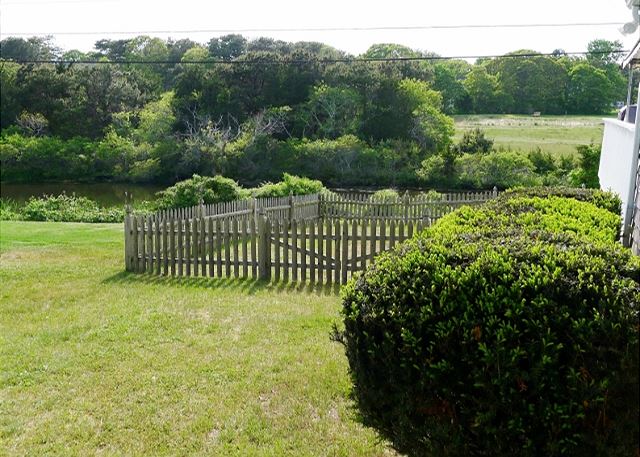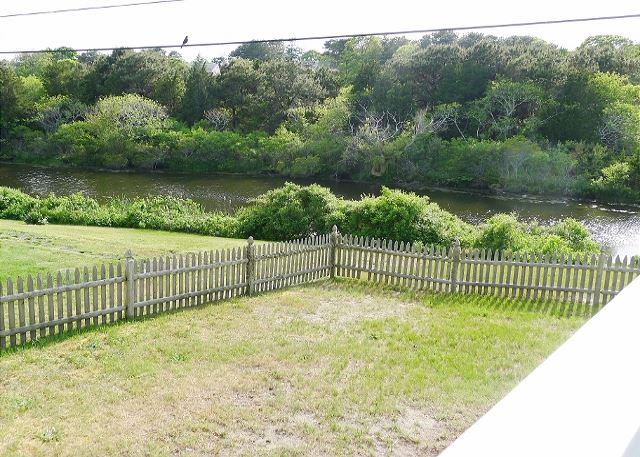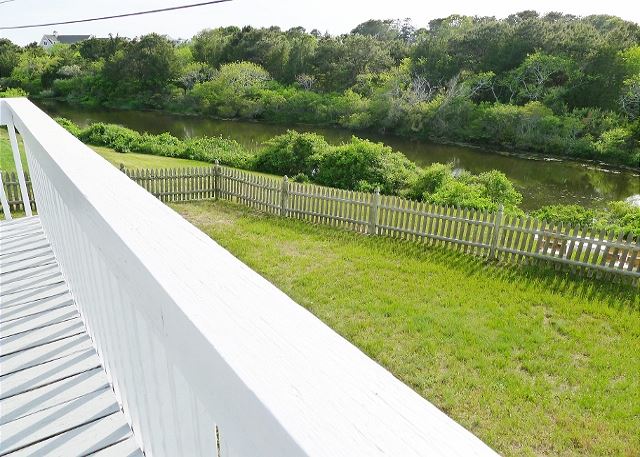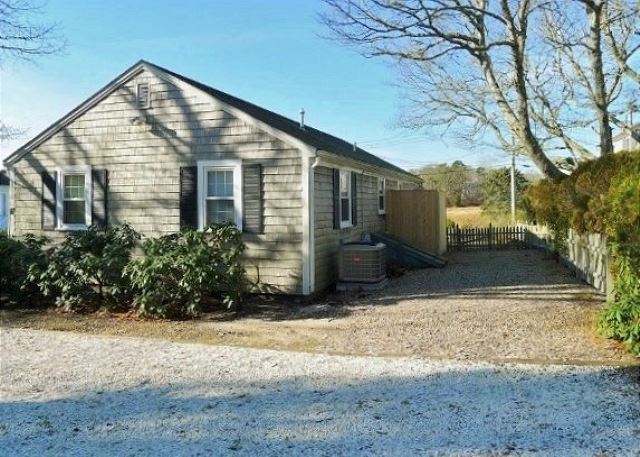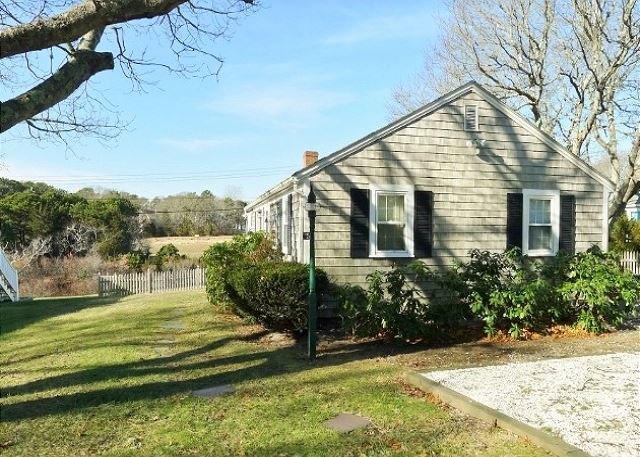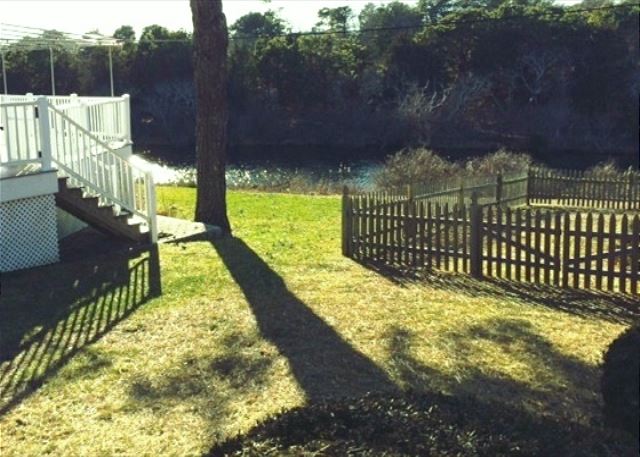 ---
Bedroom(s): 2.5
Bathroom(s): 1
Sleeps: 7
Type: House
Area:
Town: Dennis Port
Price Range $1550-$1850

Walk to the beach in 5 minutes from this charming 2+ bedroom/1 bath cottage in Dennis Port with Central Air! Dog friendly!

You will be overjoyed by this beautifully renovated cottage. Inside, it features an open kitchen/dining/living area that is vacation-comfortable with a modern edge. The IKEA kitchen, which includes toaster and toaster oven, coffee maker, blender, lobster pot (of course), dishwasher microwave, and ice-maker, keeps the fully stocked wares (dishes, glasses, utensils, pots) organized and in plain view when necessary.

To the left of the kitchen is a dining table and chairs that can accommodate 7 guests. It is a luminous space adjacent to french doors to the deck, perfect for starting or ending any day. There is even a daybed tucked into a roomy nook nearby for those who want to sleep to the sound of the river below.

The kitchen fronts the living space. This room has a full sleeper sofa and chairs facing a 40 inch flat screen TV with DVD player, Comcast cable stations, AM/FM stereo and CD player.

The bath features lovely wainscoting and tub/shower combination.

Two bedrooms, identical in size, are located at the rear of the home, each featuring a set of twins. In one bedroom, the twins can be turned into a king with a bed converter.

This one floor cottage has an abundance of recent additions, improvements, and unusual features inside and out. These include:

Outside: The 20x22 deck featuring a gas grill with a retractable awning to sit or dine outdoors in sun or shade; The deck overlooks a fenced in yard and a winding river. On the other side is Sea View Park, a great spot for kids, adults, and dogs!

Inside: Freshly painted top to bottom; new furnishings, including beds and bedding; recently installed French doors leading from the dining area to the deck; and a brand new washer and dryer stationed in the hallway enclosure between the bedrooms.

Perhaps best of all, this sweet retreat with Central Air is under 2/10ths of a mile to Cliff Metcalf Memorial beach off Chase Avenue on Nantucket Sound!

Also included: WiFi, enclosed outdoor shower, two room fans, and space for 4 cars in driveway.

Sorry no smoking allowed.

7 guests maximum allowed at any time. No parties allowed.

LINENS (SHEETS/TOWELS) ARE NOT INCLUDED IN THIS RENTAL.

Booking fee for this rental is $275 ($375 with pet). NOTE: If you are not bringing a dog with you, please notify us and we will credit your charge accordingly.

Travel Insurance is highly recommended and affordable coverage to protect your vacation investment.

For more information about this property or our other vacation rentals call us at or toll free at and ask for property ID # or visit

Please view our policy and procedure page on our web site for detailed information about renting with us.
- pets considered
- DVD Player
- Basic Cable
- Fireplace
- Sleep Sofa
- Iron/Ironing Board
- CD Player
- Central A/C
- Sterep
- Pantry items (sugar, salt & pep)
- Cleaning Supplies
- Cookware
- Dishes / Glassware / Utensils
- Toaster or Toaster Oven
- Dining Table
- Room Fans
- Hair Dryer
- Tub/Shower Combo
- Washer & Dryer
- Deck
- Enclosed/Fenced yard
- Gas Grill with Propane Tank
- Gas Grill (Natural Gas)
- Dining Table w/o Umbrella
- Enclosed Outdoor Shower
- Outdoor Lighting
- Near Cape Cod Bay Beaches
- Near River
- Walk to Beach
- near park
- Yes
- DOG
- Pet Considered
Guest Reviews of
25 caleb Dennis Port , MA
First time on the Cape!
this property was exactly as portrayed by the posted photographs.Our vacation was blessed as we discovered new and beautiful attractive features of the house, the location, the surrounding area. The rental agents Sandy O and Melissa are invaluable assets.Go see the whales,seals, bass river, take the dinner train ride, sun rise and sun sets, cook lobsters at home and eat on the deck with clams!
5 out of 5 stars
Charming but needs improvements and to be cleaned
The house is small but charming. It is located in a quiet area and not too far from the beach. It has been somewhat renovated. However, the house was not clean when we got there and although we informed the managers as soon as we got there, nothing was done to clean it. We ended up solving the issue after numerous emails and phone calls. It made our stay much less pleasant that it could have been.
2 out of 5 stars
Dennisport cottage
Review by
Barbara G.
We LOVED this cottage. We were worried it would feel too small but the incredible deck provided extra living space. The location couldn't be better as you could walk to beautiful beaches on the Sound. Only recommendation is for more window shades/coverings so that when someone sleeps in the alcove they can sleep past the sunrise. But this cottage exemplifies"easy living". It's great.
5 out of 5 stars
Quaint and Charming Cape Cod getaway!
We did have a wonderful time. Location was perfect and plenty of room. New kitchen, windows and wonderful outdoor shower. Huge deck overlooking river and fenced in yard. We really enjoyed it. Just a couple of negative comments. Not sure if owners clean the house or have someone come in. You may want to hire someone new. Bedrooms looked like they were not cleaned thoroughly as found some dust, sand, cobwebs etc. Rugs were worn out in the living room and there wasn't any info regarding if power loss, something breaks down, wifi etc. I only say this as we have rented houses before and usually find info on the house. Otherwise not a big problem. It really was perfect as far as location. The 2/10 of a mile felt less than that. Some of the amenities were wonderful. Overall clean except those few things. The central A/C was great to have after a hot day at the beach. Plenty of space and the yard is such a great addition especially if you have children. Thank you for sharing your home!
4 out of 5 stars
May 2017

| S | M | T | W | T | F | S |
| --- | --- | --- | --- | --- | --- | --- |
| | 01 | 02 | 03 | 04 | 05 | 06 |
| 07 | 08 | 09 | 10 | 11 | 12 | 13 |
| 14 | 15 | 16 | 17 | 18 | 19 | 20 |
| 21 | 22 | 23 | 24 | 25 | 26 | 27 |
| 28 | 29 | 30 | 31 | | | |
June 2017

| S | M | T | W | T | F | S |
| --- | --- | --- | --- | --- | --- | --- |
| | | | | 01 | 02 | 03 |
| 04 | 05 | 06 | 07 | 08 | 09 | 10 |
| 11 | 12 | 13 | 14 | 15 | 16 | 17 |
| 18 | 19 | 20 | 21 | 22 | 23 | 24 |
| 25 | 26 | 27 | 28 | 29 | 30 | |
July 2017

| S | M | T | W | T | F | S |
| --- | --- | --- | --- | --- | --- | --- |
| | | | | | | 01 |
| 02 | 03 | 04 | 05 | 06 | 07 | 08 |
| 09 | 10 | 11 | 12 | 13 | 14 | 15 |
| 16 | 17 | 18 | 19 | 20 | 21 | 22 |
| 23 | 24 | 25 | 26 | 27 | 28 | 29 |
| 30 | 31 | | | | | |
August 2017

| S | M | T | W | T | F | S |
| --- | --- | --- | --- | --- | --- | --- |
| | | 01 | 02 | 03 | 04 | 05 |
| 06 | 07 | 08 | 09 | 10 | 11 | 12 |
| 13 | 14 | 15 | 16 | 17 | 18 | 19 |
| 20 | 21 | 22 | 23 | 24 | 25 | 26 |
| 27 | 28 | 29 | 30 | 31 | | |
September 2017

| S | M | T | W | T | F | S |
| --- | --- | --- | --- | --- | --- | --- |
| | | | | | 01 | 02 |
| 03 | 04 | 05 | 06 | 07 | 08 | 09 |
| 10 | 11 | 12 | 13 | 14 | 15 | 16 |
| 17 | 18 | 19 | 20 | 21 | 22 | 23 |
| 24 | 25 | 26 | 27 | 28 | 29 | 30 |
October 2017

| S | M | T | W | T | F | S |
| --- | --- | --- | --- | --- | --- | --- |
| 01 | 02 | 03 | 04 | 05 | 06 | 07 |
| 08 | 09 | 10 | 11 | 12 | 13 | 14 |
| 15 | 16 | 17 | 18 | 19 | 20 | 21 |
| 22 | 23 | 24 | 25 | 26 | 27 | 28 |
| 29 | 30 | 31 | | | | |
November 2017

| S | M | T | W | T | F | S |
| --- | --- | --- | --- | --- | --- | --- |
| | | | 01 | 02 | 03 | 04 |
| 05 | 06 | 07 | 08 | 09 | 10 | 11 |
| 12 | 13 | 14 | 15 | 16 | 17 | 18 |
| 19 | 20 | 21 | 22 | 23 | 24 | 25 |
| 26 | 27 | 28 | 29 | 30 | | |
December 2017

| S | M | T | W | T | F | S |
| --- | --- | --- | --- | --- | --- | --- |
| | | | | | 01 | 02 |
| 03 | 04 | 05 | 06 | 07 | 08 | 09 |
| 10 | 11 | 12 | 13 | 14 | 15 | 16 |
| 17 | 18 | 19 | 20 | 21 | 22 | 23 |
| 24 | 25 | 26 | 27 | 28 | 29 | 30 |
| 31 | | | | | | |
January 2018

| S | M | T | W | T | F | S |
| --- | --- | --- | --- | --- | --- | --- |
| | 01 | 02 | 03 | 04 | 05 | 06 |
| 07 | 08 | 09 | 10 | 11 | 12 | 13 |
| 14 | 15 | 16 | 17 | 18 | 19 | 20 |
| 21 | 22 | 23 | 24 | 25 | 26 | 27 |
| 28 | 29 | 30 | 31 | | | |
February 2018

| S | M | T | W | T | F | S |
| --- | --- | --- | --- | --- | --- | --- |
| | | | | 01 | 02 | 03 |
| 04 | 05 | 06 | 07 | 08 | 09 | 10 |
| 11 | 12 | 13 | 14 | 15 | 16 | 17 |
| 18 | 19 | 20 | 21 | 22 | 23 | 24 |
| 25 | 26 | 27 | 28 | | | |
March 2018

| S | M | T | W | T | F | S |
| --- | --- | --- | --- | --- | --- | --- |
| | | | | 01 | 02 | 03 |
| 04 | 05 | 06 | 07 | 08 | 09 | 10 |
| 11 | 12 | 13 | 14 | 15 | 16 | 17 |
| 18 | 19 | 20 | 21 | 22 | 23 | 24 |
| 25 | 26 | 27 | 28 | 29 | 30 | 31 |
April 2018

| S | M | T | W | T | F | S |
| --- | --- | --- | --- | --- | --- | --- |
| 01 | 02 | 03 | 04 | 05 | 06 | 07 |
| 08 | 09 | 10 | 11 | 12 | 13 | 14 |
| 15 | 16 | 17 | 18 | 19 | 20 | 21 |
| 22 | 23 | 24 | 25 | 26 | 27 | 28 |
| 29 | 30 | | | | | |
May 2018

| S | M | T | W | T | F | S |
| --- | --- | --- | --- | --- | --- | --- |
| | | 01 | 02 | 03 | 04 | 05 |
| 06 | 07 | 08 | 09 | 10 | 11 | 12 |
| 13 | 14 | 15 | 16 | 17 | 18 | 19 |
| 20 | 21 | 22 | 23 | 24 | 25 | 26 |
| 27 | 28 | 29 | 30 | 31 | | |
Available
Unavailable
Sat to Sat booking