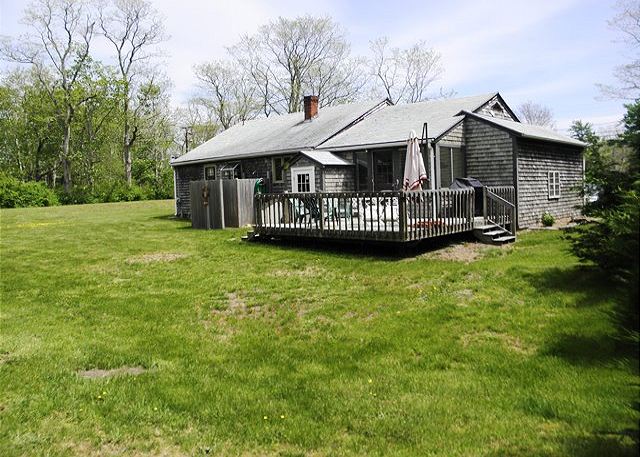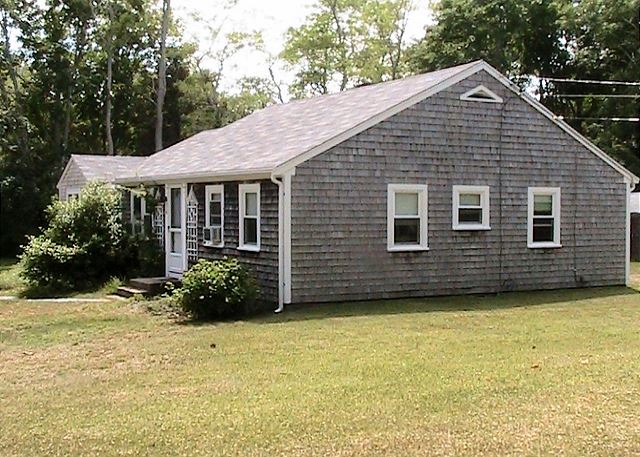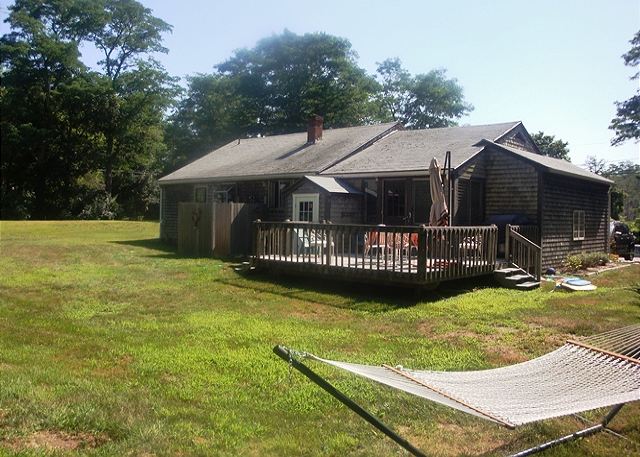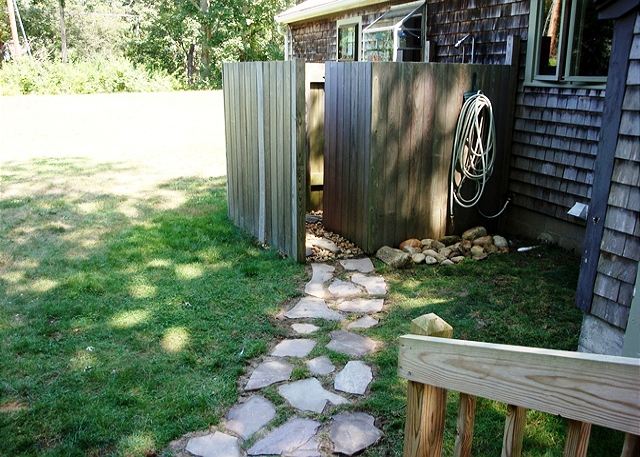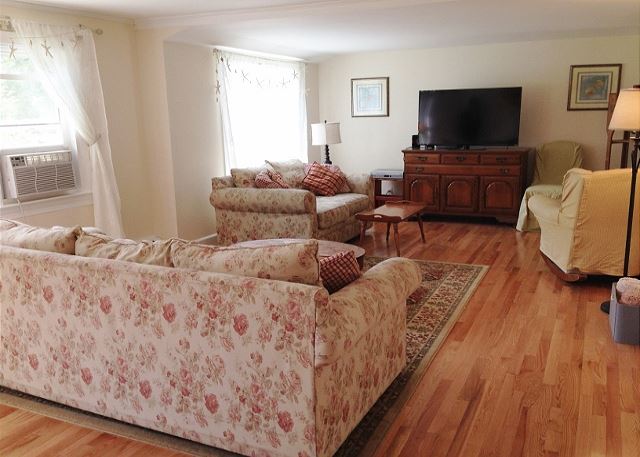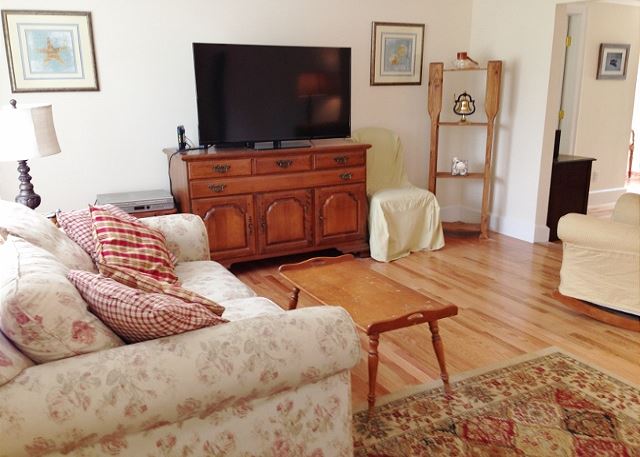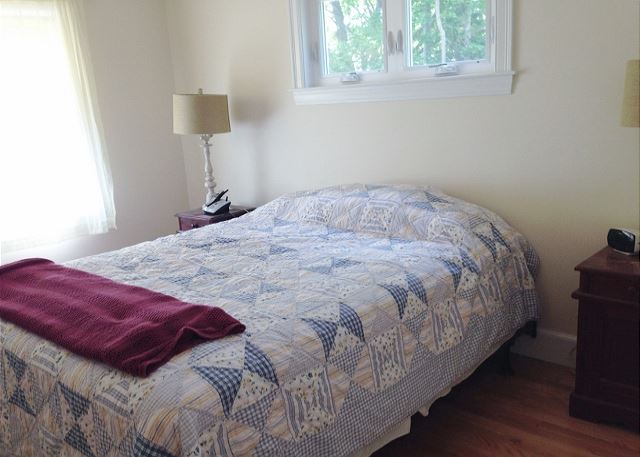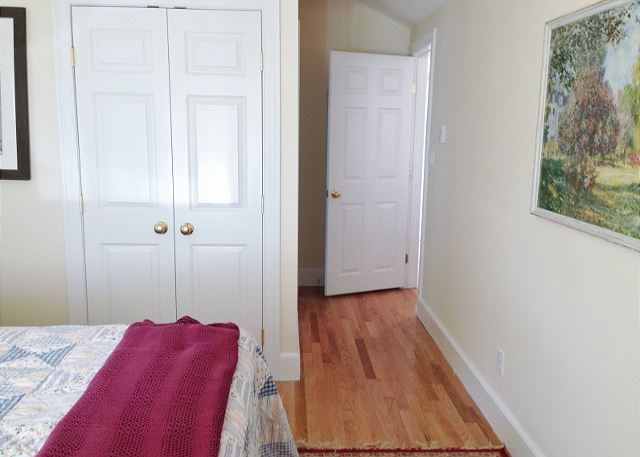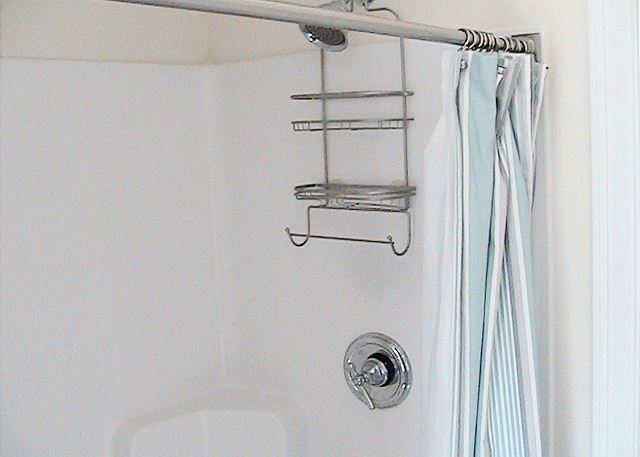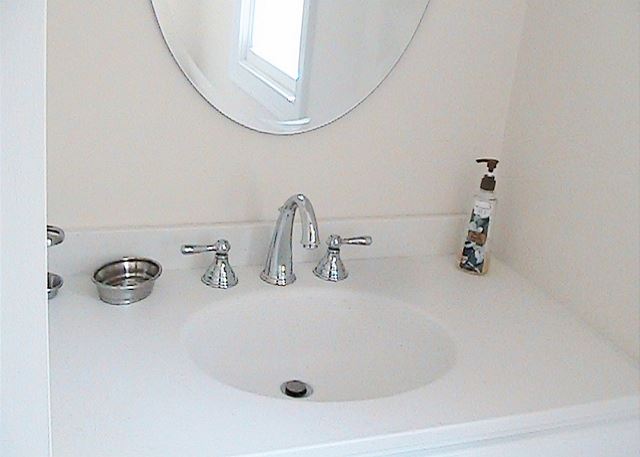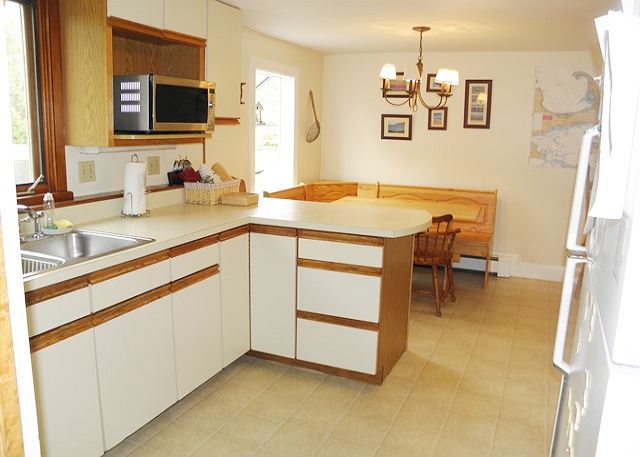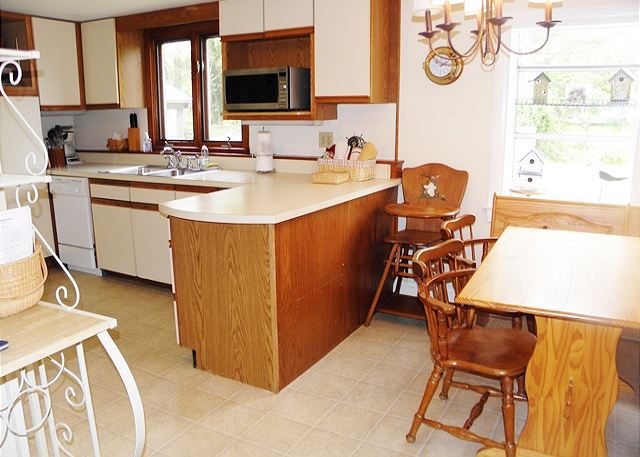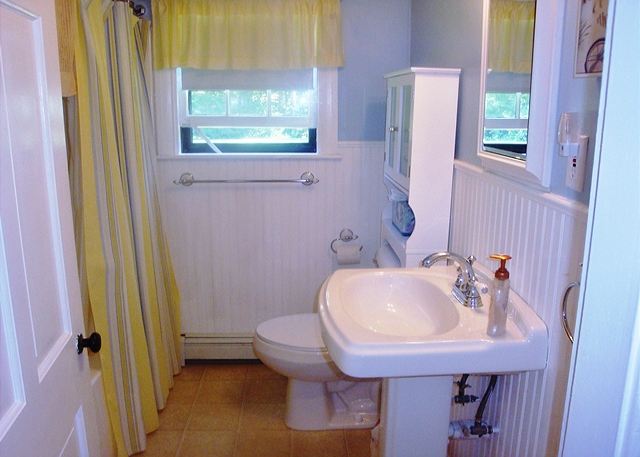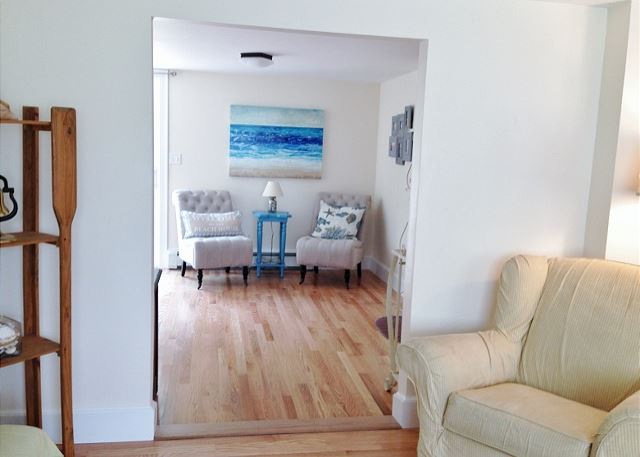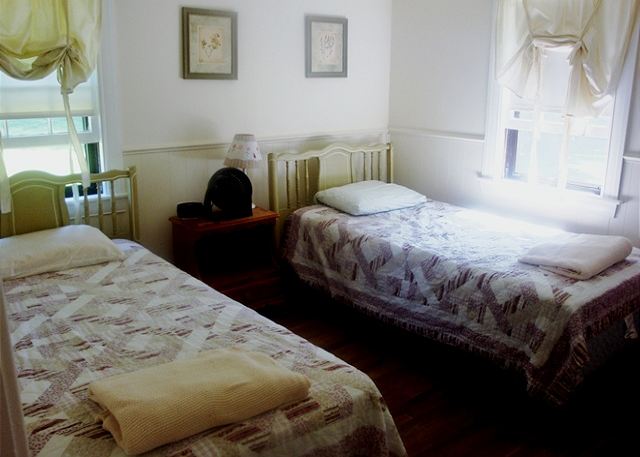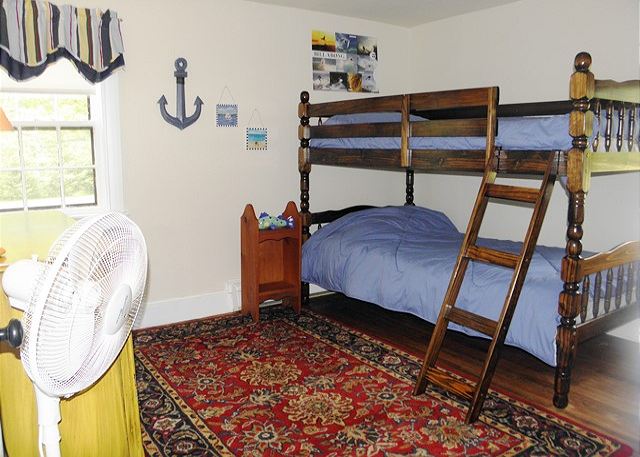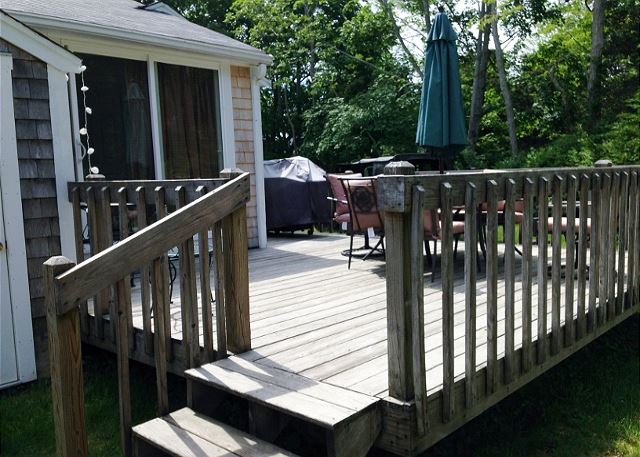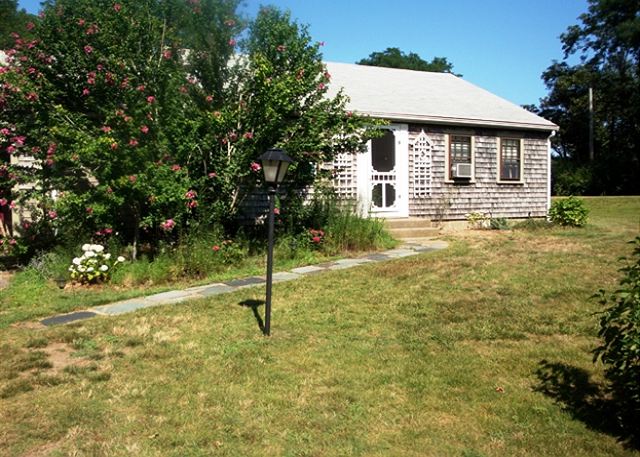 ---
Bedroom(s): 3
Bathroom(s): 2
Sleeps: 8
Type: Cottage
Area:
Town: Orleans
Price Range $1500-$2100

New Bedroom suite, recently expanded living room, Flat screen TV's and 2nd bath!

This quaint 3 bedroom, 2 full bathroom Cape Cod Vacation Cottage is located on a spacious corner lot located just 3/10 of a mile from beautiful Skaket Beach in Orleans.

Enter into cheerful living room, here you will find sofa seating, including a sleep sofa, Flat screen TV & DVD player with Comcast TV channels, and window A/C unit.

Through the living room you will find a sunny eat in kitchen that is fully outfitted and includes, dishwasher, microwave, new fridge, coffee maker, toaster, lobster pot and dining table for up to 8 guests.

Located on the left end of the home, is a great bedroom suite, with a Queen size bed, Flat screen TV & DVD player, window A/C unit and private bath with shower.

There are two additional bedrooms of the right end of the home with a full bath. Bedroom two has a bunk bed which has a full sized bed on the bottom and twin on top, bedroom three has two twin, both of these bedroom have a window A/C unit.

There is a sun room with futon seating and café table, here you will find the door to the outside deck with dining for 8 guests, with umbrella and a gas grill. Also located just off the deck is a outdoor enclosed shower with hot & cold water, a delight after a day at the beach!

This home also includes the following: Pack and Play with crib sheets and baby blankets, stroller, high chair, bed rail, sassy seat, and a baby monitor. Full size washer and dryer is located in the basement, found via stairway from kitchen. Cooler and beach chairs are here for you to use.

Owner allows a pet dog with pre-approval noted on your lease, Pet/Guest rules apply.

8 guests maximum allowed at any time. No parties allowed.

LINENS (SHEETS/TOWELS) ARE NOT INCLUDED IN THIS RENTAL.

Booking fee for this rental is $275 ($375 with dog). NOTE: If you are not bringing a dog with you, please notify us and we will credit your charge accordingly.

Travel Insurance is highly recommended and affordable coverage to protect your vacation investment.

For more information about this property or our other vacation rentals call us at or toll free at and ask for property ID #CAPT4 or visit

Please view our policy and procedure page on our web site for detailed information about renting with us.
- pets considered
- DVD Player
- Flat Screen HDTV
- Extended Cable
- Stereo w/ CD player
- Netflix
- Sleep Sofa
- Microwave
- Drip Coffee Maker
- Pantry items (sugar, salt & pep)
- Cookware
- Dishes / Glassware / Utensils
- Kitchen Table
- Blender
- Iron
- Toaster or Toaster Oven
- Convenience Items
- Dishwasher
- Lobster Pot
- Sleep Sofa/Futon
- TV
- Window A/C
- Hair Dryer
- Deck
- Gas Grill with Propane Tank
- Dining Table w/ Umbrella
- Enclosed Outdoor Shower
- Beach Chairs
- Horse Shoes
- Close to Town
- Near Rail Trail Bike Path
- Near Cape Cod Bay Beaches
- Near National Sea Shore Beaches
- Yes
- DOG
- Pet Considered
Guest Reviews of
4 captain linnell* Orleans , MA
4 Captain Linnell
We were concerned that this was not a waterfront property, like the ones we have rented in the past. However the close proximity to a great beach and the large yard were great assets.
4 out of 5 stars
Nice House and Beaches!
Review by
Catherine A.
Thoroughly enjoyed our stay! Love the outside patio. Perfect for dinners and games. Kitchen was very well stocked as well.
4 out of 5 stars
Great Week in Orleans
Review by
James D.
We had a great week. The house was very well maintained in a perfect location near Skaket Beach. I would definitely recommend this location to others.
5 out of 5 stars
Exquisite
Review by
Jack C.
Fun / relaxing / felt like home
5 out of 5 stars
Our first family vacation
Review by
Emily W.
We loved our rental. It was a 10 minute (if that) walk to the beach. Skaket Beach is not your typical beach. It has calm waters and its never too crowded. Our yard was nice and big, which is great if you bring your dog like we did. The house was clean and was supplied with everything we needed. We already have it booked for summer of 2016.
5 out of 5 stars
May 2017

| S | M | T | W | T | F | S |
| --- | --- | --- | --- | --- | --- | --- |
| | 01 | 02 | 03 | 04 | 05 | 06 |
| 07 | 08 | 09 | 10 | 11 | 12 | 13 |
| 14 | 15 | 16 | 17 | 18 | 19 | 20 |
| 21 | 22 | 23 | 24 | 25 | 26 | 27 |
| 28 | 29 | 30 | 31 | | | |
June 2017

| S | M | T | W | T | F | S |
| --- | --- | --- | --- | --- | --- | --- |
| | | | | 01 | 02 | 03 |
| 04 | 05 | 06 | 07 | 08 | 09 | 10 |
| 11 | 12 | 13 | 14 | 15 | 16 | 17 |
| 18 | 19 | 20 | 21 | 22 | 23 | 24 |
| 25 | 26 | 27 | 28 | 29 | 30 | |
July 2017

| S | M | T | W | T | F | S |
| --- | --- | --- | --- | --- | --- | --- |
| | | | | | | 01 |
| 02 | 03 | 04 | 05 | 06 | 07 | 08 |
| 09 | 10 | 11 | 12 | 13 | 14 | 15 |
| 16 | 17 | 18 | 19 | 20 | 21 | 22 |
| 23 | 24 | 25 | 26 | 27 | 28 | 29 |
| 30 | 31 | | | | | |
August 2017

| S | M | T | W | T | F | S |
| --- | --- | --- | --- | --- | --- | --- |
| | | 01 | 02 | 03 | 04 | 05 |
| 06 | 07 | 08 | 09 | 10 | 11 | 12 |
| 13 | 14 | 15 | 16 | 17 | 18 | 19 |
| 20 | 21 | 22 | 23 | 24 | 25 | 26 |
| 27 | 28 | 29 | 30 | 31 | | |
September 2017

| S | M | T | W | T | F | S |
| --- | --- | --- | --- | --- | --- | --- |
| | | | | | 01 | 02 |
| 03 | 04 | 05 | 06 | 07 | 08 | 09 |
| 10 | 11 | 12 | 13 | 14 | 15 | 16 |
| 17 | 18 | 19 | 20 | 21 | 22 | 23 |
| 24 | 25 | 26 | 27 | 28 | 29 | 30 |
October 2017

| S | M | T | W | T | F | S |
| --- | --- | --- | --- | --- | --- | --- |
| 01 | 02 | 03 | 04 | 05 | 06 | 07 |
| 08 | 09 | 10 | 11 | 12 | 13 | 14 |
| 15 | 16 | 17 | 18 | 19 | 20 | 21 |
| 22 | 23 | 24 | 25 | 26 | 27 | 28 |
| 29 | 30 | 31 | | | | |
November 2017

| S | M | T | W | T | F | S |
| --- | --- | --- | --- | --- | --- | --- |
| | | | 01 | 02 | 03 | 04 |
| 05 | 06 | 07 | 08 | 09 | 10 | 11 |
| 12 | 13 | 14 | 15 | 16 | 17 | 18 |
| 19 | 20 | 21 | 22 | 23 | 24 | 25 |
| 26 | 27 | 28 | 29 | 30 | | |
December 2017

| S | M | T | W | T | F | S |
| --- | --- | --- | --- | --- | --- | --- |
| | | | | | 01 | 02 |
| 03 | 04 | 05 | 06 | 07 | 08 | 09 |
| 10 | 11 | 12 | 13 | 14 | 15 | 16 |
| 17 | 18 | 19 | 20 | 21 | 22 | 23 |
| 24 | 25 | 26 | 27 | 28 | 29 | 30 |
| 31 | | | | | | |
January 2018

| S | M | T | W | T | F | S |
| --- | --- | --- | --- | --- | --- | --- |
| | 01 | 02 | 03 | 04 | 05 | 06 |
| 07 | 08 | 09 | 10 | 11 | 12 | 13 |
| 14 | 15 | 16 | 17 | 18 | 19 | 20 |
| 21 | 22 | 23 | 24 | 25 | 26 | 27 |
| 28 | 29 | 30 | 31 | | | |
February 2018

| S | M | T | W | T | F | S |
| --- | --- | --- | --- | --- | --- | --- |
| | | | | 01 | 02 | 03 |
| 04 | 05 | 06 | 07 | 08 | 09 | 10 |
| 11 | 12 | 13 | 14 | 15 | 16 | 17 |
| 18 | 19 | 20 | 21 | 22 | 23 | 24 |
| 25 | 26 | 27 | 28 | | | |
March 2018

| S | M | T | W | T | F | S |
| --- | --- | --- | --- | --- | --- | --- |
| | | | | 01 | 02 | 03 |
| 04 | 05 | 06 | 07 | 08 | 09 | 10 |
| 11 | 12 | 13 | 14 | 15 | 16 | 17 |
| 18 | 19 | 20 | 21 | 22 | 23 | 24 |
| 25 | 26 | 27 | 28 | 29 | 30 | 31 |
April 2018

| S | M | T | W | T | F | S |
| --- | --- | --- | --- | --- | --- | --- |
| 01 | 02 | 03 | 04 | 05 | 06 | 07 |
| 08 | 09 | 10 | 11 | 12 | 13 | 14 |
| 15 | 16 | 17 | 18 | 19 | 20 | 21 |
| 22 | 23 | 24 | 25 | 26 | 27 | 28 |
| 29 | 30 | | | | | |
May 2018

| S | M | T | W | T | F | S |
| --- | --- | --- | --- | --- | --- | --- |
| | | 01 | 02 | 03 | 04 | 05 |
| 06 | 07 | 08 | 09 | 10 | 11 | 12 |
| 13 | 14 | 15 | 16 | 17 | 18 | 19 |
| 20 | 21 | 22 | 23 | 24 | 25 | 26 |
| 27 | 28 | 29 | 30 | 31 | | |
Available
Unavailable
Sat to Sat booking