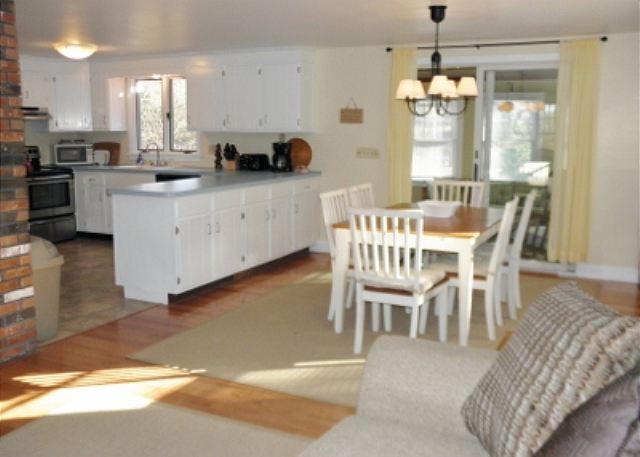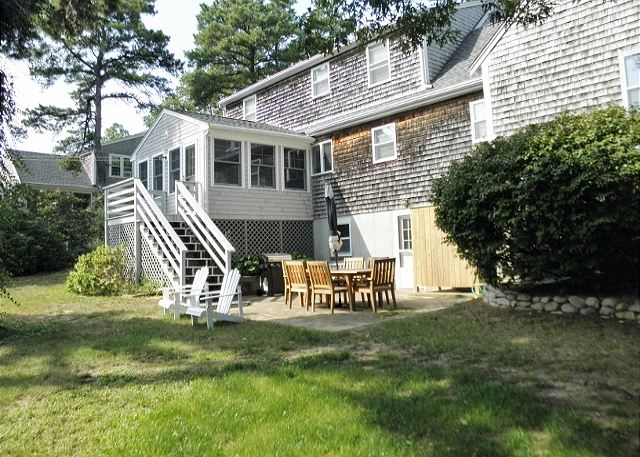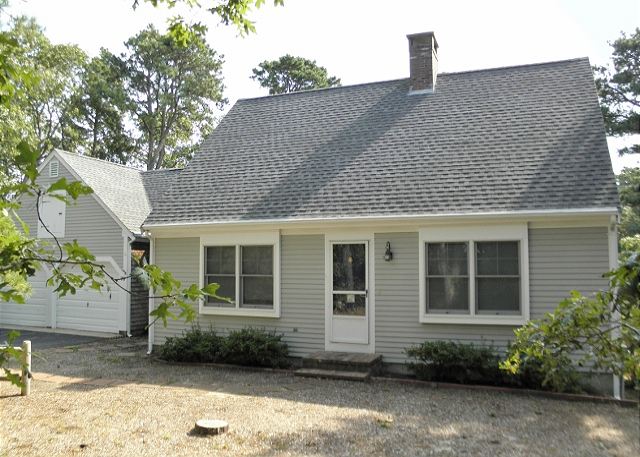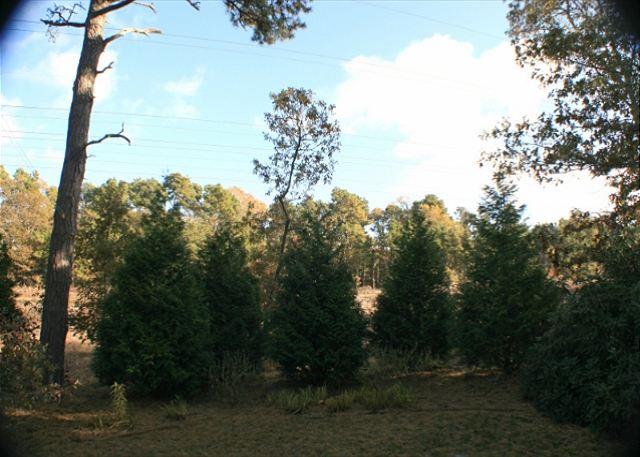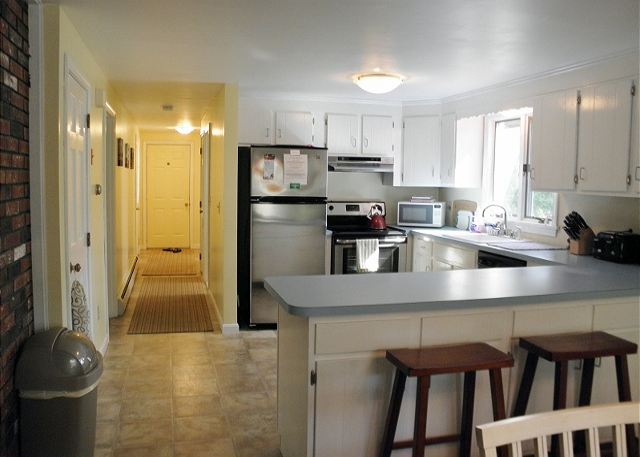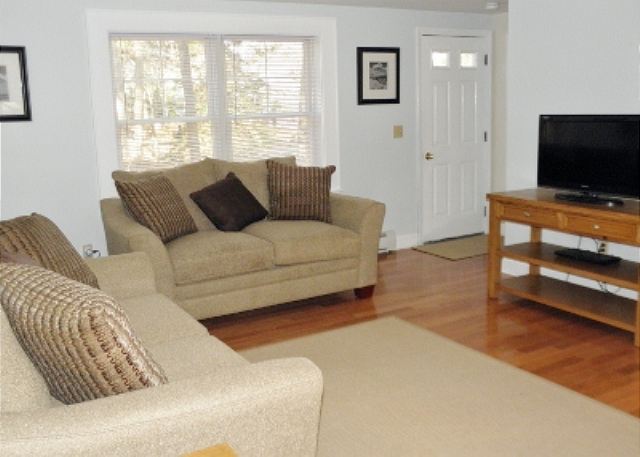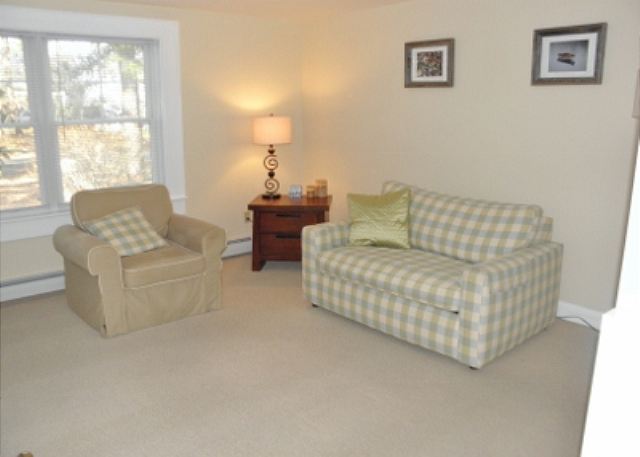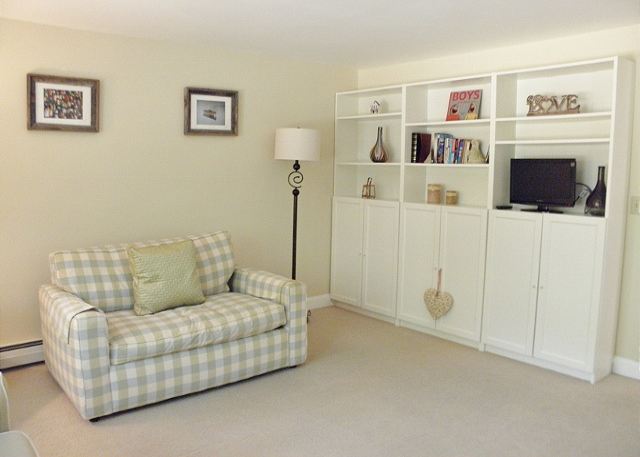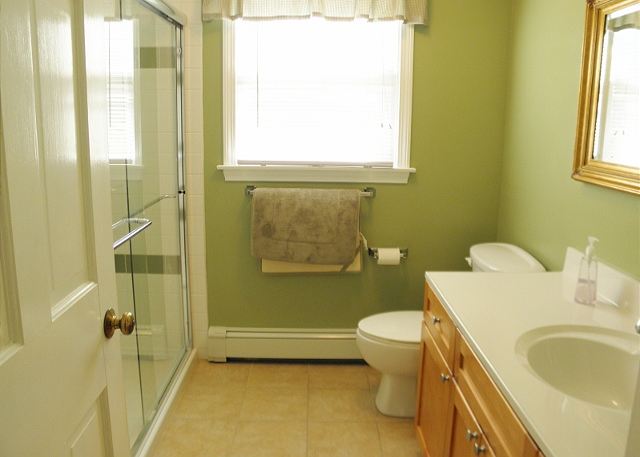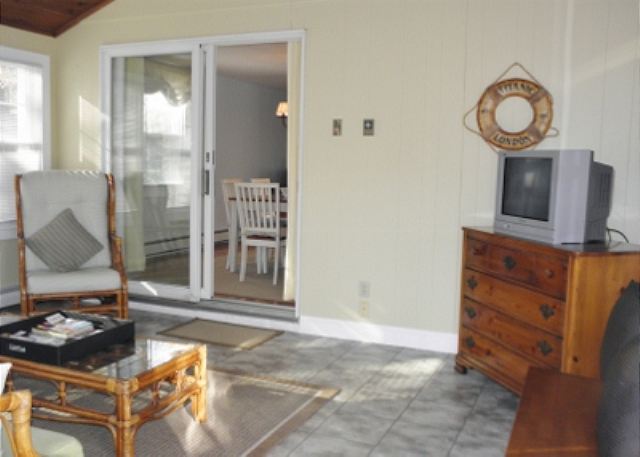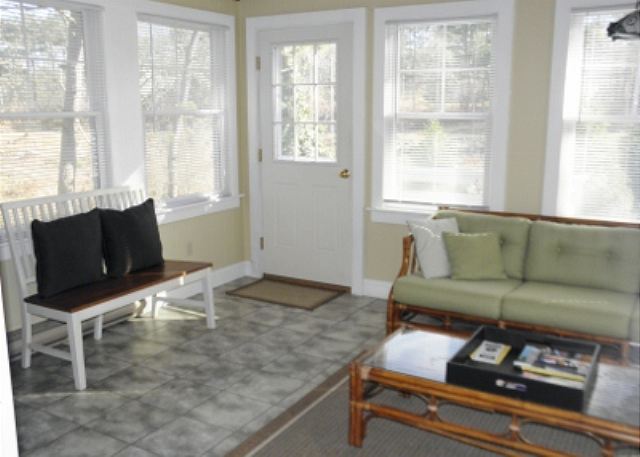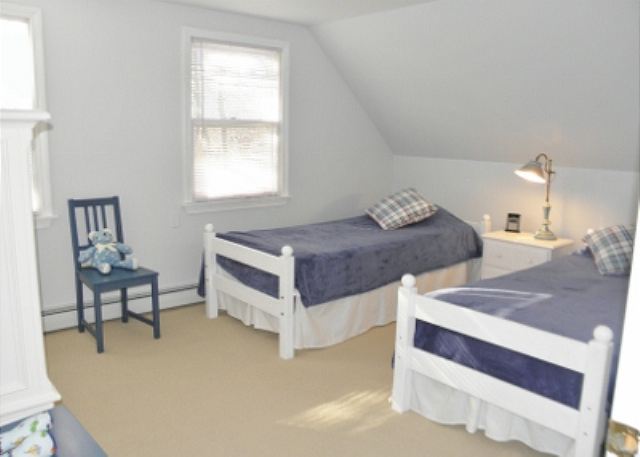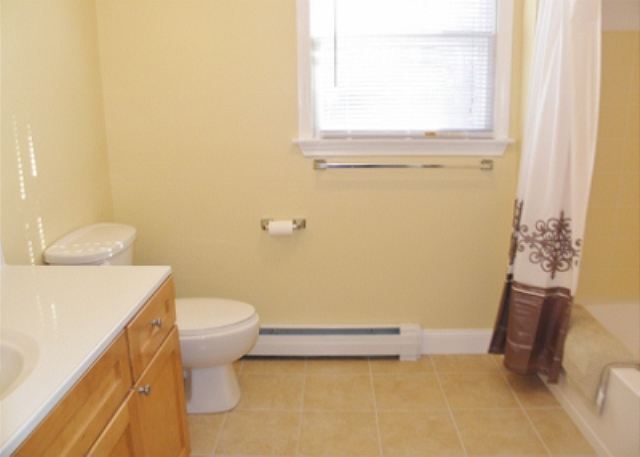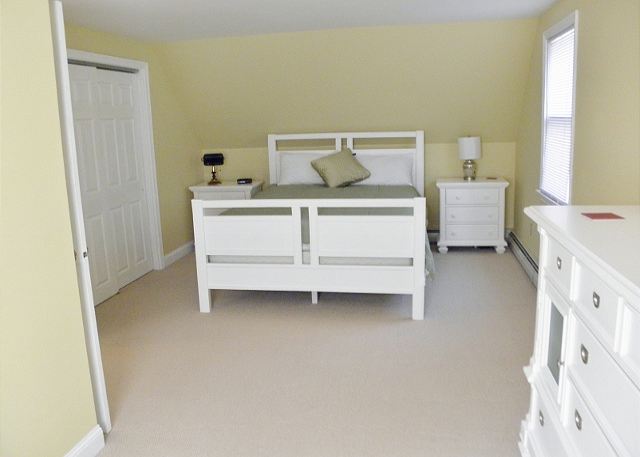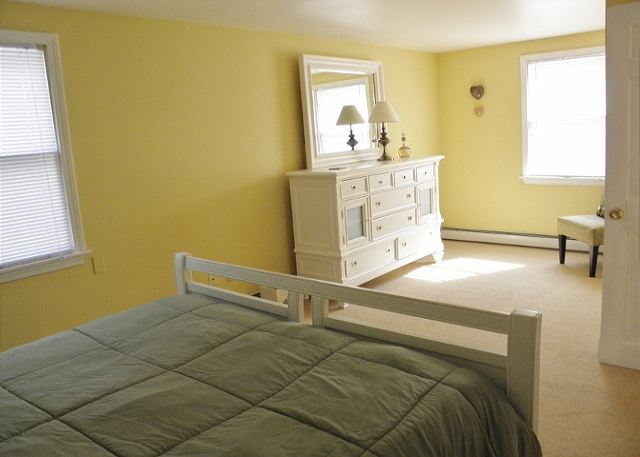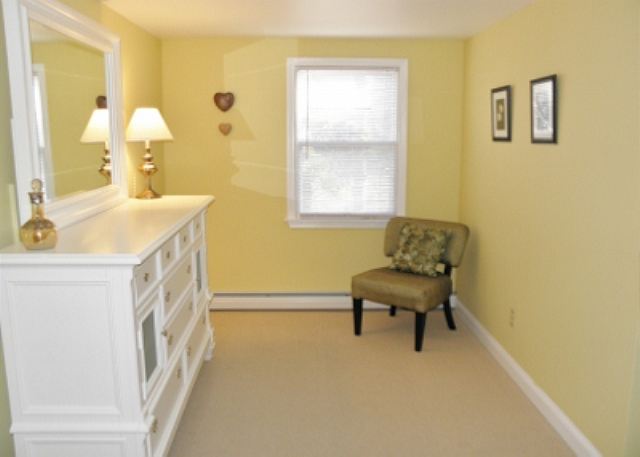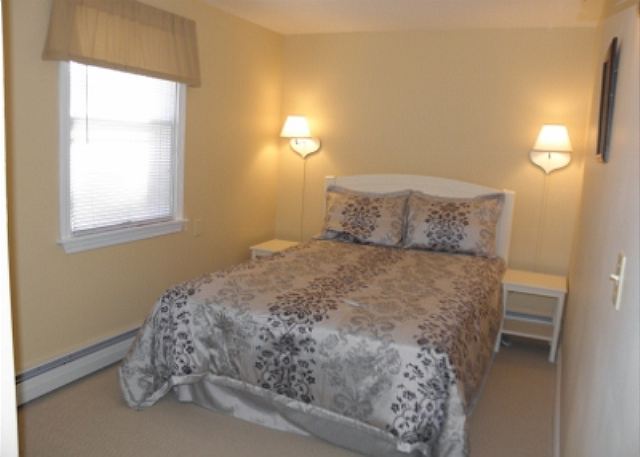 ---
Bedroom(s): 3
Bathroom(s): 2.5
Sleeps: 7
Type: House
Area:
Town: Brewster
Price Range $1445-$2195

Rates include all charges; no hidden fees!

Happily located in a pleasant neighborhood, just minutes in from Route 6A, near the Brewster Sea Camps, Nickerson State park, and Cape Cod bike trail path access. Also, handy to Flax Pond and Linnell Landing Beach for swimming and summer time fun at its best!

This home is a wonderful Cape Style Brewster home with 3 bedrooms and 2.5 bathrooms. This home has all up-to-date furnishings and a 40" flat screen TV!

Entering via the driveway porch entrance, you will find soft colors on the walls, tile and wood flooring leading you through to open style kitchen, dining, and living room area. Fully equipped kitchen features, stainless steel appliances, dishwasher, microwave, coffee maker, toaster, and a good supply of most cooking and dining utensils. From the dining area, the patio doors lead you into the inviting sun room with sitting area with a new tv, ceiling fan, and views of the rear yard and open space behind the home. Stairs from the sun room lead down to the yard with a brick patio outdoor dining area and enclosed shower.

Also on the first floor is a comfortable living room with flat screen 40" TV & Blu-ray player that streams Netflix for free movies. There is a den with twin size sleeper sofa, sitting area, new TV, and book nook. Across hall from den is a full bathroom with glass enclosed shower and beyond this is a half bath with laundry room handily located near the entry way.

Follow stairs to the second floor, there are 3 bedrooms and additional full tiled bathroom with shower/tub combination. Here you will find a Queen bedroom with sitting/dressing area, a bedroom with a full size bed and wall sconce lighting, and the 3rd bedroom has two twin beds. Wi-Fi internet access, and expanded Comcast Cable. There are 4-window a/c units, one in the living room and one in each of the bedrooms.

Sorry no pets and no smoking allowed.

LINENS (SHEETS/TOWELS) ARE NOT INCLUDED IN THIS RENTAL.

7 guests maximum allowed at any time. No parties exceeding the occupancy limit allowed.

Travel Insurance is highly recommended and affordable coverage to protect your vacation investment.

Please view our policy and procedure page on our web site for detailed information about renting with us.
- Air Conditioning
- DVD Player
- Flat Screen HDTV
- Extended Cable
- Basic Cable
- IPod docking station
- Netflix
- A/C Unit
- AM/FM Radio
- Washer & Dryer
- Microwave
- Drip Coffee Maker
- Cleaning Supplies
- Cookware
- Dishes / Glassware / Utensils
- Kitchen Table
- Blender
- Iron
- Toaster or Toaster Oven
- Dishwasher
- Laundry
- washer & dryer, detergent
- Dining Table
- TV
- Sleep Sofa/Futon
- DVD Player
- Ceiling fan
- Window A/C
- Washer & Dryer
- Deck
- Patio
- Gas Grill with Propane Tank
- Enclosed Outdoor Shower
- Beach Chairs
- Beach Cooler
- Near Rail Trail Bike Path
Guest Reviews of
78 somerset Brewster , MA
Great house
Review by
JoAnn B.
Always love coming to the cape and this house was beautiful and conveniently located.
5 out of 5 stars
A house with all detailed equipments
The house was very clean, quite spacious, and in a very good neighborhood. We were also amazed how well it was equipped.
5 out of 5 stars
Great house in a great location
The house had everything that we could want: Lots of room for the whole family (and in-laws!) to relax--together or separately. The house was well stocked with pots/pans/games/toys/tv/etc., just remember to bring your own linens! My 2-year old daughter particularly liked finding hidden toys and books around the house to play with. The house has old bones (for instance: the toilets whined a bit when flushed), but it has been recently updated, and was perfectly comfortable for a week-long stay. A couple of the light bulbs were burnt out when we first got to the house, but the management company quickly replied and came by to replace them. The house was very convenient to beaches and bike paths (walkable/bikeable), and bikeable or just a short drive from Orleans and Chatham towns with grocery stores, restaurants, and great beaches. It's a little far from Provincetown, but made for a nice day trip on one of the days. Overall this house was wonderful, and I would consider staying there again on my next trip to the Cape.
5 out of 5 stars
Clean, spacious, relaxing, and well-equipped
We chose this house mainly for its location and proximity to the rail trail but found so much more to appreciate in it. The house is in a quiet neighborhood close to the rail trail, bike rentals, 6A, Nickerson park, and ponds with sandy beaches perfect for cooling off after biking on a hot day. Our family of four had more than enough space. The many rooms afforded everyone privacy. The beds were comfortable and the furnishings generous; the owners thoroughly anticipated a renter's needs. In addition to a washer & dryer with hand towels and detergent, there was a portable rack indoors as well as a clothesline with a pulley in the large backyard! This feature was most useful for drying our swimsuits and towels. Many additional items, including coffee filters and dishwashing liquid, were supplied. The iPhone charging stations were an added convenience. We didn't use the grill or outdoor shower, but the latter looked nice and had a dressing area with hooks. Air conditioners and fans kept us cool. Netflix, books, and board games offered many entertainment options. The owners were accessible by email and answered a question of ours immediately. The only negatives were minor: a lack of curbside recycling and slightly inadequate lighting over the kitchen counter and on the bedside tables (we like to read in bed). But overall we were thrilled with the place, and will gladly consider staying there again.
5 out of 5 stars
Perfect location in Brewster
Review by
Rebeca M.
We love Brewster and this was a great location-- 1 mile walk to the beach, easy access to the rail trail without having to get on a major road, close to Nickerson and walking distance to Coby's. The home was comfortable and clean. Highly recommend it.
5 out of 5 stars
Brewster house
Review by
Irena W.
Very comfortable
5 out of 5 stars
Visiting from UK
Review by
Rod W.
Excellent house with all amenities thought of.
4 out of 5 stars
September 2017

| S | M | T | W | T | F | S |
| --- | --- | --- | --- | --- | --- | --- |
| | | | | | 01 | 02 |
| 03 | 04 | 05 | 06 | 07 | 08 | 09 |
| 10 | 11 | 12 | 13 | 14 | 15 | 16 |
| 17 | 18 | 19 | 20 | 21 | 22 | 23 |
| 24 | 25 | 26 | 27 | 28 | 29 | 30 |
October 2017

| S | M | T | W | T | F | S |
| --- | --- | --- | --- | --- | --- | --- |
| 01 | 02 | 03 | 04 | 05 | 06 | 07 |
| 08 | 09 | 10 | 11 | 12 | 13 | 14 |
| 15 | 16 | 17 | 18 | 19 | 20 | 21 |
| 22 | 23 | 24 | 25 | 26 | 27 | 28 |
| 29 | 30 | 31 | | | | |
November 2017

| S | M | T | W | T | F | S |
| --- | --- | --- | --- | --- | --- | --- |
| | | | 01 | 02 | 03 | 04 |
| 05 | 06 | 07 | 08 | 09 | 10 | 11 |
| 12 | 13 | 14 | 15 | 16 | 17 | 18 |
| 19 | 20 | 21 | 22 | 23 | 24 | 25 |
| 26 | 27 | 28 | 29 | 30 | | |
December 2017

| S | M | T | W | T | F | S |
| --- | --- | --- | --- | --- | --- | --- |
| | | | | | 01 | 02 |
| 03 | 04 | 05 | 06 | 07 | 08 | 09 |
| 10 | 11 | 12 | 13 | 14 | 15 | 16 |
| 17 | 18 | 19 | 20 | 21 | 22 | 23 |
| 24 | 25 | 26 | 27 | 28 | 29 | 30 |
| 31 | | | | | | |
January 2018

| S | M | T | W | T | F | S |
| --- | --- | --- | --- | --- | --- | --- |
| | 01 | 02 | 03 | 04 | 05 | 06 |
| 07 | 08 | 09 | 10 | 11 | 12 | 13 |
| 14 | 15 | 16 | 17 | 18 | 19 | 20 |
| 21 | 22 | 23 | 24 | 25 | 26 | 27 |
| 28 | 29 | 30 | 31 | | | |
February 2018

| S | M | T | W | T | F | S |
| --- | --- | --- | --- | --- | --- | --- |
| | | | | 01 | 02 | 03 |
| 04 | 05 | 06 | 07 | 08 | 09 | 10 |
| 11 | 12 | 13 | 14 | 15 | 16 | 17 |
| 18 | 19 | 20 | 21 | 22 | 23 | 24 |
| 25 | 26 | 27 | 28 | | | |
March 2018

| S | M | T | W | T | F | S |
| --- | --- | --- | --- | --- | --- | --- |
| | | | | 01 | 02 | 03 |
| 04 | 05 | 06 | 07 | 08 | 09 | 10 |
| 11 | 12 | 13 | 14 | 15 | 16 | 17 |
| 18 | 19 | 20 | 21 | 22 | 23 | 24 |
| 25 | 26 | 27 | 28 | 29 | 30 | 31 |
April 2018

| S | M | T | W | T | F | S |
| --- | --- | --- | --- | --- | --- | --- |
| 01 | 02 | 03 | 04 | 05 | 06 | 07 |
| 08 | 09 | 10 | 11 | 12 | 13 | 14 |
| 15 | 16 | 17 | 18 | 19 | 20 | 21 |
| 22 | 23 | 24 | 25 | 26 | 27 | 28 |
| 29 | 30 | | | | | |
May 2018

| S | M | T | W | T | F | S |
| --- | --- | --- | --- | --- | --- | --- |
| | | 01 | 02 | 03 | 04 | 05 |
| 06 | 07 | 08 | 09 | 10 | 11 | 12 |
| 13 | 14 | 15 | 16 | 17 | 18 | 19 |
| 20 | 21 | 22 | 23 | 24 | 25 | 26 |
| 27 | 28 | 29 | 30 | 31 | | |
June 2018

| S | M | T | W | T | F | S |
| --- | --- | --- | --- | --- | --- | --- |
| | | | | | 01 | 02 |
| 03 | 04 | 05 | 06 | 07 | 08 | 09 |
| 10 | 11 | 12 | 13 | 14 | 15 | 16 |
| 17 | 18 | 19 | 20 | 21 | 22 | 23 |
| 24 | 25 | 26 | 27 | 28 | 29 | 30 |
July 2018

| S | M | T | W | T | F | S |
| --- | --- | --- | --- | --- | --- | --- |
| 01 | 02 | 03 | 04 | 05 | 06 | 07 |
| 08 | 09 | 10 | 11 | 12 | 13 | 14 |
| 15 | 16 | 17 | 18 | 19 | 20 | 21 |
| 22 | 23 | 24 | 25 | 26 | 27 | 28 |
| 29 | 30 | 31 | | | | |
August 2018

| S | M | T | W | T | F | S |
| --- | --- | --- | --- | --- | --- | --- |
| | | | 01 | 02 | 03 | 04 |
| 05 | 06 | 07 | 08 | 09 | 10 | 11 |
| 12 | 13 | 14 | 15 | 16 | 17 | 18 |
| 19 | 20 | 21 | 22 | 23 | 24 | 25 |
| 26 | 27 | 28 | 29 | 30 | 31 | |
September 2018

| S | M | T | W | T | F | S |
| --- | --- | --- | --- | --- | --- | --- |
| | | | | | | 01 |
| 02 | 03 | 04 | 05 | 06 | 07 | 08 |
| 09 | 10 | 11 | 12 | 13 | 14 | 15 |
| 16 | 17 | 18 | 19 | 20 | 21 | 22 |
| 23 | 24 | 25 | 26 | 27 | 28 | 29 |
| 30 | | | | | | |
Available
Unavailable
Sat to Sat booking